June, 25, 2013
6/25/13
2:42
PM ET
Brian Babineau/NHLI/Getty ImagesMelissa Isaacson didn't get to see the game, but thanks to Skype was able to join her family in watching the Blackhawks' celebration.
WIMBLEDON, England -- The phone rang at 4-something in the morning, London time. I don't remember exactly because I was as thrilled as I was deafened.
Per an agreement with my family made three hours earlier via Skype, the call meant there were five minutes left in Game 6 of the Stanley Cup finals, and the Blackhawks had a chance to clinch.
After days of searching every back door that my smarter flat mate from ESPN -- also here to cover Wimbledon -- could think of, we could not get the game on TV or streamed online. The NHL broadcast agreement with the U.K. prohibited any Stanley Cup finals game from being carried here, which left me apoplectic.
My Boston-leaning colleagues also were not happy, though maybe they knew what was coming because they did not seem nearly as upset as I was.
However, three hours earlier, when he could no longer put up with my whimpering, my husband, Rick, held his iPad up to the TV -- thus ruining his and my two teenage children's viewing experience -- so I could "watch" the game.
This arrangement worked out fairly well -- despite the fact that I felt as though I was viewing the game with cataracts -- until 7½ minutes in, when the Bruins scored and my son, Alec, accused me of jinxing the Hawks and all but ordered me to bed. (It was about 1:40 a.m. my time.)
Let me pause for just a moment to explain that as a sportswriter for the past 30 years, my level of local fan enthusiasm has dissipated to a very acceptable, objective place over the years. However, there are teams that are closer to your heart than others, and any sportswriter who tells you otherwise is lying.
For anyone alive in the early 1970s in Chicago, no explanation is required to place the Blackhawks in the city's sporting culture. When my older brothers iced over our backyard patio, turned over an old redwood table and stuck me in the "net" with a catcher's mitt, football helmet and pillow and fired away, I was Tony Esposito, and they were Bobby Hull and Stan Mikita.
Even Dick Butkus said he couldn't compete.
And when Jonathan Toews and Patrick Kane came to town, and Hawks owner Rocky Wirtz took over for his dad and put games on local TV on a regular basis, my kids were hooked. Once again, so was I.
Scarcely a game has been missed at our house over the past six years. And it got to the point, when covering games as a columnist for ESPNChicago.com, that I almost missed staying home and cheering on the couch, observing with some amusement my son's various, ratty good-luck T-shirts and my daughter Amanda's occasional vain attempts to have the channel switched to something with a dramatic arc between periods.
The idea of going to bed with the Hawks trailing 1-0 in Game 6 was abhorrent to me, but I did have my strength for a possible Game 7 to consider. Plus, my husband's arm was getting tired from holding up his iPad at just the right angle.
And so the deal was struck: Don't call me if the Hawks are going to lose and force a Game 7. Wake me if there was five minutes left and they had a chance to win.
If I was still a bit groggy when I picked up the phone; the screams promptly ended that. I switched on my computer and, bless whoever invented Skype, a crystal-clear picture accompanied the postgame celebration.
I was, of course, devastated to miss watching live the tying and winning goals, scored within 17 seconds in the final 1:16 of regulation. But sharing that next half hour with my family, watching the Hawks pass the Cup together, commenting on each player and viewing the highlights from my apartment in Wimbledon Village was an experience that I will remember a long time -- as long, in fact, as I will remember covering Game 6 in Philadelphia, three years ago, when the Hawks won the 2010 Cup.
But I'm still annoyed at the NHL.
October, 12, 2012
10/12/12
5:15
PM ET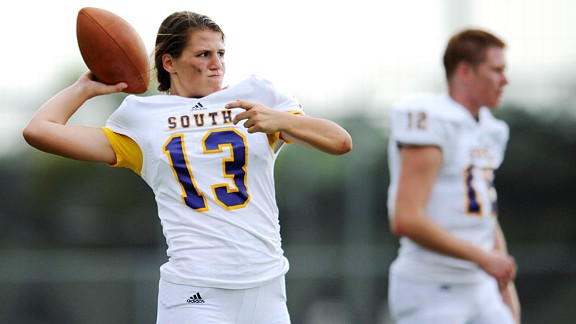 Jim Rassol/Sun SentinelErin DiMeglio took time away from a halftime pep talk to be crowned homecoming queen.
Homecoming coronation or no homecoming coronation, South Plantation High School football coach Doug Gatewood was not exactly in a festive mood Thursday night.
His undefeated Paladins were leading Hollywood Hills only 13-0 at halftime of a lackluster effort when his third-string quarterback, Erin DiMeglio, was pulled aside for the ceremony that crowned her the school's homecoming queen. Tucking one flower under her pink wristband to fashion a makeshift corsage and another in her hair, she took her place next to wide receiver Hordly Seide, who was named homecoming king.
"I was in the middle of yelling at them," Gatewood said of his halftime "pep talk." But fear not.
"When they got done, she handed her flowers and stuff to Bethany [Gatewood's wife]," he said, "and then I finished my speech."
Even the queen got yelled at?
"She's part of the team," Gatewood said. "She catches it like everyone else."
"The girl quarterback" had now officially lived every little girl's dream.
Well, every modern-day girl, anyway, who may not necessarily covet spending every day after school getting slammed into the dirt herself, but applauds the fact that DiMeglio can and does.
The 17-year-old senior has been the story of high school football in Florida this season, which is saying something considering that her team belongs to the largest classification in the state, is ranked in the top 10 and has a running back in Alex Collins who leads the county in rushing and has been recruited by powerhouses Miami, Florida and Florida State.
"She's not playing on some rum-dumb team," said the always-entertaining Gatewood. "We're really good and she's part of the team. The fact that she doesn't play that much is not a knock on her, we're just really good."
DiMeglio has played. After attracting national attention for first joining the team -- Gatewood urged her to come practice with the boys after coaching her on the girls' flag football team -- and then completing two passes in a preseason game, she began the season rather quietly, with two handoffs in South Plantation's season opener.
After six games, she has thrown only three passes, completing one for minus-2 yards.
But it was never about that, she has insisted.
"I understand that I'm not the best quarterback on the team," she said in an interview with espnW last month. "I just have fun on the sideline and I like being part of the team. Being a quarterback also helps me with my leadership. That's one thing that helped me decide to play -- helping my leadership so I can bring that to basketball."
"Leadership" for DiMeglio used to be pretty much defined by her becoming exasperated with her basketball and flag football teammates when they weren't playing up to her standards. Her flag football coach prior to Gatewood (also Gatewood's former defensive coordinator) didn't care for the attitude and didn't mind telling her or his replacement after he left for a head-coaching job at another high school.
That made for a nice little revenge factor when South Plantation played against Piper High School and DiMeglio completed her first pass against her former coach.
But when DiMeglio looks back at her senior year, her memories will not always include the obvious highlights. There was the game against J.P. Taravella in Coral Springs two weeks ago, for example, when, following a handoff, she absorbed a teeth-rattling late hit that drew a penalty flag.
"What happens on that particular play," Gatewood explained, "is that once the quarterback hands off, they have to bootleg and carry out the play fake. Normally, the defender just grabs the quarterback to let him know, 'I know you don't have the ball.'
"But in this case, he came at Erin full-force and teed off on her. She had some bad words for him after that."
"He just slammed her," Bethany Gatewood said. "But she popped right back up."
Of course, still angry on the next play, she launched a pass that resulted in an interception which was returned for a touchdown. But the Paladins still ended up with the victory and DiMeglio with a few new battle scars.
And, as of this week, she has another distinction as the winner of the Florida Achievement Award for Women (under 25), given by the state's Attorney General's Office.
"She never meant for any of this to happen," said Bethany Gatewood, who has unofficially taken charge of the blizzard of media requests for the girl quarterback. "But she has taken it and embraced it."
And even Bethany's husband has come along for the ride.
"I'm not a big Facebook person, but I actually wrote on it today," the coach said.
His new status?
… How proud am I. The Homecoming King and Queen are both on my football team. Funny, but cool.