December, 4, 2013
12/04/13
12:23
PM ET
By
Johanna Long
| ESPN.com
Sean Gardner/Getty ImagesThe biggest race on the short-track circuit is the Snowball Derby, and Johanna Long won it in 2010.
"Time flies when you're having fun" is probably the most accurate description for the 2013 NASCAR Nationwide Series season. While racing is a business and a career, it is important to never lose sight of why I get in that car, which is that I have fun and love doing it.
The NASCAR offseason allows me some time to get away from the business aspect and just focus on racing. I get the chance to drive in small, short-track races that I grew up running in. These races are generally in small towns across the Southeast, with shorter tracks and smaller late-model cars, which have less power than stock cars.
Every racing career starts at these races, and they are still fun to go back to. Many NASCAR series drivers continue to return to their roots of short-track racing even after they have made it to the highest level because, honestly, they are just so much fun to compete in.
The biggest of these short-track races is called the Snowball Derby, which I will be racing in this Sunday. The Derby, as it is affectionately referred to, is one of the most prestigious short-track races in the country and garners national attention, with many professional drivers coming to race. I was fortunate enough to win this race back in 2010, which really sparked my professional career.
Another reason I love this race is because it is held in my hometown of Pensacola, Fla., which gives me a lot of time to spend with my family. That can be tough during the NASCAR season due to traveling across the country every weekend. Being right in my own backyard allows many members of my family to see me race who would not normally get to.
So, although the NASCAR season is over, there is still more racing to do, and most important, more fun to have.
Thank you for following along with me this season. I hope I was able to give you a little more insight into the life of a race car driver.
November, 6, 2013
11/06/13
4:22
PM ET
By
Johanna Long
| ESPN.com
AP Photo/Charlie NeibergallAfter a stuck clutch ended her day early at Texas, Johanna Long is determined for a better result in her last race.
Whew! It's hard to believe our season is almost over. It seems like just yesterday we were all headed down to Daytona to get started.
We have 33 races in the NASCAR Nationwide Series season, which leaves a lot of room for ups and downs. Each of those 33 races comes with a different set of challenges -- the competitors, the track and yourself.
One of the ups recently was at Charlotte Motor Speedway in October. Charlotte is where most of the race teams are based, so we have the opportunity to have our friends and family come out and cheer us on. It's also a track where I feel very comfortable. We had a solid performance there this time around [finishing 17th], so I was pleased.
Things don't always go your way, however. The last race we had was at Texas Motor Speedway last weekend, and I was pumped to get back into the car after two weekends off on the schedule. After working throughout the weekend with practice sessions, we felt set for the big race on Saturday.
Unfortunately, it did not go as planned. My clutch pedal -- the pedal I use to change gears -- stuck during the race, causing us to end it early.
My team -- composed of about 20 people and myself -- works really hard each and every week to get prepared to come to the racetrack, so it is heartbreaking when something like this happens.
Life, like racing, is full of ups and downs, but I have learned over the years it's not about what happens -- it's about how you respond to it.
So, I'm going to keep going. I'm going to keep learning. I'm going to keep fighting. And above all, I'm going to strive to be the best driver I can be.
My next race is the final one in our season. And you can believe we're going to do everything we can to end on a high note.
October, 8, 2013
10/08/13
12:02
PM ET
By
Johanna Long
| ESPN.com
Sean Gardner/Getty ImagesAfter a 16th at Kentucky, one of her best results of the season, Johanna Long was geared for a strong finish in the closing weeks.
I can't believe it is already October. As the temperature cools off here in North Carolina, it still is heating up on the race track.
The NASCAR season is a long one, running from February to November, so we only have a handful of weeks left in the season to get as many solid finishes as we can. Two weeks ago, I competed at Kentucky Speedway, and I had one of the strongest races of our season, finishing 16th, which is great. Our team hopes this momentum will continue to push us.
[+] Enlarge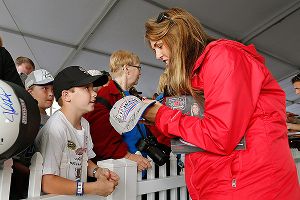 CIA Stock PhotographyJohanna Long takes some time out to sign autographs at Kentucky Speedway.
As much as we travel, it's hard to be so far away from my family and friends. I grew up in Pensacola, Fla., and moved to Charlotte, N.C., to fulfill my dream of competing in NASCAR. Charlotte is the central area for most race teams, so it made sense for me to move to be around my peers and the resources. I don't get a lot of time go to back to Pensacola, but last week I was able to spend a few days there with family and friends. I even had a little down time to hop on the jet ski and four-wheeler.
The main reason for my trip back home, however, was to race in a pro late model race at the track I grew up racing on. I love to compete there because it is where I truly found my love for racing. My homecoming did not go exactly as I had expected as I was collected in an incident during the race, but it was still fun to be on the track.
We have two races in October -- Kansas Speedway this past weekend and then Charlotte Motor Speedway on Friday. My team and I had a very strong qualifying run at Kansas last year but were involved in an incident midway through, so I was really excited to go back out and run there again. This year I finished 24th.
As for Charlotte, it is the racing hub for NASCAR, so no matter what is going on it is always a big deal to get to race there, plus it helps that it's only a 20-minute drive.
I hope you are able to follow along as we finish this year strong!
September, 19, 2013
9/19/13
1:11
PM ET
By
Johanna Long
| ESPN.com
Courtesy NASCAR ProductionsBefore the Richmond race, Johanna Long spent some time at the Childrens Hospital of Richmond at VCU.
We are getting down to the nitty-gritty in the NASCAR season, with only a handful of races left. It's definitely a fun time as we focus on finishing out the season strong.
As the only female in the NASCAR Nationwide Series season, it's easy to get caught up in the race track lifestyle -- going from race track to race track without spending a lot of time on yourself.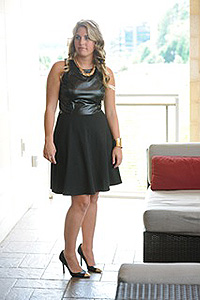 NASCAR ProductionsLooking professional and participating in photo shoots goes along with representing the team and sponsors.
A few weeks ago, I had a full-day photo shoot, where I got to let my personality shine -- out of the driver suit. After a long day of prep and shopping, we started the day with hair and makeup at T. Reid and Co. in Charlotte. I compete against and work with all males, so it's nice to be pampered every now and then.
After getting ready we made a few different stops around the Charlotte area -- at bakeries, antiques stores and restaurants. It was funny to see how many people just stop and stare at a group of photographers, makeup artists and "models." We even went to my CrossFit gym, which was a little nerve-racking, to do my workout in front of a bunch of people.
The part I looked forward to the most was the lake. We did lots of "action" shots, but it was more relaxing for me than anything. Although I had a ton of fun throughout the day, I was exhausted by the time it was over. It's hard smiling that long!
After the shoot it was time to focus on my next race, at Richmond International Raceway. We had some downtime before the race, so I had the opportunity to visit the Children's Hospital of Richmond at VCU.
This was one of those experiences that everyone should get to have. All of the kids and their families were truly amazing, and the staff treated me like part of the family. I have always loved working with and being around children, so this visit was right up my alley, and I was fortunate enough to make a lot of new friends -- and even make some new NASCAR fans.
There is definitely a lot more that goes into the racing world than just getting behind the wheel. Looking professional and participating in photo shoots comes along with representing your team and sponsors. Although racing fuels my desire to compete, it's so important to give back to the community, and I know as I continue in my career, it's something I will carry close to my heart.
We are preparing for the end of the season, and I'm thrilled to finish this season strong. Thanks for reading, and hope to see you at a race!
June, 13, 2013
6/13/13
5:51
PM ET
By
Johanna Long
| ESPN.com
Courtesy Johanna LongIt started with Johanna Long watching her dad race, but by age 8, she was in the driver's seat in a go kart.
I want to wish all the dads reading this a very happy Father's Day weekend! I'm sure many readers can agree that behind a lot of great athletes are dads who believed in their dreams and did whatever it took to help them achieve it.
From taking us to practices, coaching us after practice, to motivating us with their positive and encouraging words during times of defeat, a dad is always there when you need him. So, to all of you dads or to anyone who has played a significant role in a person's life, I want to say, "Thank you!"
Everyone has their own story of how their dad played a major role in their lives, so in honor of celebrating our great dads on Father's Day, here is my story.
The most popular question I receive from people involving my career is how in the world did a young woman like myself get started in a male-dominated sport like racing. I simply respond, "My dad!"
From the time I could walk, I was at a racetrack watching my dad, Donald, race in Late Models across the Southeast. It didn't take long for me to share the same passion. By the age of 5 I was begging him to let me race, and finally, at age 8, he gave in to my wishes, and I was in the driver's seat wheeling a go-kart.
Goodbye to the days when my mom did everything she could to get me in tights for ballet class or the days when my dad did everything he could to get me to focus on the softball field -- it was finally time to go racing. From the point I first stepped foot in a go-kart, there was no looking back. I had finally found my niche and loved everything about it.
Throughout the different stages of my career, my dad has played every role imaginable: from crew member to crew chief, truck driver, spotter, mentor, team owner, etc. He's done it all. He's one of my biggest critics, as well as supporters. He knows exactly when I need to be pushed or praised, and, for some reason, he always has the right words to say when I need them the most.
One of the best things anyone can do for someone is to believe in him or her and give them an opportunity. That's exactly what my dad has done for me. Whether I feel like I'm on top of a mountain or I'm at the very bottom, he has never stopped believing in me and continues to push me and encourage me through and through. I couldn't ask for more!
To my dad, I want to say thank you -- for who you are, what you've done and for what you continue to do.
April, 18, 2013
4/18/13
2:53
PM ET
By
Johanna Long
| ESPN.com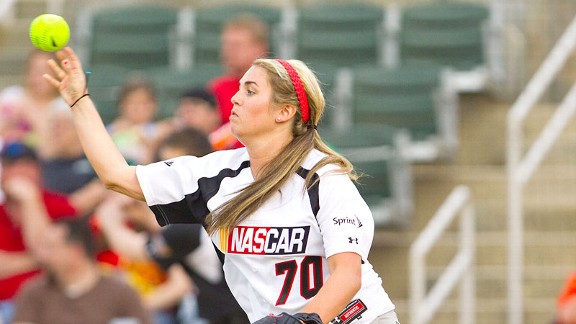 Brian Westerholt/AP PhotoWhat do drivers do during an off week? This time Johanna Long dusted off her glove and played catcher in a charity softball game.
After being on the road for the past month traveling to and from races, this week has been all about rewinding, relaxing, focusing on next week's race in Richmond, as well as having a little fun.
I had the opportunity to relive my childhood by playing softball Wednesday night for a great cause in the NHRA vs. NASCAR charity softball game at Kannapolis, N.C. The Kurt Busch Foundation and the Armed Forces Foundation put on the game for our troops.
Kurt Busch, Elliott Sadler, Kasey Kahne and Matt Kenseth were among my NASCAR teammates. Tony Schumacher, Antron Brown and Courtney Force were on the winning NHRA side. They clobbered us 19-5, but it was a lot of fun. It was an honor to participate with fellow drivers to help support the true heroes of our country.
I'm not going to exaggerate or try to make myself look good -- I was definitely not the star on the softball team when I first played at our local ballpark at the age of 8. It didn't take me long to realize softball was not my calling.
So, when I first got the invite to participate in the charity event, I made sure I dusted off my gloves and bat and got a lot of practice in. However, I can't say the practice sessions benefited me much, if at all!
All in all, the event went extremely well, not only for the players, but I'm pretty sure the spectators enjoyed it as much as we did. I know they at least got in a good laugh or two because it was a pretty good comedy show.
Busch and his girlfriend, Patricia Driscoll, do a lot for our troops, and it was a true honor to be a part of this charity game. I had a blast.
The rest of this week most likely will go by slowly because I'm already antsy and ready to get back in the race car. Off weekends can be good at times, but I won't complain one bit if I could race every weekend.
I will be back in the seat a week from Friday at Richmond International Raceway, and then the ML Motorsports team will head to Talladega Superspeedway the following weekend. I'm really looking forward to those races. Our team has a good shot of having strong finishes at both.
Richmond is a half-mile track, which is what I grew up racing on, so I'm extremely excited to get back to my roots of short-track racing. Talladega is the complete opposite, a two-mile superspeedway.
These two tracks are so different, but for some reason I take a strong liking to both. Out of all the tracks the No. 70 team will race at this year, these two are among my favorites.
I'm really excited to get back to racing, and I'm hopeful we can secure two strong finishes. Stay tuned for updates!
February, 27, 2013
2/27/13
11:03
AM ET
By
Johanna Long
| ESPN.com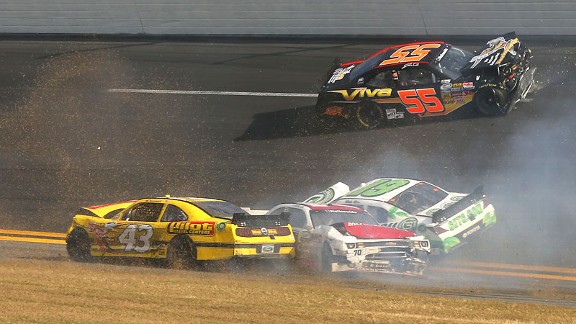 Mike Ehrmann/Getty ImagesJohanna Long's No. 70 Chevrolet got sandwiched between the No. 43 and No. 19 cars, ending her day four laps shy of the finish.
The first race of the 2013 NASCAR season didn't exactly go as I had hoped, but anything and everything can happen during speedway races, especially at Daytona.
I was really confident in our No. 70 ML Motorsports Chevrolet team going into the 200-lap Nationwide Series event Saturday. From the drop of the green flag, I knew we had a fast car and would be in good shape at the end of the race if we were lucky enough to stay clear of the wrecks.
Unfortunately, after running solidly in the top 15 for the majority of the race, we were collected in a late-race incident that ended our day early, only four laps shy of a strong finish.
[+] Enlarge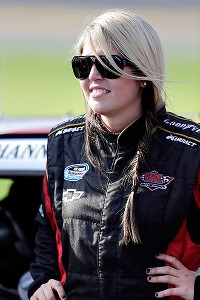 CIA Editorial PhotographyJohanna Long had been racing in the top 15 most of the race before the incident occurred.
Everything happens so fast at Daytona. Cars are racing bumper to bumper at super speedways, so if someone checks up in front of you or bobbles just slightly, there's a pretty good chance a wreck is about to take place. The unfortunate part is a dozen cars usually end up in the mess as well.
That's basically what happened in my situation. Two cars collected in front of me, and I ended up being sandwiched in the middle of about eight.
It's definitely disappointing, especially when we had such a strong showing throughout the race, but that's speedway racing for you. We were just in the wrong place at the wrong time.
To be honest, I was completely crushed when I first climbed out of the car. It's disheartening, for sure. The guys put so much effort into building these cars over the offseason and deserve strong finishes week-in and week-out, so as a driver, you don't take days like this lightly.
I still have to thank the man above for keeping me safe. It can always be worse. Fortunately, I wasn't involved in the final-lap wreck. I couldn't imagine what the drivers or the fans experienced.
As drivers, we go into this sport knowing there are risks every time we step into the car. However, NASCAR has done an amazing job at making improvements in order to keep us safe.
My heart goes out to the fans who were injured Saturday. My thoughts and prayers are with them, and I hope they all have fast recoveries.
Thank you all for reading my blogs thus far. I'm sure I will have some exciting things to share next week after I travel to Phoenix International Raceway for Saturday's Dollar General 300 Nationwide Series race. Stay tuned!
February, 20, 2013
2/20/13
11:08
AM ET
By
Johanna Long
| ESPN.com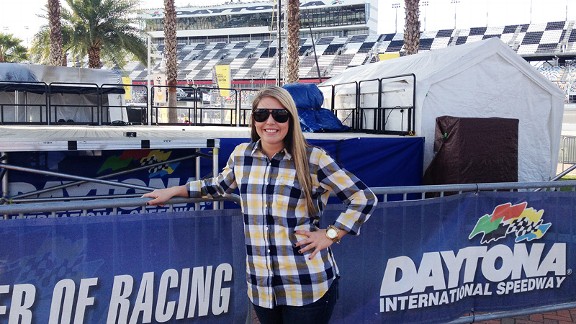 Courtesy Johanna LongJohanna Long dreamed of the chance to race at Daytona when she was a little girl; now, she's there.
After weeks and weeks of anticipation, I have finally made it to Daytona for the start of the 2013 NASCAR season. The green flag drops over Daytona International Speedway on Saturday for the DRIVE4COPD 300 Nationwide Series race. This girl is ecstatic!
Don't get me wrong, every race is exciting and I feel just as blessed any time I have the opportunity to get into a race car, but there is something extra special about racing at Daytona.
As a little girl, I always dreamed of racing at this historic track, but never in a million years did I think I would actually get the opportunity. Thanks to a special lady who has taken a chance on me, my team owner Mary Louise Miller, I get to suit up Saturday for one of the biggest races of the year.
For those of you who have watched NASCAR racing at Daytona, you probably already know about the speeds, drafting and, of course, all of the three-wide and four-wide action that takes place. If you don't know what I'm talking about, just imagine yourself in a car reaching a speed of 180 mph-plus and then being nose to tail with the cars in front and behind you. Not only do you have cars riding your bumper while pushing you through the corners, but there's a good possibility you either have two cars above you, below you or you are sandwiched in the middle. It gets pretty intense.
That's what I love about racing, though. The high-intensity, adrenaline rush that I get from driving a race car is like no other. Everyone has a happy place; well, I consider racing my heaven.
I feel pretty confident in myself and the ML Motorsports team going into this weekend's race. At this track, it's all about racing smart, staying out of trouble and having a little luck on your side in order to be in a good position at the end of the race. If we can do that, I see a strong top-10 finish for the ML Motorsports team, which would give us momentum going into the 2013 season.
For me, this season is all about continuing the process of proving myself as a driver. I feel like this is my chance to prove myself and continue to make it known that I belong in this sport. The 2012 season was a good start for me as far as learning the ropes and getting experience in the Nationwide Series, however, this year I'm hungrier than ever for stronger runs and finishes.
My goal is to race competitively in the top-10 and top-15 regularly. My team has been working extremely hard in the shop over the offseason to prepare fast cars, so there's no doubt in my mind that once I hit the track at Daytona, we're going to have a strong No. 70 Chevrolet.
I don't know about you guys, but I'm pumped and ready to race at Daytona.