June, 7, 2013
6/07/13
12:45
PM ET
Scott Halleran/Getty ImagesNatalie Gulbis would love to trade in her golf clubs for a surfboard on occasion.
espnW poses five questions to some of our favorite athletes. This week, Natalie Gulbis opens up as she hits the course for the LPGA Championship.
What do you need to do to consider your day complete? Journaling. I have such a full life and get to travel the world and do so many cool things. I want to record and save all the memories from travels and life.
[+] Enlarge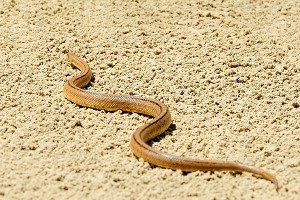 Stuart Franklin/Getty ImagesA snake in a sand trap would be a double whammy for Natalie Gulbis.
What's one thing you will never do? Own a snake. I'm so afraid to see them or even look at them. If they are on TV, I have to cover my eyes. When I see them on a golf course -- ugh! -- it's the worst!
What song best describes your life? "Life Is a Highway" by Rascal Flatts. My dad and I used to drive to events, even cross-country a few times. I have been traveling and on the road for 18 years. And it's always a new experience and so much fun

What is the one thing you really want to do off the field? See my Boys & Girls Club in Las Vegas be successful. My greatest professional achievement is that club, and I want the members to really benefit. If we're talking for fun, I want to learn to surf. I love the ocean, love to paddleboard, kayak and to be near the beach. But I still don't know how to surf.

What is your biggest weakness? I miss special events and occasions with my family and friends. I am usually traveling and on the road. And they understand, but I know they are hurt when I am absent for birthdays and holidays.
May, 9, 2013
5/09/13
2:14
PM ET
By
Natalie Gulbis
| ESPN.com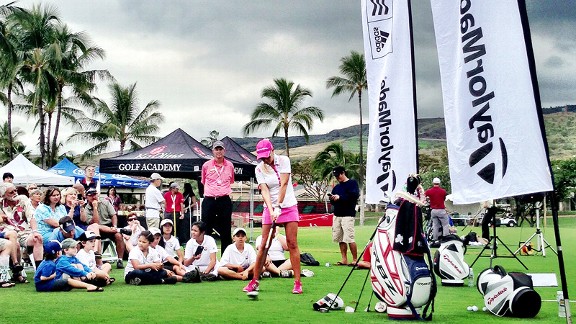 Courtesy Natalie GulbisDuring her week in Hawaii, Natalie Gulbis put on a clinic for about 200 people and 40 kids from the Boys & Girls Club.
Aloha! What a wonderful office and venue the LPGA had recently in Hawaii. We played at the beautiful Ko Olina Golf Club, and most of the players stayed at a beachfront resort across the street from the course.
A typical tournament day is a morning workout with a jog by the beach, a tournament round, dinner (usually Roy's butterfish), then sunset. Pretty perfect!
[+] Enlarge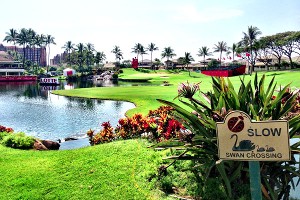 Courtesy Natalie GulbisThe Ko Olina Golf Club course is beautiful but subject to strong, challenging winds.
It is absolutely one of my favorite weeks on tour. I usually arrive in Hawaii a few days early to go sightseeing, surf (attempt to surf, really), snorkel and enjoy everything that's wonderful about Hawaii -- the scenery, the smell, the delicious food and water sports.
I usually end up in the ocean every day I am visiting to do something. This trip, snorkeling was a highlight. I was so excited to learn how to snorkel in the lagoons around the hotel. I ended up buying two sets of snorkel gear and encouraged my family and friends on tour to join me. We even went out on a little snorkel cruise one afternoon after golf.
The week in Hawaii began for me with a practice round and a clinic for TaylorMade/adidas in front of about 200 people and 40 kids from the local Boys & Girls Club. It's always fun to see all of the people and to get a chance to teach some kids about golf.
I have played the Ko Olina Golf Club course five times, and every day it plays differently. Most golf courses in Hawaii are subject to windy conditions. The winds at Ko Olina are very challenging and strong.
We always have drawn big crowds in Hawaii and enjoy the great support from all of the wonderful golf fans there. I can't wait to go back!
April, 26, 2013
4/26/13
12:37
PM ET
By
Natalie Gulbis
| ESPN.com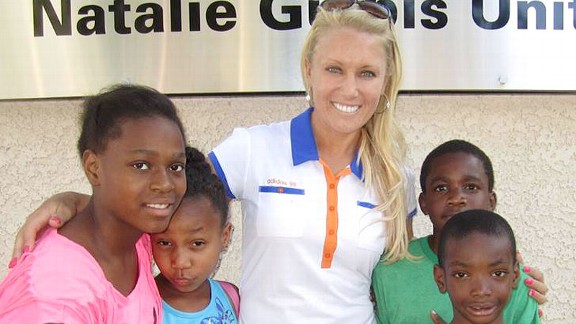 Courtesy Natalie GulbisWhat began as a dream while volunteering as a teen at Boys & Girls Clubs became a reality when Natalie Gulbis opened her own club on April 8.
I have been lucky in my professional career to enjoy many great moments, but not one golf accomplishment or tournament round compared with what I was so fortunate to achieve April 8. That is when we officially opened the Natalie Gulbis Boys & Girls Club near my home in Las Vegas.
Ever since I was a teenager volunteering at Boys & Girls Clubs in Sacramento with my dad, I knew I wanted to open a club of my own one day. I recently got to see that dream become a reality when I, along with more than 60 excited boys and girls, pulled back a banner that unveiled the Natalie Gulbis Boys & Girls Club.
[+] Enlarge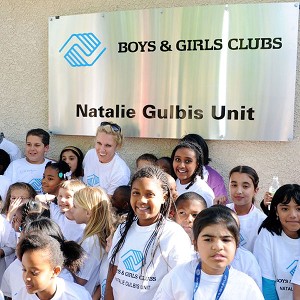 Courtesy Natalie GulbisMore than 60 kids were on hand for the grand opening of the Natalie Gulbis Boys & Girls Club.
The club will provide its members programs such as the PGA Sports Academy program, which introduces youth to the sport of golf and parallels the mission of the Boys & Girls Clubs of America. That mission is to enable all young people, especially those who need us most, to reach their full potential.
The mission of the Boys & Girls Club is something that has resonated with me for a long time, especially having grown up in a part of Sacramento where I could see the need for an organization like this firsthand. I feel so incredibly lucky to get to have a positive impact on kids' lives.
To know that because of my golf career more kids will have a safe place to learn and grow after school is something I have a hard time describing in words. The grand opening of the Natalie Gulbis Boys & Girls Club was an incredible day, and I am so grateful to all my marketing partners, my family, friends, individuals in the golf industry, my coach, Butch Harmon, and the team at IMG for making this possible. It's a dream come true!
After the 3 p.m. opening, I had the chance to take a group of kids out to the golf course. We had such a great time. Many had never played golf or even hit a shot. I was amazed how good some of their swings were. It was a joy to see how excited they were to be out at the driving range and how much they did not want to go home from the course. I can't wait to take them back in a few weeks after my next stretch of events on tour.
To end the week, we had a pizza party at the club. I brought in 15 pizzas, which got eaten in 30 seconds flat by the more than 60 kids that were there that day.
After pizza, some of the kids competed in a spelling bee while others went outside with me and played kickball and football. What can I say? Spelling was never my best subject!
I was also able to leave them an Xbox 360 along with the EA Sports Tiger Woods 2014 game so they can learn more about golf.
For each birdie I make this season, the kids put a cutout of a bird on the wall and I donate $100 to the club. It's just another reason to make more birdies
In my first round after announcing the pledge, I made six birdies!
March, 12, 2013
3/12/13
10:25
AM ET
By
Natalie Gulbis
| ESPN.com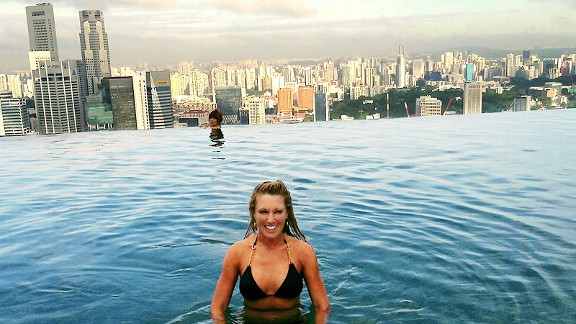 Courtesy Natalie GulbisThere are some perks to being an LPGA player; one is swimming in this infinity pool during some down time in Singapore.
The 2013 LPGA season is officially under way! We started in Australia, Thailand and Singapore. When the weather can still be cool in most parts of the USA, we head overseas to start our season in some much warmer climates. That often means 90 degrees and 90 percent humidity.
Golf is very popular in Asia, particularly women's golf, and the LPGA players enjoyed a warm welcome from fans, playing in front of huge galleries at some of the area's premier courses. It is an 18-hour plane trip to Singapore from LAX, but it's worth it. This was my 11th visit to Singapore for golf events and my sixth appearance in the HSBC Women's Champions event showcasing the top 60 players in the world.
Most LPGA fans only see us on the course from Thursday to Sunday when we are competing. However, lots of preparation and a little fun take place from the time we arrive Monday until we leave Sunday night.
[+] Enlarge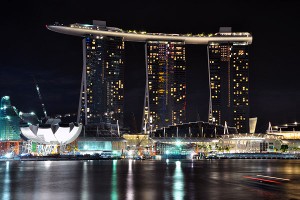 Courtesy Natalie GulbisThe LPGA players got the royal treatment in Singapore as the host hotel was the spectacular Marina Bay Sands Resort Casino.
Here's some insight into what the week in Singapore was like.
After catching a 9 p.m. flight from Thailand on Sunday night, I didn't arrive at our hotel in downtown Singapore until around 2 a.m. I caught up on some sleep and then sneaked in a quick workout before heading out to practice and see the golf course.
A typical workout for me consists of 90 minutes of cardio, weight training, flexibility and stability work. A typical practice session at the golf course is three to four hours, and then I play nine holes on Mondays and Tuesdays of a tournament week.
In Singapore, the players were spoiled because the host hotel was the Marina Bay Sands Resort Casino. It's one of the most incredible hotels I have seen or stayed at. The hotel has three towers and a boat on top -- check out the photo. It's pretty amazing.
There was also a Vegas-style casino, a spa, restaurants and designer shopping at the hotel, giving players endless things to do during down time.
The new golf course we played at in Singapore this year was called Sentosa. It also featured a Universal Studios adventure park. After a long day of practice Tuesday, we carved out a few hours to zipline over the park and beach. It was my first time ziplining. What a rush!
We had an early night Tuesday because Wednesday is pro-am day. Every week on tour we join four amateurs to play a round of golf on the tournament course. I really enjoy pro-am days because we get to play with sponsors, guests or some very excited golfers, thrilled to spend 18 holes with us on the championship course.
[+] Enlarge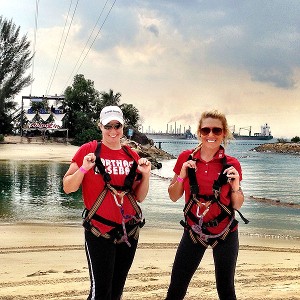 Courtesy Natalie GulbisAfter a long day of practice, Brittany Lincicome and Natalie Gulbis summoned the courage to go ziplining.
The pro-am this week was a shotgun start at 7:30 a.m., so that wake-up call came early. After I finished, it was time for a little more practice and another session in the gym. On a tournament week, I aim to get five days of workouts in addition to our practice and competition.
This was a special week because the walk from my room to the gym passed an infinity pool on the 57th floor. The pool was incredible. You could swim to the edge and look down on Singapore!
The HSBC pro-am party was Wednesday night. It was a chance for every player to slip out of her golf clothes and into a pretty dress for a fun evening of great food and entertainment. It was an early party and most players headed in before the guests because the first round started at 8:30 a.m. Thursday.
Once a tournament starts, I am quite tired from competing and lay low.
This is my 12th season on the LPGA Tour. It's remarkable the number of places I have had the opportunity to travel to through the game of golf. I've been able to see so many different cultures, meet so many nice people, work with charities and do fun activities such as those during the week in Singapore.
I'm looking forward to sharing more of those adventures with you through my blog this year. Stay tuned!
Note: Natalie withdrew from the HSBC Women's Champions in Singapore before the second round due to an illness. Tuesday night, she also withdrew from this week's RR Donnelley LPGA Founders Cup in Phoenix, citing malaria.