May, 30, 2013
5/30/13
4:53
PM ET
By
Michelle Gascoigne
| ESPN.com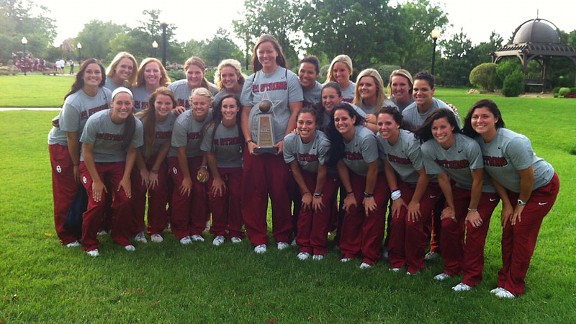 Courtesy of Michelle GascoigneThe Sooners were proud to see Keilani Ricketts be named player of the year for the second straight year.

Sooner softball is officially in OKC! A reporter from OU asked me Wednesday if it ever gets old pulling into ASA Hall of Fame Stadium for the first time of each Women's College World Series, and I said no! For the third year in a row I got goose bumps pulling into that stadium -- it could easily be described as Disneyland for softball players. I can't believe how lucky I am to be at my third World Series in four years.
[+] Enlarge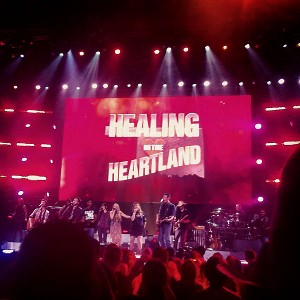 Courtesy of Michelle GascoigneCoach Patty Grasso surprised her players with tickets to the "Healing in the Heartland" benefit concert for victims of the Moore, Okla., tornado.
Tuesday, we went up to the city from Norman to go to the World Series reception. All the teams get together to eat, mingle, take pictures and to be formally welcomed to the Women's College World Series. During the presentation, the award for player of the year is announced. My team had pretty good odds, as both Keilani Ricketts and Lauren Chamberlain were top three finalists along with Tennessee's Raven Chavanne.
All of these athletes had tremendous years and have contributed greatly to their team's success. It was pretty cool to hear Keilani's name be called as winner for the second year in a row and to watch history be made as she is only the third player to win it more than once in her career. We are all so proud of her!
Wednesday at the stadium we filmed intros for ESPN, talked with the analysts and had our practice time on the field. Sadly, our practice got cut short after hitting because of bad weather and lightning in the area.
Later that night, Coach Gasso had a huge surprise for us -- tickets to go to the "Healing in the Heartland" benefit concert in Oklahoma City. This concert was something we had been talking about all week but knew it was sold out. We were so excited to get a chance to go watch amazing artists like Blake Shelton, Miranda Lambert, Luke Bryan, Rascal Flatts, Usher, Reba McEntire, etc., all raise money for our state that is still in turmoil.
After all of the events the past couple of days, today is all about one thing now, Sooner softball! We are ready to start playing again and to put it all out on the field. We are the last game of the day, so it is kind of nice to watch some games in our hotel room while we get ready and prepare. Tune in to ESPN2 9:30 p.m. ET for our battle against Michigan. Boomer Sooner.
May, 23, 2013
5/23/13
6:36
PM ET
By
Michelle Gascoigne
| ESPN.com
As you can imagine, life in Oklahoma has been flipped upside down this week. The afternoon after my last blog was posted, possibly the biggest and most destructive tornado to hit our state came through Moore, Okla., just 10 miles up the road from us. Many of us go to Moore regularly to shop, eat, go to the movies, etc. Many staff members from our athletic department as well as OU softball alumni live in Moore as well.
[+] Enlarge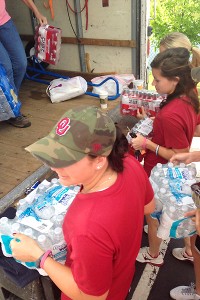 Courtesy of Michelle GascoigneSooners softball players help out with the relief effort after the tornado.
As the sirens began to go off in Norman, teammates and I took to the closest shelter wherever we were. A group of us including myself went to the athletic dorms, which have a basement. Our plan was to stay above ground and pay attention to the news to see if we really needed to take cover. We soon learned the tornado's path curved around Norman and was heading toward Moore. Just as we began to grasp the severity of the situation, our TV and Internet went out, leaving us with radio to find out what was going on. During the entire afternoon and evening our whole team was in constant contact via group text checking up on each other and our families. It was definitely scary not being able to get a hold of loved ones, but as for our Sooner softball family, thankfully everyone was safe.
As the weather began to calm in Norman and we were able to watch the news again, the images and stories we began to see brought tears to my eyes. I couldn't believe that the town that I had eaten lunch in earlier that day would never be the same and was essentially flattened. I received numerous calls and messages asking if I was OK. All I could do was be thankful that I was. My heart, however, was and still is broken for so many families who have lost everything, including loved ones.
In the past couple days we have come together and have decided as a team to do everything we can to support the community that has always supported us. We want to use softball as a way to bring joy to many of our fans who are going through such a tough time. We will be wearing a special logo with the word "HOME" on our helmets this weekend to represent the city of Moore. I know, as one of the players on our team not from Oklahoma, we do consider it home. The people of Oklahoma have made me feel welcome and at home from the day I stepped on campus, and they definitely have my heart.
Tuesday night and Wednesday morning we were able to make it out to help with some tornado relief. A local church that many of us attend is working as a huge relief center. The different rooms at the church are used for toiletries, clothes, food, etc. The challenge is to sort it all as fast as it's coming in, helping people find sizes of clothes, etc. It is amazing to see how many people are willing to help and give toward this cause, and from all over. Texas A&M drove up on Tuesday and brought money and a truck full of goods to drop off at the church.
At our super regional games Thursday and Friday the United Way will be collecting donations in form of cash, check, and gift card to directly benefit those affected. As much as items are needed, right now most places are saying money is what they need first and foremost.
As for us, we are thankful to have the opportunity to play in our beautiful stadium that is still standing. We will be playing with decals on our helmets, but mostly with Moore in our hearts and can't wait to get after it. Please pray for Oklahoma in the coming weeks and for the resilience of its people. Thank you, Boomer Sooner.
June, 4, 2012
6/04/12
12:23
AM ET
With No. 2 Alabama seeking to become the first SEC team to win a softball national championship and No. 4 Oklahoma seeking to become just the fifth school with multiple national championships, let's look at how the series breaks down in key areas. The teams were scheduled to play in February but a rainout means this will be their first meeting this year.
[+] Enlarge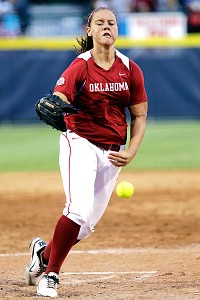 AP Photo/Sue OgrockiOklahoma ace Keilani Ricketts is a 6-foot-2 left-hander who is particularly tough on opposing left-handed slap hitters.
Pitching: The speed limit on Oklahoma's interstates is 70 mph, and other than some changeups, both Oklahoma's Keilani Ricketts and Alabama's Jackie Traina will spend the championship series throwing pitches that might get ticketed on the open road. Dominant all postseason, Ricketts showed she wasn't invincible in giving up three runs against Arizona State on Sunday, but she still struck out 13 and got the win. The 6-foot-2 southpaw is hard on lefty slappers, which could be a problem for an Alabama team that relies on two good ones at the top of its order. Traina pitched probably her best game in a couple of weeks to shut down California on Sunday, as might be expected of a sophomore who seems to love pressure, but she did walk six more batters to give her 14 walks in 21 innings in the World Series. Against an Oklahoma team that can turn a walk into a two-run home run in the blink of an eye, that's potentially dangerous.
Power: Only two teams slugged better than .400 through the first four days of play in the World Series, and it's no coincidence they are the only two teams with more games to play. Both the Sooners and Crimson Tide have hitters up and down the lineup who can drive the ball out of the park. No part of any batting order in the nation is scarier than Oklahoma's trio of Lauren Chamberlain, Ricketts and Jessica Shults, who have 63 home runs between them this season, but outside of its two slappers, Oklahoma's entire order has power. Kaila Hunt and Amanda Locke give Alabama plenty of firepower if these teams want to scrap the game and settle things with a home run derby. It's not quite Oklahoma's trio, but Hunt, Locke and Traina combined for 50 home runs this season.
Speed: With 65 stolen bases in 61 games, Oklahoma isn't sedentary, but the Sooners aren't running much in the World Series. With power like they possess in the middle of the lineup, there's little reason to risk running themselves out of a big inning when speedsters like Destinee Martinez and Brianna Turang can take an extra base on a double or trot home ahead of a teammate's home run. Alabama's modest numbers on the bases thus far, with two stolen bases in four attempts, are more surprising. Kayla Braud and Jennifer Fenton combined for 84 stolen bases in the regular season, and their ability to disrupt opponents on the bases is a big part of Alabama's offense.
Defense: Alabama's defense was a question mark entering the World Series (for reasons of consistency more than ability), but the team with the second-most errors entering the start of play finds itself first in fielding percentage entering the final series. The Crimson Tide have committed two errors in 21 innings in Oklahoma City, compared to four in the same number of innings for Oklahoma. Alabama's Courtney Conley is a significant asset at third base and the outfield of Braud, Fenton and Jazlyn Lunceford can shrink the gaps considerably against Oklahoma's power. Like Tennessee with Monica Abbott, Oklahoma isn't used to fielding a lot of balls given Ricketts' propensity for strikeouts. Both catchers, Shults and Alabama's Kendall Dawson, have good arms and likely will try to pick off runners.
Intangibles: Attendance records have been falling with regularity in recent years at the World Series, but it's no coincidence that the numbers are reaching new heights this season with the Sooners around. Even with the Thunder locked in a tight series against the Spurs in the NBA Western Conference finals, Hall of Fame Stadium has drawn more than 9,000 fans to three different sessions, a mark that had been reached just once before. The final series will be louder and more crowded than ever before, and almost all of those voices and bodies will be rooting for the Sooners.
May, 22, 2012
5/22/12
2:37
PM ET
By
Jessica Schults
| ESPN.com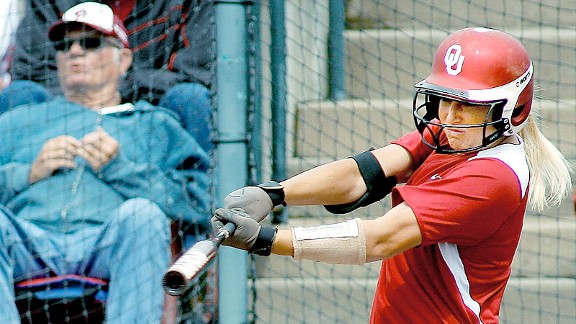 Courtesy of University of Oklahoma AthleticsJessica Shults hit two home runs against Oregon State on Sunday to help Oklahoma advance to the super regionals, where the Sooners will next face Arizona.
This past weekend was a great start to our journey in the postseason. Playing at home is always an honor, and allows you to keep the routine that you are used to. It is so much fun playing in front of our home crowd, and they were just as much a part of the victories last weekend as the team.
Having the opportunity to stay at home for the NCAA super regionals is really exciting. This is the first time since I have been here that we are hosting a super regional, and I cannot wait. Arizona is a great team and I have grown up playing with a lot of those girls, so it is going to be a fun reunion having them come out here this weekend. Although it is going to be fun seeing them, it is going to be a real battle on the field, and I cannot wait to get after it.
It is crazy to think that just a year ago I was lying in a hospital bed. Watching all of this happen around me, and being able to be a part of the journey again, has been a dream come true. I am so blessed to have my teammates and coaching staff behind me, and to have them help me get through my struggles last year. I do not think I could have done it without them. I am so blessed to be a part of Sooner Nation, and I cannot wait to see where the rest of our journey leads us this year! Boomer Sooner!
May, 16, 2012
5/16/12
4:29
PM ET
By
Jessica Shults
| ESPN.com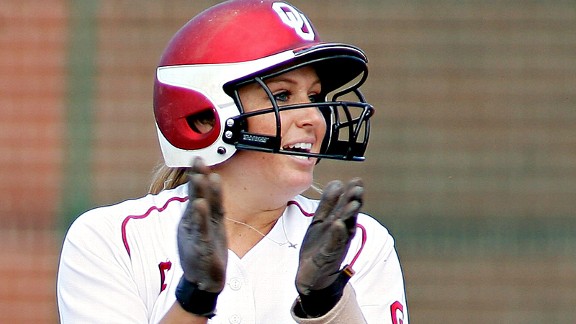 University of Oklahoma Athletics Check off a Big 12 title; Jessica Shults and her Oklahoma teammates are now focused on NCAA regional play.
This past weekend was Mother's Day, and although I could not spend the day with my mom, I am just so blessed for everything she has done for me. She has always allowed me to pursue my dreams, whatever it may be. Whether it was driving me two hours to a hitting lesson or getting me ready for the big dance at school, she has always put me first and has always been my No. 1 fan. I just wanted to say thank you, mom, for everything you do.
Not only was it Mother's Day, but it was the last weekend of Big 12 Conference play as well. It is crazy to think that the Big 12 season is already over. It feels like just yesterday we were meeting in the team room on the first day of fall practice discussing our goals and our plans for the year, meeting the new freshmen and all wondering how the year was going to play out.
We can now check off one of those goals that we made on the first day: winning a Big 12 title. It took a lot of hard work, and it is an honor to win the Big 12 this year, because the conference as we know it will never be the same. Not being able to battle 13 innings with Missouri next year is something I am really going to miss. Not being able to hear Texas A&M's songs and traditions that their school is known for is something that I really took for granted, now knowing that those two schools are no longer in the Big 12 Conference. It is sad to see these two teams leave, because it has been such an honor to battle with them on the field.
Although the Big 12 season is over, it is now postseason, and I have never been so hungry to start playing games again. Our only focus is on the NCAA Regional this weekend, and we are doing everything to get ready for our first game. I look at our team and know that they are ready and cannot wait to get under the lights on Friday night to battle Lehigh.
May, 10, 2012
5/10/12
6:02
PM ET
By
Jessica Shults
| ESPN.com
Last weekend was probably one of the hardest weekends this season by far. We battled hard against Texas for three straight games. Not getting the final result we wanted in the game on Sunday really stung, but watching our seniors (Allee Allen, Kirsten Allen, Katie Norris) play their last home game was really emotional.
I've been with this group of seniors three years now, and they are honestly like my family. All three of them bring something different to the table, and I'm so grateful that I have gotten the opportunity to know each one of them.
Although Senior Day was emotional, the journey is not over. I am so excited to finish our Big 12 schedule this week against Iowa State. This week has been a little different at practice trying to work around everyone's final schedules, but now that finals are finally over, it's nice to be able to take a deep breath and just focus on softball.
May, 2, 2012
5/02/12
12:35
PM ET
By
Jessica Shults
| ESPN.com
It is crazy to think this year is almost over. It feels like the season has just started. When you have a team with chemistry like ours, it makes every day fly by. There is not a single day I dread going to practice or dread being around my team.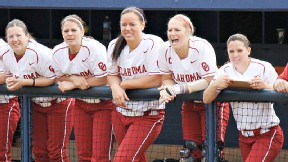 Graham Hays/ESPN.comJessica Shults, second from right, says great team chemistry has been the key to success for Oklahoma.
When you are taken away from your team, like I was because of an illness at this point last year, it makes you realize you cannot take any of these moments for granted and you just enjoy the journey with the people around you. I am so blessed to be able to spend every day with this group of girls and coaches. They really make the game of softball fun and enjoyable. I truly believe our chemistry off the field has given us the edge we need to be successful on the field.
We have had so many funny moments this season off the field. From rapping on the bus to dressing up as famous couples on bus trips, it has really been a great experience so far. On the field, we have had a great year also, and I am so excited to get back on the field this weekend against Texas. We have been working really hard this week to get physically and mentally prepared for what Texas is going to bring. They are a great team, and it is always a tough series against them. Being friends with a lot of the girls on Texas, it is going to be fun getting back and competing against them.
We have our Think Pink game for cancer awareness Friday and Senior Day on Sunday. It is going to be a real emotional game because I have now spent three amazing years with this senior class, and it is going to be weird not having them around every day. I am so excited for what the rest of this year brings as it has been an incredible ride so far, and I do not want it to end.