June, 5, 2014
Jun 5
12:35
PM ET
By
Diana Taurasi
| ESPN.com


I couldn't be more excited to have the WNBA All-Star Game in Phoenix this year.

I really love this city. The X-Factor fans [the nickname for Mercury fans] are amazing and so supportive. Playing for this team, this city and this organization is a big reason I come back each year.

Here's a shocker: Phoenix is hot in the summer. Really hot. But there's something about this city that people fall in love with. I spend the majority of my days in the gym before, during and after practice, but I do enjoy barbecuing with my teammates and trying new places to eat around town. Phoenix is a great city to go out with a group of friends and just enjoy each other's company. There will be plenty of restaurants to try during the All-Star break. If you need a recommendation, hit me up.

I don't really know the exact number of All-Star Games I've played in. I've had fun each time, but I'm not really big on individual achievements, so being an All-Star MVP is never a priority. I've been in the league a long time and I get the most enjoyment from the All-Star Game by getting others involved and just having fun on the court and goofing with friends and teammates off of it. (When you have Brittney Griner as a teammate, it's hard not to have fun.) The WNBA season is a grind, but it's kind of short at the same time. The All-Star Game is a nice way to break the season up a bit.

The best part about playing in the WNBA All-Star Game is catching up with friends and former teammates across the league. Sue [Bird] and I will usually grab some food to catch up, and seeing the newer players get to participate in the game is always fun, too.

I know a few of the things Phoenix has planned for the All-Star Game and the days leading up to it, and we're going to do the WNBA and its fans proud.
October, 18, 2013
10/18/13
8:51
AM ET
Chris Marion/Getty ImagesIn the past year alone, Brittney Griner was named the NCCA women's basketball player of the year, chosen first in the WNBA draft, named a WNBA all-star and made the league's all-rookie team.
Happy birthday to Brittney Griner, who turns 23 today. The No. 1 overall pick out of Baylor in the 2013 WNBA Draft just finished her rookie season with the Phoenix Mercury last month and averaged 12.6 points, 6.3 rebounds and a league-best 3.0 blocks. She scored a season-high 26 points against San Antonio on June 25, grabbed a season-high 14 rebounds against San Antonio on Sept. 6 and recorded a season-high six blocks against Tulsa on Aug. 11. She was selected to play in the 2013 All-Star game (but sat out with a knee injury) and was a unanimous selection to the WNBA's 2013 all-rookie team. In her first trip to the WNBA playoffs, she hit the series-winning basket to lift the Mercury over the L.A. Sparks in the Western Conference semifinals. The Mercury, however, fell to the eventual champion Minnesota Lynx in the conference finals.
September, 26, 2013
9/26/13
10:11
AM ET
By
Diana Taurasi
| ESPN.com
AP Photo/Danny MoloshokDiana Taurasi says the Mercury need to continue to shore up their defense to have a chance against the Lynx.
It definitely has been an up-and-down season for the Mercury, but we're in the Western Conference finals, and right now, that is all that matters.
We got off to a little bit of a rocky start, but we've really started to improve as a team over the past eight weeks. Under [interim head coach] Russ Pennell, there has been more of a focus on the defensive end of the floor and rebounding the ball.
I think we are more disciplined as a team and understand what each other's roles are. That's a really important key to the success of any basketball team. More importantly, I think we are clicking at the right time.
In the playoffs, everyone knows that anything can happen. It comes down to who wants it more. We've really developed a great rivalry with the Minnesota Lynx over the past couple of years, and we are excited to go against them. Right now, though, they're the best team in the league, so we'll need to step up our game.
Maya Moore is one of the best players in the world, but the Lynx also have a really deep team and get out in transition well along with being a great rebounding and defensive team. They're playing great at home, so we have to use our size in the paint to our advantage with Brittney Griner anchoring the middle.
Speaking of Brittney, I couldn't be more proud of her. She's handled everything this season with class and integrity. Plus, she's a heck of a player. What she's doing on and off the court is really important for women's basketball and women's athletics in general. We still give her a hard time -- she's still a rookie, after all -- but she's one of the nicest, hard-working people you'll ever meet. And that shot she hit in Game 3 against the Sparks? Amazing.
What I really love about this Mercury team is how we all get along so well. That's one of our greatest strengths. We hang out as a team all the time off the court and genuinely enjoy each other's company. Camaraderie is never an issue. Having that type of a relationship with teammates can take you anywhere. Plus, we are all committed to working hard and getting better.
If we can shore up our defense and play focused and smart, I like our chances.
August, 30, 2013
8/30/13
9:45
AM ET
By
Russ Pennell
| ESPN.com
Shane Bevel/NBAE/Getty ImagesRuss Pennell is proud that his Mercury players have adjusted to having a new coach in the middle of the season.
First of all, I am really proud of my players on the Mercury. I truly understand that adjusting to a new head coach isn't easy, especially midway through the season. But to their immense credit, they've been incredibly gracious and responsive. Any success we have should be credited to them 100 percent.
At this point in the season, we're gunning for a playoff spot. From our perspective, the key is fine-tuning the little things in order to continue to become a better team every day.
Right now, it's the little things that are keeping us from being a great team. But we have worked hard on those in practice this week -- which I'm viewing as our training camp. We are very talented and have a lot of strengths, but it's my job to get us to the next level.
It starts with playing hard, but also playing smart. I've told the players that there are times when they are playing hard but not very smart. What we are focusing on is playing with a high basketball IQ as well as playing hard.
For example, we have to do a better job of taking care of the ball. Turning the ball over at a high rate doesn't give us a chance to compete at the level we want. We have a high standard and we're working on that mentality. We've got to value the ball more.
Offensively, we're one of the bigger teams in the league, and we want to go inside the paint often. Playing through Brittney Griner and our other post players is one of our focal points. Basketball is played from the inside out, and that leads to Diana Taurasi being open along the perimeter. DeWanna Bonner and Candice Dupree have really benefited from this.
Defensively, we're getting better every day. That side of the ball is all about effort and positioning. What we are trying to do is put a little more pressure on the ball and get scorers to catch outside of their score zone.
We have a tough road trip coming up, with three games in four days. Putting in the hard work now should help us prepare for a strong finish.
August, 1, 2013
8/01/13
1:48
PM ET
By
Brittney Griner
| ESPN.com
Chris Marion/Getty ImagesBrittney Griner takes photos from the All-Star bench. She couldn't play because of a sparined knee.
One great thing about being in the WNBA is that no day is the same.
[+] Enlarge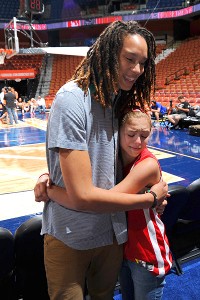 Brian Babineau/Getty ImagesGriner poses with young fan at All-Star weekend.
Yes, we practice and get treatment usually every day, but there is always something different going on which is something I love. Some days we have an appearance in the community with fans, others maybe it's just media. Whatever it is, I enjoy doing it all. I'm only halfway through my rookie year but I already feel so honored to be a part of the WNBA on and off the court.
Lately, though, I've been sidelined with a mild knee sprain. It has been so frustrating not being able to help my team. But I've put in the extra work behind the scenes and expect to be out there on the court. I'm itching to play again. Watching from the sidelines -- even in an exhibition like the All-Star Game -- just isn't my style.
I want to compete. I want to be out there. I want to help my team win.
Speaking of the All-Star Game, what an amazing experience! Being able to go to my first All-Star Game with my teammate Diana [Taurasi] made it even more special. Diana cracks me up. She's hilarious and always keeps me on my toes. But more importantly, I continue to learn so much from her about what it means to be a true professional in this league.
Even though I wasn't able to play, I wanted to make sure I interacted with the fans who have all been so supportive. They were amazing, y'all! One girl even started to cry when I waved to her. I'll never take that for granted and will always appreciate how great WNBA fans are.
Right now, we're gearing up for a really important month in August. We have 10 games and seven of those are at home. It's important for us to protect our home court and make a strong push to the playoffs.
See you on the court! Go Mercury!
Brittney
July, 4, 2013
7/04/13
5:49
PM ET
By
Penny Taylor
| ESPN.com
Christian Petersen/Getty ImagesPenny Taylor, right, has worked hard to rehab her knee after an ACL injury.
Being back on the court has been such a joy; there's really no other way to describe it.
Obviously, the past couple of years have been tough. Not being able to help contribute on the court with my teammates has given me a greater appreciation of the game of basketball. I really rediscovered how much I love it and why I started playing as a young girl in Australia many years ago.
I get the most out of the little things now. Something as simple as an assist or executing a play is the best possible reward, in my opinion. In the Mercury's system, there are so many options that I am not even worried about scoring the ball -- I just want to play hard, play good defense and create opportunities for my teammates.
The best part is that I feel like I can run forever! My knee feels great and it's responding exceptionally well. The way it feels today is certainly a culmination of some really hard work both physically and mentally while taking things day by day. I've had to be extremely patient during this process, and paid close attention to the details.
My day consists of a lot of preparation and details in regards to my knee. I have certain exercises that I'll always go through both before, during and after practice. But I'm more than happy to do so in order to maintain the flexibility and strength of my knee.
If I'm honest, this is the best I've felt from a physical standpoint in years.
As a team, I really feel good about where we are at. I've been impressed with the maturity of Brittney [Griner] and her willingness to continually learn. Obviously, Diana [Taurasi] has been playing out of her mind and both Candice [Dupree] and DeWanna [Bonner] can score at will.
Still, I think the best part about us is that we are all unselfish; we just want to win. We don't have a player who needs to score a certain amount every game to stay happy. Rather, we simply want to work together and play as crisp as possible.
June, 7, 2013
6/07/13
2:16
PM ET
By
Alexis Hornbuckle
| ESPN.com
David Sherman/NBAE/Getty ImagesIt has been a rocky start for Alexis Hornbuckle and her Phoenix Mercury teammates.
Nothing will keep us from working hard as a team to turn this season around.
We know it is still early but we also understand that we need to buckle down and focus on everything that needs to be fixed. The good news is we can immediately fix the effort and hustle we display every game and feel that if we keep working, everything else will fall into place.
That doesn't mean the road gets any easier. We next head to Indiana to face the defending WNBA champion Fever. One thing about the Fever is that they always play hard no matter how many injuries they have, so we need to not only match their intensity but surpass it.
Indiana always has a good home crowd so we anticipate it being noisy -- with it being on national television it will be even louder. (Y'all need to tune in to ABC at 3:30 p.m. ET Saturday to watch.) Plus, Tamika Catchings is one of the greatest players in the world and we know she'll have her team motivated and ready to play.
From our perspective, the most important thing we can do right now is simply play harder and keep working hard. Our shots may not always fall, but we can make up for that with our intensity and drive. We don't have much time to figure things out but the loss against the Minnesota Lynx was embarrassing -- that's not indicative of our character or how we are built as a team.
One thing's for sure: We are going to play better in Indiana whether we win or lose.
We plan on looking like a different team from here on out as far as our effort and hustle are concerned. We have to be the ones running down every loose ball, fighting for rebounds and making the hustle plays. For us, there are no excuses -- we just need to unite as a team and keep moving forward.
That means we need to take everything up a notch. If we feel comfortable with something, do it again. Put in the extra time after practice working on our shots. Spend another hour in the training room making sure we are ready to go. We are a hard working team, but at 0-3 there will be more adjustments made to correct the mistakes we are making -- each player is committed and devoted to that mindset.
With the league so competitive as a whole, we can't fall too far behind. Still, our confidence as a team isn't shaken and we all believe in each other.
Right now, it's all about heart.