March, 21, 2014
Mar 21
2:33
PM ET
By
Rachel Banham
| ESPN.com
Courtesy of Minnesota AthleticsMinnesota opened WNIT play with a win over Green Bay on Wednesday, and Rachel Banham set the Gophers' single-season scoring mark.
Hi, everyone!
After getting off to a slow start in Big Ten play, we went on a nice run to close out the regular season and finished with a .500 record at 8-8 in the Big Ten. We were able to click as a team on and off the floor and had a streak of four straight wins in February. I was proud of the way our team finished the season strong, winning six of our last eight regular-season games.
We went into the Big Ten tourney coming off of two solid wins against Indiana and Ohio State. We beat Wisconsin for the third time this season in an overtime battle in the first round but lost in the quarterfinals to a very good Nebraska team.
After that, all we could do was wait and see what the future held for us. Knowing that we were a bubble team made watching the NCAA selection show very nerve-racking. Unfortunately, it didn't go as we wanted, but with one door closing, another one opens. We were an automatic bid into the WNIT and have an opportunity to end our season with a championship.
As disappointed as we were to not be in the NCAAs, we are using this as motivation to continue to get better as a team and to contend for the WNIT championship.
We won in the first round Wednesday against a tough Green Bay team in front of our home crowd at Williams Arena. Another positive on the night was that I broke our single-season scoring record. It is such an honor just to hear my name along with some of the great Gophers that have played here at Minnesota, so to be able to break a record like that really feels special.
Go Gophers!
January, 14, 2014
Jan 14
1:26
PM ET
By
Rachel Banham
| ESPN.com
Minnesota AthleticsRachel Banham hit the 1,500-point milestone but is focused on helping her team get back on a winning track.
Winter break is always the best because I finally get to go home, relax and be around my family. Getting to eat whatever I want while I'm there is always something I look forward to. Although we only got three days off this year, I was excited to get back and get ready for Big Ten conference play.
[+] Enlarge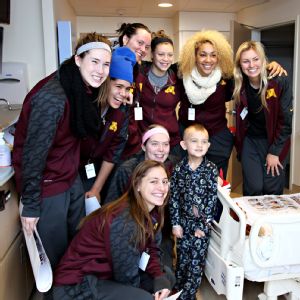 Minnesota AthleticsDuring Christmas, the team visited kids at the University of Minnesota Amplatz Childrens Hospital.
Along with focusing on practice and the season, my team was able to set aside time to do fun volunteering events. We had the opportunity to visit the University of Minnesota Amplatz Children's Hospital and brought the children gifts and hung out with them for a bit.
We also adopted a family for Christmas through Big Brothers Big Sisters of the Greater Twin Cities, and we purchased gifts for each member of the family and personally delivered them to their house. Being able to give back and put smiles on some faces was a big gift for my teammates and me.
After the holidays, our Big Ten season was right around the corner and our team practiced long and hard anticipating the tough schedule ahead. We lost our first two conference games. Our first loss was to a very good Michigan State team and our second was to a ranked Iowa team on the road.
I think our team was able to learn from these losses. We have continued to work on our flaws, and we realize what we need to do to win. It's extremely hard to win games in the Big Ten, but that's what makes this game fun — finding ways to win and competing with the best.
In the midst of these tough losses, I was able to score my 1,500th point, which was exciting for me. Hitting that milestone has made me set the bar even higher. I'm not only hoping to reach the 2,000-point mark, but I also am aiming to break our school record for points scored, which is held by the best point guard in the WNBA, Lindsay Whalen, at 2,285 points.
These are some of my future goals, but right now my mind is set on winning games and getting my team to the top of the Big Ten.
November, 23, 2013
11/23/13
2:50
PM ET
By
Rachel Banham
| ESPN.com
University of Minnesota AthleticsFrom playing hoops in the kitchen with her brothers, Rachal Banham now is a junior point guard for the University of Minnesota.
Hey everyone! My name is Rachel Banham and I am a junior point guard at the University of Minnesota. I am from Lakeville, Minn., a city that is only 30 minutes from the U of M campus, and I love to sing, dance, hang with friends and just be goofy.
My mom and dad, Mel and Don Banham, are both police officers for the Minneapolis Police Department. My dad recently retired after more than 30 years of service. He is very well-known for all of the great work he has put in and the differences he has made in the city. My mom has been with the Minneapolis Police Department for more than 20 years and is a sergeant in the sex crimes unit.
My mom and dad also work security for the Minnesota Vikings. My dad stays by the head coach as well as the more well-known players, while my mom watches over the visiting team's sideline.
My parents are extremely hard working and are my biggest roles models, and I hope one day I can be just like them. I am currently majoring in sociology of criminal deviance and hope to get into investigative work with sex crimes, just like my mom.
I have two brothers and one sister. My oldest brother, Cole, is 21 and a running back on the Gopher football team. My younger brother, Blake, is 17 and a senior at Cretin Derham Hall High School, where he is a running back on the football team. The youngest of the four of us is my sister, Paige. She is 14, a freshman in high school and competes on the gymnastics team at Lakeville North. My entire family is very athletic, and we all grew up playing many sports.
I started playing basketball when I was in kindergarten and grew to be obsessed with it. Up until high school, I always played three or four sports, but basketball was my true passion. My brothers and I played in the driveway together growing up, and if the weather was bad, my parents would bring us to the gym.
Sometimes, we would play in the kitchen. Even though we always got in trouble for putting holes in the walls or breaking stuff, we kept playing. The best part is, we still do it when we are all at home together. Though my parents were not happy at the time, and still get mad, I think they realize it really did help me become a better player.
I always had a ball in my hand and wanted to be at the gym. Also, the competitiveness my brothers and I had was unreal. We fought constantly, challenged each other to anything and never went out quietly. At the time, it was too much and somebody was always getting upset, but now I realize how much it has paid off. Growing up with brothers gives someone a certain kind of toughness.
I started playing varsity basketball in eighth grade, and that's when it started getting really serious for me. That's when I started thinking about a future in the sport. I had a great five years of high school basketball. We brought home the state title and posted a 32-0 record my junior year and placed third in the state tournament my senior year.
Before my junior year, I decided I wanted to attend the University of Minnesota to be near my family and play for a school I loved and admired growing up. Lindsay Whalen and Janel McCarville really gave Minnesota a name and made this place somewhere you dreamed of playing. They are two players I look up to and they're continuing to thrive in the WNBA.
I will keep you updated all season long on all things Gopher women's basketball and look forward to giving you a closer look at my junior year.