June, 11, 2013
6/11/13
9:46
AM ET
Courtesy of Laura SuchoskiAlli Tanner, who starred at North Carolina, was one of the key organizers of the Harrow Cup and dug deep for the Tembos.
Consider it pulled off. This past weekend's Harrow Cup was nothing short of a success.

The weekend had it all. Smiles. Laughter. Nerves. Determined eyes. Ruthless grins. Long, exhausted sighs. Heated conversations. Nasty collisions. Diving goals. Cheering parents. Crying babies. Heroic saves. Big wins. Tough losses. Enthused chatter about everything from pressing strategy and subbing rotations to best practices for explaining turf burns, bruises and tan lines to coworkers Monday morning.

The success of the Harrow Cup wasn't in dollar signs; it was in the simple yet inspiring sense of joy pulsing through the air as so many women took to the field again to profess and share their unending love of field hockey.

With shoulders back, and heads held high, teams donned their uniforms proudly, seemingly undaunted by the fierce and physically demanding challenge of playing four 70-minute games in two days. Separated into two pools of four, each team played a round robin Saturday and Sunday morning followed by a crossover classification match Sunday afternoon.

In Pool A, which featured the Tembos, Dynasty, Tomahawks and Vipers, newly minted national team member Jamie Montgomery (Wake Forest) led her wise and talented Tomahawks securely to the top spot despite a valiant effort by the Cup's leading goal scorer Liz Sanders (James Madison) and her Vipers. On the other side, in Pool B, the solid, well-balanced Mambas, led by new mom Sarah Dawson (Iowa), managed to make their way into final, narrowly edging the feisty Titans, Boomers and Ninjas.

The highly anticipated $10,000 Harrow Cup showdown pitted Montgomery's Tomahawks against Dawson's Mambas. Dawson's defense, led by Kelly Driscoll (Old Dominion), Meghan Dawson (North Carolina) and Teryn Brill (North Carolina) denied Katie Grant (Duke) and the Tomahawks' early onslaught at goal. The Mambas' resilient defense morphed into a potent attack that delivered a 6-1 victory and a $10,000 check. Meghan Dawson's gutsy performance in defense earned her the Harrow Cup's MVP.

While Meghan Dawson and the Mambas walked away with the Harrow Cup championship and the ultimate prize, they weren't the only winners on the weekend. The biggest winner was the game itself. The Harrow Cup reaffirmed in so many hearts, most of all my own, the power of that youthful -- yet ageless -- passion for the limitless possibility of play. Perhaps there was nothing more inspiring over the weekend than the children running around with sticks in their hands, and smiles on their faces saying, "Look at me, one day I'm gonna be just like mom."

The Harrow Cup made that happen. I think I'd call that a success.

June, 7, 2013
6/07/13
11:49
AM ET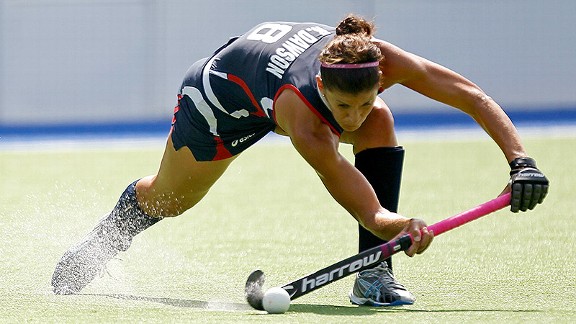 Mike Ehrmann/Getty ImagesRachel Dawson traces the origins of the Harrow Cup to a festive Thanksgiving feast.
How the h-e-double-hockey-sticks are we going to pull this off?
That was the thought running through my mind last November after my first conversation with Alli Tanner (field hockey brand manager at Harrow Sports and my former teammate at the University of North Carolina) about creating a revolutionizing postcollegiate field hockey tournament that would not just get women back in the game for a weekend of competition, but inspire them to stay in the game for good.
We had eight months, $10,000 and a ridiculously lofty vision. Field hockey had no standard for postcollegiate play; players had no expectation to continue playing after college. Most of them simply lost touch with the game; many no longer owned hockey sticks.
Cue up Thanksgiving 2012, when the spark to change that trend ignited. A bunch of passionate, not-so-old-yet-unfortunately-not-so-young field hockey folk gathered around the dinner table with Mark Hayden, CEO of Harrow Sports, and his 15-year-old daughter, Maica, at the 2012 National Field Hockey Festival. Food, wine and frivolous field hockey chatter flowed. Intrigued by our experiences, Mark asked what the game needed in order to grow in the United States. Unanimously, we agreed: more and better opportunities for everyone to play.
The next morning, Mark informed us that he wanted to host a $10,000 winner-take-all, postcollegiate hockey tournament. "We'll call it the Harrow Cup," he said. His team of Harrow Hockey workers whooped and swooped and high-fived. "This is awesome," I thought. A week later, the magnitude of what we had taken on sunk in. Here was this huge void in our sport, and we were like, "What the heck, let's cannonball right into the middle of it and see what happens."
Initially, I wondered whether there would even be enough interest to field four good teams. Boy, was I wrong. From the outset, response to the Harrow Cup, and its mission, was great. The brightest minds and biggest hearts engaged themselves in the postcollegiate cause. Umpires volunteered, USA Field Hockey showed support and players came out in droves. In February, more than 300 athletes from 99 different universities, ranging in age from 22 to 40, entered the Harrow Cup player pool. In March, 144 athletes from that group were drafted into eight teams. Highlighting those teams are former All-Americans, national champions, Olympians, and collegiate, club and high school coaches.
This weekend, the Vipers, Tembos, Boomers, Dynasty, Titans, Mambas, Ninjas and Tomahawks will compete for the inaugural Harrow Cup and its $10,000 cash prize. Competition begins Saturday at 9:30 a.m. at Temple University's Geasey Field.
Come support these inspiring women as they showcase their talent, courage and competitiveness. Witness for yourself what's possible when you empower passionate people and let them cannonball into the unknown. The Harrow Cup isn't just making a splash, it's changing the game.
November, 15, 2012
11/15/12
5:13
PM ET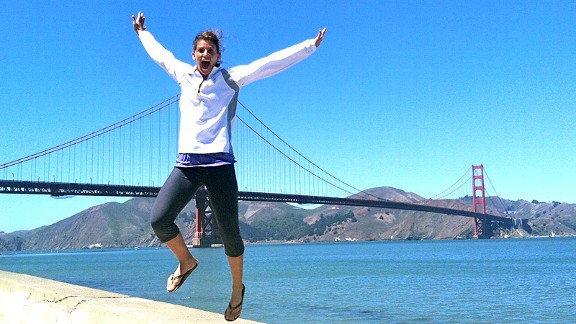 Courtesy of Rachel Dawson Rachel Dawson hit the road after London -- from San Diego to San Francisco, then all the way east to New Jersey.
What have I done in the last three months?
I wish I had a good, clean, heroic answer for you -- something that would knock your socks off and move your heart to dance a jig. I wish I could tell you that life in the past three months was perfect, pretty and certain, like an impeccably painted image of Olympic triumph narrated by Bob Costas. I'm sorry. I just can't give you that. But life has been a beautiful, winding road for me.
Three months. It's amazing to think it has been that long since the Games. I thought time would stop after the Olympics. We had a very disappointing Games -- 12th (last) place, in fact -- and I rationalized maybe the triumphant return of the Spice Girls and Annie Lennox's closing ceremony theatrics meant the apocalypse was finally here.
But the world didn't end. Time spun madly and chaotically, and with it, I carried on down that winding road of life, feeling a bit like Jack Kerouac, having "nowhere to go but everywhere." So from one unexpected adventure to another, I've "just [kept] on rolling under the stars."
After the Games I said goodbye to teammates who'd become family, coaches who'd become confidants and dreams that'd become reality. I said goodbye to a part of myself that had been clothed for years with an immediate sense of Olympic purpose. Naked, vulnerable, and unsure of what was next, I stepped forward on the road to wander the great unknown of "life after the Olympics."
OK, that's a little dramatic -- I had clothes on -- but there's truth in it. The road is scary. I had no after-London plan. Most of my life had been paved with plans, but, this time, I craved the unknown. I was ready to trust in the winds of God and let life unfold.
[+] Enlarge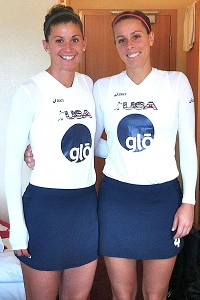 Courtesy of Rachel DawsonRachel Dawson, left, with her younger sister Meghan at the Champions Challenge Tournament in Dublin -- Meghan's first game on the U.S. national team.
So literally, I hit the road. I packed my apartment in San Diego, hopped in my car and drove with one of my best friends -- first north, up the California coast on Pacific Coast Highway, then east. Over the next 12 days, America's vast and beautiful terrain unfolded before our eyes. The road meandered from Santa Barbara to Monterrey, to San Francisco, to Tahoe, to Vail, to Denver, to Iowa City, to Ann Arbor, and finally, all the way to New Jersey.
The further east we drove, the more I felt an impending sense of purpose. I longed for home. I missed my family, and the time was nearing for me to give to them what I had so long given to myself: me. At my mom's house in New Jersey, I have a small, closet-less room. I arrived, and immediately unpacked. I was ready to settle in.
But the next day I got a phone call from Nick Conway, the (former) WNT assistant coach and head coach of the junior team. He was in a bind, and needed to find a quick replacement for a recently vacated junior team management role. He thought I'd be the perfect fit for the job. He asked if I'd go to Mexico as the team's video coach and mentor.
Sure, I was flattered he asked, but the truth is, I didn't want to go. I was tired, and I wanted to stay in New Jersey for awhile.
That night though, something fortuitous happened. From my mom's living room I listened as Michelle Obama delivered a powerful speech at the Democratic National Convention. She spoke of family, hard work and humble sacrifice, and the passion of her words struck a deep chord inside of me.
I knew what I had to do. For so long I'd been given kindness and limitless opportunity and now I needed to give back. I long to be the type of American who makes the First Lady, and the rest of our nation, proud -- proud not for the glamorous and celebrated role of Olympian, but as an unglamorous and uncelebrated simple, hardworking, do-what-I-can-for-my-country American.
Two days later, I was on a plane to Guadalajara. The team, a young group of enthusiastic college girls, was competing in the Junior Pan American Championships. On the line was a qualification spot in the 2013 Junior World Cup.
I spent 12 days in Mexico propped behind a computer screen and camera lens filming games and scouting opponents. It was quite an interesting juxtaposition with the last time I was in Guadalajara less than a year ago, when we'd earned an Olympic berth by upsetting world champ Argentina to win the Pan Am Games.
I didn't mind the work, or the new perspective, though. Actually, I found it purifying. My heart grew in gratitude for those who'd created such seamless competitive experiences for my teammates and I over the years. And the work helped me find something that I'd lost somewhere in the pressure, expectation and heartache of the Olympic year -- my love of the game.
In Mexico, I found love in simple moments: in the girls' enthusiastic singing, in their wide-eyed, bushy-tailed love of one another and the game and their devout support of the USA boys team. I saw it elsewhere, too. In Guatemala's epic and exuberant celebration of their country's first international goal. In the eyes of each of our staff members -- Conway, Shellie Onstead and Carrie Lingo. I saw a devoted passion for the game and a willingness to share it and sacrifice for it. I saw love in the impeccable technical brilliance of the Argentines. As I watched game after game, I saw new things, and I learned from them, and as I learned, my love grew.
I think I found that love at the perfect time. I left Mexico and hit the road back to California for a short national team training camp prior to the Champions Challenge Tournament in Dublin. It was an impromptu training camp; of the roster's 18 members only 12 were in camp, including four national team newbies. We felt like the field hockey equivalent of the Bad News Bears -- a hodge-podge group of unwanted athletes.
Yet somehow, the adversity made it more exciting. We had something to prove. We worked hard to prove it, and spent long, intense hours on the turf. We found joy in the work, and it bonded us. Excitement pervaded the group. Nothing was taken for granted. Somehow and from somewhere, each of our roads had led here, and we were thankful for it, because each of us was doing what she loved.
Then, two days before we left for Ireland, in an odd, long-awaited stroke of fate, my 23-year-old little sister Meghan got the call up to the national team. My heart swelled with pride. It's funny how the road works itself out when we least expect it. Sure, I was a little nervous for Moo, but mostly, I was thrilled.
I'm not sure what it was, but there was something magical about the trip to Ireland. Maybe it was the imperfect perfection of it: With all the cards stacked against us, we could have easily folded, but we didn't. We chose to stand. We chose to work for one other.
We gritted through games and won ugly. We made it to the final and got pummeled by Australia. But I didn't feel like we had failed. Maybe we'd actually succeeded greatly, having exercised one of life's most valuable lessons: We enjoyed the beautiful struggle of it all.
When I look back on these past three months, I am incredibly thankful for them, and for the imperfect brilliance of the winding road I've traveled. And here's the truth, at least as I see it: Life is full of hardship, full of lessons, full of joy, full of crossroads and full of goodbyes. We can't control everything on the road, but we can control how we travel it. So all I can do is pack up my values, and journey with a mindful head and open heart, trusting the road will lead me where I am meant to go. I am OK with that, because wherever the road leads, I'll trudge happily along.
So maybe I'll see you in Rio, maybe I won't. Who knows what the road has in store.
August, 9, 2012
8/09/12
4:32
PM ET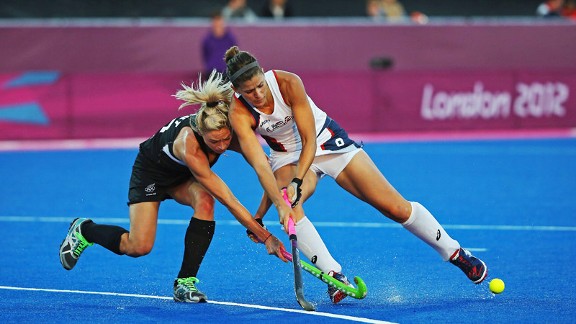 Daniel Berehulak/Getty ImagesRachel Dawson and the U.S. field hockey team suffered key losses to New Zealand and South Africa, and are now fighting for 11th place, instead of the Olympic medal they had hoped to win.
The Olympic experience -- for both the triumphant and the defeated -- is powerful. So powerful, that poems are written about it, songs sung of it and movies made of it, but most of all, dreams are born of it. Long ago, mine were, and, in a way, I believe they always will be.
The Games are an opportunity for common people to seek uncommon greatness through sport. But everyone at the Olympics doesn't find greatness here. All are not crowned winners. In fact, most fail in the pursuit of gold.
We failed, epically. We came here with a plan, and we failed in that plan. We weren't good enough, sharp enough or disciplined enough. And for our failure, there is no one to blame, no fingers to point and no criticism to deflect. It is on us. Too often, when we needed to stand up and make important plays, we didn't. And for our performance, we got what we deserved: a playoff game for 11th place Friday morning.
Though we've accepted our responsibility in creating our fate, digesting our failure has been no less difficult. A few days ago, I didn't know how I'd be able to take the field again. My soul had been ripped raw and my greatest fear had been given a voice: Perhaps I'd never be good enough to compete with the best.
But somehow, in the days and hours since, my fear has subsided. I've found simple joy in simple moments: lying on the grass with my sister at Hyde Park, watching and celebrating the amazing achievements of others, competing at hockey tennis on the village turf, sharing smiles at the neighborhood coffee stand and, most of all, while training intensely with my teammates.
It seems a great truth has come of our failure. We are incredibly resilient, and our spirit will prevail. Tomorrow, we will throw our shoulders back, stand tall, and we will fight like hell to earn 11th place.
Someday, down the road, I know I'll be incredibly thankful our Olympic journey didn't go as planned, because I've always believed the greatest of triumphs are born of great failure.
Thank you all for reading and supporting us on our journey. I challenge you to always pursue greatness. Failure won't break you, either.
August, 1, 2012
8/01/12
2:04
PM ET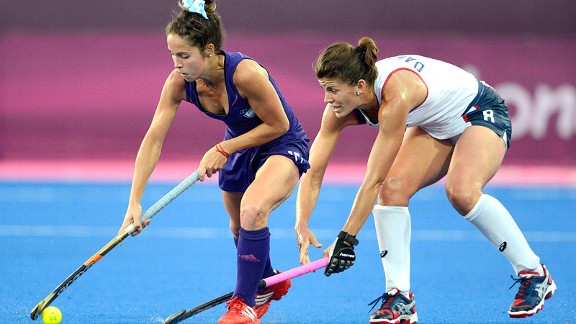 Andrew P. Scott/USA TODAY SportsRachel Dawson, right, battles with Argentina's Rocio Sanchez Moccia during the teams' meeting Tuesday. The U.S. won 1-0.
Fun. I am not talking the band -- I am talking about last night. Pristinely clad (for the first time) in our white ensembles, we danced the tango on the blue turf of Riverbank Arena with our Pan American nemesis, Argentina, on Tuesday. It's a dance we've done often, and this time, like in the Pan American final, we won.
It wasn't exactly a pretty dance -- bodies were flying, sticks were colliding and South American tempers were flaring. Katelyn Falgowski and Melissa Gonzalez kept magic at bay, diffusing the spellbinding skill of Luciana Aymar, known as "La Maga" (the magician) of hockey. Their defensive effort, along with that of others, paved our path to a 1-0 victory.
In the end, it took a lot of discipline and a smidge of good fortune to earn the three points we needed to stay in the hunt for a top-two finish in Pool B. But we managed to get the job done and have a bit of fun along the way.
Be sure to stay tuned as there is more dirty dancing to come Thursday versus Australia.
June, 15, 2012
6/15/12
8:52
AM ET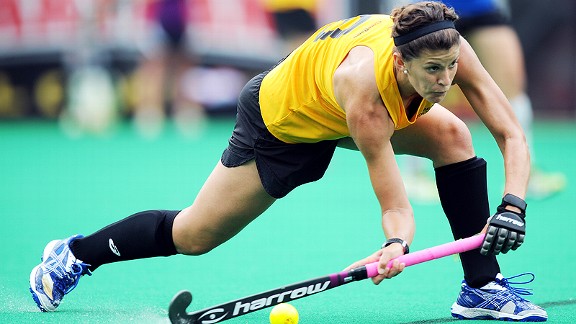 Yuchen Nite/USA Field Hockey Rachel Dawson played in the High Performance National Championship as part of the U.S. Olympic team selection process.
Back slumped against the wall, legs extended, exhausted yet relieved, I sat on the training room table.
Katie, the team physio, looked at me quizzically. "What happened to you? You were supposed to be back from your run at 12:15."
It was 1:24.
"Went for an adventure," I said, laughing, although it was the truth. "Got lost in the woods -- don't ask me how -- and saw a snake, a raccoon and two deer. Nearly got attacked. I'm lucky to be alive."
She smirked. "You are losing it, Rach. Let's do stim and ice."
"OK."
It was Wednesday -- hump day -- a midtournament "day off." The U.S. national field hockey team had been at the University of Maryland for a week, split up among eight regional teams and alongside countless young players, competing against one another in USA Field Hockey's Annual High Performance National Championship.
[+] Enlarge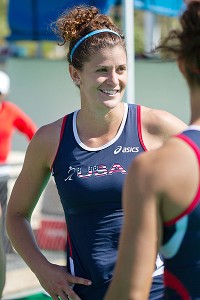 Casie BuschmannRachel Dawson will be representing the U.S. in her second Olympic Games this summer in London.
But in the middle of it all, my national teammates and I had one major thing hanging over us: Olympic selection. We'd know our fate on Friday -- Olympics or not. It was miserable. And I'm pretty sure my lost-in-the-woods episode was due to this Olympic preoccupation.
Lauren Crandall sat on a training table beside me. "Has Lee emailed the times for our individual meetings on Friday yet?"
Lee Bodimeade, our head coach, was setting up appointments with each of us to tell us whether we'd made the team.
"I think I just got it." Paige Selenski piped up from the back of the room.
She read the list. Twenty-five athletes waited anxiously. Only 16 would make the team.
5:15 – 5:20: Rachel Dawson
A shiver of helplessness quivered in my stomach. Laughter rose to the back of my throat. Five minutes, I thought. It wouldn't take nearly that long.
It takes years to build your Olympic case, and a moment to destroy it. Olympic selection sucks. It's harsh. It's honest. It's absolute.
We give the journey so much. We give it our days that somehow become years. We give it our minds, bodies and souls. We care about our sport when no one else cares -- in those years between the Olympics -- and we fight when no one thinks we stand a chance. Even when we are reluctant to give, we do, because we know that we must give our entire selves in order to win and to play for Team USA.
And it is very scary to give yourself to something that is so uncertain. Something that in recompense gives you five minutes. Five minutes you don't even want because you know five minutes is too long. A simple yes or a dreaded no -- an absolute that will shape the course of your next few days, months, or even years.
At 5:11 on Friday, I had been at the field since 8:30 a.m. I felt the heft of sunburn and exhaustion on my shoulders. I stepped inside the Comcast Center, and walked down the corridor toward the Maryland women's basketball offices. I saw the name plaque on the wall as I entered the door: Brenda Frese.
Memories rushed back to me. In the middle of a Virginia summer nearly 10 years ago, it was hot as heck outside and even hotter inside as I played basketball in a little box of a gym. Brenda Frese sat midway up the stands. The new Maryland coach wasn't there for me -- she was there watching the stud I was guarding. I dreamed of playing basketball in college and thought that if I played my heart out, defended well enough, maybe I'd impress her. Maybe, just maybe, I could hang up my stick and pursue the sport I first loved.
But that wasn't in the cards for me. Fate said no back then, and I wasn't recruited onto a top college basketball team. Now, years later, it was Brenda Frese's office that my field hockey coaches were using for Olympic selection meetings. What weird irony. I walked in and sat down. Lee's lips moved as his words filled the air. My eyes watered and tears fell.
I stood up, and my feet feebly searched for solid ground. I walked out of the Comcast building, sat on the concrete wall and sighed. I'm going to the Olympics, I thought. I had known my chances were good, but you never know for sure, and I never like to make assumptions one way or the other.
A few moments later, Katelyn Falgowski walked out toward me, as one of my new Olympic teammates. She hugged me, and said, "Congrats, Rach."
"Congrats, Fraggle," I said, smiling.
In silence, proud yet humble, we stood waiting for others.
Then the doors to the Comcast Center opened again. With head held high and shoulders back, a smile graced the face of Jesse Gey, one of my absolute favorite people in the world, and an old college teammate. She took a deep breath and shook her head. No.
My heart sunk. But in that moment, I saw true courage in the face of a great teammate and friend, determined to support Team USA whether she made the team or not. And I remembered that it is the journey, with all of its heartbreak and joy combined, that makes our dreams so special.
But Olympic selection still completely sucks.
May, 1, 2012
5/01/12
2:20
PM ET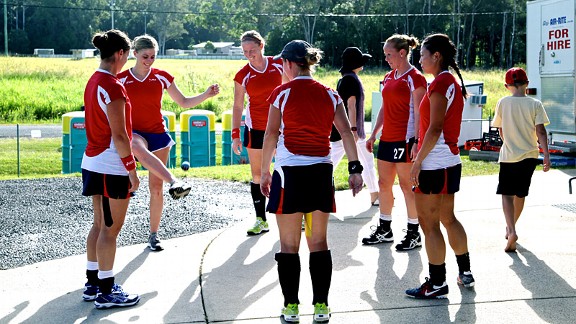 Jaclyn KitnzerMidfielder Katelyn Falgowski kicks the hacky sack during a pre-game, get-the-jitters-out hack session with her teammates.
Dear Self,
Be vulnerable. Put yourself out there. Communicate. Ask for help. Let others make you better. Give kindness and receive it. Share your load. Don't hide behind bravado, or pretty hair. Let it loose. Go wild. Say how you feel. Let the world hear you sing. Dance. Be weird. Be you. Smile. Give you.
Share your food. Pack a picnic, sit at the table a little longer, order dessert and share it. Take walks, have coffee, sip it slow. Talk. Share your story, lend your ear. Learn. Tell a joke. Have fun, make a mess. Always help clean up. Savor life. Share the road.
Have faith. Choose to see the good in yourself and others, choose to work for good, and always, always trust what comes of your choices.
Love,
Me
It has been a long month. After nine days in Australia, 14 days in New Zealand and 11 hard-fought games, I am finally home in California. Cue the long sigh.
It was a humbling trip Down Under. The games didn't pan out the way we wanted. We didn't win. We started strong in Australia -- won two of the three-game series versus the "Hockeyroos," which is what they call the national team. Then we traveled to New Zealand, and very slowly, things started to unravel. We played two 4-Nations tournaments against New Zealand, Australia and India. We finished third in the first tourney and a dismal fourth in the second competition. We were inconsistent. We squandered important opportunities.
Yet for all of its hardship, I am unbelievably thankful for the trip. It was one of the best experiences of my life. On that 23-day journey with my teammates, I smiled more than I have smiled in a long time and shared simple yet meaningful moments with my teammates -- Easter Sunday mass in a small Australian church; sunset wiffle ball games on the beach; morning coffee runs to Pickles, the local New Zealand coffee shop; smorgasbord meals at the coaches' "Real World" house; laughs over new nicknames (Smeds, Puuuzzz, and Lippy); chats about God, life, books, animals and movies. While sharing and smiling, I realized something invaluable: This journey is not all about the Olympics.
Heck, it's not even about field hockey. It never was for me. In 110 days, the Olympics will be over. This journey is about giving myself to my team every day, giving my purpose and my passion and growing from what I give. It's not about perfection. It is about constant improvement -- going beyond myself and becoming a part of something way bigger than just myself. It's about enjoying every moment, even the ones that are filled with uncertainty and fear. It's about us all opening up, embracing one another and sharing the road.
It has taken me a long time to learn these things even though I have been on teams my whole life. I've never played an individual sport. I tried once, ran a few laps around a track, and said nope, not for me. I loved winning too much and on my own, I didn't stand a fighting chance, because I am an average athlete at best. I am not very fast, can't jump very high and despite my affinity for spinach, I'm no Popeye. Anyone I have ever played with will tell you, I am a klutz. I can even trip over the painted sidelines on the field.
But as a kid I dreamed big and did what any logical Olympic dreamer does -- I accepted the hand I was dealt, gave up my inspiring yet impossible dream of becoming Flo Jo Jr., and decided to leverage my few athletic assets with the talents of others.
I entered the wide world of team sports.
Except being on a team meant working with people, which wasn't quite my forte. I am not what you'd call a "people person." I am not a pleaser. I don't beat around the bush. I like staying home on weekends. I hate small talk. I enjoy eating alone. I can't stand "coolness," and I hold firm in two beliefs -- if you have something to say, say it, and if you have something to do, do it.
I survived on teams because I clung to the unspoken contract between teammates. We want the same thing. You want to win, and I want to win. I need you at your best. You need me my best. So let's do whatever it takes to be at our best. We'll win.
But being a good teammate also requires communication, understanding and respect. You have to relinquish some of your control and choose to trust others. I didn't always understand that. I thought wanting the same thing badly enough was enough. I thought winning was enough, but it's not.
There was something powerful about this 23-day trip that changed my perspective. We were uncomfortable. We were forced to share. We shared the joy of victory and disappointment of defeat. We shared our fears and uncertainty. We shared our courage. We shared small living spaces and jars of pickles.
One moment, against India, sticks out. For the first time since moving to the midfield four years ago, I was asked to play in the backfield. I hadn't trained there in years. I was unsure of myself, of what the game would look like from the position -- would I see passes, would I hold the right defensive zones, would I communicate the right things? I was scared. I felt sick to my stomach. Right before the whistle, I turned to my teammate Lauren Crandall, my eyes ridden with fear, and said, "I need you today. Help me get through this." She nodded her head, took the burden off my back, and together we weathered India's attack.
This trip changed something in me. It was hard. We were uncomfortable. We were disappointed in ourselves and unsure of our path. Yet, we found strength and joy, not in the outcomes, but in the presence of one another. I let go of my expectations. I let go of the Olympics, of being great, of making the team and of winning. I let go and decided to focus on what I can give every day.
I still want the Olympics, for sure. And I still want to win, badly. But I've also made a bigger promise to myself. I am going to give myself to something bigger. I am going to be vulnerable and share my food. I am going to live with faith and I am going smile, win or lose, every day. I am going to find work and do work -- not for myself or for the Olympics, but for my team. Because if there is one thing I am certain of, it is that we are in this thing together. And we have to work and fight for each other.
Rachel Dawson will be blogging for espnW in the lead-up to this summer's London Olympics. Check back in a few weeks for more from Dawson, and read her previous posts here.
March, 9, 2012
3/09/12
11:30
AM ET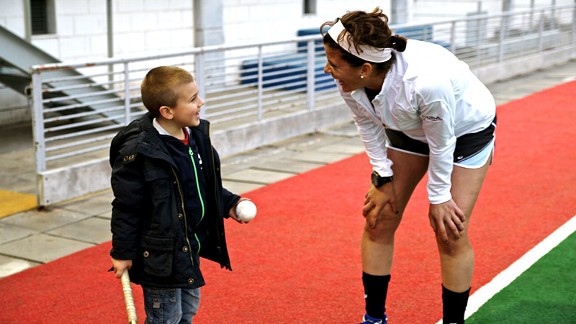 Jaclyn Kitnzer Rachel Dawson tries to talk field hockey with a Spanish boy, without knowing a single word of the language.
Rachel Dawson will be blogging for espnW in the lead-up to this summer's London Olympics. Check back in a few weeks for more from Dawson, and read her previous posts here.
Seven years of French, three of Latin, two of Dutch, and I am still completely hopeless in Spain.
Me no habla espangola. And I got a few painful reminders of that when our team was in Spain last week for the Four Nations Tournament.
But, I get by, thanks to a big smile, engaged eyes and the impeccable timing of a comedic "I don't have a clue what you're saying but please forgive me because what do you really expect from an American?" shoulder shrug.
I don't speak a lick of Spanish, but I know how to get my point across. I find a way.
It's a lot like our team -- we are always finding a way. Those three little words, synonymous with "survive," pretty much sum up our two-week "holiday" in Spain for the tournament.
No matter what happened, our coach, former Australian striker Lee Bodimeade, was hell-bent on us winning in Spain. For him, it was personal: He wanted to redeem himself for Australia's loss to the Germans 20 years ago in the Olympic final.
Competing on the very same pitch as in the '92 Games, we did accomplish the tour essential -- we won the tournament against Great Britain, Spain and Belgium. But it wasn't easy, and it definitely wasn't pretty. There were sleepless, jet-lagged nights on the eve of early afternoon games. There were a stomach bug and bronchitis, lost teeth and infected blisters. There were games, lots of games and not a ton of rest time.
It seemed that en route to finding a way, we lost our way, more than once, and learned some humbling lessons.
Like, the three-goal deficit we had by halftime in our very first warm-up game against Belgium. Everything we did was a step off and a stick away. We lacked focus and intensity. It took a pretty honest halftime tuneup to give us the gusto we needed to fight back.
Lee gathered us together with fighting words: "This international hockey, it's not some skip around in the park. You don't just walk out there and expect to win. All you're doing out there is hoping; hoping that you'll win. Well, you know what hope is -- the first form of desperation. Go out there and play. Pass to each other. Help each other. Go make a game out it."
And we did. By game's end, we had climbed back to even ground. Bravo to us for having the courage to fight, but climbing out of self-dug holes is exhausting.
A few days later, another lesson came our way. They don't give points for how pretty you play, how many shots you take or how much possession you have. The only thing that matters is how many times you put that little white ball in the back of the net. Such wisdom was courtesy of a 0-3 loss to Spain in our final warm-up game prior to the official tournament. We dominated play, but it didn't matter. Spain had one shot and two penalty corners to our 10 shots and bazillion corners. The moral: Moments matter -- and we must own ours.
As frustrating as those lessons were, we were better for having learned them the hard way. In the first official game, we beat Great Britain, a team who had pummeled us five times in a row last December. We found the simple way to win -- play hard, smart and together -- all game long.
The win was invigorating. And the next day we took the field to redeem ourselves against Spain. But instead, we tied. The result was frustrating because, again, we dominated but didn't execute on our chances for a goal. As we debriefed the game, you could sense the tension on the team. How many times did we have to go through this? If we'd only scored on one of our many chances, we'd feel totally different about our performance.
I didn't have much time to ponder the matter. That evening I came down with a fever and spent the next day, an off day, in bed crippled by some unknown illness. I ended up sidelined for our final game against Belgium.
If we won here, the tournament was ours. We came out rough, but ready to fight. Julia Reinprecht made a crucial goal-line save a few minutes in. Moments matter. Chances were exchanged. We fought hard, kept ourselves in the battle and gave ourselves a chance to win.
At half, the score was still 0-0. The match remained scoreless as the second half dwindled away. One thing was clear: The game would go to the team with the stronger will. With about five minutes to go, we earned a penalty corner. Our attacking penalty corner unit executed flawlessly. Claire Laubach sent a rocket to the lower right-hand corner of the goal. On the goal line, it kicked off a Belgian foot, and Reinprecht slapped the loose ball into the net.
The ref blew a long whistle: goal! But the Belgians were furious. After further inquiry, the goal was taken away, and a penalty stroke awarded (supposedly the referee had blown for the stroke before the goal was hit).
Lauren Crandall, who had missed two strokes previously in the tournament, stepped to the spot. I couldn't watch. We needed this moment. Find a way, Cran, find a way. I looked away from the goal, opened my ears and heard the ball slap against the board. GOOOOOOOOAL!
We won, 1-0. I was so proud of us that day. It wasn't pretty, at all, but we found a way, and I guess that is what we will continue to do. We will make mistakes, we'll learn more of these lessons and we'll grow.
And in the end, we'll just find a way. I know it.