May, 26, 2013
5/26/13
11:22
PM ET
By
Raven Chavanne
| ESPN.com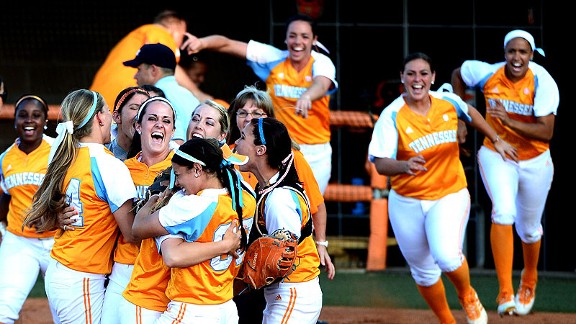 Courtesy of Wade Rackley/Tennessee AthleticsRaven Chavanne's last game in Knoxville was a win that sent the Lady Vols to Oklahoma City for the Women's College World Series.
We did it! OKC bound. I could not be happier or more excited than I am right now. I am so incredibly thankful to be able to go back to Oklahoma City for the Women's College World Series my senior year.
After preparing all week for Alabama, Friday finally arrived. The game was an absolute battle, but we ended up winning 3-2. Both teams hit the ball hard all night, and pitching on both ends was phenomenal.
We knew Alabama was going to come out hungry Saturday, and they proved it, going up on us 3-0 through the first two innings. We knew we could not get down on ourselves. Through playing smart and doing the little things, we ended up tying the game 3-3, then went on to win 5-3.
We all rushed the mound after the final out, jumping up and down, screaming. I remember hugging Lauren Gibson and Kat Dotson, all of us tearing up from joy to be able to go back to Oklahoma City one last time. To have my last game as a Lady Vol in Knoxville be a win that would send us to the World Series was everything I hoped it would be.
As excited as I was to win, I wish Alabama were in the World Series, too, as I fully believe it is a World Series-caliber team. It was a great series in Knoxville, and I have nothing but respect for the players, coaches and overall program. After the game, I told fellow senior Kayla Braud how incredible I thought she was, and that it was truly an honor playing against her for four years.
My teammates and I went out to meet the fans to give autographs and take pictures. Since it was the last time I would be able to do this at Sherri Lee Parker Stadium, I wanted to soak it in and interact all with our incredible fans.
Afterwards, I met up with Alabama super fan Emily Pitek, otherwise known as sombrero girl, to talk and take pictures, as we have become great friends over the years. That's what I love about the softball community, how it creates friendships and memories that last forever.
That's all I have for now. We have practice Monday and head to OKC on Tuesday. Until next time. Go Vols!
May, 22, 2013
5/22/13
3:37
PM ET
By
Raven Chavanne
| ESPN.com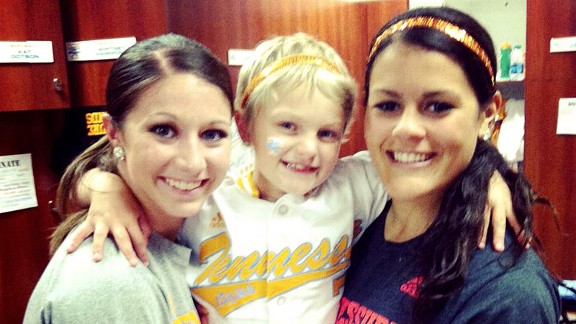 Courtesy of Raven ChavanneRaven Chavanne, right, and Tennessee teammate Lauren Gibson, left, celebrate with Lady Vols fan Averi Ramsey after winning their regional.
Hello everyone! What an exciting weekend it was for Lady Vols softball as we advanced to super regionals! Through the weekend, we ended up going a perfect 3-0, but each game presented its challenges.
The first game of the regional was against Longwood, an extremely good hitting team whose No. 2 hitter leads the NCAA in home runs. We ended up beating the Lancers 9-0, but they hit the ball hard and were a good-hitting team. Our pitcher, Ivy Renfroe, did a fantastic job of shutting down such a powerful offense, and we were all so proud of her.
The next day was the biggest obstacle of the weekend, as we played an 11-inning game against NC State. It was the longest game ever ... literally. It set the Lady Vols softball record for longest game played at four hours. The game was an absolute battle, but in the bottom of the 11th we won on a walk-off triple with two outs. I'm pretty positive I popped a vocal cord I screamed so loud out of excitement.
After the game I still had more to do. I promised Averi Ramsey, our newest teammate who we met through Team IMPACT, that I would give her a piggyback ride throughout the clubhouse after the game ended. Sure enough, when I entered the locker room she was there screaming, "Raven pick me up!" Throwing her on my back, I ran around the clubhouse as I promised, then got her a big plate of spaghetti and meatballs after our little adventure. Having her as part of the team has been such a blessing and all of us feel so honored to have this special little girl in our lives.
On Sunday, we ended up playing NC State again and winning 7-0 to advance to the NCAA super regionals. I have nothing but respect for that team as they were such a class act. Their pitcher, Emily Weiman, is a warrior. She has thrown almost every inning for them the whole season, and as a competitor I cannot help but respect her.
I am so excited to have the opportunity to play again this upcoming weekend. We are hosting Alabama on Friday, and we know it's going to be a tough series. It never fails to amaze me how it goes from 64 to 16 teams so quickly.
I never take the opportunity of playing in the postseason for granted, as most teams are not as fortunate. I know this weekend won't be easy, and there will be bumps along the way to our team's ultimate goal of making it to the Women's College World Series. But I do know that I do not want the last college game of my career to be in Knoxville. I want it to be in Oklahoma City.
May, 17, 2013
5/17/13
7:01
PM ET
By
Raven Chavanne
| ESPN.com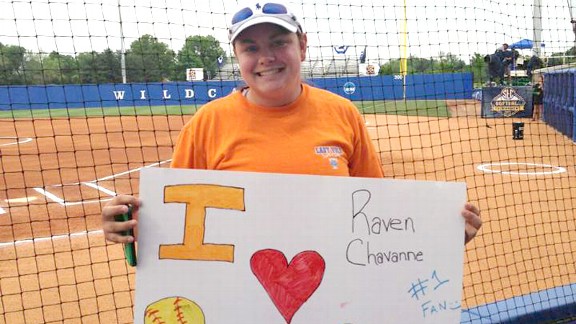 Raven ChavanneThe SEC tournament didn't go too well for Tennessee, but the fans were enthusiastic nonetheless.
I hope everyone has had a great week. As you all know postseason has finally arrived, and it's my favorite time of year. This past weekend did not go exactly as planned at the SEC tournament, but it was still great preparation for regionals.
We ended up getting eliminated from the SEC tournament, but it only prepares us for postseason. All you can do is learn from the mistakes and look at ways to improve, because once NCAA's start, any team is capable of beating one another. That's what I love about the postseason: every pitch, every inning, every game is a challenge.
The most memorable thing from the SEC tournament for me was interacting with the fans. We had so many incredible fans travel to come see us play, and getting to meet them was such an exciting thing.
I had two fans who really stuck out. One was a little girl by the name of Chelsea. After I signed her ball, she ran up to me and hugged me, and it put such a smile on my face.
The other was a girl named Kayla. She took the time to make me a really cool sign. I saw it from the stands when I was playing, and it really pumped me up on the field. Being able to be role model for girls of all ages is my favorite thing about being a Lady Vol.
We ended up as the seventh seed and getting Longwood, North Carolina State and James Madison in our regional. All the teams hit the ball very well, so it's definitely going to be an offensive battle this weekend.
Our team is loaded with seniors, so we are more determined than ever. We are going to do everything we can to get back to OKC one last time.
May, 9, 2013
5/09/13
5:14
PM ET
By
Raven Chavanne
| ESPN.com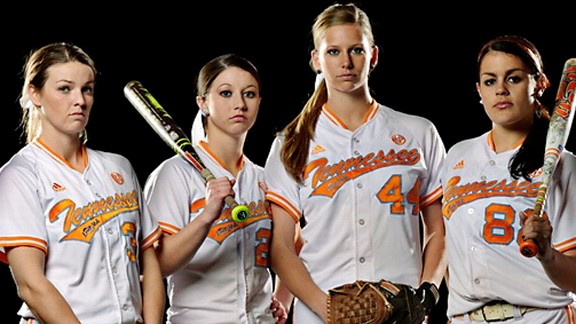 Courtesy of Donald Page/Tennessee AthleticsKat Dotson, Lauren Gibson, Madison Shipman and Raven Chavanne were named to the All-SEC first team and All-SEC defensive team.
Hey, everyone! I hope you're all as excited for the postseason as I am. But first, I want to talk about last weekend, which was hectic weather-wise as we finished up the regular season.
For our last SEC series, we traveled up to Columbia to face the Missouri Tigers. As we got off the plane last Thursday night it was about 40 degrees and raining, and the weather was not looking good for Friday. Sure enough, our game was canceled the next day. We ended up playing a doubleheader Saturday.
We split with Mizzou that night. The next day our game was at noon, so we were up early, ready to play our third game in less than 20 hours. The third game had a drop-dead time of 2 p.m. because we had to drive two hours to the airport to catch our flight.
We ended up losing the game 12-8 in five innings because of the drop-dead time. We wished we could have played all seven innings, but Missouri was most deserving and played an excellent series.
We finished second in the SEC behind Florida. The conference also announced the postseason awards, and my teammate Lauren Gibson received SEC player of the year, which she definitely deserved for being incredible in conference play. Lauren, Kat Dotson, Madison Shipman and I were named to the All-SEC first team and All-SEC defensive team by the league. Lauren and I also were named Top 10 finalists for USA Softball national player of the year.
It is such an honor to have the coaches vote for us for these awards, and we were all extremely grateful and humbled by it. It's always my goal to have fun and help my team win while playing the game I love, so receiving accolades is just a bonus.
We are now getting ready for my favorite time of year: the postseason! We start off in Lexington, Ky., for the SEC tournament, facing South Carolina in our first game. We know we have to come out ready to play because South Carolina is a strong team that beat Florida to get into the tournament. We are taking it one game at a time, looking at this tournament as preparation for regionals.
That's all for now. I will be back later this week to talk more about the postseason.
May, 3, 2013
5/03/13
8:43
PM ET
By
Raven Chavanne
| ESPN.com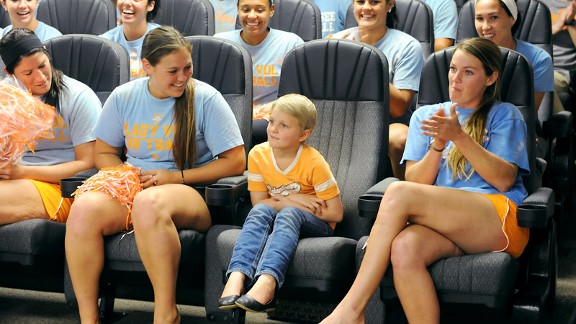 Stephen K. Lee/Tennessee AthleticsAveri Ramsey, who has been battling leukemia since March 2012, is now an official member of UT's softball team.
Hello everyone! I hope you all had a fun week filled with softball. The past week and a half has been crazy with finals and weather affecting softball, but I'll get to that later and talk about the most important thing of the week.
Rewinding a few weeks back on the bus ride to Georgia, Coach Karen talked to the team about Team Impact, a nonprofit organization that matches up children with life-threatening illnesses to college athletics teams. The children become official members of the team, getting their own lockers and attending all team functions. Most important, it gives these children an opportunity to have a whole new group of friends.
[+] Enlarge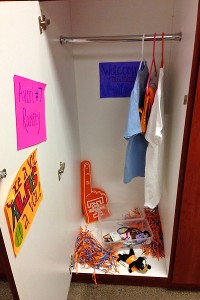 Courtesy of Raven ChavanneThe Lady Vols gave Averi Ramsey her very own locker, a uniform and an assortment of bows, earrings and headbands.
Karen told us this would be a huge commitment, as it is an everyday thing through summer, fall and winter -- not just during the softball season. We all said yes without hesitation, telling her we would love to be part of such a rewarding experience.
During the week of the Arkansas series, Karen told us about a little girl by the name of Averi Ramsey, who has been battling leukemia since March 2012 and is in the final stage of her treatment. The Thursday before our weekend series began, we officially "drafted" Averi to our team, having the Knoxville local television stations there to film it. She signed her letter of intent, got her very own locker, which is next to mine, received a uniform and got more bows, earrings and headbands than one could count. We were all so excited to have her around us.
She was introduced on the field as an official member of the team the following day. We went on to lose to Arkansas that night, but it was still such an amazing day because of the smile this little girl had on her face.
Last Saturday was supposed to be senior day for Whitney Hammond and me, but it got rained out along with Sunday's game. During the delays, a few of my teammates and I played with Averi and her 200-plus Barbie collection. Even though softball-wise the weekend didn't go as planned, it was still one of the most memorable weeks of my career being a part of something so magical for this little girl.
That's all I have for now. We play Missouri next, and after this weekend we start getting prepared for the postseason!
April, 23, 2013
4/23/13
11:21
AM ET
By
Raven Chavanne
| ESPN.com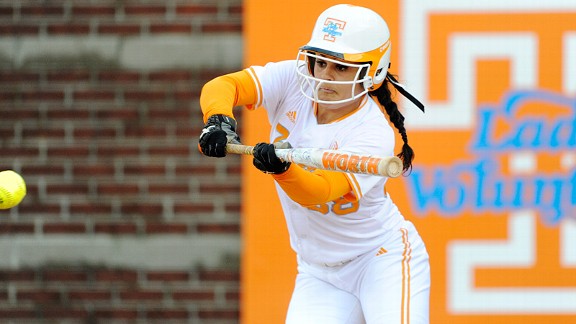 Andrew Bruckse/Tennessee AthleticsRaven Chavanne and her Tennessee teammates have the highest of goals: to win the national championship.
Words cannot describe how excited I am as the conclusion of SEC play draws near and the postseason atmosphere begins to fill the air. Before I get into a recap of this past week, I feel like I should introduce myself. My name is Raven Chavanne. I am a senior softball player for the University of Tennessee, and our team goal is to win the national championship come June.
The season did not start easy. This is the toughest schedule we have had during my four years as a Lady Vol. Four consecutive weeks on the road with games against top teams such as UCLA, Northwestern, BYU and USF, followed by a brutal SEC conference schedule was definitely challenging. It also prepared us and made us physically and mentally stronger, which are key ingredients as the postseason approaches.
We had a break in the action at the annual Tennessee athlete banquet, otherwise known as "Volscars," on April 15. Volscars is our equivalent of a high school prom, so we like to go all out -- dresses, shoes, makeup, pictures, the whole shebang!
[+] Enlarge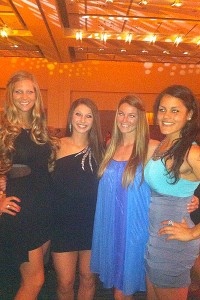 Courtesy of Raven ChavanneFrom left, Madison Shipman, Lauren Gibson, Kat Dotson and Raven Chavanne went all out to dress up for the "Volscars,'' Tennessee's annual athlete banquet.
I went shopping with Lauren Gibson, who is one of my best friends, a roommate, an All-American and current U.S. senior national team player. We shopped for literally hours trying to find the perfect outfit. People always joke that we do everything together, on and off the field, which is true, but we wouldn't have it any other way. For example, while we were getting ready, we were running late, so while Lauren did her makeup, I was straightening her hair. It was quite the scene of teamwork.
On the night of Volscars, the softball team was nominated three times and fellow senior Melissa Brown won the community service award, which was awesome. Volscars was definitely a nice day off, getting to dress up and interact with other athletes, such as our friends on the baseball team and Lady Vol basketball team.
The next day we were back on our mission with a 9-0 win vs. Appalachian State. Playing at home is always such a blessing. We were surrounded by a crowd of 1,000-plus during the midweek game, which is usually unheard of. We are incredibly lucky to have Vol Nation behind us.
The weekend consisted of an important three-game series against Ole Miss. To keep our lead as the top team in the SEC we needed to come out with a sweep, and we did just that. We focused on not playing to the scoreboard and improving each game with our at-bats. We knew they were a good team and we could not come out flat or cocky, or they would beat us.
During Friday night's game, shortstop Madison Shipman, my other roommate, and I perfected our pregame handshake, which the crowd seemed to find funny. Our handshake consists of us waving our invisible Harry Potter wands and saying "Wingardium Leviosa," the most popular Harry Potter spell. Our teammates tease us so bad about it, but we can't help the fact we love Harry Potter. Plus the crowd seemed to love it.
The conclusion to Sunday was perfect: We won 9-1 in five efficient innings and got to interact with all the amazing fans who drove to Oxford to support us. My favorite was a 4-year-old boy named Kobe. He told me he was my biggest fan and to call him when he was old enough to get a cell phone. He was the most endearing little boy, and the whole team laughed when he made that witty comment. I truly live for moments like that, interacting with fans and seeing the smiles on their faces. That's what I will miss the most when I graduate.
The bus ride back to Knoxville was a long seven hours, but thankfully we got to watch one of my favorite movies, "Love & Basketball." Half the girls on the team had not seen it, and of course, when the movie ended, all of them were standing up in their seats, clapping, asking me to borrow it so they could watch it again. This team does have the best chemistry of any team I have ever been on.
That is it for this week! Next up is an SEC weekend series against Arkansas. Until next time, stay safe everyone!