May, 21, 2013
5/21/13
3:10
PM ET
By
Kayla Braud
and
Ryan Iamurri
| ESPN.com
In the blink of an eye the tournament goes from 64 teams to 16. Waking up this morning as one of the teams that gets to play another day is an amazing feeling, to say the least.
It hasn't been an easy road for us this year. After winning the national championship and losing six seniors, we struggled to find our new team's identity. Through much adversity, hard work and persistence, this team has finally started to understand what it takes to win consistently. Throughout the season we had glimpses of great offense, great pitching and great defense, but we were never able to click on all cylinders. This weekend was a different story.
In the final game of the regional tournament, we played our last game of the season at Rhoads Stadium in front of one of the best crowds of the year. There is something special about the postseason, and the atmosphere in Tuscaloosa was no exception. After we came out firing against Western Kentucky and gained a good lead, the crowd was able to give the seniors standing ovations in their final at-bats at home. Emotions were high, tears were shed and it was one of the greatest moments of the year for our team.
As we say at Alabama, "We're on the incline!," driven to get better each and every game with one heartbeat. This week we will practice and then head to Knoxville to play SEC rival Tennessee on Friday night at 7 on ESPN2. Alabama-Tennessee is always a good matchup, and we can guarantee some great softball.
Roll Tide.
May, 15, 2013
5/15/13
1:39
PM ET
By
Kayla Braud
and
Ryan Iamurri
| ESPN.com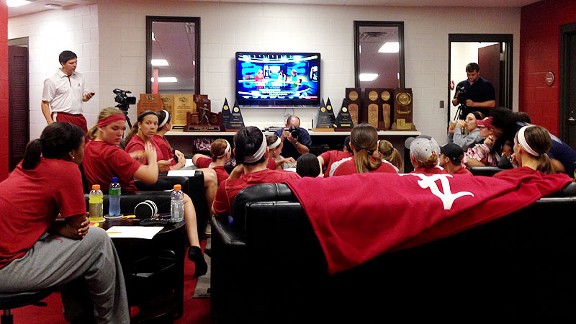 Alabama Athletics CommunicationsAlabama was a tad disappointed when its No. 10 seed was announced, but the focus is on getting back to work.
First we want to send congratulations to the 64 teams who made it into the 2013 NCAA tournament. For the Alabama softball program, this makes 15 in a row. Our coaches, players and staff couldn't be more excited.
Before practice Sunday, Coach Murphy showed us a video of the Utica College softball team during the Div. III selection show a couple of weeks ago. The players sat with anticipation knowing they were on the bubble, and when their name was called the team went crazy. They were so excited even though they would have to play one of the top seeds in the tournament.
During our selection show, we had a similar sense of anticipation, yet we were on the bubble of the top eight, which holds the possibility of eventually hosting a Super Regional. When we were announced as the 10 seed, a bit of disappointment filled the room. But then we remembered the Utica team and how special getting into this tournament really is.
The slate has been wiped clean. What we did before this weekend means absolutely nothing. The regular season has ended and a new season has begun: the postseason. We control our own destiny.
So this week we get back to work. We have a tough regional with Jacksonville State, Western Kentucky and South Carolina Upstate, who will all be well-prepared for us. From now on, the name of the game is survive and advance one game, one at-bat and one pitch at a time. Let's go!
Roll Tide and see you out there.
June, 3, 2012
6/03/12
1:41
PM ET
By
Kayla Braud
and
Ryan Iamurri
| ESPN.com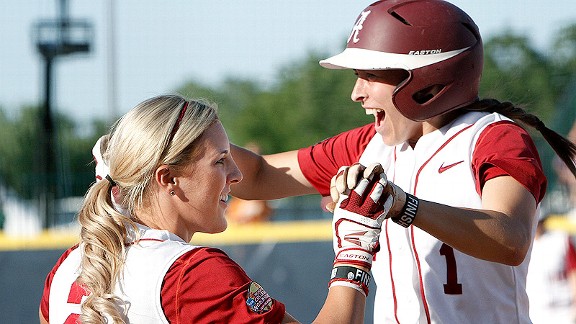 AP Photo/Alonzo AdamsKayla Braud, right, and the Crimson Tide have beaten Tennessee and Arizona State to open the WCWS.
Sorry readers, it has been a while since we have written. As you know, we have been a little busy at the best place on earth for college softball ... Oklahoma City!
There are some great teams here at the College World Series, and we would like to first and foremost congratulate Arizona State, Cal, LSU, Oklahoma, Oregon, South Florida and Tennessee on a great season thus far.
This year we have grown so much as a team. Not many teams can say they have twenty girls on the same page, but we can. As Coach Aly [Habets] says, "We have one heartbeat."
We all want a national championship, as do the other teams here. So who is going to win it all? We cannot answer this because we can only control the controllables. We can control our passion, our attitude, our fight, our confidence and our effort. To this team, controlling these things almost seems effortless.
Yeah it is easy to celebrate with each other after a game-winning home run, but we also feel pain and loss for each other during times of struggle. We are one. Winning it all with this team would be the perfect ending to this dream. The dream that every little softball player has that comes to watch us play under the lights at Hall Of Fame Stadium. We were that little girl once, and we're lucky enough to live out her dream…our dream.
Finish It and Roll Tide,
Kayla and Ryan
May, 24, 2012
5/24/12
12:24
PM ET
By
Kayla Braud
and
Ryan Iamurri
| ESPN.com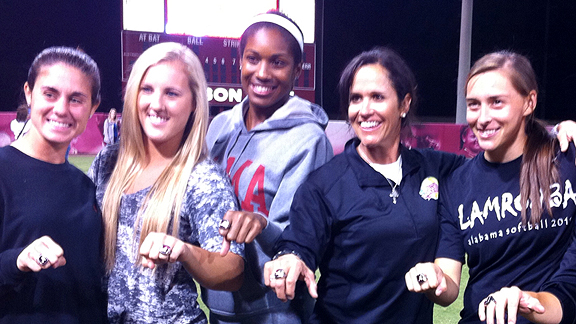 Courtesy of Kayla BraudThe Crimson Tide outfielders play with passion, knowing their defense can be the difference between a win and a loss. From left, Jennifer Fenton, Jazlyn Lunceford, Keima Davis, associate head coach Alyson Habetz and Kayla Braud.
If you don't love what you do, you won't do it with much conviction or passion. -- Mia Hamm
Outtie love. The Crimson Tide outfielders start their practice every single day with those words. Our outfield is defined by love for a position that sometimes is overlooked, respect for what they do and a desire to strive to be better each and every day. Although there are only four outfielders -- Jennifer Fenton, Jazlyn Lunceford, Kayla Braud and Keima Davis -- they are four of the fastest and hardest working outfielders to ever step foot on the grass at Rhoads Stadium.
Jen: A senior from Kennesaw, Ga., she is a rock in center field. She plays with speed and passion to lead her fellow outties. Jen has emerged as one of the best lefty triple-threats in the game this year.
Jaz: She is one of the hardest workers on the team. A native of Northport, Ala., Jaz is our hometown hero because of her infamous pinch-hit grand slam in the World Series her freshman year. As a senior this year, Jaz plays right field and is the definition of clutch.
Keima: A junior from Deerfield Beach, Fla., she is a super athlete with a laser for an arm. You may have seen her dancing during Bama beats, or playing a fierce outfield. No matter what the situation is, though, you will never catch Keima without a smile across her face.
Kayla: [I, Ryan, will be talking about Kayla so you readers don't think she is bragging about herself.] "Bro," as she is known to all on this team, plays left field and leads off for us. She is a junior from Eugene, Ore. She is the catalyst of this team, the spark plug and the fiercest player by far. She loves to win but hates to lose more.
The outfield of the Tide is special. They spend just as much time working defensively as the infield and realize that they can be the difference between a win and a loss. Coach Aly [Alyson Habetz] instills a bend-but-never break attitude amongst the four of them, meaning that a hitter may get a single, but they are going to have to pull off a miracle to score. They are the last line of defense on the Crimson Tide softball team, and they are going to catch everything, we can guarantee it.
Roll Tide.
May, 18, 2012
5/18/12
11:04
AM ET
By
Kayla Braud
and
Ryan Iamurri
| ESPN.com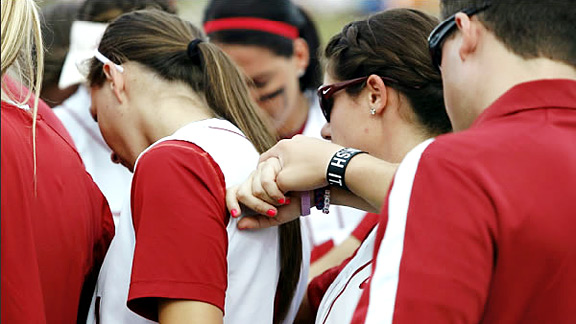 Courtesy of AlabamaAlabama softball has a singular focus this year, and that's signified by the Finish IT wristband.
The goal this year is simple. Alabama softball's 20 players, five coaches, four managers, countless support staff and even some lucky fans have a constant reminder of the goal when we look down at our wrists. We all wear customized black Jac Vanek bands that read in bold white print: Finish It.
This program has come too close to winning it all, too many times. We are hungry to hoist the national championship trophy in the pitcher's circle at Hall of Fame Stadium in Oklahoma City. We are not na´ve, though. We understand that there are 63 other teams with the same dream.
This weekend marks the first of three weeks of playoffs. That's it. Three weeks left of this season. We have prepared mentally, physically, and emotionally all year for these final games. Without school to consume our mornings, we are putting in the extra time to fine-tune our swings and work on the little things on defense and pitching.
Practices are tougher because our coaches know it will be tough playing in front of thousands of people at the Rhoads House this weekend. There is no place we would rather play than in front of our dedicated home crowd. More than 3,500 strong, our crowd pulsates energy that fuels our success. They want a national championship as much as we do.
The long-term goal is to finish it, to win it all, but in order to fulfill this we have to take one game at a time. We will not overlook any team we play. Once the brackets are set, it's anybody's game, but we will fight like every game could be our last.
We play for our six seniors, who have worked harder and set a better example than any other senior class in the country. We play for our coaches, who have sacrificed day in and day out for our success. We play for the city of Tuscaloosa and those we lost in the tornado last April. We play for the SEC, which has never claimed a national title. And finally, we will play for each other.
May, 15, 2012
5/15/12
1:41
PM ET
By
Kayla Braud
and
Ryan Iamurri
| ESPN.com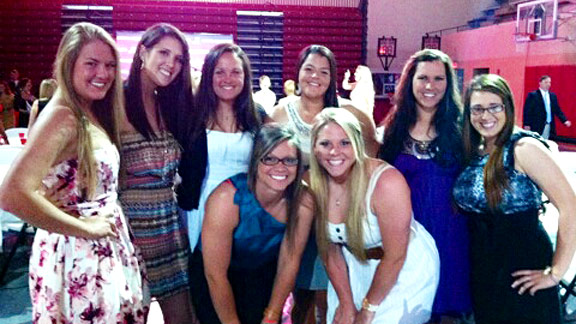 Alabama Athletics
Battery: two or more cells electrically connected to work together to produce electric energy.
That's exactly what the Alabama softball battery is -- pitchers and catchers working as hard as possible to charge our team. They are the life force of the Crimson Tide. And when they all click together, you're going to see something quite electric.
Let's begin with the pitching staff, led by pitching coach and former Alabama great Stephanie VanBrakle. (Steph was a two-time All-American and led the Tide to the Women's College World Series three times.)
Amanda Locke: The senior from Mesquite, Texas, has been our biggest surprise in the circle this year, coming up big when we've really needed her. She is a force to be reckoned with in the circle and box. Locke also has one of the biggest hearts on the team, keeping her presence fun and light.
Lauren Sewell: The junior from Pembroke Pines, Fla., was pitching the best of her career before she suffered a season-ending knee surgery. Now, she has taken on a new role of being a supporter and motivator for the entire staff. Sewell is simply one of those people you just love to be around; her fun spirit is contagious and she brings so much to joy to the team.
Jackie Traina: The sophomore from Naples, Fla., is the work-horse. Jackie is not driven by individual accolades or glory; she is driven by pure love for her teammates and will do anything to help us win. She is also one of the most calm, fun-loving people you will encounter, an attitude she carries in and out of the circle.
Leslie Jury: Our talented freshman from Anderson, S.C., pushes the entire staff to be better all the time. Leslie carries herself with a quiet confidence and fiery spirit. Off the field, she is great to be around, a true team player and someone you can always talk to about anything.
Our catchers are led by assistant coach Adam Arbour, a former baseball player at the University of Michigan:
Kendall Dawson: A senior from Plant City, Fla., her fellow backstop members call her their fearless leader. Her presence behind the plate and catching skills are unmatched. Kendall is also one of the funniest players on the team, and someone who will always be there for you.
Olivia Gibson: A senior from Tuscaloosa, Ala., she is the selfless act of the bunch, always there for support on and off the field. She has grown incredibly as a person over her career here and plays a very important role as she leads by example.
Jordan Patterson: A sophomore from Tuscaloosa, she is the relentless worker. At any time, you can probably catch her taking extra batting practice or working on her steal throws to second. She knows what it takes to win.
Chaunsey Bell: A freshman from Indianapolis, Ind., she is the gamer. When she is on the field, confidence pours from her. She's always talking, saying the right things and keeping the team in the game.
Together, the battery works hard, has fun and feeds off of each other to be the best versions of themselves. The pitchers and catchers wake up each and every morning with the desire to be the best in the country.
Roll Tide!
May, 9, 2012
5/09/12
7:36
PM ET
By
Kayla Braud
and
Ryan Iamurri
| ESPN.com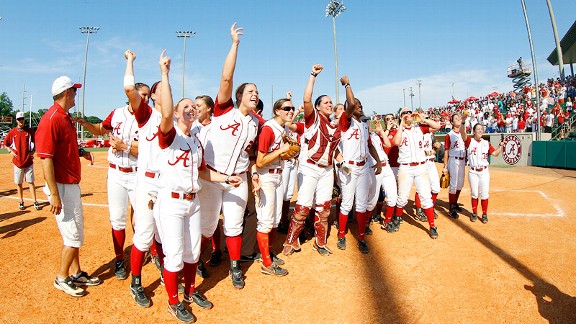 Alabama AthleticsTBD BY EDITORIAL
A lot of people didn't believe in us. Not one coach voted for us to win the SEC, but we sit here on a flight to New York, champions. Alabama softball won its third SEC regular-season championship in a row and fourth overall. And what makes it even sweeter is that we did it when not a lot of people believed we could.
We entered the weekend with great expectations and high hopes, but, unfortunately, we did not play our best in the first game of the series against Florida. Friday night's loss hit us pretty hard. When you're playing a team as great as the Gators, you have to take advantage of opportunities instead of letting them slip through your fingers.
Saturday when our backs were against the wall, we came together and realized that we had something much bigger to fight for. We wanted to win it for our coaches, our fans and each other. We had a title to defend. To say the least, we came out on fire. A refuse-to-lose mentality took over each member of the team and drove us into Sunday afternoon. No one embodied that mentality more than Jackie Traina, who threw more than 350 pitches on the weekend and carried us to victory.
Alabama softball has had many reasons to celebrate over the years, and when we celebrate we definitely do it right. If you have ever watched us play, or seen us on ESPN, you would know that we celebrate the little things in a big way. From partying at the plate after home runs to praising sacrifice bunts, nothing is sweeter than celebrating with your team. No matter who the hero is that day, we celebrate for each of our teammates the same as if we had done it ourselves. Together we have realized how special these four years of our lives are and how fast they fly by. Why not make the most of it?
Roll Tide.
Sneak peak for next week: Inside look at the Alabama softball battery.
May, 1, 2012
5/01/12
7:41
PM ET
By
Kayla Braud
and
Ryan Iamurri
| ESPN.com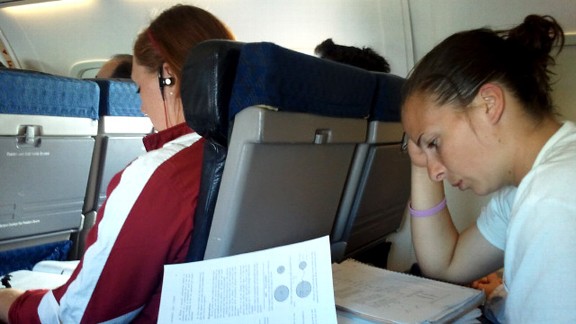 Kayla Braud and Ryan IamurriA few of our teammates, Jordan Patterson and Cassie Reilly-Boccia, hit the books during our recent road trip.
Alabama softball spends a lot of time on the road. You would think traveling with 20 girls may be difficult, but we make it work. Passing the time is never hard, and with Alabama softball, traveling is always an adventure.
The SEC changed its schedule last year, so we now play one game on Friday, Saturday and Sunday, which means when we play away, we have a lot of time on our hands. If you ran into us on the road, you may find us shooting music videos, eating a lot, sleeping, doing homework (if we have to), playing foursquare in airport terminals, throwing a Frisbee around or just spending time with each other.
Judging by our previous traveling experience to Portland, Ore., Alabama softball was a little hesitant about flying to Arkansas this past weekend. Let us sum up the Oregon trip:
In Kentucky, our first flight was delayed three hours, causing us to miss our next flight from Houston to Oregon. We stayed at the airport until 2 a.m. and finally got into a hotel by 5 a.m. They rescheduled us on the 9:30 p.m. for the next night. When we got to the airport, we found out half of the team wasn't even booked and the airline somehow managed to get them on the 5:30 p.m. flight. We experienced the rudest flight attendant in the world, at least 10 of us came down with the stomach flu over the weekend, and our bus driver in Oregon thought he was Dale Earnhardt, Jr.
It should come as no surprise why everyone was a little worried about flying to Arkansas. Well, we are here to tell you our team did not run into one problem during our travels!
Through all the delays, bus rides, hotels and team dinners, we really bond as a team. It's at 4 a.m., when we're all exhausted, that you take a look around and realize there is no one you would rather be with than your teammates. The great memories we have created make all the travel worth it. It also doesn't hurt when Coach Murphy stops the bus for ice cream on a late Thursday night. That makes it all worth it, too.
April, 27, 2012
4/27/12
7:58
PM ET
By
Kayla Braud
and
Ryan Iamurri
| ESPN.com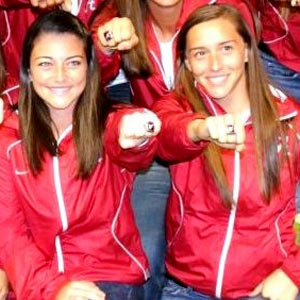 Alabama AthleticsKayla Braud and Ryan Iamurri say the team has a blue collar work ethic, and the dirty uniforms to prove it.
"To play the game is great, to win the game is greater, but to love the game is the greatest of all." –- Anonymous
We come from all over the country, from small towns in Alabama to big cities in New York. Some look out their windows and see the beach, while others see mountains. Some have single moms, some were born into families of nine. We range from 4-foot-10 to over 6-feet tall. We were hand selected to wear the Crimson and White proudly across our chest. We may be different, but we are one. We are Alabama softball.
We want to first and foremost thank you for reading our first official Alabama softball blog, written by yours truly, Kayla Braud (junior from Eugene Ore., I play left field, hit left, and I am majoring in public relations) and Ryan Iamurri (sophomore from Naples, Fla., I play second base, and I am also majoring in public relations). Our goal is to give you insight into the world of collegiate softball through the eyes of the Crimson Tide. The season only lasts four months, but we live and breathe softball 365 days a year.
As we said before, we come from all over the country, but our paths have crossed in Tuscaloosa, Ala. Since our time at the Capstone, we as a unit have learned many things. One of the most important of those things is resiliency. We are resilient, just like the citizens of Tuscaloosa. This weekend marks the one-year anniversary of the tornado. Although we may be in Fayetteville, Ark., our hearts are with the citizens affected, and this weekend we play for them.
Following the tornado that destroyed many homes, schools and businesses, residents of T-Town rolled up their sleeves and put in the work to repair the city. As a softball team, we want to model that same blue collar work ethic. Don't believe us? Just take a look at Jazlyn Lunceford after a game. You will never catch her in a white uniform. Grass stains and clay line her uniform from her shoulders to her spikes. The hard work and determination is all worth it when we step onto the field on a Friday night in April under the lights in front of our home crowd.
We pride ourselves in having the best softball fans in the country. We set an NCAA single-game record for regular-season attendance at 3,940 fans two weeks ago at Rhoads Stadium. Alabama softball fever is contagious. Watch out, you can try to avoid it, but you might just be the next one to catch it.
Roll Tide,

Kayla and Ryan
Sneak peak for next week: On the road with Alabama softball.