May, 15, 2013
May 15
3:30
PM ET
By
Samantha Prahalis
| ESPN.com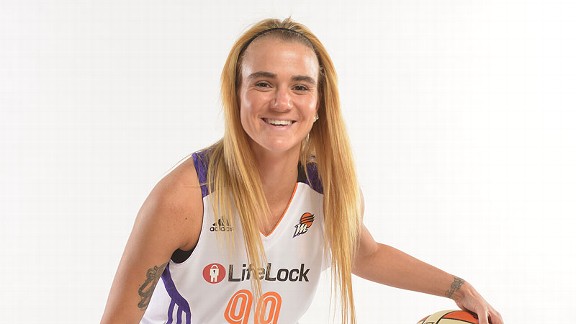 Barry Gossage/NBAE via Getty ImagesMercury guard Samantha Prahalis came to training camp in peak shape, and she can feel the difference both physically and mentally.
Training camp, in my opinion, is the best possible time to jell with your teammates. It really brings everyone together, and I can already feel the bond we are creating as a team on the Mercury. Everyone understands what our goal is and how hard we have to work to get there. We all get along so well and are having fun as we truly learn how each other plays and the roles we'll each have.
Having said that, this year's training camp has a different (but good) feel to it for a few reasons.
First, I already feel more comfortable having gone through a Phoenix Mercury training camp last year so I knew what to expect (hint: a lot of running). I spent a lot of time in the offseason getting my mind and body right to prepare for the season. I knew that having players healthy and motivated would make practice even more intense. That's why I made the decision to enter training camp in the best possible shape I could be in -- and I can already feel the difference from a physical and mental standpoint.
Second, I know a lot is riding on my shoulders. It has been really helpful to have Diana Taurasi in camp along with all of the veterans. DT is always encouraging and helpful -- she makes me want to be a better player. Corey Gaines has also worked with me one-on-one to help increase my leadership as a point guard for this team. With all of the injuries we had last year, there are many players who never really had the chance to practice together. It's still early, but I see a lot of potential when we click on the offensive end of the floor.
Last, but not least, having Brittney Griner here has been amazing. We've already developed chemistry between the two of us, which will really help heading into our first game May 27 against the Chicago Sky. I've even thrown her a few alley-oops -- the way she makes dunking look so easy is unreal. I've never played with someone like her and from a point guard perspective, it is super exciting.
The hype around us as a team has been amazing. The key, for us, is to not get caught up in it and remain focused on getting better every single day. We understand that nothing comes easy in the WNBA, and we'll have a target on our back.
We're ready for the challenge.
March, 21, 2013
Mar 21
12:57
PM ET
By
Samantha Prahalis
| ESPN.com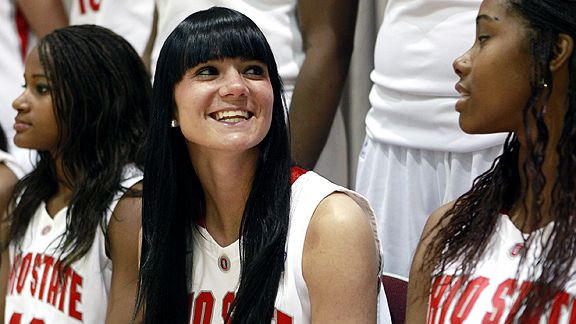 AP Photo/Terry Gilliam
Phoenix Mercury guard Samantha Prahalis helped lead Ohio State to the NCAA tournament during each of her four collegiate seasons (2008-12). She weighs in on the tourney experience for espnW.com.
It's March Madness, the craziest month in all of sports! While fans are filling out brackets and watching the games, here's what the experience is like for the athletes.
The day leading up to the Selection Show is an exciting time. After the conference tournament, your team has a slight idea of where you will be seeded; but from firsthand experience, your idea and the committee's idea can be very different.
After that night, your team is now focused and anxious to start playing. You only have a few practices before leaving to go to your first- and second-round location. In those practices, you will go over your opponent and make sure the team is sharp and ready. Focus needs to be at a high level for you and your team because the game turnaround is very quick if you continue to win.
From my experience, when I arrived at the facility and location and saw people wearing Ohio State shirts and gear, it made you take some pride in it all -- you aren't just playing for your team and family, but a whole fan base, university, alumni and state. This definitely puts on the pressure.
There are so many emotions that go into playing in the NCAA tournament; at any time, your team can lose and your season can be over. The greatest thing about the tournament is any team can win it. As an athlete, you work your whole life for this moment and no one wants to lose.
I wish all teams the best of luck and I will be closely watching!
March, 17, 2012
3/17/12
8:16
PM ET
By
Samantha Prahalis
| ESPN.com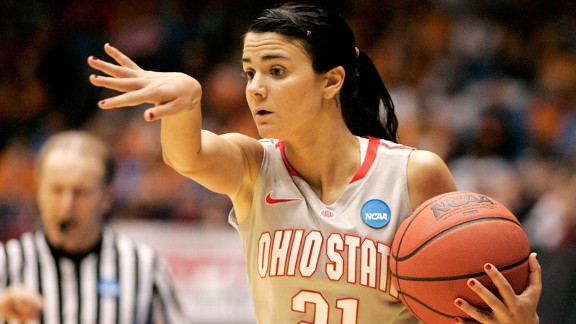 AP Photo/Skip PetersonSamantha Prahalis rested up and snuck some candy while waiting for the start of her last NCAA tournament.
Friday, my teammates and I boarded the bus for the most exciting part of our year! We arrived in Perrysburg, Ohio, right next to Toledo on Friday afternoon. We took a bus there because it's only about two hours from Columbus. I feel very lucky to be playing so close to home so our fans can come support us, as they have since I started here.
After dinner Friday night, some of my teammates went to the movies. I decided not to go but instead stayed back and watched some men's basketball. There were a lot of upsets throughout the day, so I was glued to the TV!
I went to the grocery store to get some snacks and drinks with my best friend Kate, who also is a manager for our team. I'm obsessed with candy (sour especially) and always try to throw some in the cart when she's not looking.
Saturday, we all had breakfast and headed off to practice. My teammates and I are so excited to start playing tomorrow. Basketball will always be my life, but it's sad to think I'm preparing for my last postseason tournament.
After practice we have the day free. I'm going to rest up, have a massage and make sure I'm drinking a lot of Gatorade and water because I cramp up easily. Later, we will all be heading to a good dinner at a steakhouse.
I can't wait for Sunday to begin this journey. I am so thankful I have the opportunity to be in this position, and I can't wait to see Buckeye Nation tomorrow!!
March, 12, 2012
3/12/12
11:37
PM ET
By
Samantha Prahalis
| ESPN.com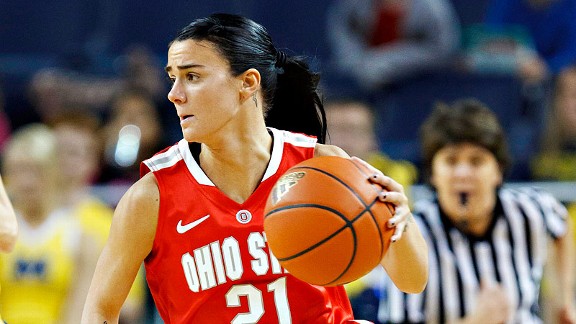 Rick Osentoski/US PresswireSamantha Prahalis will be playing in her last NCAA tournament for Ohio State.
It's crazy to believe that March is already here and I'm about to play in my last NCAA tournament. I can't believe how fast the time has passed. It seems like yesterday I was just a freshman.
Tonight was Selection Monday. Our entire team headed over to Coach [Jim] Foster's to watch the show and talk to the media afterward. Coach Foster's wife, Donna, prepared an amazing dinner for us. It was good to be hanging out with my teammates -- I truly value all the remaining time I get to spend with them. After we saw the Stanford's ''Nerd City'' music video, we all joked about what the Ohio State version would look like (very different!! LOL!).
We all sat around anxious and excited to see where we would end up in the bracket. As we were watching, we realized we were going to end up in the last bracket that was announced. As the brackets were unfolding, we found out we were an eighth seed. I'm not going to lie -- we were pretty shocked. We were not shocked in regards to the teams we would have to play (every road to the Final Four is difficult), but it was the eighth seed that stood next to The Ohio State University that shocked us. After the initial shock, we settled down and realized we need to focus on a real tough Florida team. Our team is really excited to start playing again. It feels like it has been forever since our last game.
After losing four seniors last season, we weren't predicted to do very well this year, and we proved a lot of people wrong. We hope we continue to do that and make some noise in this tournament!
They don't call it March Madness for nothing.
Go Bucks!