July, 23, 2013
7/23/13
4:57
PM ET
By
Sarah Bullard
| ESPN.com
Courtesy of US LacrosseSarah Bullard, front row; third from left, and the U.S. lacrosse team won the World Cup title in dominant fashion with a 19-5 victory over Canada.
It is with great pride that I write that we are the 2013 world champions. On Saturday we faced Canada in the gold-medal match of the Women's Lacrosse World Cup in Oshawa, Ontario. We approached the game with great respect for our opponents: They had advanced to the finals of the World Cup for the first time, and were playing with deep pride on their home soil. We put our focus and energy on ourselves, however, as we had throughout the tournament. In the end, we won 19-5.
As a group, we set out on a mission four long years ago. What defined this team, however, was the two-pronged focus of this mission. The first part was obvious: to win the 2013 World Cup. The second part, and the one that made this team extraordinary, was to be the greatest team we could possibly be, and to play the best lacrosse the world has ever seen. More than anything else, that part of our mission drove us during the tournament, causing us to reassess and find new areas in which to push ourselves and grow, even when we were beating our opponents pretty soundly.
[+] Enlarge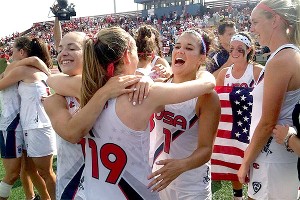 Courtesy of US LacrosseThe U.S. women's team was undefeated throughout the entire World Cup tournament.
The emotion surrounding four years of hard work and dedication came out in full force with the final buzzer. Screams, cheers, tears and hugs galore poured out of all of us as we experienced the pure joy of our victory. The closing ceremonies were immediately after our game, and included the presentation of the bronze medal to Australia, the silver medal to Canada and the gold medal and World Cup to Team USA!
At the ceremony, without a game to focus on any more, we finally got to see our amazing families, friends and fans in the crowd. This crew made a huge effort to cheer us on in Oshawa, and looked pretty darn good doing it in their patriotic outfits! We took photos with the Cup and cut down the net, then headed back to the dorm to get ready for the closing banquet.
The FIL (Federation of International Lacrosse) concluded the tournament in style at the banquet, honoring coaches, players and staff members for their commitments to their teams and to the sport. The All-World Team was announced, and we were so proud of attackers Katrina Dowd, Lindsay Munday and Katie Rowan; midfielder Sarah Albrecht; defender Amber Falcone; and goalie Devon Wills for earning spots on the squad.
Then we were off to Oshawa hot spot Shoeless Joe's to celebrate the victory. Our friends and family met us there, and we had a blast soaking in our final evening together. Highlights included a spontaneous rendition of "We Are the Champions," Caitlyn McFadden's musical fanny pack blasting our favorite Pitch Perfect tunes and the dance moves of midfielder (and team baby) Katie Schwarzmann and coach Amy Bokker. We certainly went out in style!
You know it has been an extraordinary journey when you reach your destination, achieve all that you have been working for, and you still don't want it to end. It has been an absolute honor and privilege to be part of this team. I'd like to give a profound thank-you to my teammates and coaches, as well as to U.S. Lacrosse, our families and all who have supported us along the way. Until next time, go USA!
July, 18, 2013
7/18/13
7:09
PM ET
By
Sarah Bullard
| ESPN.com
Courtesy of JC PinheiroSarah Bullard and the U.S. lacrosse team have remained undefeated during the Women's Lacrosse World Cup, and are just two games away from a seventh world title.
I'm happy to report that a lot of good things have happened up here at the Women's Lacrosse World Cup in Oshawa, Ontario, since my last post!
Most important, we went 4-0 in our pool play over the past week, earning the top seed in the tournament as we head into the championship rounds. Throughout our games against England, Wales, Australia and Canada, we have taken steps forward in different areas of our game, approaching each one highly focused on playing the best lacrosse we can play.
We fittingly played the most complete 60 minutes so far in our final pool game against Canada (a big rival of ours) on Tuesday night. Our transition defense and defensive sets were stifling, limiting a strong offensive team to only two goals.
[+] Enlarge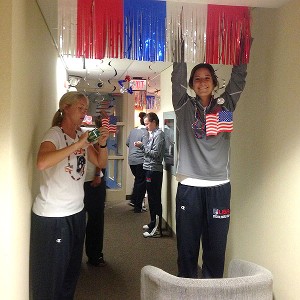 Sarah BullardThe U.S. women's team got patriotic in the hallways where they're staying at Durham University in Oshawa, Ontario.
While we didn't play perfectly on the offensive end, our team effort to get the ball back on each set sent a message about the determination and perseverance that our team possesses. We ended up winning 13-2, and carried that enthusiasm into the quarterfinals on Thursday, where we were able to beat the Haudenosaunee and remain the only undefeated team in the tournament.
Throughout the tournament, coach Ricky Fried has compared our team to a bus, gaining momentum with each stop we take. We are proud of how we've played so far and are excited to keep moving forward and improving tomorrow. This next stage of the tournament is what we have been working for -- we're only two games away from a possible world title!
Off the field, we've also had a bit of time off to explore our surroundings. The highlight was a trip to Toronto on Monday that allowed us to check out some of the great sights the city has to offer. Our first stop was the CN Tower, one of the tallest freestanding structures in the world. A 56-second elevator trip zoomed us 346 meters to the top! Midfielder Katie Schwarzmann was the MVP of the excursion, conquering her fear of heights to check out the view up there.
After snapping some pictures and enjoying spectacular views of Lake Ontario, we made our way back down the tower. We then headed over to the Distillery District in historic Old Town Toronto. The cobblestone streets and brick buildings made for a charming atmosphere. We had a great dinner at an active brewery, giving us another opportunity to build our friendships off the field.
The bus ride home was spent guessing which animal each player on the team would be. We had a puppy, dolphin, sheep and lion represented, so I think our pack can take on anything that comes our way with that variety!
More families and friends are beginning to roll in now that pool play is done, adding to our crew of loyal fans up here in Oshawa. We are so appreciative of the support from everyone and can't wait to get back in action in the semifinals on Friday against England.
July, 11, 2013
7/11/13
3:12
PM ET
By
Sarah Bullard
| ESPN.com
Courtesy of Sarah BullardSarah Bullard (19) and the U.S. women's lacrosse team are ready to defend their 2009 World Cup title at the 2013 FIL Women's Lacrosse World Cup, which starts on Thursday.
I'm very excited to provide an "insider's look" as the U.S. women's lacrosse team begins our journey of chasing the gold at the Women's Lacrosse World Cup in Oshawa, Ontario.
After finishing our final training camp in Buffalo, N.Y., the team arrived in Oshawa on Sunday night. Our time together in Buffalo was certainly full of lacrosse, as we refined our offensive and defensive sets and readied ourselves for the opponents we will be facing in Canada.
But while the ladies of Team USA are all business on the field, we like to have our fun as well and were able to fit in some adventures in Buffalo to bring us closer together. On Friday, we celebrated head coach Ricky Fried's birthday with a fantastic dinner along the Niagara River. Then we revisited the river on Sunday, finishing our time in Buffalo with a ride on the Whirlpool Jet Boat. It was an adventure-filled hour, where we learned the history of Niagara Falls and got soaked as we navigated the Class 5 rapids and Captain Alicia's "Hamilton Turns" -- a 360-degree turn in a boat in 1.5 seconds.
[+] Enlarge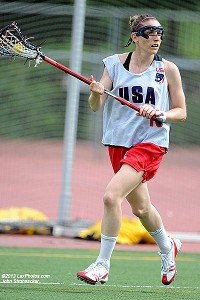 John StrohsackerSarah Bullard was a member of the 2009 World Cup team, and was captain of the 2007 under-19 team that won the world championships in Peterborough, Ontario.
My favorite activity with the team in Buffalo, though, was our Saturday night trip to Zittel's Farm. Zittel's is owned and run by a friend of the program, and they were kind enough to host us for a delicious dinner with some of their homegrown food and our team favorite: tractor rides around the farm!
We left Buffalo after plenty of team bonding and with the confidence that we had taken the next step forward in our preparation to earn the Cup.
Our ride from Buffalo to Canada, believe it or not, was also a defining moment of the trip for us. (Sidenote: If you haven't seen "Pitch Perfect," put it at the top of your summer to-do list.) We spent the trip blasting songs from the movie soundtrack, and since then, they've become staples on our pre-practice playlists. We like to think we sound as good as the Bellas as we sing along. We are also loving Avicii's song "Wake Me Up," which gets us through our walk to the practice field here at Durham College, where the World Cup is being held.
Our team couldn't be more fired up to start the tournament, and our coaches have only added to the excitement by surprising us with an inspiring video from the legendary Coach K. He shared his experiences coaching the USA basketball teams and wished us good luck on our journey. We also watched the documentary "Dare to Dream" about the U.S. women's soccer program from the '90s and early 2000s. Those players have defined and inspired a new generation of female athletes, and we hope to do the same.
After a final "friendly" Tuesday against Team Japan, Wednesday's Opening Ceremonies provided the official kickoff to the World Cup. We were lucky that the rain held off, as our uniform for the evening included white linen pants! The Opening Ceremonies are one of the coolest parts of the tournament, as all of the different countries get to interact and get together for photos.
Now we are counting the minutes until our first game Thursday night against England. After four years of hard work and preparation since the 2009 World Cup, this group is so honored to uphold the tradition of USA Lacrosse and represent our country. My experience with the '07 Under-19 World Cup team and the '09 World Cup team showed me that our opponents will never give up when they have their country's name across their chests. We know that the next 10 days hold a great challenge for us, but there is zero doubt our team is ready for that challenge.
Let the games begin!