April, 4, 2014
4/04/14
5:45
PM ET
By
Sarah Hendrickson
| ESPN.com
Courtesy Sarah HendricksonSarah Hendrickson (right) and Lindsey Van are both Olympians and world champions -- and are both rehabbing ACL injuries.
Shortly after their sport's Olympic debut in Sochi, U.S. ski jumpers Sarah Hendrickson and Lindsey Van ended up on the operating table due to knee injuries. Hendrickson reflects on their experiences together, both in rehab now and when she started jumping.
[+] Enlarge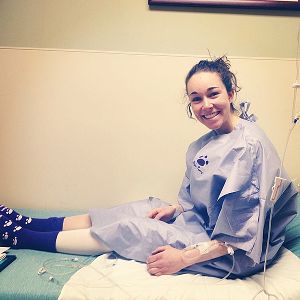 Courtesy of Sarah HendricksonSarah Hendrickson won the 2013 world title, then suffered a knee injury in August of the same year. She was back in time for the Olympics, but needed a second surgery following the Games.
Although Lindsey Van and I aren't proud of being injured, it is always nice to have someone by your side through a hard time. Especially when it's one of your best friends.
Lindsey and I have been close since the age of 7, when I started ski jumping and she took on the role of being my older sister. She would take me Alpine skiing, and I think that's how I gained the confidence that has helped me with jumping because Lindsey is -- ahem -- not a slow skier. (And by "not slow" I mean very, very fast.)
At the time, we thought it would be a good idea to hit the train park, but we took too much speed going down and actually " jumped" at the lip, which I guess is not what you're supposed to do.
What can you expect from a ski jumper, I guess? We overshot the jump and had to crawl away from the landing area, both of us laughing our heads off and smiling. This is just one of the many adventures we've had.
Today we are both dealing with serious knee injuries. I am at the end of my recovery, and my recent surgery was just to clean up scar tissue from a previous injury, while Lindsey is just beginning her rehab process, but we have been helping each other stay entertained.
When I had my first surgery last August, Lindsey came over with food and helped massage my aching foot. I recently did the same for her because I remember how painful these first weeks were. We both tore an ACL, and I think it's been important for us to talk and share our experiences through the rehab journey.
We are constantly texting each other to check in on our pain levels, and seeing each other in physical therapy. It is kind of crazy to think of all the things that we have done together throughout the years. From my first trip to Europe to us both becoming world champions (Lindsey in 2009 and me last year), we have literally been at each other's side for the past six years.
I am very fortunate to have someone like Lindsey in my life. I remember looking up to her in every way when I started jumping, and when I started competing against her she was my biggest fan. It is scary to think what will happen to the team in the next couple of years and who will decide to proceed until Korea 2018. All I know is that Lindsey has pushed our sport to a new level and I can't thank her enough for leading the path for me.
I was devastated when I heard she had blown out her ACL because I knew this would complicate her future with the sport. But I do know that although she can be a pain in the butt sometimes, she is one of the strongest people I have ever met, and the challenge and recovery from this injury will only add to her amazing character.
February, 28, 2014
2/28/14
9:56
AM ET
By
Sarah Hendrickson
| ESPN.com
Courtesy of Sarah HendricksonAmerican ski jumper Sarah Hendrickson kept it all in the family with her mother, Nancy Hendrickson, and her grandmother, Arline Bownes, by her side as she made history by becoming the first female ski jumper to ever compete in an Olympic Games.
I think most people would agree that the Olympic Games are in a category by themselves. It's almost frustrating that media and others pay attention to your hard work for only that one event every four years. If you succeed, you're forever a legend. If you fall to the bottom, you're almost kicked to the curb, regardless of other results you have achieved.
This might be harsh and negative, but the world of sport is not always glamorous, and that's why Olympic athletes are their own breed. They prepare for the pressure, and although everyone dreams of gold, they have the tough mind to fight back even if it isn't successful.
I can relate. As the current world champion in women's ski jumping, it was the most difficult thing ever to go to Sochi not at my highest level. I finished 21st in the normal hill event. I had taken only about 20 training jumps, limited weight programs, and was far away from how prepared I wanted to be because of my major knee injury just 5½ months earlier. Not to mention my knee was swollen and the pain was limiting my muscle activation while jumping. My doctor told me over and over again that my knee was stable and ready, but my mind could not get over the pain. I guess what it comes down to was the frustration of entering the biggest day of your life, limping in pain as you reach the top of the hill.
One of the coolest parts of my event was the fact that I was bib No. 1 and therefore the first woman ever to ski jump in an Olympic event. Ever since my injury, I have been trying to understand why I got hurt back in August because I believe everything happens for a reason. I think I found it. The bib order is decided by World Cup overall points (then inverted), and since I had not competed in any this season, I was unranked and thus first on the list. For me, this was a huge honor to open up the competition for a group of women who have worked so hard, not just on the athletic side but also the political side. The fight for equality with women's ski jumping gaining an Olympic event was tedious, and although we have more work to do, being involved in the first one was monumental.
Although I am not happy about my result and am still having trouble getting over why I had to get hurt, the lessons I learned to get to Sochi and compete at the Olympic level changed me as a person. Looking back at the hard work I put forth, I have to remind myself that I did everything possible to make the Sochi Olympic team and walk away proud to be included on the World stage. In addition, the experience and the memories reignited my passion for sports and have given me excitement for the future. I got only a small bite of the Olympic dream, and I am in full force fighting my way to make it back in four short years. I have high expectations for myself from now until 2018, but if I got through this past challenge, there are very few things that will stop me in the future!
Thanks to everyone for the never-ending kind words through this entire process, and I hope everyone enjoyed watching us ladies fly into history!
Sarah Hendrickson is a member of the Visa Women's Ski Jumping Team and Women's Ski Jumping USA. She's the reigning world champion and was a member of the inaugural U.S. Olympic women's ski jumping team in Sochi.
December, 6, 2013
12/06/13
2:59
PM ET
By
Sarah Hendrickson
| ESPN.com
Courtesy of Sarah HendricksonSarah Hendrickson has sweated through 13 weeks of intense rehab after a fall on Aug. 21 tore several ligaments in her knee.
After 13 weeks of hard training, I am finally seeing the results for which I've worked so hard.
It hasn't been easy waking up every day and going to the gym for at least six hours. I've had to start from scratch in many ways after a fall in August tore several ligaments in my knee. The rehab has been tough, and though my actual workouts have been more like four or five hours, these have still been long days.
I often see other athletes in the morning, and then they go ski and come back and say, "Wow, Sarah, you're still here?" I guess that sums up just how much time I'm spending at the Center of Excellence, the U.S. Ski Team's training facility.
It all seems to be paying off, though. At my 12-week post-operation check, my doctor was very happy with how my knee and leg looked. He informed me that my MCL was now healed but my meniscus still had another month until the stitches were expected to "heal."
[+] Enlarge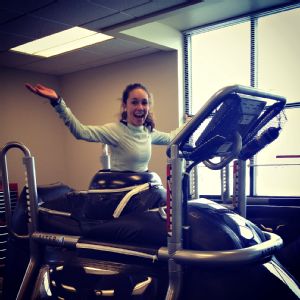 Courtesy of Sarah HendricksonSarah Hendrickson said running again felt "glorious." Here, she's on the AlterG treadmill, which takes weight off the lower extremities to lessen the impact.
He then reminded me that technically an ACL, the other ligament damaged in my accident, takes a full six months to repair. Obviously, we don't have that time frame with the Olympics in February, but luckily, I don't need to be "fully healed" to get back out there.
But the best thing he said was this: "There is absolutely nothing that will stop you from jumping in January." He could tell I have worked my butt off to get back to my sport. I cannot put into words how much confidence this gave me, and it has motivated me to work harder to reach my goal.
I also tested my strength on the force platform, which helps my medical team assess the progress I've made. I knew I felt strong, but sometimes that doesn't transfer into the correct numbers with testing. But once again, the hard work has paid off: I was back to 93 percent of my strongest numbers (which were logged this summer before I fell and was injured).
It was almost as if a weight had been lifted off my shoulders as I heard these results. Most people aren't this strong until about six months out of surgery, and I am still on track for my goal – to compete in Sochi.
After this appointment, I was cleared to run on what's called an AlterG treadmill -- it takes some of the body weight off your lower extremities, helping to reduce the impact. Thanks to my ultramarathoning mom, Nancy, I have grown a small passion for running and it felt glorious to do it again. I have absolutely no pain, which is also a great sign of healing.
There were days that I wanted to give up and just walk away. But those are now behind me. I can see the light at the end of the tunnel and every minute of that hard work that helped me get there.
Although I have had great success up until this point, I still have one more month of hard gym training. I don't qualify for the Olympics with strength numbers, of course -- it's the distance I jump on the hill. So I can't wait to be back jumping. If all goes well, I'll be flying out there in early to mid-January!
Sarah Hendrickson, the 2013 world champion, is a member of the Visa Women's Ski Jumping Team and Women's Ski Jumping USA.
October, 24, 2013
10/24/13
4:56
PM ET
By
Sarah Hendrickson
| ESPN.com
AP Photo/Carlo AllegriSarah Hendrickson, the 2013 world champion, hasn't given up on her goals to compete in the Olympics, despite a knee injury suffered in August.
After an Aug. 21 ski jumping injury in which I tore several ligaments in my knee, I'm excited to say that I am now eight weeks out of surgery and feeling great. The first six weeks of rehab were mellow, yet vital for the initial healing from the surgery. Even though I was in the gym every day, the exercises were simple. Now that I'm in the next phase, we are focusing on building strength and reaching full range of motion in my leg.
After my accident, I was isolated from interviews and I refrained from providing details about my future in terms of the Sochi Games, and of getting back on snow in general. After talking to my doctor, physical therapists and other parts of my support team, I made the decision to speak out about my goal: to make it back in time to compete in February at the Olympics.
[+] Enlarge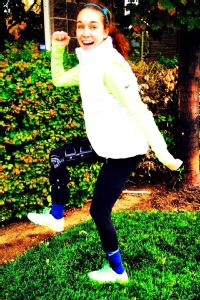 Courtesy of Sarah HendricksonSarah Hendrickson is eight weeks into rehab on her knee, and is working to build strength and reach full range of motion.
When I participated in the U.S. Olympic Committee Media Summit earlier in October, it was the first time I shared my goal in public. It was crazy to have these words come from my mouth when I was being pushed around in a wheelchair. But I have talked with the professionals and they tell me that it is possible.
It's hard for me not to think about what it would be like now if I was 100 percent healthy. It's especially difficult when I imagine myself in Europe, training with the rest of the team and working to maintain a high level of jumping -- instead of learning how to walk again. But things aren't that way, so I have to move on.
My goal of competing in Sochi is the reason I am getting out of bed in the morning and going to the gym for six hours a day. It's the reason I still have a smile on my face and it's the reason I will put my head down and fight through anything thrown at me in the next four months. I have dreamed of walking into the opening ceremonies representing Team USA way too many times to give up now.
Some people may think I am crazy, and that biologically this recovery is impossible by February. You know what I tell them? "Impossible" is not in my dictionary. Those who don't believe in me push me even harder to prove them wrong.
My personal goal is that on Jan. 19 when the Olympic team is named, I'm able to look back at the past five months and can honestly tell myself I gave every ounce of effort I could. The amount of hours I am about to spend in the gym and the tough barriers ahead will not be easy, but I have to give it my all. If I give it everything I have, that is the best I can do, and no one can take that away from me.
It's amazing that in the past two years I have tried to avoid thinking about the Games in fear of the immense pressure that comes with Olympic competition. However, these days, it's the first thought that runs through my head in the morning and my last thought at night.
Head down, all out, it's time to live my dreams.
August, 15, 2013
8/15/13
3:31
PM ET
By
Sarah Hendrickson
| ESPN.com
Erik SeoSarah Hendrickson won the large hill (K120) U.S. National Championships in Park City on Aug. 4. It was her second title.
For a summer blog, I could have easily written about training routines, travel schedules and the basics of ski jumping. Sure, that stuff is informative -- even a little repetitive. But this time, I decided to add a little twist. I'm going to share some of the (sometimes bewildering) misconceptions of ski jumping.
Ski jumping isn't exactly popular in the United States. Many people get the basics of our sport wrong -- very wrong. So wrong, in fact, that I could probably write a 10-page essay about it. Hopefully, the following will clear up some of the confusions.
Myth: Ski jumpers train in the summer by jumping into a swimming pool.
Fact: Not one second of a training session or practice involves a pool and/or body of water. In the summer, we happily land on fake grass, and in the winter, it's snow.
This is undoubtedly the No. 1 most-asked question by tourists, fans and members of the media. This has even been brought up while sitting at the top of the ski jump hill (no water in sight) and a tourist asks, "So how do you land in a pool from here?" or "Wait, did you just land in the pool?"
[+] Enlarge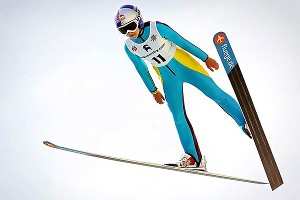 Dan Campbell/Women's Ski Jumping USASarah Hendrickson jumps on the 120-meter hill at U.S. National Championships in Park City. She won the event.
The good thing about these exchanges is that people are genuinely interested in learning more about what we do, and they are typically nice folks. My mom always taught me to be friendly and treat others with respect. However, there is a part of me that sometimes would like to shout rather loudly, "No pool here! You just watched me land on that fake green grass WITHOUT a pool!"
Of course, I would never say that, and I do appreciate the curiosity -- but really, a pool? Don't get me wrong, pools are great, and I wish we could indulge in cooling off in a body of water after summer jumping in 90-degree days wearing spongy jumpsuits. But it is simply not a part of ski jumping.
So, why the pool confusion? Our friends and fellow Olympic hopefuls who are aerialists ski off a sharp ramp and do flips into a pool during the summer training months. Their training facility happens to be a couple hundred yards from us, so there you have it.
Myth: The take-off of a ski jump has a curved-up "lip."
Fact: Not true. The take-off simply hangs at a negative 10-degree angle. Therefore, the option of doing back-flips off a ski jump is nearly impossible by the laws of physics. In order to jump the distances we reach on the ski jump (90-plus meters), you have to use the speed and, well, jump off the take-off -- otherwise, you will go short. Really short.
Myth: Ski jumpers fly up to 30 feet above the ground.
Fact: We're actually much lower to the ground. The average height above the ground during a jump rages from 10-15 feet and follows the contour of the hill, thus the impact of up-landing on a slanted surface is not as intense as one might think. The part of our sport that makes it "extreme" is the high speeds and long distances, not so much the height. We ski down the in-run at 60 mph and jump over a football field in length.
Over the 12 years I have ski jumped, these questions are asked daily by the general public. While sometimes frustrating, I do love informing people who are interested about the sport. If I can have a small part in getting just one more person to love watching what we do, then that's pretty awesome.
Hopefully, this info has cleared up some of the myths about Nordic ski jumping.
Sarah Hendrickson, 19, is a member of the Visa Women's Ski Jumping Team and represents the United States on the World Cup circuit. She was the first World Cup series women's ski jumping champion in 2012 and won the world championships in 2013. She finished the 2013 World Cup season ranked second in the world.
June, 5, 2013
6/05/13
8:08
PM ET
By
Sarah Hendrickson
| ESPN.com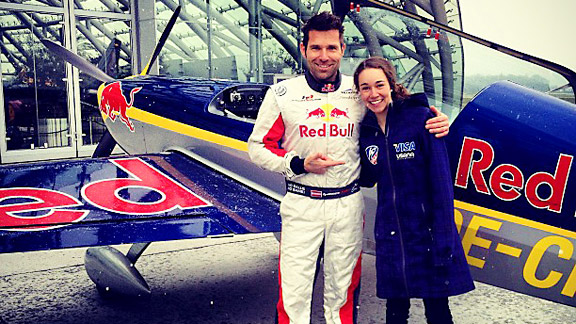 Courtesy of Sarah HendricksonSarah Hendrickson's whirlwind off-season included flying this Red Bull stunt plane.
Last season was, in a word, terrific: I fulfilled one of my dreams by becoming the world ski jumping champion in March. After the high of worlds, I headed back to Park City, Utah, where I live, for a little time off. Little did I know, this "time off" would not be as relaxing as I had thought.
In years past, the media interest in ski jumping has been quite low. Now, thankfully, this has changed. This past spring was an insane time, filled with interviews, photo shoots, appearances and other media-related events.
I am sponsored by Red Bull and Kellogg's, so many of the media appearances have involved those two companies. One of the highlights was going to the Red Bull headquarters in Salzburg, Austria, where I got to fly a Red Bull plane.
[+] Enlarge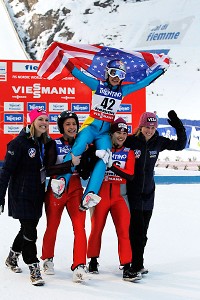 Christophe Pallot/Agence Zoom/Getty ImagesSarah Hendrickson won the 2013 world title in ski jumping in March.
Now this was no normal plane, mind you: It did spins, rolls and (ahem) even backflips. I'm a thrill seeker, so I loved the experience. Though I think I'll stick to flying upright most of the time, it was very fun. I also did a two-day shoot with Kellogg's that included a commercial. It's slightly weird having people film you while you chew Frosted Flakes, but hey, I work with Tony the Tiger now, so I can't complain!
At the end of April, I experienced one of the craziest media days of my life. I was flown to Hollywood to participate in the U.S. Olympic Committee and NBC promotional day for the Sochi 2014 Olympics. Not only was the day action-packed with interviews from all of the big guys -- Universal Sports, E!, Access Hollywood, and many more -- but it really hit me right then that I have the potential to go to the Olympics! How amazing is that?
Throughout the day, people were slapping makeup on me left and right, fixing my frizzy hair and asking me the never-ending list of common questions. One thing that struck me as surreal was the apparel they were giving me to wear in some of the shoots. Right on the front it read, "United States Olympic Team."
Now, I haven't officially made the team, but I was honestly made speechless by the fact that I was wearing the uniform for the Olympic athletes. My entire childhood was filled with watching athletes train and compete at the Olympics, and I can't believe I am so close to being a part of that exclusive group. It's still a dream, not reality yet, but on that media day my dream felt like it was getting really close.
Now we're in Park City for summer training, getting back into the swing of things for the Sochi season. But all the excitement hasn't quite died down yet: On Saturday I got to meet the one-and-only Taylor Swift at her concert in Salt Lake City. I know and love all of her songs, so getting to her give her a hug was...well, let's say my life is pretty much complete!
Sarah Hendrickson, 18, is a member of the Visa Women's Ski Jumping Team and represents the United States on the World Cup circuit. She was the first women's ski jumping World Cup series champion in 2012, and won the world championships in 2013. She finished the 2012/13 World Cup season ranked second in the world.