espnW:

Simona de Silvestro
October, 25, 2013
10/25/13
3:01
PM ET
By
Simona de Silvestro
| ESPN.com
Brian Cleary/Getty ImagesSimona de Silvestro finished the IndyCar season strong with top-10s in the last five races.
It's hard to believe the season is over already. The season finale in Fontana was crazy. I got caught up in the crash where Justin (Wilson) got hurt and had to replace the front wing of the car, which put me four laps down, but other than that and two flat tires during the race, I was fine. It did feel like the longest race of my career, for sure. I don't think I've ever had so many pit stops in one race.
For me, the end of the season was awesome. I managed to bring the Nuclear Clean Air Energy car home in the top 10 in all five of the last races. It was pretty incredible, actually. The team was working great together, and we had a lot of momentum after Mid-Ohio -- my first podium and my best oval finish ever. Good stuff!
[+] Enlarge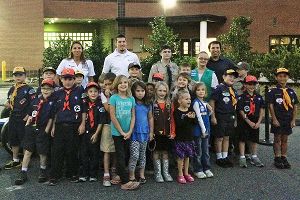 Courtesy Simona de SilvestroIts been a busy off-season thus far for Simona de Silvestro, including meeting with Scouts on Monday at Aiken Technical College as part of National Nuclear Science Week.
I went straight from Fontana to Augusta, Ga., and Lynchburg, Va., for several National Nuclear Science Week activities with AREVA. I got to talk with kids from grade school to high school to college about the importance of STEM (Science, Technology, Engineering and Math) education. They all asked a lot of really good questions, and I was impressed.
This weekend I'm racing go-karts in New Castle, Ind. I haven't done that in ages, and I'm really looking forward to it. I also have a couple of charity events coming up in the next few weeks; I'm going to Jeff and Karen Saturday's "Super Bowl for Saturday's Kids" at Pinheads bowling in Fishers, Ind., on Monday night, and then I'm off to Florida next weekend for a couple of charity golf tournaments. They should all be fun!
But my main focus now that the season is over is to get back to training. I'm going to train really hard before I go back to Switzerland for Christmas and plan to train while I'm there as well. The worst part of the off-season for me is not being in the car. I love being in the race car; it's the place where I'm happiest. Can't wait for March!
October, 11, 2013
10/11/13
10:12
AM ET
By
Simona de Silvestro
| ESPN.com
Chris Jones/IMS PhotoSimona de Silvestro got to celebrate her second-place finish Saturday with some sponsors, but not too much because she had to race again on Sunday.
It may have been super-hot and muggy, but last weekend was a great weekend for me. I finally got my first IndyCar podium in Race 1 at Houston. What a great feeling to finish second! It also felt like a big relief; I've waited for so long to have this.
It was a great race. We qualified sixth but started fifth because of an engine penalty, and then made some moves to go forward. I passed Simon Pagenaud a couple of times for position, so that was pretty cool. We had some issues with our brakes overheating and even had the right-rear shock break during the race, but we managed those issues well and brought the car home for my best-ever IndyCar finish. The team and everybody did such a fantastic job.
Some of my Nuclear Clean Air Energy sponsors were at the track for the race, and it was really fun getting to celebrate with them. AREVA brought some students from Texas A&M, and I told them they brought me luck and that they all had to come back to the track on Sunday. Unfortunately, I wasn't able to celebrate too much Saturday night because we had to come back and race again on Sunday.
The track was really bumpy and I had some blisters on my hands from Saturday, but I was still extremely disappointed when we didn't get to qualify on Sunday morning because of rain and track conditions. That meant we had to start the race based on entrant's points at the start of the weekend. I didn't even get the benefit of all the points I earned in Saturday's race and had to start back in 17th.
I was very disappointed because I knew the car was really good and that we would have had a really good shot at starting close to the front again. We had standing-starts for both races, so qualifying made even more of a difference than usual.
The first part of the race didn't go so well for me. [Graham] Rahal didn't see me going into one of the turns and caused me to have to bail over the chicane. That alone dropped me back in the field, but then to make matters worse I ended up getting a drive-through penalty for "unavoidable contact." I still managed to finish 10th but think I might have finished in the top five again without that penalty.
I feel like this last part of the season has been really good for me. Things have really started coming together from Mid-Ohio on. We finished 11th there and haven't finished outside the top 10 since. I was super-happy with my fifth-place finish on my birthday in Baltimore, but to come to Houston and finish second was a great accomplishment for me and felt even better.
September, 6, 2013
9/06/13
10:30
AM ET
By
Simona de Silvestro
| ESPN.com
Courtesy Chris JonesCars were flying everywhere at Baltimore, but the track suited Simona de Silvestro, and she ended up with her best finish of the year.
Wow, so I'm just now starting to relax after my crazy weekend in Baltimore. It started early for me this year with a visit to Morgan State University with my sponsor AREVA.
I got to meet the lieutenant governor of Maryland and talk with students and vets about STEM careers. I also went with them to the Bluford Drew Jemison STEM Academy, where we met with seventh- and eighth-graders to talk about how science, technology, engineering and math are used in racing. Boy, they were a smart group of kids.
[+] Enlarge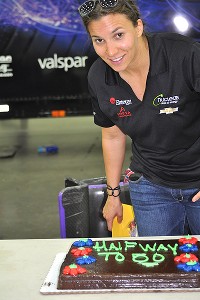 Trish DonovanTo top off a wild race, Simona de Silvestro met up with her crew and celebrated her 25th birthday Sunday.
As much as I like to talk to kids about STEM, I couldn't wait to get on the track. I really love the Baltimore circuit. We expected it to be bumpy, and that's exactly what it was. Cars were flying everywhere. I didn't think I got much air, but apparently photos show that I did.
We had some real issues with brakes all weekend and didn't qualify very well (19th), but the track really suits the way I drive, so I was still excited about the race.
We ended up starting 17th because a couple of cars changed engines. I moved all the way up to 12th by Lap 5 and into 10th by the end of Lap 13. It was fun!
The team did a great job in the pits all day. I got bumped a few times and got stuck in one of the crashes and had to get my front wing changed, but I managed to stay out of trouble after that.
I had some really good restarts and worked my way back through the field to finish fifth. That's my best finish so far this season. It was a crazy race, but I really had fun.
Oh yeah, it was also my birthday on Sunday. One of my sponsors had a party for me after the race. I got lots of great gifts and really enjoyed myself.
After the party I met up with my crew and had some more fun. We stayed up way later than I normally do on a race weekend, but it was great. I thought turning 25 would be awful, but it turns out it was a pretty good day after all.
July, 23, 2013
7/23/13
1:33
PM ET
By
Simona de Silvestro
| ESPN.com
AP Photo/Butch DillSimona de Silvestro came back refreshed from her trip to Vermont and had her best finish on an oval: an 11th at Pocono.
The last few weeks have been really nice. We finally had a weekend off, and I think that was really good for us. It gave us the time to regroup a bit and prepare well for Pocono.
I went to Vermont on my weekend off with some friends. It was a lot of fun, but the best part of it was we had a no technology rule for the weekend. We did have to cheat a little to watch the Formula 1 Grand Prix, lol.
It was nice to be out by the lake. We went canoeing and just had some time to relax and not think about anything. I got to demonstrate the fire-building skills my dad taught me when I was younger, so that was kind of cool, too. I thought I'd like s'mores, but I didn't.
The Pocono race was just around the corner when I got back. What a crazy place. It's so fast and I had never seen an oval like this one; all the corners are different. That made it really challenging to set up the car. We had a good test day, so that helped a lot.
The team stayed in this really old hotel in the woods. People were saying it was haunted! I personally didn't see anything, but I must say that the elevators were making creepy noises. The place had a fire pit, and it was kind of neat because the whole team was staying there and we all would hang out around the fire.
The Pocono race was great. I had a lot of fun and it was my best finish (11th) on an oval. The following week we headed to Toronto for a double-header weekend. It's one of my favorite tracks. We had a good result on Saturday (10th) but were a little frustrated on Sunday (finished 14th). Now I'm heading to Europe for a couple of weeks, and I'm really looking forward to spending time with my family.
June, 4, 2013
6/04/13
1:35
PM ET
By
Simona de Silvestro
| ESPN.com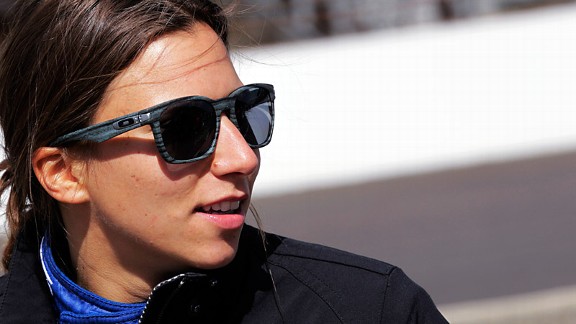 AP Photo/AJ MastSimona de Silvestro has had good luck and bad in the Indy 500, but this year finished middle of the pack at 17th.
Racing at the Indy 500 is always pretty special for me, and this year was even more special since my teammate, Tony Kanaan, won the race. Indy isn't like any other race. We practice for a full week before we qualify, which is good because qualifying on Pole Day at Indy is probably the most stressful thing I do as a race car driver.
[+] Enlarge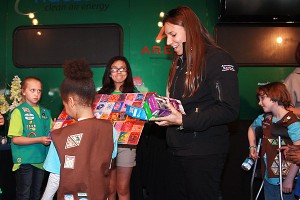 Courtesy of Simona de SilvestroAn off-track highlight for Simona de Silvestro was meeting with a group of Girl Scouts who were interested in learning about energy and engineering.
We've been having a really good season, but everything we've learned is totally different from what we needed at Indy. I've had good luck at Indy [I won Rookie of the Year in 2010] and really bad luck [such as when I crashed two days before qualifying in 2011], so I wasn't really sure what to expect.
Last year was difficult because we were under-powered and weren't competitive. But I think that might actually have been a good thing since it gave me a chance to get comfortable again on the track. This year I had a lot of confidence going into the "Month of May."
We were pretty good on-track, and I think we could have qualified a bit better and even finished better, but it is what it is. We didn't do as well as we hoped, finishing 17th, but I still had fun and am really upbeat about my chances on the rest of the ovals.
Off-track, I had fun, too. I played in a couple of charity golf tournaments -- I even won longest drive in one of them.
But probably one of the most fun things I got to do was meet a group of 75 Girl Scouts from Indiana who came out to the track Saturday before the race to learn about energy and engineering. One of my Nuclear Clean Air Energy sponsors, AREVA, set up five different stations with hands-on activities for the Girl Scouts. The girls told me all about what they learned and gave me a painting of atoms that they made as well as some Girl Scout cookies. Yum!
May, 14, 2013
5/14/13
5:37
PM ET
By
Simona de Silvestro
| ESPN.com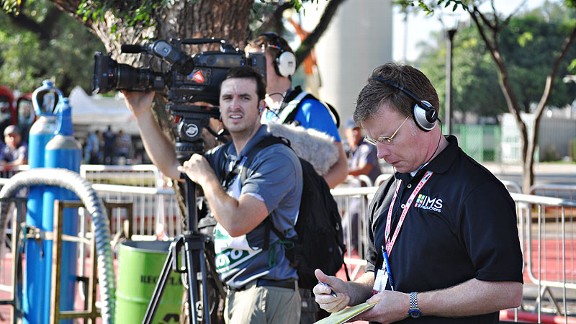 Trish Donovan, KV Racing TechnologyA crew filming "IndyCar 36'' followed Simona de Silvestro around at the track, the garage and even a steakhouse.
I just got back from driving in the Itaipava Sao Paulo Indy 300 in Brazil and am getting started with practice at the Indianapolis Motor Speedway for the Indy 500, but I wanted to say how much fun I had filming "IndyCar 36'' while in Brazil.
[+] Enlarge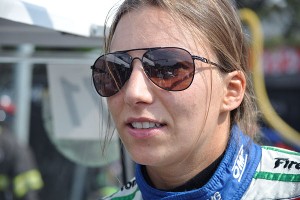 Courtesy of Trish Donovan/KV Racing TechnologySimona de Silvestro finished eighth in Brazil but wished she'd come in for a splash of fuel toward the end.
Sean Belby, the producer, and his crew followed me all around during race weekend in Brazil getting shots of me on and off the track. It was a little weird at first -- I kept looking over my shoulder like you do when you feel like someone is following you -- but I finally got used to having them around and really enjoyed it. They caught up with me as soon as I stepped off the elevator Saturday morning and tagged along for breakfast and then out to the garage before a pretty busy day of on-track activity.
Brazil is different from most of our other races because the hotel is inside the track, and all of the teams stay there. They serve us three meals a day, and we don't usually leave the hotel very often, but on Saturday night I had dinner at a local Brazilian steakhouse with my dad, my manager and my PR person. The IndyCar 36 crew was waiting when we arrived; I've never had someone film me eating so much.
I missed the guys Sunday morning at breakfast but found them waiting for me in the garage all ready to follow me on my favorite day of the week: race day! We had a good race, but I think we might have been able to finish better if we'd come in for a splash of fuel when Hinch (James Hinchcliffe) did. He won the race, and we finished eighth.
Even though I didn't get my first podium, I did have a ton of fun during the last stint of the race when we weren't saving fuel, and I was able to push hard. I passed several cars and probably would have gotten past a couple more if we had a few more laps.
All in all it was a really fun weekend, and I enjoyed getting to know Sean, Matt (the director of photography), Brandon (our camera operator) and Nate (the audio guy). I can't wait to see how it all turns out. It airs at 11:30 p.m. May 23 on the NBC Sports Network.
May, 1, 2013
5/01/13
1:11
PM ET
By
Simona de Silvestro
| ESPN.com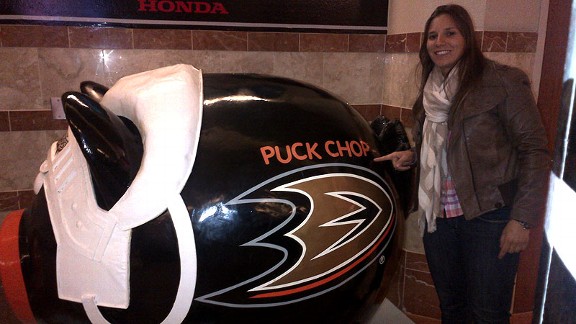 Courtesy of Simona de SilvestroSimona de Silvestro not only had fun at an Anaheim Ducks game, she came away with a team to root for long term.
Hockey is a pretty big sport in Switzerland and I watched it a lot growing up, but since moving to the U.S. I haven't really followed it that much. Indianapolis doesn't have an NHL team, so that doesn't make it easy, either. It's not as much fun when you don't have someone to root for.
I met Jonas Hiller at last year's season finale in Fontana. Turns out he's the goalie for the Anaheim Ducks (and a really good goalie at that.) He was nice enough to invite me to the Ducks game the Wednesday before the Long Beach race. He didn't end up playing, which was disappointing. I think since they already had made the playoffs the coach was resting him and getting their other goalie some more playing time.
I had fun anyway. I thought it was kind of funny that I was driving a Chevy Volt to a Honda arena. I love driving for Chevy! I also ran across Pork Chop's cousin Puck and took a picture with him. For those of you who may not know, Pork Chop is the race car I drove after my crash at Indy in 2011. To be honest, I didn't see any family resemblance.
I also got a kick out of the "oblivious-cam." One minute, 37 seconds doesn't seem long until you spend it watching a guy texting on the big screen. Shoot, I could do a lap at Long Beach in way less time than that. But it was still kind of funny.
The Ducks ended up losing to Columbus in overtime, which was a bummer especially since Graham Rahal was at the game rooting for Columbus. All-in-all it was a fun way to start off the Grand Prix weekend, and now that I have a team to support I plan to start watching more hockey again.
April, 11, 2013
4/11/13
12:44
PM ET
By
Simona de Silvestro
| ESPN.com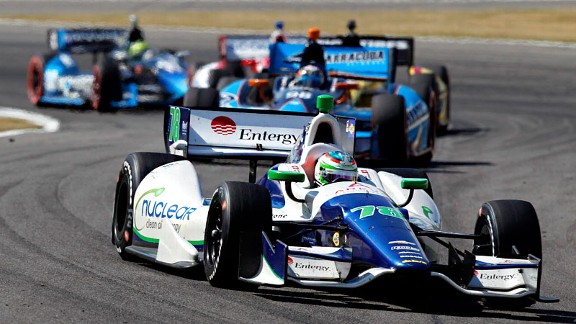 AP Photo/Butch DillSimona de Silvestro was disappointed at Barber but hopes the lessons learned will pay off at Long Beach.
We went off to the St. Pete race, and I was really excited. I was pretty anxious to be going there because it's the beginning of the season. Testing went well in the offseason, but you never really know where you stand until you go to that first race.
Fortunately for us, we were pretty quick right out of the gate and qualified third. We went into the Fast Six, and I was really excited about that because I'd never done that before. I thought it was really rewarding.
The race also went well. Unfortunately, we finished sixth. At the end we kind of ran out of tires a little bit, but that is something we can learn from for our setup. Tire wear is important, and we never had that issue before.
It was still a great weekend. My parents were there, and a lot of people from the Nuclear Clean Air Energy campaign, from AREVA and Entergy, and that was really exciting. It always feels like we're a big family and we're in this all together. It's cool that we were able to kick off the season with a really good start.
I stayed down in Florida after the race. I think I was scared to come back to Indianapolis because it was really cold. My parents were around, so we stayed down there for the whole week. It was really nice, although we made the rookie mistake of burning ourselves on the beach because we didn't think we needed that much sunscreen, but we learned our lesson. It was great!
I spent time with my mom and dad; we just went around sightseeing. I also got to have dinner with my teammate, Tony Kanaan, and his wife, Lauren. It was the first time we got together outside the race track. He's an awesome person, and we had a lot of fun.
Then we went on to Barber Motorsports Park. We stopped by the Southern Nuclear office in Birmingham and met with everybody there. They were pretty excited about the race coming up, and I was, too. It's cool to have everybody involved like that.
Barber was fun. It's a difficult track with a lot of elevation changes, which I like because it reminds me of tracks in Europe. I was really looking forward to it.
We were quick, but the weekend didn't go our way. We missed it a little bit in qualifying, and that hurt us. We started 14th. During the race our strategy didn't play out, so it was a long race, a race to forget, I guess, because it wasn't the result we wanted.
I think there are some things we can take out of it if we want to win races. All those little things are important, so we really have to focus on those, and hopefully we can clean those up this week. We have a few meetings back in Indy, and I'm confident we can make things better for the next race. I'm really looking forward to going to Long Beach, where I had my first win in Atlantics.
March, 22, 2013
3/22/13
1:21
PM ET
By
Simona de Silvestro
| ESPN.com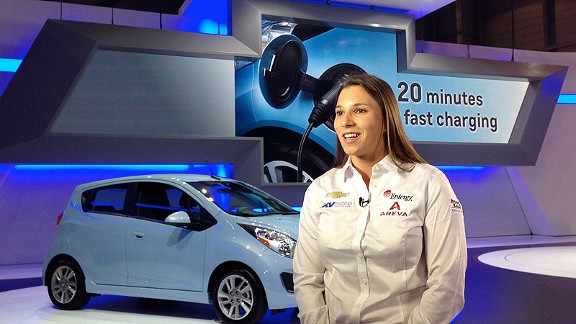 Courtesy Simona de SilvestroSimona de Silvestro got to visit family and friends in her native Switzerland at the Geneva Auto Show in early March.
Since our test in Italy with Dallara, we've done a couple here in the U.S. We tested at Sebring and Sonoma and had our first official test in Barber with all the cars, and it went really well. Everybody's kind of pumped to get the season started. It's been a lot of work during the offseason, a lot of training. I really can't wait to get into the car.
I went to the Geneva Auto Show in the beginning of March. That was a really cool experience, to be at home in Switzerland and to be with Chevy there. I got to present the new Spark EV. I drove the car onto the stage, which was a lot of fun. I also got to see all of my friends and my parents. It was nice to be at home for a little bit before the craziness starts in St. Petersburg.
I flew down to Florida on Saturday to hang out with one of my sponsors. I was hoping to play some golf, but it rained a lot and my arm was a little sore from Barber, so I just chilled and watched a few movies instead. I did get to caddie one day and saw an alligator in the water that was next to the course. You don't see that everywhere, that's for sure.
We also did a few things earlier this week in Gainesville with the energy company AREVA at the University of Florida. We were there as part of the Nuclear Clean Air Energy campaign. We talked with students about the importance of STEM education and had dinner with Dr. Peter Lyons, who is the assistant secretary for nuclear energy at the Department of Energy. It was educational and fun.
I'm really excited to be getting back in the car for the start of the season this weekend in St. Petersburg. I think we're going to have a good season, and I'm really looking forward to it.
February, 25, 2013
2/25/13
11:57
AM ET
By
Simona de Silvestro
| ESPN.com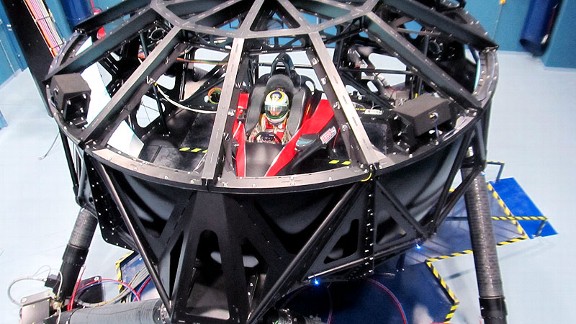 Courtesy Simona de SilvestroWith testing limited in IndyCar this year, Simona de Silvestro put in some time in a simulator in Italy.
So far my offseason has been pretty good. Before Christmas I got a lot of training in at St. Vincent Sports Performance. I spent about two months working out there.
Over Christmas and New Year's, I went back to Switzerland, then went to India with my parents. That was a lot of fun. I'd never been there, so it was really kind of cool to visit this country.
I got to see the Taj Mahal and Jaipur and Udaipur, which were both cool cities. The only bad thing is that I thought it would be really warm going to India, and it was pretty freezing. I think in almost every picture I'm wearing the same jacket. Overall, it was a really good experience.
After the holidays, I came back to the states for our team launch, which always happens in Baltimore at the Royal Sonesta Harbor Court hotel. It's fun to spend time there; it's a hotel, but it kind of feels like home, so that was nice.
It was a good way to kick off the season with Tony Kanaan, AREVA, Entergy and everybody from the Nuclear Clean Air Energy campaign getting together. We had a really nice dinner. It just feels like a big family, which I think is important.
I went back to Europe shortly after that for some simulator work at Dallara, an Italy-based racing company. I'd never been in a simulator, so it was pretty exciting. I got sick in the beginning, but then I adjusted to it.
We did a lot of work, so that was really good. It can be a good tool, especially with how we don't have that much testing this year in IndyCar. Maybe we're going to use that a little more.
Now I'm pretty much getting ready for preseason testing. It's going to be busy the next couple of weeks, but I can't wait to get back into the KV Racing Technology Chevy IndyCar. Hopefully, we'll have some pretty fast lap times.
Everybody worked really hard on the team, as did I, and we can't wait to show what we've got.