April, 9, 2013
Apr 9
11:08
AM ET
By
Stefanie Dolson
| ESPN.com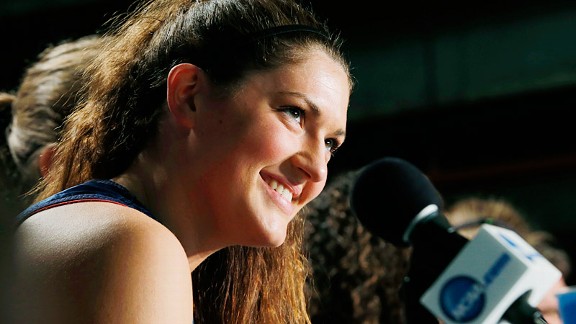 AP Photo/Dave MartinStefanie Dolson had 16 points and nine rebounds when Connecticut beat Louisville in January.
Ahhhh! We made it. And I guess, for me, you can say the third time's a charm! It's been three years of trying to make it to the national championship game, and the last two years we've come up short. This year we didn't let that happen again.
One of the most important parts about getting the win tonight is sending our seniors out with a bang. To send them out with a loss in their last game would be the worst possible situation. Our seniors, Kelly [Faris], Caroline [Doty] and Heather [Buck] mean the world to us, and we're going to miss them a ton when they leave. I've been answering a lot of media questions about them for good reason. So let me tell you a little about each one.
[+] Enlarge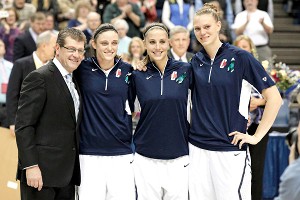 David Butler II/USA TODAY SportsSeniors Kelly Faris, Caroline Doty and Heather Buck will be suiting up in the Connecticut uniform for the final time tonight.
Kelly is our only actual senior who hasn't stayed an extra year. She is one of the hardest-working players I've ever seen. She is a silent killer on the court and isn't a big speaker off it, either. But don't get me wrong, she'll still throw in a random comment that will have everyone dying laughing!
Caroline is next. We all joke around that she's been here forever and that she's 35 years old. But for me, it's been an awesome three years with her. She is one of the toughest players I've had the privilege of playing with and would stand up to anyone for us! And off the court, she's my roommate, so we're around each other a lot. I am really going to miss all her stories (she has one about everything) and just the fun we have together.
Finally there is Heather. Although Heather doesn't play a lot for us, she is one of the most special people on this team. She would do anything for us on or off the court and is the most spirited on the bench. She always is one of the first people to throw herself up in the air when we get a big shot! And looking at her, she looks pretty intimidating, right? Well, outside of basketball she is extremely smart and the sweetest person you could ever meet. We call her "the buck" because we will ask her questions before we go to "the google."
It's their last year and their last collegiate game, so I know they will fight as hard as possible to not let our team down. And I also know that the rest of us will do everything possible to send our seniors off on a high note and have them bring home what I'm sure would be the sweetest national championship of them all!!
April, 4, 2013
Apr 4
1:51
PM ET
By
Stefanie Dolson
| ESPN.com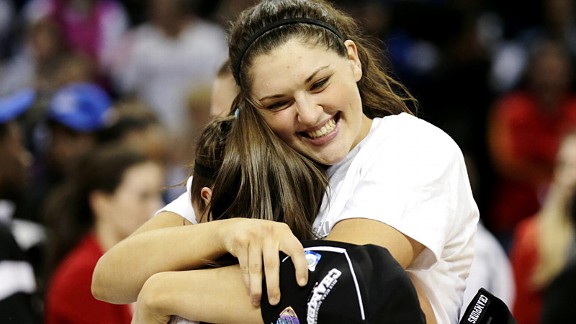 AP Photo/Charles KrupaConnecticut's Stefanie Dolson embraces Caroline Doty after the win vs. Kentucky.
My team and I just won our sixth straight Elite Eight game and are on our way to Nola, this being the first time for most of us. I've never been to Louisiana and am extremely excited to get there and experience the lifestyle.
It's actually pretty hard for me to explain in words how excited I am. We travel a lot as a team and have had the opportunity to see some really cool things, but this trip, this trip is going to be awesome! I've heard such great things about the music, the festivals, the history, the people, the customs and, especially, the amazing food. The food is what I am most excited for because I'm a big girl that lovesssss to eat!
Although this is my third Final Four I'm not going to be taking anything for granted. Getting there was a tough road, but my team stepped up and got the job done. Going to the Final Four is like nothing else. Not many people get to experience it and it's a lot of fun.
The banquet is always one of my favorite parts as all the teams get to dress up, relax, have fun and just enjoy the moment! Then it's off to doing all the media stuff that the fans get to see during the games where they get to know some of the players. Finally, we get around to the most important part, which is, of course, the games!
Playing in a Final Four game is the most incredible thing anyone can ever experience. The atmosphere is out of this world. Even though we'll be in New Orleans, I'm confident that our fans will be there to support us because we have the best fans in the country. Getting to the Final Four is always an accomplishment but we've come home early the last two years and plan to stay alive -- and stay in New Orleans -- longer this year.