June, 4, 2013
6/04/13
11:59
AM ET
By
Taylor Hoagland
| ESPN.com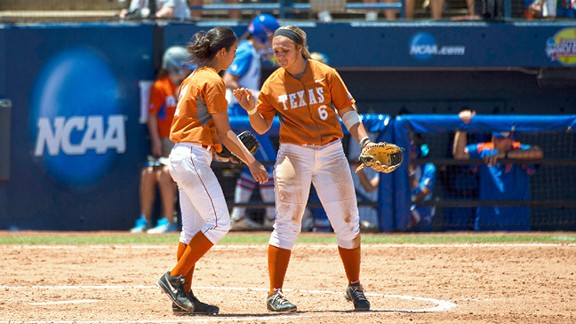 University of Texas Athletics PhotographyAt the beginning of the season, many doubted Texas, but being one of the last four teams standing at the WCWS answered any questions.
It is with deep sorrow that I inform y'all the Texas Longhorns' run for a national championship has come to an end. We played our final game together Sunday night against the Tennessee Lady Vols and fell 2-1. While our season may have come up short of our ultimate goal, our journey is something to be remembered.
This 2013 team has put itself in the record books at the University of Texas and has accomplished more in this short time together than many teams only dream of doing. We were one of the last four teams standing at the Women's College World Series, which in itself is a respectable feat.
A lot of people can say they've experienced the WCWS from the stands or on television, but the fortunate few who get to stand in the middle of the crowded stadium under the lights while thousands of people cling to their seats in anticipation of the first pitch is a memory that will resonate with me forever.
At the beginning of the season, there was a lot of doubt being thrown our way. Will Texas ever make it back to the WCWS? Is Texas ever going to be as good as they once were?
And you know what? We made it to the WCWS. We are better than we've ever been before. And what we did this year will forever be imprinted in the hearts of many. For that, we thank you all.
As for me, it's a bittersweet feeling. While my time here at Texas has come to an end, I can't help but smile. Yes, I cried like a baby when that last out was made and the weight of the world felt like it was crashing down on me, but when I woke up this morning, I thought, "We lost. But we lost in the semifinals of the Women's College World Series. We did something that nobody else thought we could do. And that feels like a win to me."
Softball has been the catalyst of my life. What's that cliche saying? You can take the girl out of softball, but you can't take the softball out of the girl. I didn't choose the softball life, the softball life chose me. I will never stop loving the game, because it never stopped loving me.
And for the final time I'd like to say to you all, thanks and Hook 'Em Horns!
May, 22, 2013
5/22/13
4:19
PM ET
By
Taylor Hoagland
| ESPN.com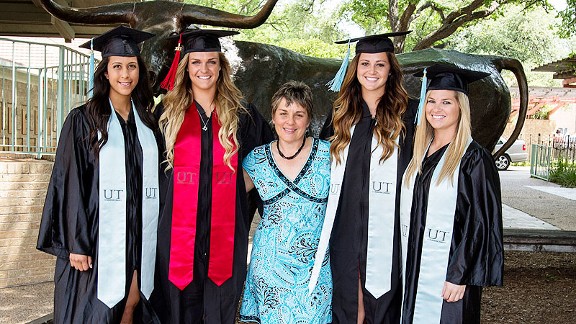 University of Texas Athletics PhotographyIn addition to regionals, four players added graduation to the weekend agenda: from left, with women's athletic director Chris Plonsky, Blaire Luna, Taylor Hoagland, Kim Bruins and Torie Schmidt.
What an eventful weekend. Between the graduation festivities, sweeping the NCAA Austin regional, making hilarious Vine videos and improving our hacky-sack skills, there was hardly enough time to sleep.
On Friday morning while everyone else on the team came down to breakfast in their pajamas, Kim Bruins, Blaire Luna, Torie Schmidt and I came down in our high heels with our graduation caps and gowns.
Right before that, though, one of our freshmen, Lindsey Stephens, went to Kim's room to ask for something, and Kim opened the door in her cap and gown. Without saying anything, Lindsey started crying! If you were there it was pretty hilarious, because nobody except her was emotional quite like that.
Maybe that will give you an idea of how close this team is. No matter if you're a freshman or senior, everyone loves everyone the same. It's "for better or worse," if you will. Feeling this bond of trust throughout this team is something I have never felt in my four years here.
Adopting the mentality of playing for the girl on your right and the girl on your left is what has gotten this team where it is right now. And right now, we are gearing up for super regionals against the Florida State Seminoles.
Speaking of which, who is excited?! As Beth Mowins says, it's "MAYhem." But as far as I'm concerned, the only mayhem I'm dealing with is who's going to be my hotel roommate for the weekend. You never know who you're going to get, which is fun and scary all at the same time because everyone has her thing.
For example, if you room with Gabby Smith, you will walk around your room feeling as if you're in a horror movie. Whenever she gets the chance, she will jump out from behind a door, a bed, a shower curtain or literally anything that will hide her, and then scare the living daylights out of you.
If you room with Holly Kern, she will force you to watch "Spice World'' and turn into a crazy cuddle monster. If you room with Marlee Gabaldon, she will do one of two things: start a pillow fight or ignore your existence entirely until she passes the next level of Candy Crush.
The list could go on and on, but that's why I love this team. We know all the crazy things we do, and we still love each other. That is the edge this Texas program needs to propel itself deep into the postseason.
That's why this year, we can't stop and we won't stop. Now let's go win a super regional and take the University of Texas back to Oklahoma City!
Until next time y'all, Hook 'Em!
May, 16, 2013
5/16/13
1:52
PM ET
By
Taylor Hoagland
| ESPN.com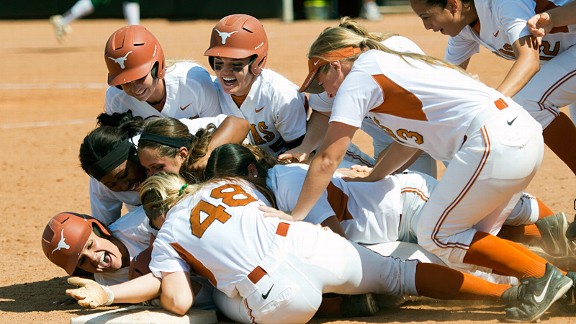 University of Texas Athletics PhotographyThe regular season ended on a high as Kim Bruins hit a walk-off single for a dramatic win over Baylor.
This is my first post as an official graduate of The University of Texas! So to begin this entry, I'd like to say thanks and Hook 'Em.
We wrapped up our conference season Sunday with a win over Baylor in the ninth inning on a very emotional Senior Day. I think I can speak for all the seniors when I say it really couldn't have been scripted any better.
[+] Enlarge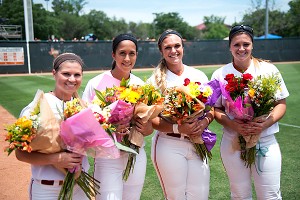 University of Texas Athletics PhotographySenior Day was emotional for the players, and each one of them delivered.
Blaire [Luna] pitched an amazing game, I hit a screaming double in the first, Torie [Schmidt] was smashing the ball everywhere and Kim [Bruins] hit a walk-off single to pull out a dramatic win against the Lady Bears. The win wasn't even the best part, the massive dog pile after Kim's hit was. It was a complete team effort to close out our conference season with an exciting win, and we plan on carrying that momentum into the postseason this weekend.
Speaking of postseason, Coach Clark must have been in an extra good mood after our big win, so she invited the whole team to her house for a Softball Selection Show watch party. Knowing that Coach Clark has a pool in her back yard, naturally we asked if we could swim. We all got super pumped to bring our swimsuits and come splash around and then, whomp. The timing after the game Sunday just didn't work out.
We all arrived around 8:45, and of course, what's a party without pizza? As soon as the pizza arrived, Coach Clark turned her softball brain off and went into immediate "Mom" mode. When Lindsey Stephens, one of our freshmen, grabbed a piece of pizza and headed for the white couch, Coach Clark yelled, "Do not, and I repeat, do not get pizza on my white couch. Or white pillows. Or white fireplace. Or anything for that matter."
And what did Lindsey do? Grabbed a white pillow and put it in her lap as a tray for her pizza plate. We all thought Coach Clark was going to have a heart attack right in the middle of the floor!
As soon as the show started at 9 everyone's emotions skyrocketed. The show was so suspenseful that we could barely stand it. We were the No. 4 national seed, so as soon as Michele Smith and Beth Mowins said, "And now let's go to the Austin Regional," you would have thought everyone's eyes were going to pop out of their heads.
We saw that our first game was going to be against Army on Friday night. Everyone's reaction was the same: "Let's get it!" Then we saw Houston and South Carolina come on the screen and everyone was just like, "Let's go!" Honestly, I think Alabama and Oklahoma could have popped up on the screen and our reaction would have been the same.
This team is fearless, relentless and ready to get this postseason started. So until next time, get your mind right, because it's postseason time.
May, 3, 2013
5/03/13
10:36
AM ET
By
Taylor Hoagland
| ESPN.com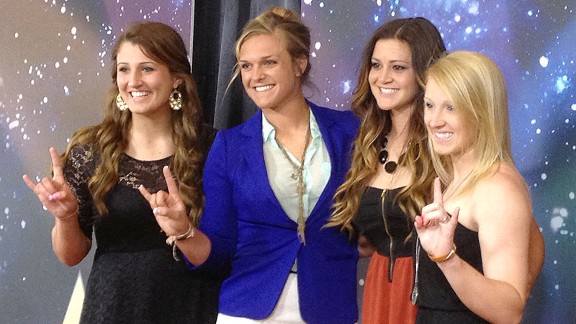 Sarah Fetters/University of Texas Media RelationsFreshman Taylor King, senior Taylor Hoagland, senior Kim Bruins and junior Taylor Thom pose for photos at the women's athletic banquet Monday, which was televised on Longhorn Network.
Hey y'all, it's me again!
While this week has been ridiculously crazy because it's the last week of classes, it has also been an exciting one for Texas softball.
Fresh off a weekend sweep at Texas Tech, we started the week off with Longhorn Honors: Women's Athletics on Monday night. The banquet honors the 2012-13 student-athletes, and it was televised live on Longhorn Network.
You know it's bad when people ask where the softball team is, when we're all standing right in front of them. I guess that means we should start brushing our hair more. It was so awesome to see the women of UT Athletics all dressed up.
One of the best parts was seeing all the basketball and volleyball players in their high heels. Those girls have no shame. They're already 6 feet tall, and on top of that they're sporting five-inch pumps! I had to get a picture with them just to make myself feel small for once.
Senior tributes were a sad moment during the banquet. Every so often a video was played about each senior from every team talking about what she will miss and what Texas means to her. Blaire Luna, Torie Schmidt, Kim Bruins and I would look at each other during each other's videos and give that "I can't believe this is the end" look. But we don't really look at it as the end, rather the beginning.
Although Senior Day is just around the corner on May 12, we have our sights set on June 6. With school almost over, we get to just hang out and play softball! Next week is finals week (pray for us), so once we get past that we are home free.
This weekend we are headed to Stillwater, Okla., to play Oklahoma State for our last road conference series, and then it's back to the great state of Texas to finish up conference play with a game against Baylor.
Wednesday was a light practice for us, focused mostly on our short game and getting live at-bats. But then Coach Clark decided to throw a Hail Mary on us and surprise us with ice cream at the end of practice. I'm almost positive our athletic trainer was having a mini heart attack when Torie got a medium birthday cake and cookie dough with fudge brownie pieces concoction. When there's ice cream on the line, Texas softball will stop at nothing.
Not that I don't absolutely love keeping y'all entertained with our lives here in Austin, but it's time for me to get my study on.
Until next week, Hook 'Em!
April, 24, 2013
4/24/13
4:26
PM ET
By
Taylor Hoagland
| ESPN.com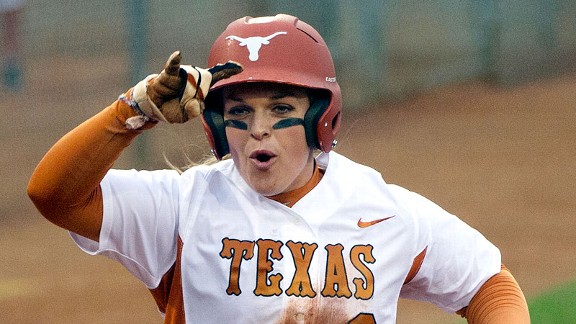 Courtesy of University of Texas Athletics PhotographyTaylor Hoagland and her Texas teammates are fired up as the regular season winds down and postseason play looms.
Howdy, y'all!
My name is Taylor Hoagland, and I am a senior infielder for the University of Texas Longhorns softball team. I am a born-and-raised Southern girl from the best country in the world: Texas. Because I am from the best state, it was only natural for me to attend the best school: the University of Texas at Austin.
I began my love affair with softball at the age of 4, learning how to swing a bat before I could ride a bike, do math or dress myself. That probably explains why I ride a longboard, avoid calculus and send pictures of outfits to my teammates so they can tell me which one would look best.
My grandfather introduced me to softball when he bought me my first pink baseball tee with a matching bat-and-ball set. Visiting my grandparents' house was not your typical milk-and-cookies tea party like most little girls experienced. It was more like a tie-up-your-cleats-and-get-your-butt-in-the-backyard-so-I-can-teach-you-how-to-play-better-than-the-boys party.
My idols growing up were Jennie Finch (of course), Michele Smith and Crystl Bustos. They were all members of the USA Olympic softball team, and my inspirations to one day play for Team USA myself. Before any of that could happen, I had to get to college first.
As if trying to be cool in high school weren't stressful enough, I had to start thinking about choosing a college. I obviously knew I wanted to play softball; I just had no idea where. I had my sights set on Texas A&M (oh, the irony).
Looking back now, I didn't really know much about the school, other than my best friend was heading there and it seemed to be full of cowboys. Two very logical reasons to go there, right?
I remember hearing that the University of Texas head coach, Connie Clark, had some interest in me and I thought, "Yeah right, like I would ever go to UT. Definitely not."
Fortunately, at the time, my mother was just a wee bit smarter than I was and forced me to go on a visit to Austin. I knew nothing about UT, other than the football was awesome and the school color was hideous.
But as soon as I opened my car door and stepped foot on campus, it was like tasting chocolate for the first time. At that moment I knew Austin was going to be my home for the next four years. I verbally committed to Coach Clark and the Longhorns just after my sophomore year of high school and haven't looked back since.
We are playing the back half of our conference schedule now but are far from being done with the season. After Big 12 play ends, the NCAA tournament will fire up. I think I can speak for the entire Longhorn team when I say we hope to go ALL. THE. WAY. And take the Longhorns back to Oklahoma City!
I hope y'all will follow us for the remainder of the Big 12 season and join us on our journey toward the Women's College World Series.
Until next time … Hook 'Em!