May, 29, 2014
May 29
6:22
PM ET
By
Tina Charles
| ESPN.com

It has been an amazing experience since returning to New York City and becoming a member of the New York Liberty. It is a rare thing in sports when a player has the opportunity to truly play for their hometown team.
Since coming back to New York, I have had the chance to visit with so many of my friends and family on a regular basis. For New Yorkers and foreigners alike, there is an incredible energy to this city that you feel when you walk through the streets, especially during the summertime. There is nothing like a New York summer.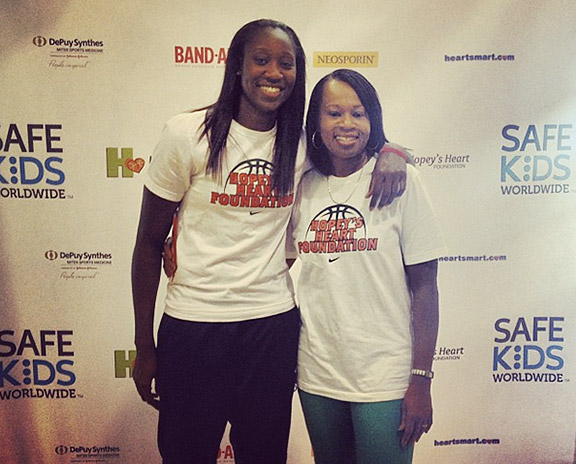 Courtesy of Tina Charles Tina Charles has said her mom took her to Liberty games at Madison Square Garden and Mets games at Shea Stadium.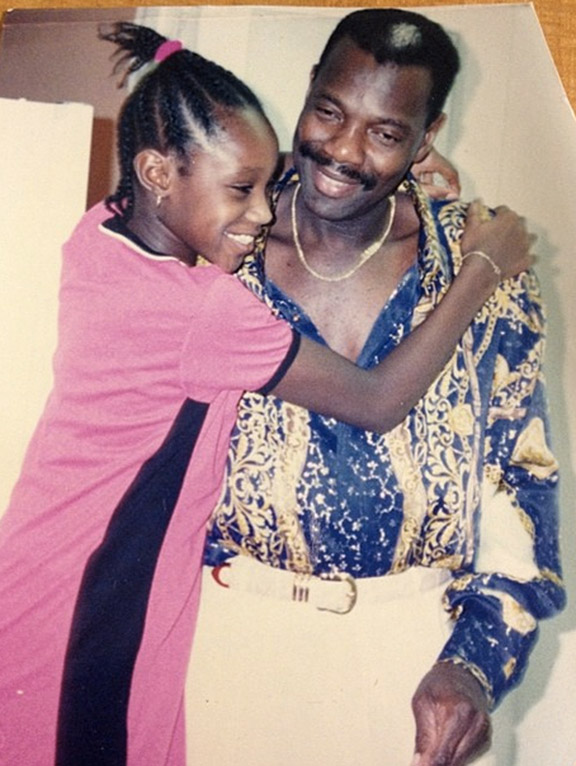 Courtesy of Tina Charles Tina Charles' dad took his daughter to Knicks games.
My mom and dad are the two people responsible for my love of Madison Square Garden. I grew up going to Liberty games with my mom and I was even part of pregame ball ceremony. I remember cheering on Teresa Weatherspoon, Becky Hammon, Rebecca Lobo and all the past greats. My dad took me to Knicks games when I was little and I was a huge Patrick Ewing fan.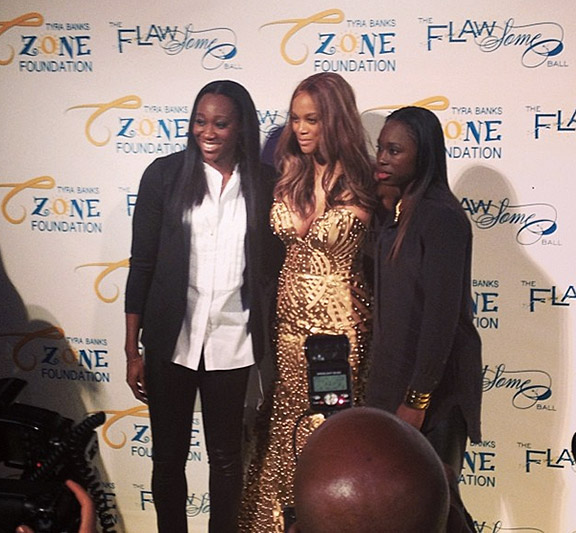 Courtesy of Tina Charles Tina Charles and teammate Essence Carson pose with Tyra Banks at the Flawsome Ball.
There are always awesome events going on in New York City. My teammate Essence Carson and I got the chance to attend the Flawsome Ball, which was sponsored by Tyra Banks and the T Zone Foundation.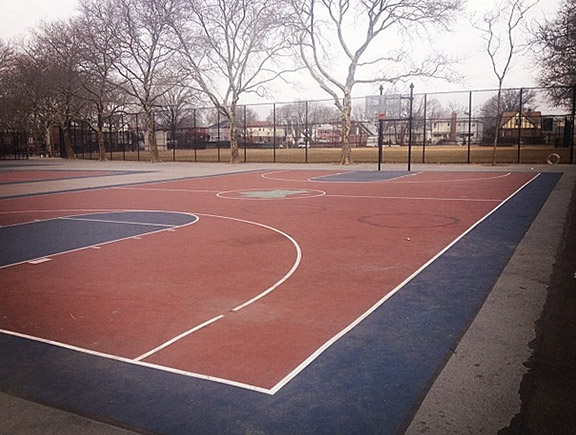 Courtesy of Tina Charles Tina Charles led Christ The King to consecutive undefeated state championships, but honed her skills at PS 127.
This is a place where I honed my skills: the courts at PS 127.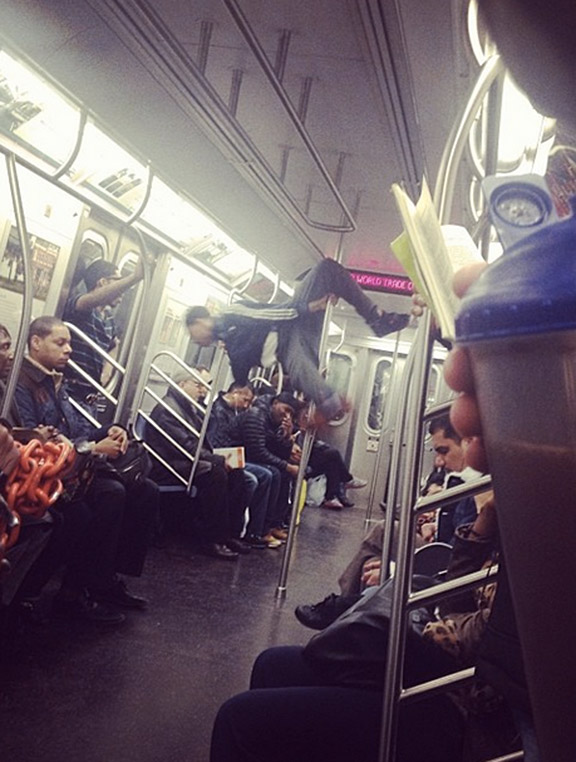 Courtesy of Tina Charles Of the countless forms of entertainment in New York, don't forget to people watch on the subway.
You can always count on the New York City subway to provide you with great entertainment during your trip.
Being home also gives me more time to tackle my New York to-do list. When I was in Connecticut or home during a break from playing overseas, I had a short window to squeeze so many fun activities into. But now being here full-time during the WNBA season, I have more time to explore all that this great city has to offer.
Right now my top five places to visit/things to do in New York City include:
1. Jacob's Pickles (Upper West Side): They have the BEST pancakes with fried chicken.

2. Charlie's Records (Bed-Stuy, Brooklyn): Home of my dad's (Rawlston Charles) recording studio. It's always a great time when I can hang out with him and his close friends.

3. Broadway: I love Broadway musicals and I try to get to them once a week. The last show I saw was "All The Way," the Lyndon B. Johnson story.

4. The Boil (Lower East Side): It's the best seafood and crawfish hands down in NYC.

5. Williamsburg (Brooklyn): I love the vibe of the entire neighborhood. They have amazing restaurants and pubs.
September, 11, 2013
9/11/13
3:45
PM ET
By
Tina Charles
| ESPN.com
AP Photo/Jessica HillIt's been a tough season for Tina Charles and the Connecticut Sun. The team was riddled with injuries and officially eliminated from the playoffs Aug. 31.
I have always felt like it is important to take something out of every experience, good or bad. And especially in the face of disappointment, not learning from it would be the real disappointment.
So in the end, what do I take out of this season with the Connecticut Sun? Maybe that I will never again take winning for granted. I have won championships in high school and college, and I have been to the WNBA playoffs. Sometimes it's easy to think you are always going to win.
Then you have a season like this, and you realize nothing is guaranteed. We are 8-23 right now, and we were officially eliminated from the playoffs with five games left in our regular season after a loss at Phoenix on Aug. 31.
So what happened?
Injuries definitely played a pivotal role in our season, and it wasn't just because we lost key players for long stretches. It was also that the players who weren't sitting out games sometimes had to play different positions. You had Kalana Greene playing point guard, for example. She is a shooting guard and small forward.
Being so short-handed also forced us to add players to the roster and make changes to our lineup. We had 14 different players on our team this season, and 12 of them made at least one start! Injuries definitely made it tough for us to jell.
As a team leader, the challenge for me was to try and keep people together and to stay positive -- to come to work every day with a positive mindset. I have no trouble admitting it was hard. It's something I have never had to do in my playing career. But again, it was an experience I feel like I can benefit from in the future.
Away from the basketball court, there was a bright side. I established my Hopey's Heart Foundation last spring, and it has started to show results. The foundation is named after my late aunt Maureen "Hopey" Vaz, and it supplies automatic external defibrillators to eligible schools and recreational centers. We have been able to deliver more than 20 AEDs to different schools and organizations.
Before the season, I also pledged to give one AED for each double-double I earned in 2013. I had 17 this year before I was forced to shut down for the season with my own injuries after we were eliminated from the playoffs in Phoenix. So I will be donating 17 AEDs in the near future.
I would like to think I am young and still in the beginning of my career. I have a lot of basketball games left in me, and a lot of things I want to try and accomplish off the court before I am through.
A season like this will only help me grow as a professional. Losing was not a lot of fun, but some lessons can be painful. Not learning from them would be really painful.
Until next season ...
June, 11, 2013
6/11/13
9:55
PM ET
By
Tina Charles
| ESPN.com
Cal Sport Media via AP ImagesTina Charles is excited to lead the Sun into Indiana for a rematch of the Eastern Conference finals.
Hey Everyone!
As I write this, we are sitting in the Cleveland airport during a stop-over on our way to Indiana. We will face the defending WNBA champion Fever at 8 p.m. Wednesday on ESPN2.
It's always exciting to play on ESPN in front of a national audience. We don't get to do it very often, and I love the fact that so many of my family and friends from all over the country will be able to watch me perform. There is always an extra buzz in the air.
Wednesday night will also be special because it is the first time we have been to Indiana since the 2012 Eastern Conference finals. The last time we were there, Indiana beat us with a shot at the buzzer in Game 2 and then came back to beat us at home in Game 3. They won the series and went on to defeat Minnesota for the WNBA championship.
It's a tough game whenever we play the Fever. Both teams may not have the records they expected when the season began, but it's early and this will be a big game for us. Personally, Indiana is always a challenge.
For me, this is usually a fun time of the year. We are just getting into the heart of our WNBA season and the NBA Finals are going on. As some of you may know, I am a huge New York Knicks fan, and have been for as long as I can remember. My parents were addicted to the Knicks when I was growing up in Queens, so I guess it was natural for me to follow their lead.
Back then, the Knicks were good enough to contend for an NBA title, but never quite good enough to win. Those were great teams, though.
My first memory of the Knicks in the playoffs was a four-point play Larry Johnson converted to help the Knicks win Game 3 of the Eastern Conference finals against Indiana in 1999. And then there were all those tough matchups between the Knicks and the Miami Heat. Those two teams always seemed to be fighting, and Knicks coach Jeff Van Gundy was in the middle of everything. One memory that will always stand out to me from those Heat-Knicks playoff matchups was the shot Allan Houston hit over Dan Majerle, a floater he made that helped us win the game. Those were such intense playoff series.
Because of those memories, you might not be surprised to find out I am rooting for the San Antonio Spurs in this year's NBA Finals. But not for the reason you may think.
I love Tim Duncan and his game. Just the way he approaches his work and how he sets the tone for his team every night. That is something I would love to mirror.
It's going to be hard for the Heat to go to San Antonio and win some games. There is a great atmosphere at that place. The Spurs always seem to rise to the occasion, especially when they play in front of their home fans.
We won't be in front of our home fans Wednesday, but I am going to do what I can to rise to the occasion against Indiana. Playing on ESPN against a great opponent should be enough to bring out the best in any athlete.
Hope you all will be watching!
May, 24, 2013
5/24/13
1:20
PM ET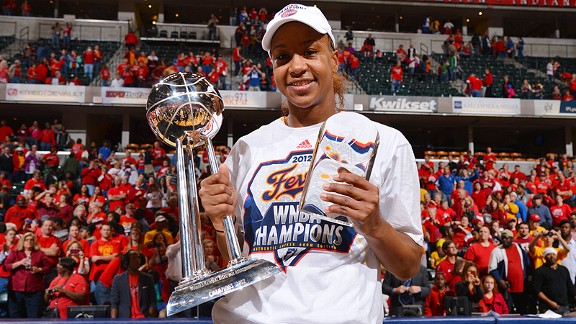 Jesse D. Garrabrant/NBAE/Getty ImagesTamika Catchings knows the defending champion Fever will have a target on their backs.
When I was asked to write this blog, my first thought was: "How and when am I going to get this done?" It has been a busy week for the Indiana Fever, and me, as we get ready to begin our season on Friday.
But when I sit back to reflect on my thoughts, I guess the best thing to convey is that I have been so very blessed in my life and this week is really a reflection of all of it.
It is WNBA Cares Week and, for me, that coincides with one of our biggest events of the year for my Catch The Stars Foundation. On Wednesday night, we hosted our annual scholar-athlete reception in which we gave away scholarship money to deserving Central Indiana high school scholar-athletes. All of our recipients are so deserving, and humble and thankful. And it just makes me feel so good every time our foundation has the chance to do something like this in our community.
The Catch The Stars Foundation has been alive since 2004 and we have grown in our programs and donations each and every year. It's humbling to be able to lend a hand as we do, and it's exciting every time we can make a big gift to make someone's life better. It's the same feeling we get during our clinics and camps and other events --- every time you can put a smile on someone's face, you receive as much as you give. It sounds corny, maybe, but it's true.
It is kind of surreal to think we're starting a new season already. We know that the Fever has a target on its back this season as defending champs, but that is something that was earned last year and obviously something I'd never give back!
Winning that championship in October was something I'd waited for my whole life. But you know, leaders and champions aren't made by looking back on past accomplishments. The only goal ahead of me and my teammates is to win on Friday night and pursue the same excellence we achieved in 2012. We'll only win if we continue improving because everybody in our league is not only out to take our trophy, but they've gotten better. Our league is always getting better. We won't win again unless we get better ourselves.
And I guess that's the way I look at our foundation, too. We've done some nice things and I'm so proud of our staff and volunteers and sponsors for last night's event. But so many people still need our help -- whether it's giving kids in our community the chances they might not otherwise have; or helping the handicapped or disabled or elderly; or even those struck by tragedy like those in Oklahoma last week. We have to always get better.
-- Tamika Catchings
May, 17, 2013
5/17/13
1:37
PM ET
By
Tina Charles
| ESPN.com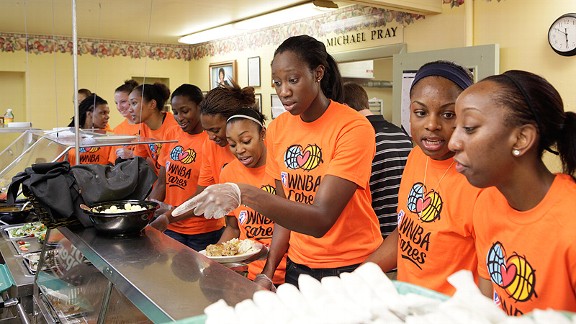 Courtesy of WNBA Tina Charles will donate an automatic external defibrillator for every double-double she records during the season.
WNBA Cares Week is here again, and there are two things that I am thinking about and eager to be a part of: our New London Community Meal Center visit and the Heart of Hope Foundation.
On May 23, my Connecticut Sun teammates and I will be serving dinner at the New London Community Meal Center. The organization currently provides lunch five days a week and dinner six nights a week, including Saturday dinner served by a downtown New London church. This is the second consecutive year that we have been to the meal center, and it is a great event. In my first season, we also worked with Habitat for Humanity.
As I look forward to our visit to the center, I cannot help but think about my aunt, Maureen "Hopey" Vaz, who passed away on March 9 from multiple organ failure. She would have loved to be with my teammates, serving others as she did in many ways throughout her life. In memory of my aunt, I started the Tina Charles Heart of Hope Foundation (TCHH). The foundation is committed to improving the health of students and amateur athletes by providing health education and medical equipment in schools, communities and recreational centers. That includes the treatment of heart and other injuries with the placement of an automatic external defibrillator (AED). We are dedicated to educating and sharing information on sudden cardiac arrest (SCA).
I had read an ESPN article last summer on Wes Leonard, a basketball player at Fennville High who died of SCA at the end of a game in March 2011. Having an AED on-site likely would have saved his life. I was moved by the sad and sudden losses of Wes and of my aunt Maureen. Out of that sadness, I started to refocus my efforts to help reduce the chances of student athletes falling victim to sudden cardiac arrest. In this, I was mirroring my aunt Maureen's giving heart.
The TCHH will host a grant program that will supply eligible schools or recreational centers with life-saving AED equipment. The program will award AEDs quarterly, and participants will be required to complete a 500-word application and waiver form agreeing to the terms and policies of the program. I also pledge to donate an AED for every double-double I earn in the 2013 season.
To me, WNBA Cares Week represents that time of the season when we take some time to help others. I was brought up to believe in giving more than one has been given, and that success is not measured on someone's wealth but how they are able to positively impact others' lives. The Tina Charles Heart of Hope Foundation will not only impact the lives of people, but will help keep "Hope" alive!
March, 11, 2013
3/11/13
2:48
PM ET
By
Tina Charles
| ESPN.com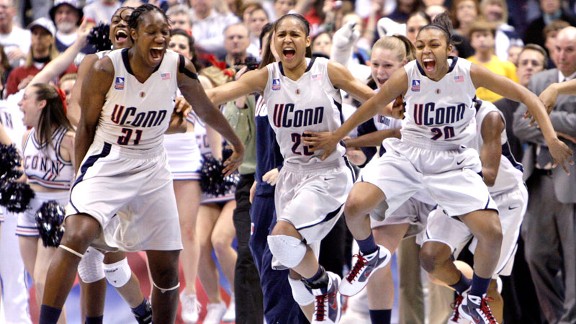 AP Photo/Mark HumphreyTina Charles, left, celebrates with teammates Maya Moore and Renee Montgomery upon winning the 2009 title against Louisville.
Since it is the month of March, only two things are on my mind: The fact that there is only one more month until I am back on U.S. soil, and that MARCH MADNESS is beginning!!!
I always look forward to both the men's and women's tournament, and that is definitely the case this year.
For the women, of course, I am going for my UConn Huskies to win it all. For the men, I am still undecided. There have already been so many upsets during the regular season, and there also have been injuries to key players like Nerlens Noel of the Kentucky Wildcats.
Each March since my graduation in 2010, I tend to reflect back on my NCAA tournament runs and the ups and downs during each tournament. Arriving as a freshman at UConn, I expected to go the Final Four all four years of my career. I didn't give much thought to the hard work, dedication and, most importantly, the commitment it would take from each player to get there.
It didn't take long to learn.
My freshmen year, we lost to LSU in the Elite Eight of the 2007 NCAA tournament. The next year, we advanced to the Final Four in Tampa before losing to Stanford in the semifinal round. In that 2008 Final Four, it seemed we were more excited about being there than remembering we had games to play and win.
But then, in the next two seasons, the unthinkable happened. We won back-to-back NCAA championships and went undefeated each season, finishing 78-0. Since those last two seasons at UConn, I have never been on a team where each individual was dedicated and expected greatness each night we played and during every practice we had.
Coach Geno Auriemma and the rest of the staff did a great job of tapping into each player -- from the first five on the court to the last player off the bench -- letting us know we were depended on for every game and practice. We went into every game believing that if we did not perform to the best of our ability, if we missed a defensive rotation, did not box out our man, or not take every possession seriously, that we could lose the game.
We practiced and played in every game with that mentality. In every practice, Coach Auriemma would put us in the most difficult game situations because he wanted us ready for anything that could happen. There were times in practice when we would be down five points against our practice players with a minute on the clock and we would have to continuously figure out how to score and get stops on the defensive end. Many times during those practices, I thought, "Why are we doing this all the time?" But Coach had a way of knowing to always expect the unexpected in all circumstances.
The unexpected happened my senior year in the 2010 national championship game in San Antonio. We were playing Stanford, and the entire first half everything that could go wrong did! We were missing shots, not executing plays, and missing defensive rotations. At halftime we were losing, and I won't forget a Stanford player running toward their locker room shouting, "One more half!"
As much as we were disappointed in our effort in the first half, Coach Auriemma reminded us at halftime that we have been in this situation before many times in practice. Going into the second half, our main focus was our defensive effort. We knew if we continued to get stops and pushed the ball up the court as many times as we could, we had a chance of turning the game around. We did just that, and it was the best team win I have had in my basketball career.
Coming out of the locker room, we had players who had never been down at the half in a regular-season game that season, and they were all being depended upon. The reason we were able to turn that game around was because we had done it in practice countless times, and had the confidence going into that second half knowing we could do it one more time!
I want to wish all teams on the men's and women's sides the best of luck this year in the 2013 NCAA Tournament! ESPECIALLY MY HUSKIES #BLEEDBLUE
December, 17, 2012
12/17/12
12:43
PM ET
By
Tina Charles
| ESPN.com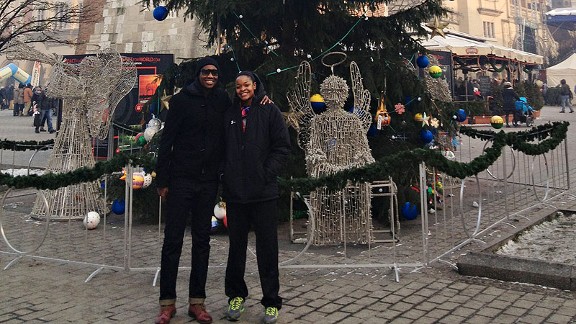 Courtesy of Tina Charles Tina Charles and Alana Beard get into the holiday spirit in Poland, where they play during the WNBA offseason.
The city of Krakow, Poland, where I am playing basketball during the WNBA offseason, is already decorated for Christmas. There is snow everywhere and markets are full of Christmas décor! I will be back in New York to celebrate Christmas with my family. Christmas has always been special for me. My mother, Angella Murry, has always made a big deal out of the holidays. Every year since I can remember, she makes my cousins and I wear onesies with reindeer prints on them along with Santa hats for Christmas Eve to bring in Christmas morning. It's always a lot of fun.
What I'm looking forward to the most is the breakfast served on Christmas
Day, not opening gifts. My mother is from Kingston, Jamaica, so my breakfast will consist of different Jamaican dishes. My favorite is ackee and salt fish with fried dumplings and fried plantains -- don't knock it until you try it! Then we get around to opening gifts and watching whichever NBA games are on TV.
Like a lot of people, I have great memories of Christmas. The first big gift I can really remember was a Fisher Price basketball hoop. I got it from my parents when I was 4 or 5 years old. My parents are huge New York Knicks fans, and I would imitate Patrick Ewing in the post backing down his defender each time they played and we were watching.
Because I also have a large extended family in Florida, including my grandmother, my aunts and their kids, I have gone there in the past to celebrate Christmas. The last time I did that was two years ago, and it was great to spend some time with them. Playing basketball for a living requires a lot of traveling and time away from home. After the WNBA season, most of us just shift right over to playing overseas with only a few days off between our seasons. You don't get to see your family very much, so you want to enjoy the time you have with them.
I am really looking forward to the 10 days I will have at home later this month.
Merry Christmas!
October, 2, 2012
10/02/12
1:17
PM ET
By
Tina Charles
| ESPN.com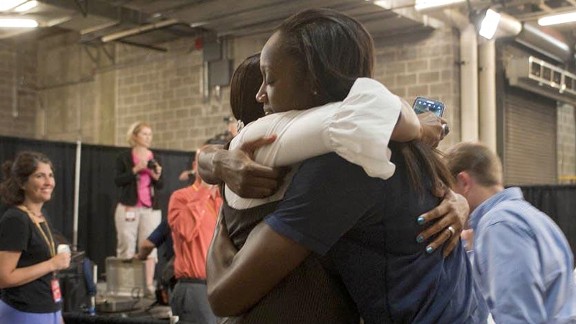 AP Photo/Jessica Hill Tina Charles shares a hug with her mother, Angella Holgate. Charles credits Holgate and her father, Rawiston Charles, for the huge part they played in her career and her MVP-winning season.
Way back at the start of this WNBA season -- that seems like such a long time ago -- I was not thinking about my chances of winning the Most Valuable Player award. My concentration was on how to assert myself after being named a captain and what I would have to do in practices and games to set up a postseason run.
It's not that being the MVP wasn't a goal. I was taught to put in hard work, have dedication and patience, and eventually respect and recognition would come. For me to receive the MVP award would be a dream come true.
When the season began, my main focus was on doing what I could to help the Connecticut Sun win a championship. We are a young team, and we took a huge step by winning 21 games last year and reaching the playoffs for the first time since 2008. With so many players returning, I knew we had a chance to build on what we accomplished in 2011.
And we did.
We won 25 games, and we survived 14 games without our All-Star forward, Asjha Jones, who was forced to sit with an injury after the Olympics. We went 9-5 without her, but we received huge contributions from other players to fill her void. Without those contributions and the confidence and guidance of coach Mike Thibault, we wouldn't have been able to finish first in the Eastern Conference.
Maybe that was why it hit me so hard when I got the call from WNBA president Laurel Richie. I was leaving practice when an unknown number came up on my cell. I normally don't answer those calls, but I did this time, and that's when I heard the news.
My immediate reaction was to break down crying. I had flashbacks to different moments in my career and thought about what it took to reach this point. I thought about all the people who helped me get here. I thought about my parents, my faith in God, my close friends and family. I thought about every coach who ever coached me and every teammate I ever had. They all helped me get to this point in some way.
After I regained my composure, I called my mother and father. They were emotional, too. They have always been there for me and they have always been dedicated to my career. This was their MVP as much as it was mine.
When I was younger, I played AAU basketball for the New York Gazelles. I grew up a New York Liberty fan, and I have this memory of going out to half court with my teammates to receive a game ball from Becky Hammon, Teresa Weatherspoon and Sue Wicks. I remember wanting to be in their position.
Now, I am the MVP of the WNBA. I still don't think it has sunk in yet.
September, 14, 2012
9/14/12
8:54
AM ET
By
Tina Charles
| ESPN.com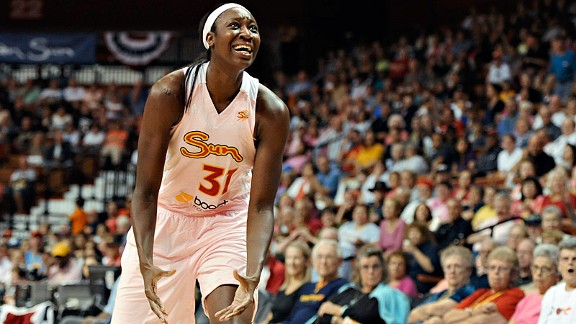 AP Photo/Jessica HillTina Charles helped the Connecticut Sun to an 82-77 win over the Chicago Sky in their Breast Health Awareness game Sunday.
I don't remember exactly when the phone call came, but it was sometime during my freshman year at the University of Connecticut. It was maybe a week or two after the 2006-07 women's basketball season had ended with a disappointing loss to LSU in the Elite Eight. I was still thinking about how we should've been on our way to the Final Four and things that I could've done differently in that game to better our chances. I was thinking of layups that I missed or block-outs I didn't attempt for rebounding positioning. When you attend UConn, not being in a Final Four is considered a disappointing season. I felt like it was the end of the world, but I had to turn my focus on my upcoming shoulder surgery and a hard six-month rehab.
Then my mother called, and the LSU game suddenly meant a lot less.
My family had held out until after my basketball season ended to tell me the heartbreaking news that my grandmother, Naomi Holgate, had breast cancer. I remember being in my dorm room when I received the news, and being really emotional and overwhelmed. That evening, I realized the LSU game was "just a game." I would have three more years with a chance of making Final Four appearances. Everything was put into perspective for me, and I matured that night. You hear about people being victims of different kinds of cancer all the time, but you have no idea what kind of impact it will have until it happens to you.
I am really close to my grandmother. I visit her as often as I can, either in Kingston, Jamaica, where she is originally from, or Florida, where she lives now. When I called to talk to her, she was very upbeat and positive, just as my mother had been when she broke the news to me. This was not our first experience with breast cancer. My mother's older sister, Maureen Vaz, is also a breast cancer survivor.
I was very young when my aunt Maureen was diagnosed, but the one thing I definitely remember from that time was the amount of prayers said and my family's trust in God. It helped lead to some happy moments in what was an otherwise trying time for all of us. When dealing with anybody being diagnosed with cancer, being doubtful and having stress is never going to make anything better. I believe cancer feeds off of a person's emotions. So I began to adopt their attitude.
Today, both my aunt and grandmother are cancer survivors.
This week, the WNBA celebrates Breast Health Awareness. All over the league, teams will wear pink uniforms and raise money for various BHA causes through auctions and donations. Because we were scheduled to travel to the West Coast this week, the Connecticut Sun held their Breast Health Awareness game this past Sunday against the Chicago Sky.
When I put on that pink uniform, it makes me feel good to know I am part of a league that is helping in the fight against breast cancer. It's also a reminder to keep things in perspective. As I learned that day back in college when the phone rang, there is a bigger world beyond basketball.
August, 31, 2012
8/31/12
9:03
AM ET
By
Tina Charles
| ESPN.com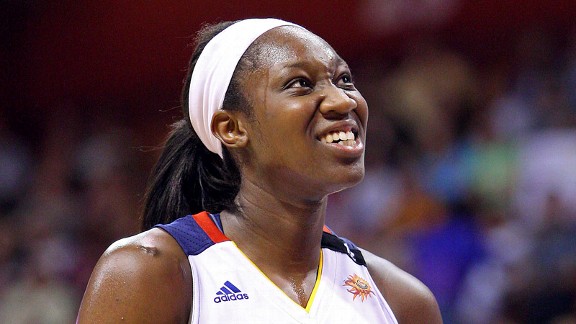 Cal Sports Media/AP ImagesBy helping those less fortunate back in Jamaica, Tina Charles kept a promise to herself from her childhood.
When you look back on your childhood, it's difficult to pinpoint exactly when something impressed you as wrong. You might have looked at a situation for years without realizing what you were seeing. Then one day you reach an age where you begin to have a better understanding of the world around you, and your whole perspective changes.
Most people who have followed my basketball career probably know I was born in Queens, N.Y. What they may not know is that I have deep roots in the Caribbean Islands. My father, Rawlston Charles, is from Trinidad and Tobago, and my mother, Angella Murry, was born and raised with four sisters and one brother in Kingston, Jamaica, the capital and the largest city in the country.
Her mother -- my grandmother Naomi Holgate -- was the principal of the Holgate Primary Basic School. She ran the school for more than 30 years, from September 1973 to July 2005. The Holgate Primary Basic School was an addition to the back of the family home. It had four classrooms and served children from pre-kindergarten to first grade.
From the time I was 3 years old, my mother and I would visit our family in Jamaica for holidays and summer vacation. On those visits, I would attend class with the students at my grandmother's school and play with the other children. Nothing about it seemed strange. But as I grew older, I began to notice something that really started to bother me. Some of the children did not have shoes on their feet. As a young child playing with them, I was barefoot too. But that was by choice. At the age of 10, it began to sink in that the children I was playing with didn't have a choice.
I was raised by my parents to be aware of the importance of caring for others, and to believe in the value of giving to those less fortunate. So on the day that I realized what I was seeing in Jamaica, I promised myself I would do something when I was in a position to help.
That day came this past January, when a shipment of athletic shoes I purchased from Nike for the girls' netball, boys' basketball, and girls' and boys' soccer teams was delivered to Saint Jago High School, which is located in Spanish Town, St. Catherine, Jamaica. It is the school where my three aunts and uncle all graduated. It was a special moment to know that I could provide for student-athletes the same way my family had provided for me. A short time after the shoes were delivered, I received a thank-you letter from the school. It made me feel good to know I had kept that promise I made to myself way back when I was 10 years old.