December, 12, 2012
12/12/12
1:01
PM ET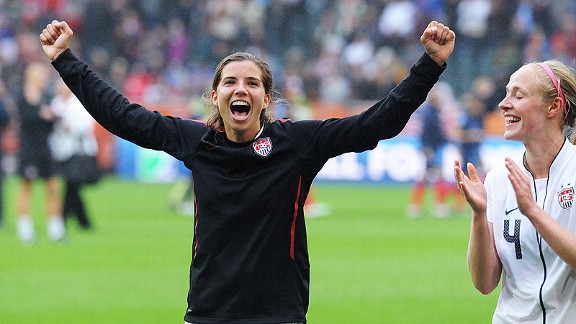 Patrik Stollarz/AFP/Getty ImagesTobin Heath is feeling great after London and wants to continue playing soccer -- day in and day out.
I know that most Olympic athletes looked forward to a break after London, but I was not one of them.
I have such a passion for soccer; it comes easily and naturally to me, so of course I want to keep it going. It's actually been hard for me not to play as consistently as I'm used to in these months since the Games.
I've watched my teammates get married, see their families, settle down emotionally and allow their bodies to heal. But, personally, I just want to play all the time. My body feels the best it ever has, which I'm really thankful for (and a little surprised about since we're coming off the 2011 World Cup and London Olympics). I'm in a good place and ready for more.
Since London, the U.S. team has been city-hopping on a nationwide victory tour. It works like this: We fly to a city, have one open training session and play a game. We also get to see the city, interact with fans, and catch up with friends and families.
Our first tour game was in Abby Wambach's hometown of Rochester, N.Y., and it was very cool to see her whole crew out there supporting her and the sport. It wasn't just her friends and family, either; let's just say there's a walkway outside the stadium named after her. The crowds have been great everywhere we've been: Portland, Chicago, L.A. We've sold out a lot of the venues, and more people than I expected have shown up for our open trainings.
Seeing this level of enthusiasm and support post-Olympics has made us feel great. Everyone is still feeling an emotional tie to the team, and it seems people really want to see more women's soccer. I've seen a massive increase in fan interest and overall popularity of the team in the time I've been playing, and it's been really cool.
As a female athlete, you definitely don't come into your sport thinking you're going to be a superstar and make a lot of money. U.S. Soccer is not the NFL. You really start playing because you love it. I've never felt underappreciated because I've never really looked to outside things to verify my love of soccer. You just play the game and enjoy it, and keep playing it because you're enjoying it.
But I do think we're continuing the path for the next generation -- we're allowing young girls to continue to dream and helping create opportunities that weren't there before. The moments we've had at the World Cup and Olympics have created this growth in women's soccer, and I also have a lot of appreciation for the people who played before me, the generations of the '70s and '80s and '90s. The success they had paved the way for us.
Now that I'm in their shoes, I want to give back to this sport as much as I can. So, is anybody up for a game?
September, 19, 2012
9/19/12
9:14
AM ET


Our coach, Pia Sundhage, has a record that speaks for itself: two Olympic golds and a World Cup silver medal. But it goes way beyond that. She has done great things for the team and for the game.

The time Pia became head coach could have been very intimidating for any coach. So much had just happened at the 2007 World Cup with Hope Solo's dismissal and coach Greg Ryan leaving, but Pia came in and immediately it was a fresh start for everyone. Not just for the new players like myself, but for the people who'd been on the team forever, too. She breathed new life into everyone and brought a lot of joy to the game. A lot of players had lost that enjoyment, and her style and philosophy helped everyone move on and grow together. She always brought out that fun-loving spirit that made everyone see the best in each other. That helped the team right from the beginning and continued throughout her five years as head coach.



Pia always, always, looks at the positives in any situation, and that has been a huge key to our success. We have such high expectations -- in every game and in every tournament we're expected to win -- and her outlook helps us to deal with the pressure, and push ourselves to another level. Her enthusiasm is so evident in everything she does. She gets so excited when a player does something well, and she has never lost that passion. It's pretty cool she loves the game that much.

Last year we had an awesome tournament at the World Cup, but we lost to Japan in the final. It was hard to come away with a silver medal. Afterward Pia told us over and over to keep our heads up. We were winners in the way that we played the game and in our attitudes. Because of that, I think we were able to turn around quickly and focus on earning Olympic gold. In London, with our mission accomplished, she didn't give any big, memorable speeches. She simply thanked us for our hard work.

Pia and I haven't had a relationship with all that many words. I'm pretty soft-spoken when it comes to coaches. But a few days ago I had the opportunity to sit down with her and thank her and to talk to her not just as a coach, but as a person who has meant a lot to me. That's probably the most I've ever said to her in all five years as a player! That conversation is something I'll always value.

I'm pretty bummed she's leaving, but it's going to be good for her, and she'll be doing something she has always wanted to do. In the end, it will be good for our team, too. Change isn't a bad thing. Though I don't think anybody wants to see Pia go, this will be the next step in our team's journey. We have an opportunity to continue growing, and maybe someone will come in and bring something completely new to the table that helps us get even better.

There is no doubt that it's going to be weird the first time we play against Sweden and see our old coach there. I think there will be lots of hugs and hellos beforehand, and it will be a very special game. But when the whistle blows, we'll go right back to the same attitude we always have: We'll want to win!
July, 25, 2012
7/25/12
8:48
AM ET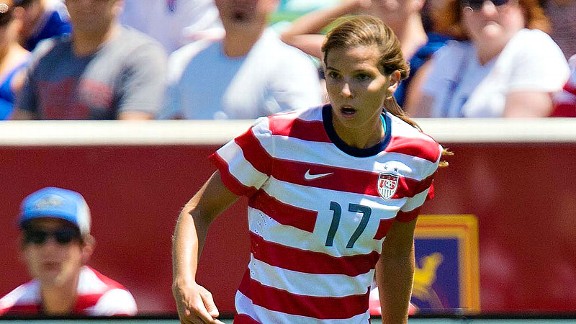 Russ Isabella/US Presswire
You asked U.S. midfielder Tobin Heath questions via Twitter, and she answered. She weighs in on superstitions, card games and staying motivated ahead of the London Olympics:
ALEXIS @alexist_20: @espnW @TobinHeath #AskTobin Does she have any superstitions?
Heath: Nah, I'm too disorganized to have any superstitions.
Melissa @melsoc16: @espnW who is the most competitive player on the uswnt? #AskTobin
Heath: Everyone is super-competitive. That's probably one of the reasons why we are the best in the world.
Mellllly :) @melsoc16: @espnW what is your favorite thing to do in your down time at the olympics? #AskTobin
Heath: Go on random adventures.
Karie @KarieMikel: @ESPNW @TobinHeath Do you have any other favorite games (card or board) besides Monopoly Deal? #AskTobin
Heath: Nope. Some girls on the team have started an Uno club. I haven't gotten the call-up.
Bobby Johnson @BobbyJohnson22: @espnW who's your biggest competitor on the #uswnt in the game monopoly deal?! #asktobin
Heath: Probably Alex Morgan. She's legit.
Grace Cunningham @GraceEliCunning: How do you keep yourself encouraged and motivated on the not-so-great days? #AskTobin @TobinHeath @espnW
Heath: Read the Word, play soccer, pray with friends.
Angie Johnson @USAalltheway17: @espnW @TobinHeath #AskTobin How do you constantly smile?
Heath: I'm making up for the three years I didn't smile when I had braces.
Jahira Serrano @jysy10_Soccer: @espnW @TobinHeath best part of being a member of the #USWNT??? ... #goodluckoverthere #AskTobin
Heath: Getting to play soccer and hang out with friends for a living.
July, 20, 2012
7/20/12
10:39
AM ET
Earlier this week, I went for a walk around Glasgow, Scotland, where we're currently staying, and where we'll play our first two Olympic games. It was around 10 p.m., the sun was setting, and everything was at peace around us. It was cool to just step back, slow down and think about the opportunity placed before us.
As I walked, I could think of only one word -- thankful. The list of experiences to be thankful for is endless. Many people think we are here to win a gold medal. I think that's a pretty accurate statement, but there's a desire that goes way beyond the bling. It's the desire to do something extraordinary.
[+] Enlarge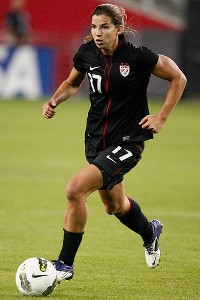 AP Photo/Rick ScuteriTobin Heath and the U.S. women's soccer team open Olympic competition Wednesday against France.
The Olympics are the catalyst for the extraordinary in sports. There's an unexplainable energy, enthusiasm and excitement that makes the most ordinary sporting events the most extraordinary sporting events. I'm so pumped to see what those special moments will be in this Olympics and for our team in particular. It's rad that we are all a part of writing the 2012 Olympic story. Or maybe the script has already been written and we are just playing our part? Who knows ...
What I do know is that there's no better feeling than doing what you love and loving what you do. Every athlete at the Olympics has a unique story. Somehow or in some way they discovered an amazing ability within themselves that brought them to the Olympics.
This is what it's really about. There's just something about watching someone do what they were born to do. I don't really know what I'm getting at, but it's just cool. I hope when I play I can impart to those watching the same gift that so many athletes have imparted to me.
Our first game is against France on July 25, at Hampden Park here in Glasgow. I got a sneak peek at the field here when we picked up our credentials. What I saw excited my spirit: a pristine pitch, an iconic venue, and a surreal calmness.
Now that we're all credentialed, it's starting to feel official. Our credential is a golden ticket -- you need it to get into your hotel, through security, into the meal room, onto your team floor, into facilities, training pitches, stadiums, the village, and other venues. Basically you need it on you at all times.
A few days ago here in Hampden Park they took our picture, laminated all our information, stuck it around our neck and called us Olympians. Hopefully at the end of all this, my credential won't be the only thing hanging around my neck.
July, 16, 2012
7/16/12
12:58
PM ET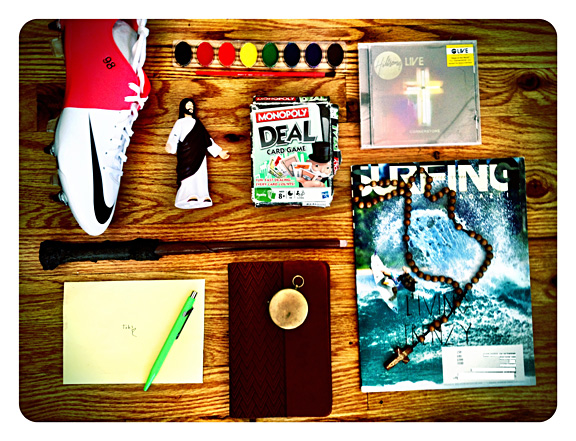 Tobin Heath
U.S. national team midfielder Tobin Heath will be blogging for espnW through the London Olympics and sharing her experiences from the road. Her debut entry below deals with the always tough question: What to pack for a trip. You can also follow her on Twitter: @tobinheath.
Here is what I can't forget to pack …
1. Nike studs. These cleats are tights. They aren't just super good-looking, but they also allow me to get super-technical. No. 98 is my childhood jersey number. Always have to bring it back to your first love.
2. Watercolors. I get in weird creative moods when I'm traveling. Colors always brighten me up.
3. Hillsong album. This one is called "Cornerstone." Just released. Already overplayed. I brought some extras with me for some of my teammates.
4. Jesus action figure. This was given to me by one of my teammates a few months back as a joke; but he's become part of the family. A good travel companion.
5. Monopoly Deal. An addicting card game that had us entertained for hours/days during the World Cup. Definitely has brought out the worst of me at times.
6. Harry Potter wand. This was a birthday present from my best friend. I was told that I needed to take it everywhere and take random pictures with it. I was all for that.
7. Surfing Magazine. I love reading surf magazines. I love the ocean. And I love my teammate Kelley O'Hara for getting me a subscription for my B-day. Thanks, chica!
8. Rosary. This was given to me by my aunt. She passed away last year after an over eight-year battle with cancer. She lived with so much joy even during the hard times. Pure inspiration.
9. Note from me Mum. Definitely gonna shed a tear or two reading this one. A true source of encouragement in my life. Love you, Mom!
10. Green pen. This pen cost me $25! I use it to write deep, meaningful thoughts. Or not.
11. My bible. TRUTH. Read daily.
12. Compass. A life gift from my sister. It's so I never lose my way.