May, 24, 2014
May 24
11:28
AM ET
By
Victoria Hayward
| ESPN.com
Courtesy Washington AthleticsVictoria Hayward and the rest of the Huskies got acclimated to Gator nation as the prepped to take on Florida in Gainesville on Saturday.
Hi everyone!
The postseason is in full swing and I hope that each and every one of you is enjoying the MAYhem as much as I am! After sweeping our Seattle regional with wins against Iona, Brigham Young University and Northwestern, we became the first team to punch our ticket to the round of 16, known to the softball world as super regionals!
Having finished our regional on Saturday afternoon, our team had the luxury of watching every other regional unfold from the comfort of our living rooms. I kid you not; from 9 a.m. to 8 p.m. on Sunday my day consisted of softball, softball and more softball! Put simply, it was awesome because nothing is more exciting than watching teams fight for survival in the postseason!
After the Gainesville regional champion was crowned, the bracket was set and we were headed across the country for a best of three series against the University of Florida. We packed our bags and headed to Gator country early Wednesday morning. Two days later, we have conquered the heat and humidity and are more than ready to step out onto the field this Saturday.
To many teams, playing on the road is a heavy disadvantage, but it is nothing new for the Washington Huskies. This season we have played almost every single game on the road, with a mere 13 games at Husky Stadium (including last weekend's regional). Not only is playing on the road something we are used to but for our senior class, this is the third time in four years we have been shipped off to a Southeastern Conference (SEC) foe's house for a super regional. But hey, nothing beats a PAC-12 vs. SEC match up, right?
Throughout my career as a Washington Husky, we've always been the "underdog". If I've learned one thing over these last four years it is this: the game doesn't know who is supposed to win. This weekend my teammates and I have an opportunity to compete together and fight for a trip back to the Women's College World Series. We're more than ready and you will not want to miss it. Catch all the action on Saturday at 1 p.m. ET on ESPNU and Sunday at 12 p.m. ET on ESPN!
Go Dawgs!
April, 23, 2014
Apr 23
4:04
PM ET
By
Victoria Hayward
| ESPN.com
Courtesy of Washington AthleticsWashington split games with Arizona State last weekend, but the rubber match was rained out.
Hi, everyone!
I hope you had the chance to catch at least one of our games against Stanford on ESPN2 or ESPNU two weeks ago. Over my four-year career it has been awesome watching the sport of softball continue to grow, with an increased number of games televised. Not only did the ESPN crew catch my fellow Huskies win two of our three games on the road in Palo Alto, we even spent a little time together off camera, tossing a Frisbee and football around during pregame warm-ups!
This past weekend's series against Arizona State was about as competitive and intense as college softball can get. Game 1 was a heartbreaker with Kaitlin Inglesby throwing a perfect game through six innings, eventually giving up just two hits, but falling 3-1. Lucky for us, we were able to bounce back 30 minutes later and take Game 2 in dramatic fashion, 3-2, on a 10th-inning home run from "Hoochie Mama" Hooch Fagaly.
With the momentum swinging in our favor for what felt like the first time in weeks, we couldn't wait for that decisive rubber match the following morning. As you know, Seattle is infamous for its rainy and dreary weather, and after an absolutely beautiful Friday we were hoping Saturday's storm would hold off long enough for us to finish our final game against the Sun Devils. Unfortunately, it did not.
Saturday's game started with a 1-2-3 top of the first. Nothing sets the tone for a game quite like a dominant first inning. With the wind at our backs both figuratively and literally (it was blowing so hard an aluminum flag pole was knocked down), our offense confidently delivered the first punch -- a two-run home run by Inglesby, scoring me from first base.
We celebrated around home plate as the rain began to fall, feeling the momentum of the season finally shifting to our favor. Four batters later, as the rain began to pick up, the inning ended. The storm was upon us, forcing us to pull out the big tarp and enter a rain delay.
After an hour or so in the locker room, the game was called and it was erased -- as if we had never stepped onto the field that morning. We were disappointed and frustrated, but we left that Saturday afternoon with our shoulders pinned back and our chins held high because that was the first time in four years we (theoretically) had "won" a series over the Sun Devils, or at least felt as if we had.
This week, we prepare to head down to Corvallis, Ore., for a three-game series against Oregon State. This is our opportunity to swing that pendulum into our favor once and for all. This season has been full of ups and downs, our team has experienced injuries left and right, but through it all, we've come together with a huge opportunity in front of us.
Keep up with our team on Twitter and Instagram @UWSoftball!
Go Dawgs!
April, 9, 2014
Apr 9
1:19
PM ET
By
Victoria Hayward
| ESPN.com
Courtesy of University of WashingtonBay Area native Victoria Hayward is excited Washington is playing at Stanford when she celebrates her birthday.
Oh what a whirlwind this season has been!
Since our conference schedule began in mid-March, our team has experienced great highs accompanied by a few lowly lows. So far we have played eight Pac-12 games, opening play with back-to-back home series against Utah and UCLA, followed by a trip down to Eugene and most recently our "bye" weekend. Rain has plagued the early weeks of our season, shortening our three-game series against Utah to two games, which we split.
The next two weeks were an absolute grind. It's not every season you have the opportunity to face the top two teams in the country -- let alone challenge them in a three-game series -- in back-to-back weekends. UCLA and Oregon not only have potent offenses but highlight two of the most dominant pitching staffs in the country, with earned run averages hovering around 1. It was clear who the pundits and analysts thought would win. But after three and a half years as a Washington Husky, I can promise you that the "underdog" spot we often find ourselves in does nothing but light a fire within each and every one of us lucky enough to wear the purple and gold.
After going a combined 1-5, losing two very close games, we stand at 2-6 in conference play. Most people would wince at that record and even write off the Huskies as a top-10 team. Luckily for us, we have yet to reach our potential.
As we emerge from what we've called our little "all-star break" (like in Major League Baseball), we've been able to rest up, heal a few of our bumps and bruises, and mentally prepare for what is to come in the second half of Pac-12 play. I can tell you that it will not be easy, but if I've learned anything, it's that the struggles make it all worth it come June.
Our journey continues as we head down to beautiful Palo Alto, Calif., for our series against Stanford. As a Bay Area native, with my hometown of Mountain View just a few miles down the road, our trips to Northern California are my absolute favorite. One of the things I cherish most about playing for Coach [Heather] Tarr is her emphasis on the importance of family. This will be the third trip down to Stanford and the third time my family has had the opportunity to host the team for a meal. With our slew of night games this weekend, my teammates and I will get to enjoy a Saturday brunch at my house at the end of my little cul-de-sac.
And the best part of it all? It's my 22nd birthday this Friday. What more could I ask for -- softball games with coverage on ESPN2/ESPNU, playing in front of my hometown crowd, and celebrating "feelin' 22" with my family and 17 sisters.
Is it game day yet?
Go Dawgs!
March, 12, 2014
Mar 12
3:04
PM ET
By
Victoria Hayward
| ESPN.com
Courtesy of Washington AthleticsWashington hosts Utah at Husky Stadium this weekend, its first home series of the season.
In all likelihood, this past weekend's Judi Garman tournament marked the last time I will play college softball in Southern California, as we host UCLA in Seattle later this month.
I have countless softball memories in Southern California, starting with U10 Bobby Sox "Nationals" and quickly followed by (innumerable) showcase events in Huntington Beach, and more recently, my past four seasons with the Washington Huskies.
It has been the experience of a lifetime and I was happy to be able to share some of the memories with friends, including past teammates and opponents who currently play at Arizona, Nebraska, and Texas and were staying at the same Fullerton area hotel as the Huskies. Lots of laughs, but the question "where did the time go?" remained unanswered.
Coach Tarr had told us that our 2014 pre-conference schedule was the toughest one our program has ever had. As expected, we were tested at every turn. Opponents always bring their A-game when they play a top-ranked team, and that is especially the case when that team is from the Pac-12 "Conference of Champions."
I am proud of how our team has competed and fought throughout the five weeks. We were not perfect, but let's face it, no one ever is! Losses (four) teach us more than wins (19) ever will, and we learned valuable lessons from those games against LSU, Northwestern, Nebraska and Fresno State.
One of our overarching themes for pre-conference play was to compete each weekend as if it were a regional. NCAA postseason is "two and barbeque" as my Dad (who used to drive me to SoCal and back) would say, coining a phrase from the good ole days of travel ball. Translation: lose twice, you go home. I am proud to say that after each of these losses, we were able to bounce back. Moving forward, we take this mindset into conference play and we do not intend to lose two games in a single series for the remainder of the season.
I couldn't be more excited to start conference play this weekend. After five weeks on the road, we have the opportunity to host the University of Utah at beautiful Husky Stadium. Our fans have followed us diligently throughout the preseason, many making trips down to Arizona or California, and those who couldn't, were kept up to date through Twitter @UWSoftball and GoHuskies.com. Husky softball players and fans alike are eager for the first of only four home series this coming weekend. Although the forecast looks as if it could get a little wet, nothing stops Husky Nation!
As we transition into the second phase of our season, I am hopeful about the progress we have made and so excited to see how this team perseveres throughout conference play. Time to win ourselves a Pac-12 Championship.
Go Dawgs!
February, 20, 2014
Feb 20
7:07
PM ET
By
Victoria Hayward
| ESPN.com
Washington AthleticFrom left, Whitney Jones, Victoria Hayward, Kaitlin Inglesby and Courtney Gano are already enjoying Palm Springs.
It is hard to believe it is already Week 3 of the 2014 softball season.
Last weekend at the Littlewood Classic in Tempe, Ariz., was awesome. We finished 5-0 and were able to run-rule four of the five opponents we faced.
We played our first game against Illinois State and entered the fifth inning with a seven-run advantage. Freshman and local favorite Kimmie Myers (from Casa Grande, Ariz.) led off the inning with a clutch pinch-hit walk and scored the winning run when Kaitlin Inglesby hit a sharp line drive past the pitcher for a walk-off single! The final score was 9-1, but we were able to maintain the focus required to put the game away, which let me tell you, isn't always easy!
After a quick debrief and chat with our parents and assembled fans outside of Farrington Stadium (aka Sun Devil Stadium), we headed to Paradise Bakery for a light lunch. To celebrate our run-rule victory, Coach Tarr treated each of us to a cookie for dessert. It's not often that you get the "green light" for sweets from Coach Tarr. With those cookies under our belts (pun intended, though we don't wear belts per se), we traveled off-site for our second game of the day, vanquishing the previously unbeaten San Jose State Spartans 18-1.
After dinner, we headed back to ASU to watch one of the week's most highly anticipated games: the Arizona State Sun Devils versus the reigning national champion Oklahoma Sooners. Even after a long day of softball, we couldn't turn down an opportunity to watch a couple of the best teams in the country play. Hey, we just love softball!
We had the luxury of late afternoon games Saturday, spending much of the morning working on homework and relaxing. Saturday nights' games were against SIU Edwardsville and Michigan State. Both games showcased our offense as well as some great pitching with Bryana Walker in the circle for both games. The girl was on fire.
One of the things I love most about playing centerfield is that I can stand directly in line with the pitcher and have a perfect view of the catcher, umpire and strike zone. When our pitchers are killing it, I've got the best seat in the house!
We rolled our offense and dominant pitching into the second game of our doubleheader and shut out Michigan State 8-0 in five innings.
Our most anticipated game of the weekend came the next morning, as we faced Oklahoma. Bry got the call and continued her dominance, striking out a career high 14 Sooners and holding them to one, lonely, unearned run. Our offense came around again, getting runners on base in almost every inning. The final score was 3-1, and we headed back to Seattle with another tournament championship in our back pockets.
We are already in Palm Springs, Calif., for this weekend's Mary Nutter Collegiate Classic. This weekend is one of my absolute favorites and a must attend for all softball fans. Not only do we get to face great competition while enjoying beautiful Southern California sunshine, but with 28 of the top teams in the country in attendance, we have the opportunity to catch up with past teammates (college and travel ball) and friends who are playing on other teams.
The next few days are jam packed, with doubleheaders on Thursday against Maryland and LSU, Friday against Texas and Northwestern and a single game on Saturday against BYU. Lucky for us, our flight isn't until Sunday afternoon, providing us the perfect day off for a little R&R and some pool time.
I can't wait to be back on the field with my teammates, this is just the beginning!
Follow me on Twitter for even more updates @VictoriaHayward.
Go Dawgs!
February, 11, 2014
Feb 11
12:51
PM ET
By
Victoria Hayward
| ESPN.com
Courtesy of Washington AtheticsOnly in Vegas: A newlywed couple asked the softball team to take its picture with them.
Thursday night felt like Christmas Eve. I couldn't sleep as my stomach was doing back flips in anticipation of the following morning. At 5:45 I awoke to Katy Perry's "Wide Awake," the alarm I choose for those early mornings when I need to trick myself into believing I actually am wide awake!
But who was I to complain? It was finally game day! After a great team breakfast, a much-needed cup of coffee and hair braiding by the one and only Hooch Fagaly, we loaded onto the bus and headed off to pregame batting practice.
Friday's games against two great opponents -- Baylor and the University of San Diego -- were a blast. We finished the day 2-0, and while it sounds corny to say they were great team wins, they truly were. While Kylee Lahners was on fire with a couple of three-run home runs, we had hits and contributions from everywhere in the order -- only scraping the surface of what our team is capable of.
Our Friday night concluded in a quick hour of study hall and a family dinner at Bucca di Beppo. The Huskies are truly one huge family. We spent the dinner floating around and catching up with all of the moms, dads, sisters, brothers, aunts and uncles we hadn't seen since our fall tournament. By the end of the evening we were exhausted, and on the bus ride back to the hotel reminisced about playing five games a day back in travel ball and wondered how we did it.
[+] Enlarge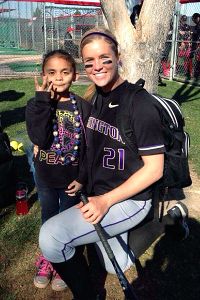 Courtesy Victoria HaywardFan support in Las Vegas was strong, including 7-year-old Jaymee Mosey, who got to be batgirl for a day.
We picked up wins against Arkansas and the host team from UNLV on Saturday. In between games, we headed to the iconic "Welcome to Las Vegas" neon sign at the south end of Las Vegas Boulevard and took some team pictures. While waiting in line, a woman in a wedding dress and her newlywed husband asked us to take a picture with them. Only in Vegas, right?
We played our final game of the tournament the next morning against UC Davis. The final score was 16-2 in our favor, and the game featured several firsts. My favorite was fellow senior Bryana Walker's first collegiate at-bat! For those of you who don't know Bry, she's one of our stud pitchers, although you would never know it from the poise and swagger she demonstrated in the batter's box. She drove a solid single over the Aggie shortstop and into left field and is now batting a solid 1.000. Not too shabby, B-Walk!
Our fan support in Las Vegas was awesome, as usual. But this weekend was extra special as we had the opportunity to meet one of our biggest fans, pound for pound, in person. Jaymee Mosey is a little 7-year-old girl who had, through her aunt's Twitter account, tweeted me throughout the 2013 Women's College World Series.
For her birthday she had received tickets for our games at the Sportco Kickoff Classic. We talked after each of our games, and I knew she was having the time of her life. For Sunday morning's game, Jaymee's day was made when Coach Tarr invited her into the dugout to be our batgirl!
Meeting Jaymee reminded me of how awestruck I felt when I attended my first college softball game and got all the players' autographs on one of my game balls. Now the players are my sisters and we are living our dream.
We have a pretty short week back home in Seattle before heading down to Tempe for our second big weekend of play. Looking at the local forecast, which calls for showers and cool weather, you better believe we can't wait until Thursday. Bring on that Arizona sun and 80-plus degree weather!
Go Dawgs!
February, 5, 2014
Feb 5
3:45
PM ET
By
Victoria Hayward
| ESPN.com
University of Washington Athletics The start of the season is bittersweet for Victoria Hayward; it's the beginning of her last season.
Hi, everyone! I'm Victoria Hayward, a senior on the University of Washington Huskies softball team and I can't express to all of you how excited I am for the opportunity to blog for espnW this season. I won't make any promises, but I can tell you that 2014 is going to be a year to remember in DI softball. There are few things more exciting than being a collegiate athlete, and I hope that this blog will provide you with the opportunity to peek into my life and experience what it's like to be a DAWG.
For my first official post I thought I'd tell you a little bit about myself and give you a rundown of what you can expect during the upcoming season!
I was born in Toronto (Canadian, eh!), but my family moved to Mountain View, Calif., in 2000. I've been a member of the Canadian National Team since my junior year in high school. Team Canada is where I met and played beside Danielle Lawrie and Jenn Salling and how I ended up playing here at the University of Washington. I'm midway through my second-to-last quarter at UW and will graduate in June with a double major in political science and communications.
The season is just around the corner, less than a week away. We are spending our first five or six weekends of the 2014 season on the road. Although it's a bummer not being able to play in beautiful Husky Stadium until mid-March, nothing bonds a team quite like a long string of road trips.
Our first stop: Viva Las Vegas! We head to the Sportco Kick-Off Classic in just a few days and will open our season against the Baylor Bears and then play San Diego, Arkansas, UNLV and UC Davis in our first tournament of the year.
We are getting to that point in our preseason preparation where we're just itching to get back on the field together. After months of individual work, strength and conditioning sessions, and team practices, we can't wait to finally play. We've spent most of this month scrimmaging against one another. Don't get me wrong -- I love our pitchers -- but I speak for the entire team when I say that we're ready for game day!
The start of this season is bittersweet for me. It marks the beginning of the end: my last season of college softball. That said, I can't wait for the season to start and will give everything I've got to help the 2014 UW softball team achieve its goal of winning another national championship.
There is never a dull moment on this team and hopefully I'll be able to share some of those moments with all of you, whether through pictures, videos, funny one-liners or anything else I can think of. If you ever have any questions or requests, feel free to get in touch with me through the comments section.
Follow me on Twitter @VictoriaHayward
Go Dawgs!
Victoria Hayward is a senior outfielder on the Washington Huskies softball team. Hayward was named first-team All-Pacific Region and first-team All-Pac-12 in 2013 after batting .372 with 57 runs scored, 21 RBI and 22 stolen bases. Hayward has missed just two games in three seasons with the Huskies.