espnW:

2012 Summer Olympics
April, 16, 2013
4/16/13
8:53
AM ET
By
Lizzie Haldane
| ESPN.com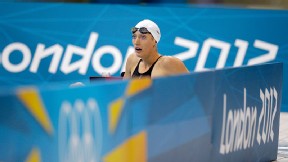 AP Photo/Matt SlocumBreeja Larson, who returned to Texas A&M after the London Olympics, was named the SEC female swimmer of the year in February.
Olympic swimmer Breeja Larson turns 21 today, and she'll celebrate her first full year as a gold medalist. Last summer in London, she won gold in the 4x100 medley relay. Don't remember her? That's because after helping the United States qualify for the final by swimming the breaststroke leg, she was replaced by Rebecca Soni for the final. In swimming, those who compete in qualifiers still earn medals. In addition to Soni, the swimmers who competed for the United States in the final were Missy Franklin, Dana Vollmer and Allison Schmitt. That relay team not only clinched the gold, but they also set a world record. Their gold was one of 29 won by American women.
July, 28, 2012
7/28/12
11:37
PM ET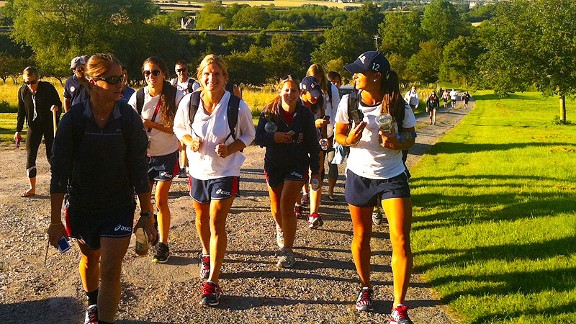 Rachael DawsonThe U.S. field hockey team enjoys a walk in the countryside near their cottage in Cotswold, England.
Today.
What a magical word.
The Games have officially arrived.
The past few days have been a whirlwind. So much has happened since we left -- and more since we've arrived. A trip to Cotswold on the English countryside. Some peace and calm. A scrimmage against Holland. So many people, places, things, and my favorite of all -- practices on the blue "Smurf" turf.
Such simple encounters have already become amazing memories. Pinch.
Is this real life? Yes.
The Village
Pop. Pop. Smack. Swishhhh. Haaaahhh. Haaahh. Pop. Smack.
The strange noises drew me toward the open patio door. I looked out to see a clash of strong Italian bodies in the courtyard. More a tango of men clad in gloves and head gear performing some violent dance than a boxing practice -- our mouths were agape. We were in awe.
[+] Enlarge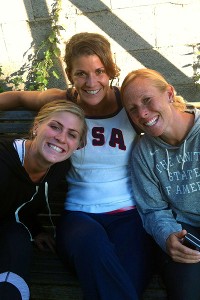 Courtesy of Rachel DawsonRachel Dawson (center) with teammates Katelyn Falgowski (left) and Lauren Crandall (right) in England.
Amy Tran, who sat beside me, said, "I don't know what is more funny -- them having practice in the courtyard or us watching fervently?" We weren't alone. From the cluster of overlooking balconies, curious eyes -- Spanish, South African and American alike -- gazed on the spectacle.
I thought to myself, "Only in the Olympic Village." It's a madly beautiful, chaotic place where a spectrum of colors proudly drape themselves from the housing buildings and a prism of cultures, curious about one another, shine together in harmony.
Usually in the dining hall.
The Dining Hall
Wanna go to India? How about the Americas? Britain? McDonalds? A little cultural food for all.
Where should we sit? Front? Back? Middle? Blue, green, or yellow chairs?
Oh my gosh. Is that Ryan Lochte? Lolo Jones? Pau Gasol? Gabby Douglas? LeBron James?
Real life? Yes.
It's hard to digest. Not the food, but the madness of Village life.
The Today Show
Like this morning, we wandered over to the Today Show set to sneak a peek at Matt Lauer and company at work. Little did we know that we'd be pulled onto set with Matt, Savannah Guthrie, Giada De Laurentiis and Natalie Morales. We were like giddy kids. They were awesome, so fun and friendly.
Really? You want us with you? Are you sure? Yes.
All the hoopla makes it hard to focus.
Focus.
Although really, it isn't that hard. We know why we are here, and what will be asked of us. Discipline, a lot of discipline, and hard, smart work. Find work. That is what Navy SEALs Chief Rob Stella ingrained in our minds in our training sessions with the SEALs.
And at the Olympics, there is plenty of work to be done.