espnW:

2014 Sochi Olympics
February, 8, 2014
2/08/14
1:43
PM ET
By
Elana Meyers
| ESPN.com
Elana Meyers shared her personal photos from all of Friday's festivities in Sochi.
In the middle of the #wolfpack and the men's skeleton team.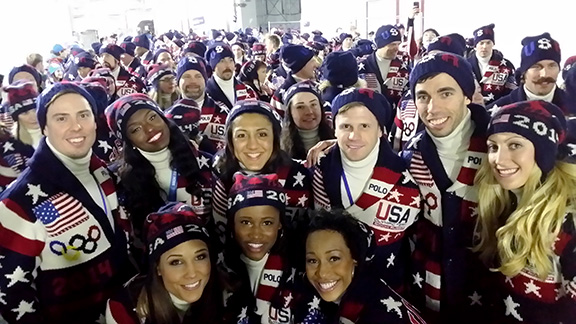 Courtesy Elana Meyers
Curve 15 in the bobsled track.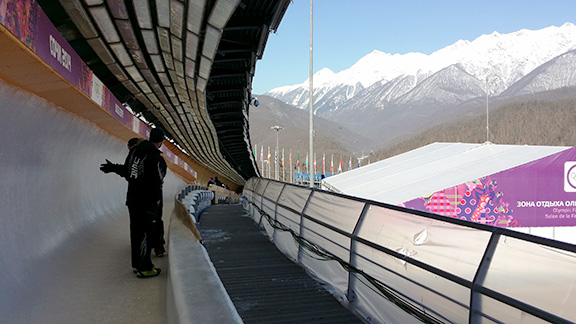 Courtesy Elana Meyers
Me and Canadian bobsledder Kaillie Humphries before the Opening Ceremony.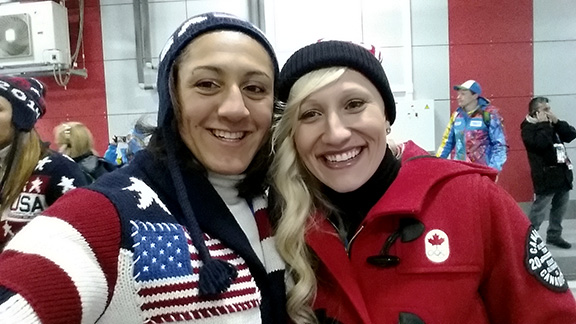 Courtesy Elana Meyers
Me and a Russian dancer at the Opening Ceremony.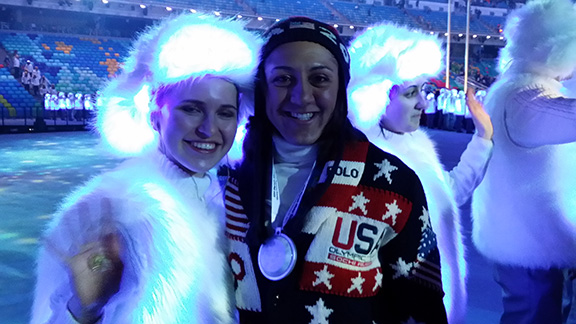 Courtesy Elana Meyers
Me and my bobsled teammates Lauryn Williams and Lolo Jones.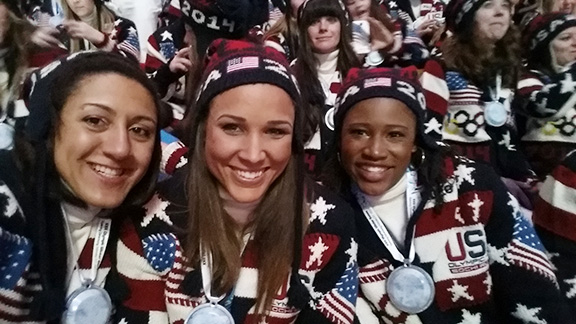 Courtesy Elana Meyers
Me and the legendary ski jumper Lindsey Van! I can't wait to see her compete.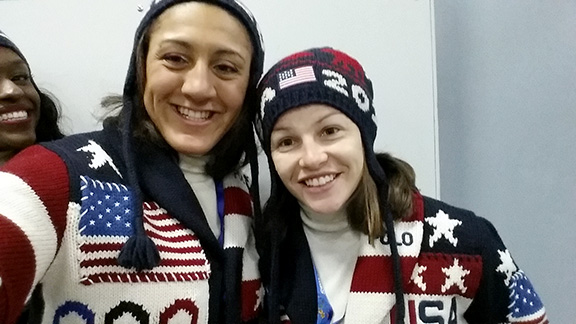 Courtesy Elana Myers
February, 1, 2014
2/01/14
11:29
AM ET
Doug Pensinger/Getty ImagesThere was no better place than last weeks X Games for Kelly Clark to test out her runs for Sochi after winning her fourth straight halfpipe gold.
It's time! I'm just getting my life wrapped up before I leave for Sochi in the morning. It snowed about a foot here today so I've been shoveling, packing and mailing checks -- you know, basic life stuff!
The X Games went really well for me last week -- the perfect sendoff for Sochi. In an Olympic season you just kind of use them as practice. We have had a few contests recently with only U.S. riders, so it was good to get into an international field.
Mostly I rested a lot, though. X Games included I had four finals in two weeks so the focus was on being rested more than doing as much as possible. I was really happy to come out for our one daytime practice to work on my Cab 9's and Cab 10's though.
My goal was to land a first run that would be good enough for the win, and then use the second and third runs to try new tricks, and that's just what I did. I didn't hit my Cab 10 in the end, but my first run was still enough to take my fourth straight X Games gold.
[+] Enlarge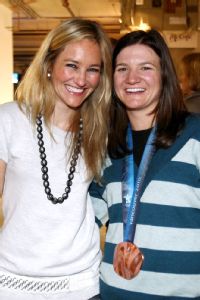 Alex Grimm/Getty ImagesClark feels bittersweet that longtime teammate and friend Gretchen Bleiler announced her retirement last week.
Really my plan for the Olympics isn't any different than it was for the X Games. I want to go out there and put down a perfect first run, a good run that's within my ability level and that I know I can do. Then after that I'll think about opening it up in the second run to progress my riding. If everything goes well and I make finals I'll try the Cab 10 on my last run for sure.
It was definitely bittersweet to see my longtime teammate and friend Gretchen Bleiler do her final run and announce her retirement at the X Games. Gretchen and I have been traveling and competing together for 15 years--my entire career. My first trip on the U.S. snowboard team was her first trip on the U.S. snowboard team. And it's amazing what Gretchen has done for the sport. I've probably been more influenced by Gretchen as a snowboarder than anyone, and she'll be missed.
I was psyched to see her land a front 9 in her final run. After her injury, seeing her come back like that was a big moment. I was strapped in for my final run and I looked over at my coach and said, "Man, I'm going to miss this." I tried not to get emotional since I still had one more run to do!
But now it's time to look forward and I'm so excited that what we've looked forward to for so long is finally here. I'm excited to get on the plane and start the journey. You train, you prepare, you take all these necessary steps and do all the qualifiers. You work out in the gym for years and years and for me it's just exciting that it's finally here! It's such an amazing opportunity and a privilege to represent our country. It's going to be sad without Gretchen there, but that's okay. It's a different season, and a different time.
I've found the best thing in going into the Olympics is not to have high expectations of what it should be or what it could be. It's much better to go in looking to make the most out of it rather than expecting it to be something. The last thing you want is to be let down. After all, it's a snowboard contest. Things are changing all the time.
I never thought I'd have the opportunity to go to four Olympic Games. Who gets to do that? For me it's really the icing on the cake. But all that being said, I feel more prepared than I ever have going into an Olympic Games. I'm looking forward to it more than I ever have, and my snowboarding is better than it ever has been.
Success really comes down to me being faithful to the opportunity. I can truly look back at this point in time and say I have done everything I could have done. Now it comes down to do I have what it takes. I'm ready.
January, 25, 2014
1/25/14
2:01
PM ET
By
Elena Hight
| ESPN.com
Doug Pensinger/Getty ImagesElena Hight shares a laugh with fellow snowboarder Kelly Clark at X Games Aspen.
The past year has been 100 percent focused on making the US Olympic team and competing in Sochi. Unfortunately, my journey shifted when I didn't make the team at the final qualifiers in Mammoth.
I'm disappointed not to be representing my country in Sochi. It's been a long road. Like my teammates, I put my heart and soul into training and riding. But it wasn't my time.
I can't thank my family, friends, sponsors and fans enough for their support every step of this journey.
Women's snowboarding is at its highest level as the world will see in February. I am so proud of my American teammates and will be cheering them on next month.
This weekend, I look forward to competing at the X Games in Aspen. There's such a great energy here. Then I plan on spending the rest of this winter continuing to travel and ride; some competing and some freeriding. I am grateful for every experience I have had this season.
I hope you have the chance to watch my first-hand account from these past couple weeks on the third chapter of my web series, Hight Hopes: A New Focus:
January, 24, 2014
1/24/14
2:19
PM ET
By
Alice McKennis
| ESPN.com
Harry How/Getty ImagesAlice McKennis injured her right leg last season, and she finally realized it would be too dangerous to try to compete in Sochi.
As an athlete, it is easy to focus in on what is right in front of you -- Olympics, world championships, nationals, you name it -- and to never look toward the future and the rest of your career. It is hard to fathom what you might be doing four years down the road. For the past 10 months, my only focus has been to make a comeback from my March injury and be ready in time for Sochi. I'll admit I did not think much about the future in this period. Only Sochi.
This has only made it harder for me to admit that I am not ready, and that my leg is not in a place to perform competitively and safely. I did everything I could to be ready and prepared. I sweated, worked, cried, pushed through the pain and weakness, and said it all felt fine. But the reality is that even with all the work and dedication I put in, my body is not ready to handle going 75 mph down an icy, steep track filled with turns and jumps.
The plate and 11 screws in my leg have caused too many issues and have prevented me from improving, so after several weeks, I have made the choice to focus on the future instead of right now. I am done racing for the season and will be getting surgery in two weeks to remove the plate and screws from my leg.
It is devastating and heartbreaking to call it just weeks before Sochi, and parts of my mind still urge me to get on an airplane and fly back to Europe to compete in the last races before the Games. Mentally, I still feel like I could maybe do it and make my dreams come true this season. On the other hand, maybe I would put myself in a position that I could not get out of and suffer another injury, and that is a risk I cannot take right now.
Calculating risk is a huge part of ski racing. Taking risks with the line you are skiing, pushing yourself to the limit -- sometimes you have to take a second to decide if it is worth it. Generally you take the risk, but sometimes you hold back to be safer and hope that by not risking it all right then it will pay off later in the course or down the road.
By holding off now and taking care of my health, I have hope that it will pay off down the road. Instead of trying to fight another late-season surgery and rehabbing all summer to get to where I was physically before the injury while my teammates and competitors get faster and better, I will be able to train harder this summer than in three years. This is my fourth year in a row dealing with some sort of injury or surgery; basically, since 2011 I have been fighting to get back to competitive form. I reached that form briefly last season winning my first World Cup, and that one victory alone gives me enough confidence and belief that if I am at that top form again, I can win.
None of it is certain, but I can still follow my dreams and do all that I can to make them come true. I must look ahead -- one year, four years, 10 years -- and put my faith in those years ahead.
January, 8, 2014
1/08/14
7:18
AM ET
Cal Sport Media/AP ImagesSochi hopeful Gracie Gold rose to prominence with her 2012 Junior National title.
The Junior Ladies competition at the 2014 U.S. Figure Skating Championships gets underway tonight in Boston. While the Championship Ladies event will undoubtedly garner the most attention, the future stars of the sport make tonight's short program a must-watch. Olympic hopeful and potential medal contender Gracie Gold was the U.S. Junior National Champion just two years ago in 2012. Other notable past winners include 2010 Olympian and fellow Sochi hopeful Mirai Nagasu in 2007 and 2002 Olympic gold medalist Sarah Hughes in 1998. The top three junior ladies from 2013 -- Polina Edmunds, Mariah Bell and Barbie Long -- all will be competing in the main event this year.
December, 12, 2013
12/12/13
1:12
PM ET
Toru Yamanka/AFP/Getty ImagesAshley Wagner performed during the ISU Grand Prix of Figure Skating in Japan earlier this month.
We asked two-time U.S. figure skating champion Ashley Wagner five questions about her life away from the ice.
What do you need to consider your day complete?
My day would not be complete without a trip down to the beach to watch the sunset.
What's one thing you will never do?
One thing I know I'll never do is skydive because I appreciate my life too much.
What song best describes your life?
"My Way" by Frank Sinatra.
What is the one thing you really want to do off the ice?
The Color Run and the Run for Your Life 5k obstacle race.
What is your biggest weakness?
Any type of fried food or dairy products.