December, 1, 2014
Dec 1
1:07
PM ET
By
D'Arcy Maine
| ESPN.com

Ana Ivanovic is pretty good at this whole tennis thing, but in case it doesn't work out, she has another marketable skill to fall back on.
On Monday while flying on a private jet -- natch -- to Singapore for the next stage of the International Premier Tennis League, the former French Open champ played the role of flight attendant for her fellow tennis stars on board. She even served beverages to Serena Williams, Daniela Hantuchova and Marin Cilic.
"@AndjelaVoliAnuu: @AnaIvanovic with @serenawilliams and @dhantuchova pic.twitter.com/IFd8W2jqX1" fasten seat bells please , taking off!

— Ana Ivanovic (@AnaIvanovic) December 1, 2014
Serbian world No 5, Ana Ivanovic serves drinks to the likes of @serenawilliams , @cilic_marin on private flight pic.twitter.com/CVb8ved0cK

— AllSports.com.gh (@AllSportsGh) December 1, 2014
And if you're all like "anyone can serve drinks, show me the preflight safety announcement," then it's your lucky day. Ivanovic not only did that, but she also provided demonstrations of the floatation device and oxygen mask like it was no big thing.
So call me maybe... @AnaIvanovic pic.twitter.com/tGRD0TzIql

— Tennis Photos (@tennis_photos) December 1, 2014
.@AnaIvanovic serving some drinks pic.twitter.com/PCPOVtnvNj

— Ana Ivanovic (@IvanovicLive) December 1, 2014
She truly can do it all.
See something entertaining on social media that you think deserves to be shared? Let me know on Twitter, @darcymaine_espn.
October, 17, 2014
Oct 17
9:11
AM ET
By
D'Arcy Maine
| ESPN.com

The top women's tennis players in the world arrived in Singapore on Thursday for the season-ending WTA Finals. And while all eight of the competitors are undoubtedly staying in the finest of accommodations, it seems as if there was a little confusion as to who was staying in which room. Case in point: Defending champion Serena Williams checked into her room and found a beautiful bouquet of flowers waiting for her ... addressed to Ana Ivanovic. So that's awkward. Serena took the gaffe in stride, posting a picture of the flowers and card to Instagram.
Dearest @anaivanovic I think I may have your room and flowers???
Thankfully, there is a happy -- and bubbly -- ending to this story. Serena not only returned the flowers to Ivanovic, but she added a bottle of champagne. Way to class up things up there, 'Rena!
@serenawilliams thank you my dear Serena for sending me back my flowers and also adding some champagne! With style pic.twitter.com/o5p1kFC6xi

— Ana Ivanovic (@AnaIvanovic) October 17, 2014
No word if Serena ever received her own flowers from the WTA. But she clearly wasn't letting the gaffe get her down -- she hit the town for dinner with bestie Caroline Wozniacki.
Friend indeed. @carowozniacki
I have no idea who will win this tournament, but I do know that Serena is a LOCK for Ms. Congeniality honors.
See something entertaining on social media that you think deserves to be shared? Let me know on Twitter, @darcymaine_espn.
November, 6, 2013
11/06/13
8:07
AM ET
Joe Scarnici/Getty ImagesAna Ivanovic's best showing in 2013 was a final appearance last month at the Generali Ladies in Austria.
Happy birthday to Ana Ivanovic, who turns 26 today. The 2008 French Open champion and former world No. 1 has been a staple on the WTA Tour since turning pro in 2003. The Serbian-born star has won 11 singles titles and has earned more than $10.7 million in her career. Ivanovic, whose best Grand Slam showing since winning her lone major in Paris was a quarterfinal appearance at the 2012 US Open, remains one of the most popular (and photographed) tennis players in the world.
April, 26, 2013
4/26/13
8:21
AM ET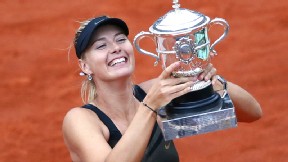 Kenzo Tribouillard/AFP/Getty ImagesMaria Sharapova became the 10th woman to win a career Grand Slam when she defeated Sara Errani at the 2012 French Open.
One month from today, on May 26, the French Open opens at Roland Garros. The tournament dates back to 1891, and the first women's singles champion was crowned in 1897 when Adine Masson won the trophy. In the Open Era, Chris Evert has won the most titles on the red clay, with seven. This year's draw is expected to feature six former champions: Maria Sharapova (2012), Li Na (2011), Francesca Schiavone (2010), Svetlana Kuznetsova (2009), Ana Ivanovic (2008) and Serena Williams (2002).
Read more WFYIs.