October, 17, 2013
10/17/13
8:09
AM ET
Scott Cunningham/Getty ImagesAngel McCoughtry, drafted out of Louisville with the No. 1 pick in 2009, has won back-to-back scoring titles in Atlanta.
On this day in 2007, the WNBA announced that a new team would call Atlanta home for the 2008 season. The Dream's opening-day roster included Ivory Latta, Betty Lennox and Erika DeSouza. Things didn't exactly get off to a smooth start. The Dream lost their first 17 games in that 2008 season, a WNBA record, before getting their first win, 91-84 over the Chicago Sky, on July 5, 2008. Things picked up quickly from there. In April of 2009, the Dream selected Angel McCoughtry with the No.1 pick in the draft, and they haven't missed the playoffs since. The Dream made their first postseason appearance in 2009, but fell to Detroit in the Eastern Conference semifinals. They have made it all the way to the WNBA Finals three times, most recently this year when they lost to Minnesota, but are still looking for their first win in a finals game.
September, 29, 2013
9/29/13
1:22
PM ET
By
Angel McCoughtry
| ESPN.com
AP Photo/Todd KirklandThe Dreams Angel McCougtry is hoping to win her first WNBA championship for her teammates who have been with her since the beginning.
I'm now in my fifth year in the league, and this is my fifth trip to the playoffs. But I'm lucky to have been able to share all five of those trips with three of my teammates: Erika de Souza, Sancho Lyttle and Armintie Herrington.
We've been together for all five years, so we know each other really well. It's been a great group to be a part of. It's never guaranteed that you'll even get to the playoffs, so it's been pretty cool that we've all gotten to experience it all five years.
Erika is one of the best post players in the world. She works so hard on the boards and her post moves are just dominant. She makes it so tough on other teams that they have to double-team her.
Erika is fierce on the court, but off the court, she's just the sweetest person you'll ever meet. She'll always give you a helping hand, she's always smiling, and she has a great spirit about her.
Sancho has been hurt this year so we haven't had her around much, but she is one of the hardest workers on the team. She's the type of player that every coach wants to have on their team because she's going to give her all every game. She always knows the right thing to do and her athleticism helps us a lot.
Sancho is also the team's mama. She's very protective of everyone. She's the type of person that cares about everyone and wants to see everyone else succeed.
And Armintie -- she's the backbone of the team. She's our rock. She keeps everything together because she's so positive. Her energy is a driving force on the team.
Armintie is also a sweetheart. She's very spiritual and pure. She's someone you just want to tell all your problems to because you know she can make things better.
So I don't want to win a championship for myself. This is for these girls. They work so hard and they deserve it. And the city of Atlanta needs a championship. We want to be the first ones in a long time to bring that here, and it would be great for the city to see that it was the women that did it.
January, 30, 2013
1/30/13
8:44
AM ET
By
Lizzie Haldane
| ESPN.com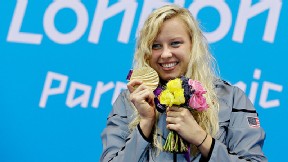 AP Photo/Kirsty WigglesworthSwimmer Jessica Long has won a total of 17 Paralympic medals over three Games, most recently bringing eight (including five gold) back to Baltimore after the London 2012 Games.
Sunday will showcase the finest football players from San Francisco and Baltimore, but these bay areas have harbored many impressive female athletes, too. San Fran has swimmer Summer Sanders, figure skater Kristi Yamaguchi, basketball player Jennifer Azzi and soccer star Brandi Chastain, to name a few. While Baltimore has Paralympic swimmer Jessica Long, mountain biker Georgia Gould, tennis player Pam Shriver and basketball player Angel McCoughtry. Swimmer Katie Hoff, who was born in Palo Alto, Calif., and moved to the Baltimore area to train, just may have the best of both worlds.