January, 16, 2015
Jan 16
1:27
PM ET
By
D'Arcy Maine
| ESPN.com

The entertainment world finally recognized on Thursday what those of us in the sports world have known for some time -- Hank, the Milwaukee Brewers mascot, is the Dog of the Year.
The stray-turned-beloved team mascot and companion was nominated for the award at the first ever World Dog Awards. Filmed earlier in the week but airing on television Thursday night, George Lopez hosted a (C-list) star-studded event that honored canines and dog lovers in 10 categories like "Best Selfie with a Dog" and "Top TV Dog."
The night's biggest award -- think "Best Picture" at the Oscars but for dogs who have no idea what's going on -- was presented by Paris Hilton. Beating out fellow nominees like Duke (the mayor of a town in Minnesota, and Andy Cohen's beagle Wacha (named after St. Louis Cardinals pitcher Michael Wacha), Hank was given the Golden Hydrant award. Seriously, that was the trophy.
Hank looked kind of over the whole thing, but his adopted family spoke on his behalf while he looked on.
In related news, Smokey the bluetick coonhound from Tennessee topped Jonathan the Husky from UConn, Hairy Dawg the bulldog from Georgia, Bully the bulldog from Mississippi State and T-Bone the Irish setter from Pace for the coveted "Best Team Mascot" award. He clearly did not take the honor lightly.
See something entertaining on social media that you think deserves to be shared? Let me know on Twitter, @darcymaine_espn.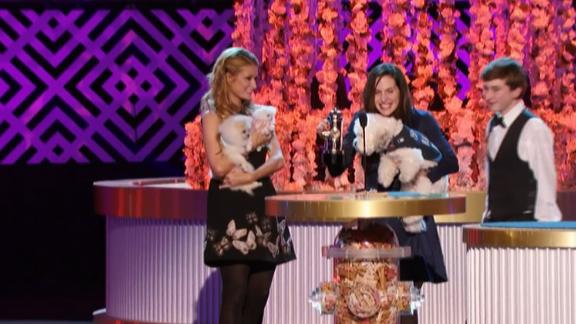 August, 27, 2014
8/27/14
9:01
AM ET
By
D'Arcy Maine
| ESPN.com

School may be back in session in many parts of the country but the summer of horrifically bad first pitches rolls on. On Tuesday, ahead of the Houston Astros' 4-2 win over the Oakland Athletics, one lucky Houston fan was chosen for the ceremonial honor. And the results make 50 Cent's disastrous attempt look Cy Young-worthy. Seriously. It's THAT bad.
So ... Yikes!
I'm just going to pretend this was an ode to Mariah Carey from this thoughtful and considerate fan. I'm sure the singer appreciates the support right now. That makes this pitch a lot better, right?
See something entertaining on social media that you think deserves to be shared? Let me know on Twitter, @darcymaine_espn.
July, 21, 2014
7/21/14
2:37
PM ET
At 105 years old, Agnes McKee of Oceanside, Calif., became the oldest person to throw out a ceremonial first pitch. McKee took the mound at Petco Park on Sunday before the San Diego Padres took on the New York Mets. McKee's months of practice at her retirement community produced a mean windup pitch that sailed across home plate.
Jealous, 50 Cent?
And, in case you missed it: Across the country, an overzealous Boston Red Sox ball girl fielded a fair ball Friday and instantly tried to disappear. Watch her make real-life emoji faces after the error.
June, 3, 2014
6/03/14
7:31
AM ET
Jim McIsaac/Getty Images"Mighty Casey" often is brought to life for appearances at the Baseball Hall of Fame.
On this day in 1888, the iconic poem "Casey at the Bat" was first published in the San Francisco Daily Examiner. Written by Ernest Lawrence Thayer under the pen name "Phin" about a baseball team in the fictional town of Mudville, the prose is a comedic ode to the sport. It initially received little fanfare, but it won national acclaim after actor and comedian DeWolf Hopper read the poem aloud to an audience comprised of members of the New York Giants and the Chicago White Stockings in August of 1888. It quickly rose to mainstream popularity and is still beloved today. Thayer's classic has been adapted, referenced and recreated in a variety of mediums, including movies, books, comics and orchestras. The poem's protagonist, Mighty Casey, was even featured on a U.S. postage stamp in 1996.
To celebrate its anniversary, you can read the original poem in its entirety here or listen to James Earl Jones' famed rendition here.