January, 13, 2014
Jan 13
7:55
AM ET
AP Photo/Jessica HillGeno Auriemma has an 856-133 record in his 29th season at UConn, and Kim Mulkey is 386-82 in her 14th season at Baylor.
No. 7 Baylor puts its 69-game home winning streak on the line tonight (7 p.m. ET, ESPN2 and WatchESPN) in Waco against top-ranked UConn. Here are some fast facts about the rivalry, which is 2-2 all-time:
1. The Huskies won the first meeting, 70-50, in a 2010 Final Four semifinal. It remains their only postseason matchup.
2. UConn's 65-64 win over Baylor on Nov. 16, 2010, was the team's 80th straight victory. The Huskies went on to win a record 90 consecutive games, surpassing the UCLA men's team's 88-game streak.
3. The Lady Bears have won the last two showdowns -- on Dec. 18, 2011, and Feb. 18, 2013 -- by a combined 11 points.
4. This is the Huskies' second trip to Waco, they are 0-1 at Ferrell Center.
5. During the 2013 meeting, former Baylor standout Brittney Griner reached the 3,000 career-points milestone and had 25 points on the night.
6. Former UConn star and reigning WNBA Finals MVP Maya Moore's 34 points in the 2010 Final Four game are a series record.
7. The 2013 meeting took place in front of a sellout crowd of 16,294 at the XL Center in Hartford, Conn.
December, 27, 2013
12/27/13
8:03
AM ET
Cal Sport MediaJonathan the Husky looks pretty excited about the upcoming women's basketball schedule.
This weekend largely marks the end of the nonconference portion of the women's basketball season. And while matchups like UConn-Stanford, UConn-Duke and Tennessee-Stanford were a great way to tip off the season, here are our elite eight conference games before March that we can't wait to see.
Jan. 5:
Maryland at North Carolina, ESPNU
Jan. 27:
Notre Dame at Maryland, ESPN2
Feb. 2:
Notre Dame at Duke, ESPN
Feb. 2:
Stanford at Cal, ESPN2
Feb. 9:
Louisville at UConn, ESPN
Feb. 10:
North Carolina at Duke, ESPN2
Feb. 16:
Kentucky at Tennessee, ESPN
Feb. 23:
Duke at Notre Dame, ESPN
But if you just can't get enough of the nonconference showdowns, there are two more next month that are perfectly acceptable to start popping the popcorn for.
Jan. 13:
UConn at Baylor, ESPN2
Jan. 20:
Notre Dame at Tennessee, ESPN2
March, 18, 2013
3/18/13
8:15
AM ET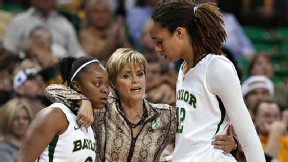 AP Photo/LM OteroKim Mulkey will try to show Brittney Griner and Odyssey Sims the way to a repeat national championship.
Reigning NCAA women's basketball champion Baylor finds out the path it will have to successfully navigate in its quest to win a second straight national title Monday night when the brackets are unveiled. The Lady Bears are looking to become the sixth team to repeat as national champions, following Connecticut (2009-2010), Tennessee (2007-08) and USC (1983-84) as well as threepeat winners Connecticut (2002-04) and Tennessee (1996-98). Bears coach Kim Mulkey is no stranger to defending national titles. As a freshman at Louisiana Tech, she won the AIAW title in 1981 and then went on to win the first NCAA title as a sophomore in 1982.
Read more WFYIs.