August, 20, 2014
8/20/14
1:26
PM ET
By
D'Arcy Maine
| ESPN.com
You may not be sure yet on who to root for at the upcoming US Open, but Eugenie Bouchard might have found the only person everyone on the planet could support. Of course I'm talking about Beyonce. Insert your favorite Queen Bey meme or GIF here.
The Wimbledon finalist and emerging star had an interesting -- and sadly unrealistic -- dream about the results of the year's final Grand Slam.
Had a dream that Beyoncé won the @usopen. I think we'd all be happy with that, right?

— Eugenie Bouchard (@geniebouchard) August 20, 2014
Anyone else singing "All the singles ladies, all the singles ladies" right now? Just me? Just me, probably.
*Update: In case you were wondering who Beyonce faced in the final at Arthur Ashe, you are apparently not alone. Victoria Azarenka had the same question. And while she was likely hoping for herself as the answer, another pop diva graced Genie's dream.
"@vika7: "@geniebouchard: Had a dream that Beyoncé won the @usopen." who did she play in the final?" @JLo

— Eugenie Bouchard (@geniebouchard) August 20, 2014
See something entertaining on social media that you think deserves to be shared? Let me know on Twitter, @darcymaine_espn.

July, 22, 2014
7/22/14
4:22
PM ET
Beyoncé and basketball are two of our favorite things.
So when two Harlem Globetrotters got busy to Beyoncé's "Flawless" we were floored. Watch Fatima "TNT" Maddox and Joyce "Sweet J" Ekworomadu put some bounce in the BeyHive with these awesome tricks.
We need to see these ladies on stage during the "On The Run" tour, ASAP!
Oh, and here's a picture of Beyoncé being fabulous because ... Beyoncé, that's why.
December, 4, 2013
12/04/13
6:51
AM ET
Ilya S. Savenok/Getty ImagesJay-Z, posing with Skylar Diggins in May, has 44 candles -- not 99 problems -- on his to-do list today.
Happy birthday, Jay-Z! The legendary rapper, who became a mogul who became a Brooklyn Nets partial owner who became a sports agent, turns 44 today. After bursting onto the hip-hop scene in 1996 with his debut album "Reasonable Doubt," Hova has been a music-industry staple ever since. After selling his share in the Nets in April, Beyonce's husband launched Roc Nation Sports. The sports management firm represents stars Skylar Diggins, Kevin Durant, Victor Cruz and Robinson Cano. It also represents Geno Smith. Further demonstrating his love for sports and entertainment, Jay-Z was an executive producer on NBA 2K13. And getting back to this whole birthday thing, time will tell if Jay-Z is as good at receiving as he is at giving. Back in May, on her graduation day from Notre Dame, Diggins became the proud owner of a new Mercedes, courtesy of Roc Nation.
January, 29, 2013
1/29/13
6:29
AM ET
By
Lizzie Haldane
| ESPN.com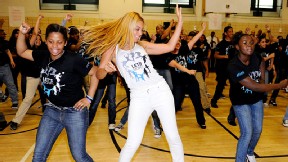 Kevin Mazur/WireImage/Getty ImagesBeyonce got kids across the country moving with her "Move Your Body" flash dance.
Exercise doesn't have to always involve a treadmill or heavy weights. Super Bowl XLVII halftime performer Beyonce showed kids that exercise can be fun. In April 2011, she released the instructional music video
ºMove Your Bodyº
to promote First Lady Michelle Obama's ºLet's Move!º national campaign to end childhood obesity. As its spokesperson, Beyonce demonstrates through the flash workout that dancing can be a fun and efficient way to get moving.
October, 16, 2012
10/16/12
5:25
PM ET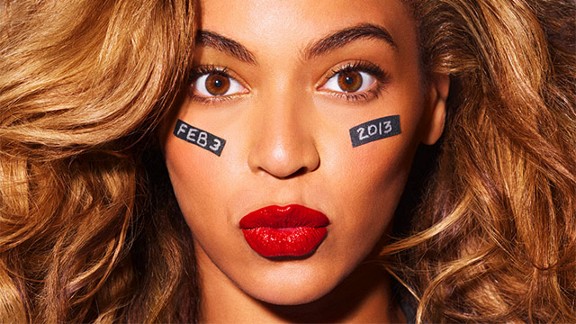 IAM.BEYONCE.COMBeyonce will be the Super Bowl halftime entertainment in February.
Beyonce will play the Super Bowl in February.
First I'd like to say, you're welcome NFL.
Maybe my impassioned plea to have Beyonce and her husband Jay-Z perform at the wasn't the only reason they chose one of the best live performers around. But my suggestion that the NFL move out of the Jurassic Period when it comes to musical acts must have swayed a few in the front office.
I do not sing "Single Ladies" in the shower, but I can appreciate the fact Beyonce is at the height of her career, musically relevant and not as a reunion tour. Maybe you don't like her empowerment-lite brand of R&B, but you won't have to worry that she will break a hip onstage.
The odds Jay-Z will come onstage for a reprise of "New York" are pretty good. And, with any luck, Alicia Keys will join them for the chorus.
The trio would immediately drop the average age of Super Bowl halftime performers in the last decade by a good 20 years. The recent list of halftime performers have included Paul McCartney, The Rolling Stones, Prince, Tom Petty & the Heartbreakers, Bruce Springsteen, The Who and Madonna. It's one thing if that's the audience you're trying to reach, but why would you try to pirate baseball's fan base like that?
So congratulations NFL, and if you need any advice in the future, you know where to find me.