November, 22, 2013
11/22/13
8:30
AM ET
Brad Barket/Getty ImagesWhat's left for Billie Jean King to wish for on her 70th birthday? She's already received the gifts of wisdom, compassion, determination and love.
Happy birthday, Billie Jean King! The iconic woman and legendary tennis star turns 70 today. The winner of 39 Grand Slam titles (12 singles) and 129 career titles, King is widely considered one of the best to ever play the game and one of the most influential sportswomen of all time. Her 15-year professional career earned her a spot in the International Tennis Hall of Fame. She also has been inducted to the National Women's Hall of Fame and received a slew of honors and awards, including being named one of Time's Persons of the Year in 1975 and one of Sports Illustrated's Sportspersons of the Year in 1972. Lauded for her work for gender equality in sports, King's "Battle of the Sexes" victory over Bobby Riggs in 1973 is one of the most significant moments in women's sports history. King also has been an advocate for the LGBT community and in 2009 was awarded a Presidential Medal of Freedom by President Barack Obama for her work. She currently is involved with the Women's Sports Foundation, the Elton John AIDS Foundation and the President's Council for Fitness, Sports and Nutrition. She resides in New York with her partner Ilana Kloss.
September, 23, 2013
9/23/13
8:59
AM ET
Women's Tennis Association/AP PhotoThe Original Nine took a stand in 1970 by signing symbolic $1 contracts to establish a new professional tour.
Women's professional tennis celebrates its 43rd birthday today. On this day in 1970, nine women -- including Billie Jean King and Rosie Casals -- signed $1 contracts with Gladys Heldman to compete in a newly created Virginia Slims Series. The group's goal was simple: to make a living. The top women's players at the time were making a fraction of the money the men were collecting. The inaugural event was the $7,500 Virginia Slims of Houston. The Original Nine also included Nancy Richey, Kerry Melville, Peaches Bartkowicz, Kristy Pigeon, Judy Dalton, Valerie Ziegenfuss and Julie Heldman. The Virginia Slims Series debuted with 19 tournaments in 1971 with a purse of just over $309,000. In 1973, the Women's Tennis Association was formed. Today, the total WTA purse is more than $100 million.
July, 22, 2013
7/22/13
9:18
AM ET
Tom Williams/Getty ImagesAny salute to American sports royalty has to begin with former tennis star Billie Jean King, who even has her own court.
As the Great Kate Wait hits its final lap, what better time than the present to salute a few members of the women's sports royal family? It all starts, of course, with the legend Billie Jean King. And we certainly can't ignore Olympic boxer Queen Underwood. We then move on to Epiphanny Prince of the WNBA's Chicago Sky and Alexis Prince of Baylor. As for the royal bling, allow us to introduce you to Jewell Loyd of Notre Dame and Tiara Butler of Syracuse.
May, 5, 2013
5/05/13
8:17
AM ET
By
Lizzie Haldane
| ESPN.com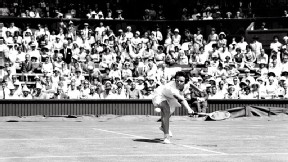 AP Photo/Jim PringleBillie Jean King's first singles loss at Wimbledon was to Yola Ramirez.
Cinco de Mayo happens to be 50 days out from the start of Wimbledon. Back in 1961, a Mexican player named Yola Ramirez defeated Billie Jean King in King's first singles match on the grassy court. Ramirez eventually made it to the quarterfinals that year. King went on to win the first of her 20 titles at Wimbledon in 1961, claiming the women's doubles crown. In all, King won six singles titles at Wimbledon, 10 doubles and four mixed doubles.
Read more WFYIs.