February, 20, 2014
2/20/14
8:08
AM ET
Al Bello/Getty ImagesLauryn Williams, right, became the fifth person in Olympic history to win medals at both the Winter and Summer Games on Wednesday.
Lauryn Williams made history on Wednesday, becoming the fifth person to win medals at both the Winter and Summer Olympics after earning a silver medal in the bobsled with teammate Elana Meyers. With a 4x100 gold medal from the 2012 London Games, Williams narrowly missed out on becoming just the second athlete to win gold medals at both the Winter and Summer Games. American Eddie Eagan remains the only person to accomplish that feat, winning a gold in boxing in 1920 and a gold with the four-man bobsled team in 1932. Three other athletes have won medals in both the Winter and Summer Games -- Jacob Tullin Thams of Norway (ski jumping gold in 1924 and yachting silver in 1936), Christa Luding of Germany (four speedskating medals in 1984, 1988 and 1992 and a cycling silver in 1988) and Clara Hughes of Canada (four speedskating medals in 2002, 2006 and 2010 and two cycling medals in 1996). Luding is the only athlete to win medals at the Winter and Summer Games in the same year.
January, 16, 2014
1/16/14
7:16
AM ET
Christof Koepsel/Bongarts/Getty ImagesElana Meyers and Lolo Jones celebrate their second-place finish at a World Cup event in Germany earlier this month.
The U.S. Olympic bobsled roster will be announced on Sunday, but first the contenders get one last chance to impress the selection committee with a World Cup race in Igls, Austria this weekend. Olympic hurdler and media sensation Lolo Jones will look to win a spot as a push athlete when she pairs with driver Jazmine Fenlator. Earlier this month, Jones and driver Elana Meyers finished in second place in Winterberg, Germany. Lauryn Williams, the team's other Olympic track star-turned-bobsledder, will work with driver Jamie Greubel for the event. Aja Evans, who was a sprinter at Illinois, will push for Meyers. Katie Eberling and Emily Azevdedo, the other push athletes in the mix to make the Sochi roster, will not compete in Igls. Three push athletes will be selected to join the three drivers at the Olympics. Meyers won a bronze medal in 2010 with Erin Pac. Jill Bakken and Vonetta Flowers remain the lone U.S. women to take home gold (2002) in the event.
September, 30, 2013
9/30/13
6:32
PM ET
AP Photo/Rick BowmerLolo Jones is vying for a spot on the U.S. women's bobsledding team for the Sochi Olympics.
PARK CITY, Utah -- For all the changes Lolo Jones has endured in her transformation from Olympic hurdler to bobsledder, perhaps nothing has proven more challenging than her quest to build a bigger, stronger, heavier body.
Last year, during her inaugural bobsled season, the 31-year-old struggled to put on weight. So you can imagine her excitement during a recent commercial shoot when she slipped into her Team USA bobsled suit only to have it rip down the middle of her torso. While many would have reacted with horror, Jones smiled.
"Yeah, that hasn't happened to me before," Jones admitted Monday at the U.S. Olympic media summit. "They had to sew me back in. It was crazy. I was like, 'Get me a scale.' I was happy."
Happy because the wardrobe malfunction meant Jones was inching closer to her target weight of 162 pounds that she hopes to reach in the lead-up to the Sochi Olympics. Jones, who weighed 135 pounds when she finished fourth in the 100-meter hurdles in the 2012 London Games, struggled to eclipse 150 pounds last season.
After dropping down to 138 to run hurdles this past spring and summer, she's ecstatic that she's already up to 158.5 pounds before the 2013 bobsled season has even begun. (Her diet included plenty of bacon double cheeseburgers and consuming 9,000 calories per day.)
"As a track athlete, you're more like a greyhound dog," Jones said. "With bobsled, you're more Rottweiler or pit bull. At first, my legs were so thick. I felt like I had pregnant legs."
It's all in the name of Jones' longtime goal: winning an Olympic medal.
"When you're wearing that Team USA, it doesn't feel any different if you're in a bobsled uniform or a track uniform," she said. "You get the same chills. Well, maybe it's a bit colder [for bobsled]."
Jones is one of several American women who will be vying for a spot on the U.S. bobsled team. She finished second in her first career World Cup competition last November and was part of the U.S. team that won gold at last year's World Championships.
The U.S. team trials begin Oct. 12. Regardless of what happens there and whether or not she's selected for the U.S. team, the Iowa native said she has every intention of returning to track and field to hopefully compete in Rio in 2016. And, on Monday, she hinted that the bobsled might not be the end of her Winter Olympics dream.
"When I went out to bobsled, the skeleton coach said, 'You should really be a skelly athlete,'" Jones said. "'You wouldn't have to gain all the weight. You could go back and forth easier,' So, I hate to say this, but after the Winter Olympics, I kind of want to try skelly. Not serious. But I just want to go down and see what it's like."
February, 19, 2013
2/19/13
8:33
AM ET
By
Lizzie Haldane
| ESPN.com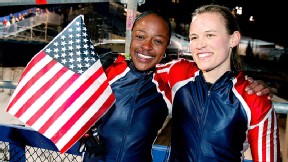 Dan Chung/ReutersPrior to the historic win by Vonetta Flowers and Jill Bakken, the U.S. had not won an Olympic bobsled medal since 1956.
On this date in 2002, the inaugural women's bobsled Olympic title was decided over two runs in Salt Lake City. Vonetta Flowers, who took gold with partner Jill Bakken, became the first black champion in the 78-year history of the Winter Games. Ironically, Flowers only started bobsledding after failing to make the U.S. track and field team for the Summer Olympics in 1996 and 2000. Today, the women's U.S. bobsled team has seven black athletes.
Read more WFYIs.