February, 18, 2014
Feb 18
7:56
AM ET
AP Photo/Steven SennePolina Edmunds begins her quest for an Olympic medal Wednesday in the figure skating short program.
Fifteen-year old American figure skater Polina Edmunds may not be as well known as her teammates Ashley Wagner and Gracie Gold, but you would never know it by some of her high-profile fans. The high school sophomore -- who was given three weeks' worth of homework to take to Sochi -- is a student at Archbishop Mitty High School in San Jose, Calif. The same high school that three-time beach volleyball gold medalist Kerri Walsh Jennings and two-time women's soccer gold medalist Brandi Chastain attended. The gold-medal-winning alumni spoke at a pep rally for Edmunds before she headed to Europe, encouraging her to continue their medal-winning ways. Danielle Robinson of the San Antonio Silver Stars can also be counted as an Archbishop Mitty alum. The school has been consistently named one of the top athletic programs in the country by Sports Illustrated and MaxPreps. Edmunds will begin her medal quest on Wednesday as the short program gets underway.
July, 10, 2013
7/10/13
8:08
AM ET
Roberto Schmidt/AFP/Getty ImagesBrandi Chastain, who turns 45 on July 21, scored 30 international goals, but none sweeter than the strike that won the 1999 Women's World Cup.
Brandi Chastain. Mia Hamm. Briana Scurry. Julie Foudy. Kristine Lilly. Michelle Akers. And the rest of the 1999 U.S. women's soccer team, this day is for you. Fourteen years ago today, on July 10, 1999, American soccer players transformed into legends in front of a women's sports-record 90,185 hysterical fans at the Rose Bowl in Pasadena, Calif. After a scoreless 90 minutes of regulation and two 15-minute overtime periods, the United States beat China to win the Women's World Cup 5-4 on penalty kicks. Chastain kicked the game-winner, setting off a celebration that will go down as one of the most iconic moments in women's sports history. After making the United States the first nation to win the Women's World Cup on its home soil, the team became national celebrities as it visited the White House, appeared on the cover of national magazines and set off a new soccer craze in the country.
Check out espnW's new promotion ad and #ShowUpToWin.
March, 25, 2013
3/25/13
11:37
AM ET
By
Brandi Chastain
| ESPN.com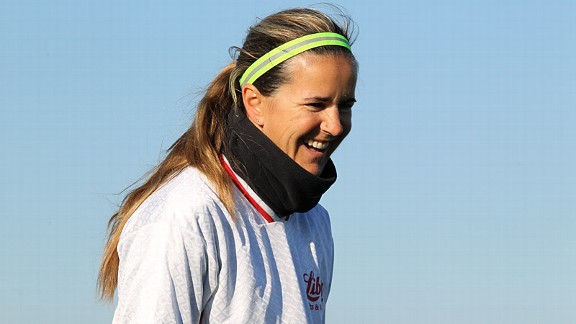 AP Photo/Bill WippertWatch Brandi Chastain during the latest episode of 'Splash,' airing Tuesday at 8 p.m. ET on ABC.
If you ever wondered how a person goes from playground to reality show stardom (using that term loosely), it goes a little like this: I was playing basketball with a friend at about 4:30 one Monday afternoon when I got a call on my cell. "This is John Holmes from 'Splash,'" he said. "There's been an injury and we'd like to have you on the show. Can you get here tonight?"
I'd spent three weeks working with a coach and training to learn how to dive; but, as of the previous Wednesday, we pretty much determined it wasn't going to happen. I told John I couldn't exactly drop everything and come -- after all, I hadn't talked to my husband, let alone made any arrangements for my 6-year-old son. But next thing I knew, I was on a flight to Riverside, where "Splash" is filmed. I went through alterations, hair and makeup, and was the first diver on the show that night. Talk about a whirlwind.
As a kid, I jumped off the diving board, but not in a way where I had any idea of the technical nature of the sport. Being on the show has been trial by fire. I have no doubt my experience as a soccer player has helped me. I know I have the athletic ability to jump, for one; and when we had to do a team dive where I had to be there for a teammate, that's in my wheelhouse. But the body awareness in the air and composure you need to have as you hurl toward the water is like nothing I had ever experienced. I never knew you could get bruises landing on water, but I've managed it.
The first time I dived, I pretty much blacked out, and the next thing I knew I was in the water. It only takes about 1.5 seconds to fall from the 10-meter platform, so there isn't much thinking that goes on. You just go. Too much thinking gets in the way. Honestly, I hated it in the beginning. Every day driving to the pool, I asked myself why I was doing it -- I just felt so nervous and uncomfortable. But every day since the show started filming, the water seems to get closer and closer to the platform.
Everyone trains at different times, but the greatest part is how everyone encourages everyone else. You can see the fear in people's eyes, and sometimes I don't know what the heck I'm doing out there. But it's such a blast behind the scenes. We're a bunch of grown-ups acting like kids, and we have as much fun with the crew as we do the other contestants. Each of us has two camera people that are always on us, so we get to know them. They'll give us a high five when we do a good dive and that sort of thing. My camera people are Adam and Adela. The other day, I asked Adam if I had improved since he started filming me. "Oh my gosh, I was so afraid for you," he said.
I've also kind of gathered a following of grandmothers who work out before I get into the pool. Shirley and the crew cheer me on every morning. The other morning, Shirley said, "You look like you need a grandma hug." Oh boy did I -- I had been practicing this new, harder dive for the past two days (I'm not sure if I can tell you the specifics) and I splattered myself across the water five times. Ouch.
Now I'm running to the airport to make it back to watch my son play Beethoven's "Ode to Joy" on the piano for a school talent show. My main priority these days is to be the best mom I can be, so I begged to dive early today so I could make it.
I think Rory Bushfield is one of my toughest competitors. As a skier, he's fearless, and he's got the flips and twists down. But his challenge is learning to dive headfirst -- something you don't do in his genre. Drake Bell also looks pretty good. He says he wasn't athletic growing up, but he is graceful and has spent a lot of time practicing, which has paid off. I wouldn't count out Katherine Webb or Nicole Eggert, either. I've got respect for everyone out there, but I'm too competitive not to want to win!
January, 30, 2013
1/30/13
8:44
AM ET
By
Lizzie Haldane
| ESPN.com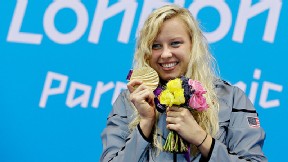 AP Photo/Kirsty WigglesworthSwimmer Jessica Long has won a total of 17 Paralympic medals over three Games, most recently bringing eight (including five gold) back to Baltimore after the London 2012 Games.
Sunday will showcase the finest football players from San Francisco and Baltimore, but these bay areas have harbored many impressive female athletes, too. San Fran has swimmer Summer Sanders, figure skater Kristi Yamaguchi, basketball player Jennifer Azzi and soccer star Brandi Chastain, to name a few. While Baltimore has Paralympic swimmer Jessica Long, mountain biker Georgia Gould, tennis player Pam Shriver and basketball player Angel McCoughtry. Swimmer Katie Hoff, who was born in Palo Alto, Calif., and moved to the Baltimore area to train, just may have the best of both worlds.