November, 3, 2014
Nov 3
9:39
AM ET
By
D'Arcy Maine
| ESPN.com

The New York Knicks rallied in the final minutes to beat the Charlotte Hornets 96-93 and win their second straight game on Sunday. Carmelo Anthony scored his 20,000th career point behind a 28-point outing, Amar'e Stoudemire was actually productive off the bench with 17 points and 10 boards and blah, blah, blah.
I'm mostly just talking about this game so I can show you this phenomenal clip of Hornets guard and noted LeBron whisperer Lance Stephenson video-bombing Knicks coach Derek Fisher.
Chris Bosh should be proud.
See something entertaining on social media that you think deserves to be shared? Let me know on Twitter, @darcymaine_espn.
October, 29, 2014
Oct 29
11:06
AM ET
By
D'Arcy Maine
| ESPN.com

The New York Knicks didn't play on the NBA's opening night on Tuesday, but that didn't stop Carmelo Anthony from getting a little screen time. The Knicks star didn't bother with that whole basketball thing; instead he appeared on the FX series "Sons of Anarchy." Yes, you read that correctly.
Anthony had four whole words and a very dramatic head nod in Tuesday's episode. The appearance was so brief (but totally Emmy-worthy!), it can be viewed in a single Vine. Watch his complete role below. Seriously, this is it.
Knicks fans will have to hope Anthony has a slightly bigger -- but maybe less frightening -- role in tonight's game against the Chicago Bulls.
See something entertaining on social media that you think deserves to be shared? Let me know on Twitter, @darcymaine_espn.
October, 27, 2014
Oct 27
3:15
PM ET
By
D'Arcy Maine
| ESPN.com

Taylor Swift released her brand-new album "1989" today. Unless you've been living in the one cave in which "Shake it Off" has yet to infiltrate, you probably already knew this. The singer has been EVERYWHERE promoting her new project and nobody has been safe from the promotional blitz. The sports world is no exception.
On Sunday, T-Swift hung out with the New York Knicks at Madison Square Garden. She looked thrilled to be there, likely because she realized there's a decent chance she could make the team's roster if this whole pop star thing doesn't work out. Carmelo Anthony, on the other hand, looked slightly less enthused. IS HIS JOB ON THE LINE?
No. No, it's not. But a hater's going to hate, hate, hate, hate, hate.
Taylor Swift (wearing Mark Jackson's #) @ Knicks' practice w/ Carmelo Anthony & Amar'e http://t.co/7nqy0msBv8 pic.twitter.com/6nuKYEd7GJ

— Ballislife.com (@Ballislife) October 27, 2014
Sadly, there doesn't seem to be a single picture of Swift with J.R. Smith. Sorry, Internet. I feel your pain here.

See something entertaining on social media that you think deserves to be shared? Let me know on Twitter, @darcymaine_espn.
August, 11, 2014
Aug 11
3:24
PM ET
By the looks of Carmelo Anthony's most recent Instagram post, it seems he's taken a hint from LeBron James in the diet department. Today he posted a picture of his slimmer, leaner frame with the caption "Gran sesion de entrenamiento de hoy #thisisme7o."
This follows a recent post of a thinner James that had the Internet buzzing about his weight loss.
If this NBA trend continues, Stephen Curry will be considered heavy and Glen "Big Baby" Davis could be out of a job.
January, 10, 2013
1/10/13
6:11
PM ET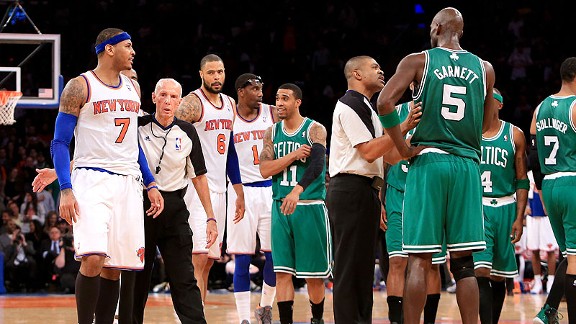 Debby Wong/USA TODAY SportsCarmelo Anthony did not take kindly to Kevin Garnett's trash talk. Anthony was banned for one game.
Celtics star Kevin Garnett has long been known to dish out some of nastiest trash talk in the league, his yapper getting more of a workout than his legs on game nights. This past week the big-mouthed big man was at it again, reportedly telling Knicks guard Carmelo Anthony that his wife LaLa Vazquez "tastes like Honey Nut Cheerios."
The pair's in-game jawing got 'em both a technical and the remark made Anthony so mad he sought out Garnett after the game, confronting him in the tunnel, outside the locker rooms and in the arena parking garage. Anthony's attempts to physically engage Garnett resulted in a one-game suspension for the Knicks star; he'll miss Thursday night's contest against the Pacers.
If the rumor mill is to be believed, Anthony and Vasquez are currently estranged, which may be why he got so incensed. Garnett's insinuation was certainly crass, but most ballplayers have heard enough trash talk to let a comment like that slide. In this case, perhaps it hit a little too close to home.
Boston coach Doc Rivers spoke out about the most publicized cereal-based insult since the Lucky Charms leprechaun ripped Notre Dame's effort in the BCS Title game (alright that didn't happen), denying reports that Garnett brought up Anthony's wife.


"(Garnett) does (know where the line is)," Rivers told a Boston radio station. "He does. I will say that. I've never heard him cross the line. And usually when he talks about guys, it's usually about their game or their team or what he thinks if the guy's a winner or loser."
There's no known audio of the incident, so it is possible that Garnett never compared LaLa to the center of a balanced breakfast, but history tells us the Boston big man might not know where the line is, after all. Back in 2010 he allegedly called Pistons forward Charlie Villanueva "a cancer patient." Villanueva suffers from alopecia, a virus that prevents hair growth.
The incident reflected poorly on Garnett and further built up his reputation as a win-at-all-costs, hit-em-where-it-hurts kind of guy. Needling Anthony over an alleged rocky patch in his marriage sure isn't nice, but if the goal was to take his focus off the game, it worked.
I don't endorse Garnett's tendency to hit below the belt, but I do think Anthony's gotta get a thicker skin. Every game is as much physical as mental and in Monday night's Celtics' win, Garnett won both those battles.