espnW:

Connecticut Huskies
December, 10, 2014
12/10/14
4:56
PM ET
By
D'Arcy Maine
| ESPN.com
Earlier this fall, UConn opened its new basketball practice and training facility on campus for the men's and women's teams. Great news to be sure for all present and future Huskies but not so great for, you know, former players who will never get to actually use it. Swin Cash, who helped bring two national championship titles to the school despite practicing in some blah gym, had the opportunity to check out the new space on Wednesday.
Needless to say, the New York Liberty star was a little envious. So much so, she posted a video on Instagram of the gym and tagged her former teammates Sue Bird and Asjha Jones so they could partake in the jealousy from afar.
Cheer up, ladies. I think you all did OK for yourselves despite your lackluster accommodations.
See something entertaining on social media that you think deserves to be shared? Let me know on Twitter, @darcymaine_espn.
December, 31, 2012
12/31/12
4:04
PM ET
By
Chiney Ogwumike
| ESPN.com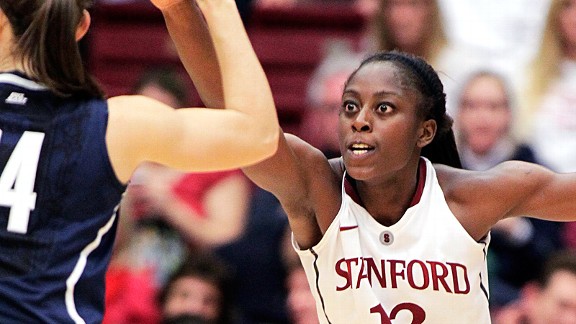 AP Photo/Tony AvelarChiney Ogwumike thanks Stanford's coaches and fans for sticking with the team during Saturday's rough loss.
This blog is for all those players out there who got their (for lack of a better word) butts beat. This blog is not for David, but for Goliath -- that giant who got knocked out with a tiny, little stone. This blog is for those teams that are on the other side of the spectrum, which quite frankly I am not used to being on. Getting beat is bad. Getting beat bad in front of all the people you love is dang near unbearable.
[+] Enlarge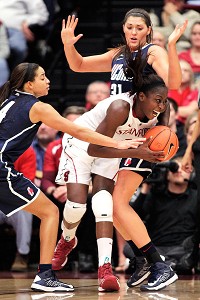 AP Photo/Tony Avelar"We fall down so that we can learn to get back up," Chiney Ogwumike writes.

I am a tough cookie. Ask anyone I know: I hate to show negative emotions. I will never let my enemy see me down. But after the game, when everyone left Maples Pavilion, I let it rip! I blame my mom. Before and after every game, I talk to her. She truly lets me unwind. She never judges. She sees the beauty in all I do, despite any circumstance. Just the comforting sound of her voice was enough. Forget what all those liars say, that real women and men don't cry. Real athletes are allowed to shed a couple tears of frustration. You want to know why? Because that shows that you are passionate about what you do.

So again, this blog is for those players out there who had a night when they could not hit the broad side of a barn. Those players who believe they let someone else down. Those players who could not sleep because of the horrendous replays of the game in their mind. Those players who experienced a struggle beyond compare. For those players out there, I want you to remember one thing: We are human. We make mistakes. We are allowed a moment to sulk and maybe even shed a tear. But it is our choice, our responsibility, our necessity to pick ourselves up and become better people and players from these experiences. We fall down so that we can learn to get back up. (Unless you're Pacquiao. Just kidding! I had to go there. Ha ha ha!)

All the way up until our game against Connecticut, I could not have scripted a better start. A lot of credit to them -- they were prepared and came to play. If they can replicate that every night, then they are the real deal. But in my mind, as a fighter, as a competitor, that might just be the best thing that could happen to me. From now on I am going to fight to NEVER feel that way again. To my teammates, "Pick yourselves up, dust yourselves off and start all over again." To our coaches, thank you for never losing faith in us when it can be so easy to do. Thank you for coming back to practice every day with the same intensity and drive to make us better. To our fans, thank you for being with us when the going got tough. They stayed to the end on Saturday -- nobody walked out on us. You still remained. That is true love.

And to myself, today is a new day. Time to make it count.

Your fellow human,


Chiney Ogwumike
December, 28, 2012
12/28/12
10:12
PM ET
By
Chiney Ogwumike
| ESPN.com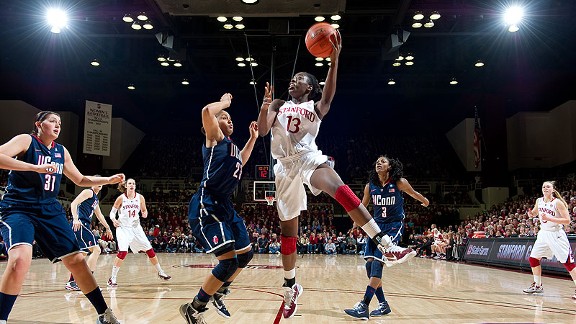 Stanford AthleticsWhen the teams last met, Chiney Ogwumike and Stanford ended UConn's 90-game win streak.
Happy holidays and Happy New Year! I had a wonderful Christmas, and it started in Tennessee. As I exited the elevator and headed toward the lobby to get on the bus for the game, I noticed a bunch of people crowded by the doors: It was my family! My parents and sisters drove all night from Texas to surprise me and support our team against Tennessee!
[+] Enlarge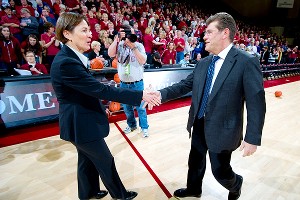 Courtesy Stanford AthleticsWhen Tara VanDerveer and Geno Auriemma next shake hands, the No. 1 ranking will be on the line.
Winning in Thompson-Boling Arena is a very difficult thing to do, especially with coach Pat Summitt rallying the crowd ... but we did it! I am so proud of how far our team has come and how we respond to the challenges presented to us.
It was refreshing to be home in Cypress, Texas, for a few days and recharge for the rest of the season. I got some great presents, but the best gift of all can come soon ...
I cannot believe we have one nonconference game left! And it's the biggest game yet: No. 1 Stanford vs. No. 2 Connecticut. Last time, in Maples, the atmosphere was electric and we ended UConn's 90-game winning streak! We know this time we have a huge target on our back and will get the Huskies' A-game.
But again, I say: "Fear None." The first mistake you can make is expecting to win; I will urge our team to work to win. It is going to come down to who wants it most. And I sure as heck want this bad.
I'm all-in. Let's go, Stanny!