espnW:

Connecticut women's basketball
September, 3, 2014
Sep 3
6:28
PM ET
By
D'Arcy Maine
| ESPN.com
After her star turn at the Little League World Series, Mo'ne Davis received a phone call from UConn women's basketball coach Geno Auriemma congratulating her on her success. Adorable, right?
Wrong. Apparently. According to the Hartford Courant, an unidentified rival school filed a complaint to the American Athletic Conference claiming the phone call constituted a recruiting violation.
Womp, womp. So that's kind of a buzzkill.

Davis, who has repeatedly stated her dream is to one day play for the Huskies, is in the eighth grade and, per UConn, is not officially considered a prospective student-athlete until she reaches high school. Clearly the petitioning school disagrees, but it also sounds like it wouldn't like puppies, butterflies or anything fun, so I'm not sure how seriously we should take its opinion on anything.
Obviously the people of the Internet had some thoughts on the matter.
Can you imagine some school being petty enough to complain about Geno Aureimma calling Mo'ne Davis? Show us your face........#UConnwomen

— John Altavilla (@jaltavilla) September 3, 2014
If you're gonna rat on Geno Auriemma for calling Mo'ne Davis you gotta put your name on it. Society needs to know who the nut-jobs are

— Terrence Payne (@terrence_payne) September 3, 2014
What's next? A college coach being reprimanded for giving a high-five to one of her kid's third-grade soccer teammates? CALM DOWN, EVERYONE.
See something entertaining on social media that you think deserves to be shared? Let me know on Twitter, @darcymaine_espn.
April, 10, 2013
4/10/13
8:06
AM ET
By
Lizzie Haldane
| ESPN.com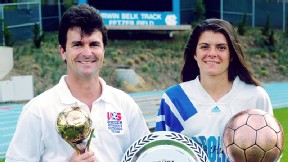 UNC Athletic Communications ArchivesMia Hamm led North Carolina to four of its NCAA womens' soccer championships.
Connecticut won its eighth women's NCAA basketball title on Tuesday night to tie Tennessee for the most by a school. But the two dominant women's basketball programs aren't even close to matching the dynasty in women's soccer. If you combine the trophies won by Tennessee and UConn (16), they still have a long way to go to match the 21 titles won by the North Carolina women's soccer program. The Tar Heels, who are the reigning NCAA champions, once won nine straight from 1986 to 1994. The NCAA has been awarding championships in both sports since 1982.
Read more WFYIs.