March, 25, 2014
Mar 25
7:16
AM ET
Patrick Smith/NASCAR/Getty ImagesA win at Martinsville on Sunday would be the icing on the cake for birthday girl Danica Patrick.
Happy birthday, Danica Patrick! The trailblazing NASCAR driver turns 32 today and has spent the past 22 years building her legend on the racetrack. Patrick started racing go-karts when she was 10, and she quickly moved her way up the racing ranks -- eventually landing in England when she was 16 to race in the European developmental series. She moved back to the United States and signed with Rahal Letterman Racing in 2002, and her fame took root. In 2005, she became the fourth woman in history to compete in the Indianapolis 500 and the first woman to ever lead a lap at the storied race. Her fourth-place finish was the best ever for a female competitor at the Brickyard. In 2008, Patrick made more history when she became the first woman to ever win an IndyCar race when she topped the field at the Japan 300. After splitting time between the IndyCar series and NASCAR, Patrick made the move to NASCAR full-time ahead of the 2012 season. She spent her first season competing in the Nationwide Series and a limited Sprint Cup schedule. Patrick switched to a full-time Sprint Cup schedule for the 2013 season and became the first woman to win the pole position in a series race at the season-opener in Daytona. Her eighth-place finish was the best result for a woman. While Patrick has yet to win a NASCAR race, she is one of the sport's most popular -- and marketable -- drivers. She has appeared in a record 13 Super Bowl commercials. Patrick had her best result of the season on Sunday with a 14th-place finish at Fontana.
October, 31, 2013
10/31/13
7:26
AM ET
Dustin Bradford/Getty ImagesBroncos fans got into the Halloween spirit early this year but shied away from the ever-popular (dead or alive) cheerleader costumes.
On this day in history, since 1927, normal people and athletes everywhere have been doling out tricks and treats and dressing up in spooky or hilarious costumes. Like every year since the beginning of time (or something like that), dressing up in sports-related garb is a popular choice this year. But what are the MOST popular sports costumes for 2013? Here's the top 10, according to online sales at the national chain Spirit.
1. Jackie Moon from "Semi-Pro" (hurry, they're often out of stock!)
2. Dallas Cowboys cheerleader (really, ladies?)
3. NFL player
4. Danica Patrick
5. Dead cheerleader
6. Jeff Gordon
7. Blind referee
8. Boston Celtics cheerleader
9. Dale Earnhardt Jr.
10. Wild Thing from "Major League"
May, 29, 2013
5/29/13
8:39
AM ET
By
Lizzie Haldane
| ESPN.com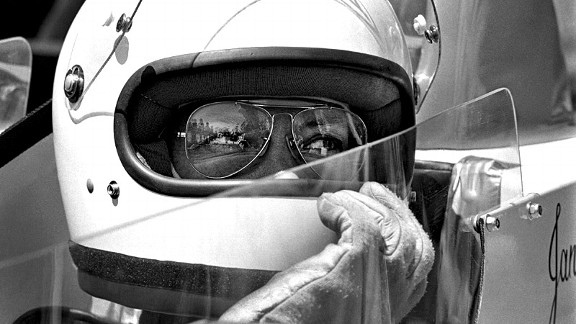 Bob Harmeyer/Getty ImagesIn 1977, Janet Guthrie forced a change to the "Gentlemen, start your engines" Indy tradition.
On this date in 1977, Janet Guthrie became the first woman to compete in Indy 500. Unfortunately, she had to drop out with engine problems and finished 29th. Earlier in 1977, Guthrie became the first woman to compete in the Daytona 500, where she finished 12th. Guthrie returned to the Indy 500 in 1978 and finished ninth. Guthrie, who is now 75, helped pave the way for other women on the track, including Danica Patrick, who topped Guthrie's mark at Indy in 2005, when she finished fourth. Then in 2009, Patrick posted a record third-place finish at Indy.
Read more WFYIs.
April, 20, 2013
4/20/13
11:00
AM ET
By
Lizzie Haldane
| ESPN.com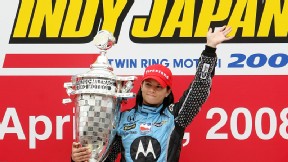 Jonathan Ferrey/Getty ImagesDanica Patrick claimed her first trophy in her 50th career Indy start.
Five years ago today, Danica Patrick became the first woman to win an IndyCar race when she was the first to cross the finish line at the Indy Japan 300. Since then, she has zoomed past several other milestones as well. Earlier this year at the Daytona 500, she became the first woman to win a pole position for any NASCAR premier circuit race, she became the first woman to lead laps, and she finished the highest of any female racer with an eighth-place result.
Read more WFYIs.
March, 17, 2013
3/17/13
7:21
AM ET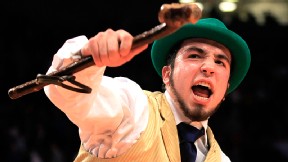 Chris Trotman/Getty ImagesIt's a day for lucky charms and leprechauns.
Top of the morning to former Solheim Cup captain Patty Sheehan, auto racer Danica Patrick, WNBA player Kalana Greene, figure skater Gracie Gold (as in pot of) and rising golf star Latanna Stone (as in Blarney). And Happy St. Patrick's Day to all!
Read more WFYIs.
February, 23, 2013
2/23/13
8:42
AM ET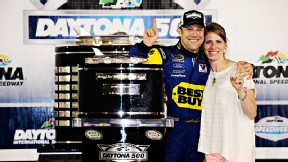 Jared C. Tilton/Getty ImagesMatt Kenseth was the last person to claim the coveted Harley J. Earl Trophy.
If Danica Patrick can become the 10th driver to start at the pole and go on to win the Daytona 500 on Sunday, she would claim the Harley J. Earl Trophy, which is about 4 feet tall and 5 feet wide and shaped like Daytona International Speedway. It is named after the second commissioner of NASCAR. The real award remains at a museum near the track, but the winner gets to take home a miniature version. Her crew chief, Tony Gibson, would win the Cannonball Baker Trophy, named after the first commissioner of NASCAR.
Read more WFYIs.