October, 19, 2012
10/19/12
10:49
AM ET
By
Amanda Rykoff
| ESPN.com
When rain washed away Game 4 of the ALCS on Wednesday night, I joked that Mother Nature had allowed the Yankees' season to survive another day. Even with CC Sabathia set to take the mound to stave off elimination, the end of the Yankees' playoff run appeared to be more a matter of when than if, given how old and tired the team looked.
By the end of Game 4 on Thursday, as the Yankees' season whimpered to an end with a humiliating 8-1 loss and a series sweep, I just wanted to be put out of my misery. I'm not asking for sympathy (trust me, I'm not that foolish ... go ahead and laugh, Yankees haters), but to watch a team that had been so solid offensively top to bottom for 162 games stop hitting all at once had become too much. The Tigers completely shut down the Yankees, allowing six runs in four games (the Yankees' .169 batting average for the series and two hits in Game 4 pretty much sums it up). And it wasn't all Alex Rodriguez's fault. Add Sabathia's awful Game 4 start to the mix, and it was time to say goodbye to 2012.
But even as I sit here disappointed with the Yankees' postseason performance, frustrated with the lack of offense and embarrassed by the shellacking, I'd still rather see my team's season end in the ALCS than in August -- or June (am I right, Cubs fans?). Losing a playoff series always hurts. The upside is that it means your team has enjoyed success -- with the playoffs come playoff disappointment.
The Yankees have made the postseason 17 of the past 18 seasons, but have won only one World Series since 2000. I still appreciate a division title and a postseason appearance even if it doesn't end in a World Series title. Are fans better off not experiencing the joys and thrills of success in exchange for avoiding the potential risk of heartbreak? Only one team finishes the season happy.
Will that team be the Tigers? I need to congratulate Detroit on advancing to the World Series. The Tigers pitched extremely well, got big hits when they needed them and basically dominated en route to the sweep. In order to make this a little less painful, I'm going to pretend that someone other than Delmon Young was named ALCS MVP (Jhonny Peralta? Phil Coke? Justin Verlander? Sure, any of those work just fine in my head). The Tigers will have five days before the World Series starts Wednesday to rest up and refocus. (You don't want a repeat of 2006, right Tigers fans?)
The Yankees had a great season. They finished with the best record in the American League. The team enjoyed some thrilling wins -- thank you, Raul Ibaņez -- and their share of disappointing losses. That's what happens over the course of a 162-game season. Though they're getting even older and have to deal with some tricky personnel decisions in the offseason (I'm gonna miss ya, Swish), the team is not going anywhere (please come back, Andy Pettitte and Hiroki Kuroda, and get well soon, Derek Jeter and Mariano Rivera). They're the Yankees. I have confidence. Even if that confidence is a bit shaken.
October, 17, 2012
10/17/12
10:41
AM ET
By
Amanda Rykoff
| ESPN.com
The Yankees are caught in what has become their October version of Groundhog Day: strong pitching and anemic hitting. As a fan, it's exhausting and frustrating. As a writer, it's a challenge to come up with a new spin on the same story which has played itself out for the past 10 days.
If you had told me going into Tuesday night's ALCS Game 3 that the Yankees would get a home run from Eduardo Nunez off Justin Verlander, Robinson Cano would break his 0-for-the-last-six-games streak and the Yankees would have Raul Ibanez at the plate in the top of the ninth needing a key hit to tie or take the lead, I'd take that scenario every time.
As Ibanez and his magic baseball bat stepped to the plate against Phil Coke, I wondered: Could it be? Was it happening again? But Raul did not come through, ending a tough 2-1 loss by striking out swinging on a nasty 3-2 slider. The Yankees now find themselves down 3-0 in the ALCS and facing elimination Wednesday night in Detroit with CC Sabathia taking on Max Scherzer.
[+] Enlarge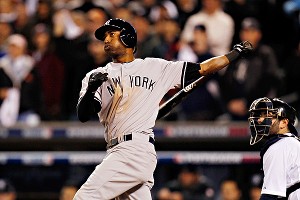 Gregory Shamus/Getty ImagesEduardo Nunez had a home run off Justin Verlander on Tuesday night, one of only two runs the Tigers ace has given up this postseason.
Many have questioned Girardi's decision to let Ibanez bat against a lefty with A-Rod available off the bench. We can argue platoon splits and matchups until we're blue in the face (and the Tigers would certainly have countered with righty Joaquin Benoit if A-Rod were to pinch hit). The story for every game remains the same -- the team cannot hit. After eight postseason games, the Yankees' batting average is .200.
For the record, I liked Tuesday night's "To hell with it, why not?" lineup. It may not have made the most sense, but the previous lineups hadn't been producing, so credit Girardi for shaking things up. Benching the struggling Nick Swisher for Brett Gardner added potential spark to the lineup and improved outfield defense. A-Rod for Eric Chavez did create some questions, but I have a feeling the reports that A-Rod was hitting on women in the crowd after his benching in Game 1 factored into Girardi's decision.
Nunez at shortstop instead of Jayson Nix caused a bit of consternation on my Facebook feed -- it turns out his defense saved at least one run and his bat provided the only run the Yankees would score against Verlander. Isn't 20/20 hindsight the best? Here's a fun fact: Verlander has given up only two runs this postseason -- solo home runs by Coco Crisp and Nunez.
Even with the changes and the unorthodox lineup, the Yankees still couldn't break through until the ninth inning. Fans can take some comfort in knowing they showed some patience at the plate and had some nice at-bats (Nunez had a great at-bat before launching his home run to left field). But the Yankees have scored in exactly two innings of the 30 played in this ALCS -- the ninth inning of Game 1 and the ninth inning of Game 3.
Of course credit should go to Verlander, who gave up just three hits and struck out three (with no walks) in 8 1/3 innings on his way to a season-high 132 pitches. Detroit's starters have dominated the Yankees for the first three games of the series. The Tigers haven't exactly been lighting up the scoreboard themselves, but they've gotten the key hits when needed and haven't relied exclusively on the home run (of course Delmon Young's two home runs have been killers).
One of my friends posted some encouragement Tuesday night on my Facebook wall. "With CC going tomorrow and Andy going on Thursday, we should get this series back to New York for Game 6," he wrote. In previous years, I'd agree and feel confident. But with the way the team is hitting, that confidence has waned. The Yankees haven't held a lead in any of the games this series.
Can CC deliver a pitching performance good enough to force a Game 5 and avoid the team's first postseason sweep since 1980? Absolutely. But can the bats come through against Scherzer? If we're following the Groundhog Day script, then we have the answer to that question. Here's hoping the Yankees flip the script for just one night.