July, 9, 2014
Jul 9
11:34
AM ET
Williams+HirakawaAdena Andrews says Aja Evans' "muscular legs behind the bobsled let me know I probably won't ever have the thigh gap or popsicle-shaped thighs that many people covet, and that's OK."
Whenever I go grocery shopping, magazines in the checkout aisle tell me to "Lose 30 pounds in 30 days," "Get a flat tummy "or" Build a better butt." By the time I check out, I'm slightly depressed about my body and ready to eat the Snickers bar I picked up at the register. That won't be the case this week when I see ESPN The Magazine's Body Issue on newsstands.
Instead of telling us how to morph our bodies into a waif-like societal norm, the Body Issue teaches us to worship the bodies we were given, no matter how bulky, thin or muscular they may be. It relays the message that our bodies are high-performance vehicles with tremendous power under the hood and the outside paint job is just a minor detail. Let's give it up for all the Body Issue athletes for showing us that a winning body comes in many dimensions.
As someone with an athletic frame who has a hard time finding pants that fit my sprinter's thighs, I want to thank athletes like Aja Evans for representing a different body type. Her powerful stance and muscular legs behind the bobsled let me know I probably won't ever have the thigh-gap or popsicle-shaped thighs that many people covet, and that's OK. My current shape allows me to run a 9:30 mile and that looks good in any pair of jeans. Body Issue cover athlete Prince Fielder summed up the message of the Body Issue best when he said:
"You don't have to look like an Under Armour mannequin to be an athlete. People probably think I don't even try to work out, but I do. Just because you're big doesn't mean you can't be an athlete. And just because you work out doesn't mean you're going to have a 12-pack."
The Texas Rangers slugger looks like he's smuggling a beach ball under his skin but that body made him a two-time Home Run Derby winner and five-time All-Star. I'll take that type of performance and fame over washboard abs any day.
Thank you, Body Issue athletes, for lowering your guards so we can raise our self esteem.
July, 16, 2013
7/16/13
11:22
AM ET
Surprise! I'm in the 2013 ESPN the Magazine's Body Issue, and what a ride it's been.
I was originally approached last season, my rookie year in Funny Car, to be in the Body Issue but made the decision to turn it down. At the time, the start of 2012, I felt it was the right choice.
I had been racing in sportsman categories within the NHRA for the past seven years and was about to take a huge step up into the professional category piloting a Nitro Funny Car when ESPN asked me to participate in the prestigious issue. I had a lot on my plate, but my main focuses were learning how to drive my race car, take tips from my dad on how to drive, be the spokesperson for Ford Driving Skills for Life and just get through my first season while gaining as much experience as possible.
The year went better than expected, and I finished my rookie season in Funny Car. I locked into the points chase for the Countdown to the Championship, got the last spot for the Traxxas Shootout, picked up my first Funny Car win in Seattle, finished fifth in overall total points by the end of the NHRA season and even picked up rookie of the year, all in a male-dominated sport.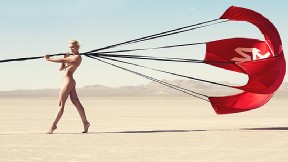 Williams + Hirakawa for ESPN The MagazineCourtney Force says she hopes the magazine shots show off the athleticism that a career in Funny Car requires.
When I continued in 2013 as one of two females in the Funny Car category, I was able to pick up two more NHRA national event wins before being approached by ESPN again. This time I felt the Body Issue was an opportunity I could not pass up. I've worked really hard trying to prove myself as a driver, and although this is just the beginning and I still have a lot to learn, I'm proud of what my Traxxas Ford Mustang team has been able to accomplish in such a short amount of time. As a driver, I work hard in the gym to train my body so that I can be strong enough to keep up with the boys I compete against and handle my 10,000 horsepower race car.
My dad, whom I compete against every weekend in the Funny Car category, also participated in the Body Issue back in 2011. He has really been my mentor and my biggest supporter throughout my journey in Funny Car. I sat my dad down and talked to him about what his opinion was if I agreed to be nude. Of course, my dad was a little shocked, but he told me that he would support my opinion since I'm a grown adult. Obviously, my family's opinion is very important to me so I sat down with all of them nervously and asked for their thoughts. This is such a huge magazine and of course a huge honor to be asked, let alone be the one recognized in our sport. However, it is nude ...
After weighing the pros and cons for a few months throughout this decision-making process, I decided I was going to do it. What better way to showcase the athleticism of our sport to an unknown audience? Hopefully it could even draw a different audience into the seats of our NHRA races across the country for years to come.
I'm so proud of the fact that I get to drive a race car that hits speeds of more than 300 mph in just four seconds every weekend, and hope the strength our sport requires is highlighted in the photographs. I'm so fortunate for the opportunity, but am even more passionate about striving to be the best in my sport. I've got a long road ahead of me if I'm going to follow in my father's footsteps as a 15-time champion, but that's why I hit the gym hard and make it a lifestyle. I live and breathe racing and look forward to hopping into the cockpit of my Funny Car every weekend in hopes of learning something new, and taking home that Wally at the end of the weekend. Through all the blood, sweat, and tears, you need to have a thick skin in this sport and, as my dad likes to say, "I've learned how to manhandle my race car."
Being a female in a male-dominated sport, I'm so proud I did the issue and am even more proud to represent NHRA. This was definitely a huge step out of my comfort zone, and although the process was nerve-wracking, I'm thankful to have had such great support, unbelievable fans and amazing photographers, Williams + Hirakawa, who made this experience more amazing. A big thanks to them for capturing some timeless, bold shots.
I hope people can look at them and see the message: With enough dedication and hard work, no matter your shape or size, whether you're male or female, if you put in the time, effort, endless dedication and never accept failure, you can achieve your dreams like I did -- to be a professional NHRA Funny Car driver.