November, 25, 2013
11/25/13
8:49
AM ET
Derick E. Hingle/USA TODAY SportsWith eight titles apiece, Connecticut and Tennessee are tied for the most women's basketball titles in history.
It's up to 11 and counting for women's sports teams at the University of Connecticut. The field hockey team won its third NCAA championship on Sunday with a 2-0 victory over Duke, giving the women's teams at UConn a total of 11 national championships. The UConn women's basketball team, the reigning national champions, has won eight national titles. In all, the school has won 16 NCAA championships. The men's soccer team has won two NCAA titles and the men's basketball team has won three. The all-time leader is UCLA, which has won 109 NCAA titles. Stanford, with 43, has won the most NCAA women's titles.
June, 11, 2013
6/11/13
9:46
AM ET
Courtesy of Laura SuchoskiAlli Tanner, who starred at North Carolina, was one of the key organizers of the Harrow Cup and dug deep for the Tembos.
Consider it pulled off. This past weekend's Harrow Cup was nothing short of a success.

The weekend had it all. Smiles. Laughter. Nerves. Determined eyes. Ruthless grins. Long, exhausted sighs. Heated conversations. Nasty collisions. Diving goals. Cheering parents. Crying babies. Heroic saves. Big wins. Tough losses. Enthused chatter about everything from pressing strategy and subbing rotations to best practices for explaining turf burns, bruises and tan lines to coworkers Monday morning.

The success of the Harrow Cup wasn't in dollar signs; it was in the simple yet inspiring sense of joy pulsing through the air as so many women took to the field again to profess and share their unending love of field hockey.

With shoulders back, and heads held high, teams donned their uniforms proudly, seemingly undaunted by the fierce and physically demanding challenge of playing four 70-minute games in two days. Separated into two pools of four, each team played a round robin Saturday and Sunday morning followed by a crossover classification match Sunday afternoon.

In Pool A, which featured the Tembos, Dynasty, Tomahawks and Vipers, newly minted national team member Jamie Montgomery (Wake Forest) led her wise and talented Tomahawks securely to the top spot despite a valiant effort by the Cup's leading goal scorer Liz Sanders (James Madison) and her Vipers. On the other side, in Pool B, the solid, well-balanced Mambas, led by new mom Sarah Dawson (Iowa), managed to make their way into final, narrowly edging the feisty Titans, Boomers and Ninjas.

The highly anticipated $10,000 Harrow Cup showdown pitted Montgomery's Tomahawks against Dawson's Mambas. Dawson's defense, led by Kelly Driscoll (Old Dominion), Meghan Dawson (North Carolina) and Teryn Brill (North Carolina) denied Katie Grant (Duke) and the Tomahawks' early onslaught at goal. The Mambas' resilient defense morphed into a potent attack that delivered a 6-1 victory and a $10,000 check. Meghan Dawson's gutsy performance in defense earned her the Harrow Cup's MVP.

While Meghan Dawson and the Mambas walked away with the Harrow Cup championship and the ultimate prize, they weren't the only winners on the weekend. The biggest winner was the game itself. The Harrow Cup reaffirmed in so many hearts, most of all my own, the power of that youthful -- yet ageless -- passion for the limitless possibility of play. Perhaps there was nothing more inspiring over the weekend than the children running around with sticks in their hands, and smiles on their faces saying, "Look at me, one day I'm gonna be just like mom."

The Harrow Cup made that happen. I think I'd call that a success.

June, 7, 2013
6/07/13
11:49
AM ET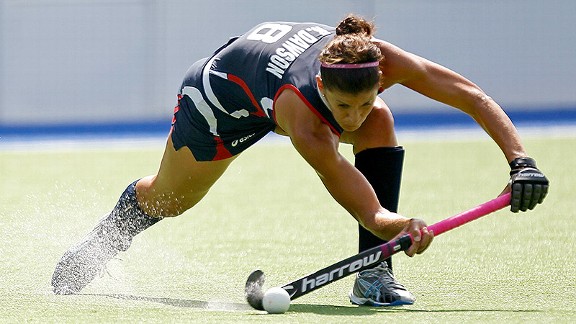 Mike Ehrmann/Getty ImagesRachel Dawson traces the origins of the Harrow Cup to a festive Thanksgiving feast.
How the h-e-double-hockey-sticks are we going to pull this off?
That was the thought running through my mind last November after my first conversation with Alli Tanner (field hockey brand manager at Harrow Sports and my former teammate at the University of North Carolina) about creating a revolutionizing postcollegiate field hockey tournament that would not just get women back in the game for a weekend of competition, but inspire them to stay in the game for good.
We had eight months, $10,000 and a ridiculously lofty vision. Field hockey had no standard for postcollegiate play; players had no expectation to continue playing after college. Most of them simply lost touch with the game; many no longer owned hockey sticks.
Cue up Thanksgiving 2012, when the spark to change that trend ignited. A bunch of passionate, not-so-old-yet-unfortunately-not-so-young field hockey folk gathered around the dinner table with Mark Hayden, CEO of Harrow Sports, and his 15-year-old daughter, Maica, at the 2012 National Field Hockey Festival. Food, wine and frivolous field hockey chatter flowed. Intrigued by our experiences, Mark asked what the game needed in order to grow in the United States. Unanimously, we agreed: more and better opportunities for everyone to play.
The next morning, Mark informed us that he wanted to host a $10,000 winner-take-all, postcollegiate hockey tournament. "We'll call it the Harrow Cup," he said. His team of Harrow Hockey workers whooped and swooped and high-fived. "This is awesome," I thought. A week later, the magnitude of what we had taken on sunk in. Here was this huge void in our sport, and we were like, "What the heck, let's cannonball right into the middle of it and see what happens."
Initially, I wondered whether there would even be enough interest to field four good teams. Boy, was I wrong. From the outset, response to the Harrow Cup, and its mission, was great. The brightest minds and biggest hearts engaged themselves in the postcollegiate cause. Umpires volunteered, USA Field Hockey showed support and players came out in droves. In February, more than 300 athletes from 99 different universities, ranging in age from 22 to 40, entered the Harrow Cup player pool. In March, 144 athletes from that group were drafted into eight teams. Highlighting those teams are former All-Americans, national champions, Olympians, and collegiate, club and high school coaches.
This weekend, the Vipers, Tembos, Boomers, Dynasty, Titans, Mambas, Ninjas and Tomahawks will compete for the inaugural Harrow Cup and its $10,000 cash prize. Competition begins Saturday at 9:30 a.m. at Temple University's Geasey Field.
Come support these inspiring women as they showcase their talent, courage and competitiveness. Witness for yourself what's possible when you empower passionate people and let them cannonball into the unknown. The Harrow Cup isn't just making a splash, it's changing the game.
May, 1, 2012
5/01/12
2:20
PM ET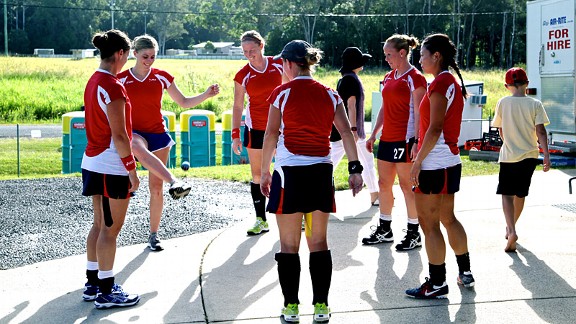 Jaclyn KitnzerMidfielder Katelyn Falgowski kicks the hacky sack during a pre-game, get-the-jitters-out hack session with her teammates.
Dear Self,
Be vulnerable. Put yourself out there. Communicate. Ask for help. Let others make you better. Give kindness and receive it. Share your load. Don't hide behind bravado, or pretty hair. Let it loose. Go wild. Say how you feel. Let the world hear you sing. Dance. Be weird. Be you. Smile. Give you.
Share your food. Pack a picnic, sit at the table a little longer, order dessert and share it. Take walks, have coffee, sip it slow. Talk. Share your story, lend your ear. Learn. Tell a joke. Have fun, make a mess. Always help clean up. Savor life. Share the road.
Have faith. Choose to see the good in yourself and others, choose to work for good, and always, always trust what comes of your choices.
Love,
Me
It has been a long month. After nine days in Australia, 14 days in New Zealand and 11 hard-fought games, I am finally home in California. Cue the long sigh.
It was a humbling trip Down Under. The games didn't pan out the way we wanted. We didn't win. We started strong in Australia -- won two of the three-game series versus the "Hockeyroos," which is what they call the national team. Then we traveled to New Zealand, and very slowly, things started to unravel. We played two 4-Nations tournaments against New Zealand, Australia and India. We finished third in the first tourney and a dismal fourth in the second competition. We were inconsistent. We squandered important opportunities.
Yet for all of its hardship, I am unbelievably thankful for the trip. It was one of the best experiences of my life. On that 23-day journey with my teammates, I smiled more than I have smiled in a long time and shared simple yet meaningful moments with my teammates -- Easter Sunday mass in a small Australian church; sunset wiffle ball games on the beach; morning coffee runs to Pickles, the local New Zealand coffee shop; smorgasbord meals at the coaches' "Real World" house; laughs over new nicknames (Smeds, Puuuzzz, and Lippy); chats about God, life, books, animals and movies. While sharing and smiling, I realized something invaluable: This journey is not all about the Olympics.
Heck, it's not even about field hockey. It never was for me. In 110 days, the Olympics will be over. This journey is about giving myself to my team every day, giving my purpose and my passion and growing from what I give. It's not about perfection. It is about constant improvement -- going beyond myself and becoming a part of something way bigger than just myself. It's about enjoying every moment, even the ones that are filled with uncertainty and fear. It's about us all opening up, embracing one another and sharing the road.
It has taken me a long time to learn these things even though I have been on teams my whole life. I've never played an individual sport. I tried once, ran a few laps around a track, and said nope, not for me. I loved winning too much and on my own, I didn't stand a fighting chance, because I am an average athlete at best. I am not very fast, can't jump very high and despite my affinity for spinach, I'm no Popeye. Anyone I have ever played with will tell you, I am a klutz. I can even trip over the painted sidelines on the field.
But as a kid I dreamed big and did what any logical Olympic dreamer does -- I accepted the hand I was dealt, gave up my inspiring yet impossible dream of becoming Flo Jo Jr., and decided to leverage my few athletic assets with the talents of others.
I entered the wide world of team sports.
Except being on a team meant working with people, which wasn't quite my forte. I am not what you'd call a "people person." I am not a pleaser. I don't beat around the bush. I like staying home on weekends. I hate small talk. I enjoy eating alone. I can't stand "coolness," and I hold firm in two beliefs -- if you have something to say, say it, and if you have something to do, do it.
I survived on teams because I clung to the unspoken contract between teammates. We want the same thing. You want to win, and I want to win. I need you at your best. You need me my best. So let's do whatever it takes to be at our best. We'll win.
But being a good teammate also requires communication, understanding and respect. You have to relinquish some of your control and choose to trust others. I didn't always understand that. I thought wanting the same thing badly enough was enough. I thought winning was enough, but it's not.
There was something powerful about this 23-day trip that changed my perspective. We were uncomfortable. We were forced to share. We shared the joy of victory and disappointment of defeat. We shared our fears and uncertainty. We shared our courage. We shared small living spaces and jars of pickles.
One moment, against India, sticks out. For the first time since moving to the midfield four years ago, I was asked to play in the backfield. I hadn't trained there in years. I was unsure of myself, of what the game would look like from the position -- would I see passes, would I hold the right defensive zones, would I communicate the right things? I was scared. I felt sick to my stomach. Right before the whistle, I turned to my teammate Lauren Crandall, my eyes ridden with fear, and said, "I need you today. Help me get through this." She nodded her head, took the burden off my back, and together we weathered India's attack.
This trip changed something in me. It was hard. We were uncomfortable. We were disappointed in ourselves and unsure of our path. Yet, we found strength and joy, not in the outcomes, but in the presence of one another. I let go of my expectations. I let go of the Olympics, of being great, of making the team and of winning. I let go and decided to focus on what I can give every day.
I still want the Olympics, for sure. And I still want to win, badly. But I've also made a bigger promise to myself. I am going to give myself to something bigger. I am going to be vulnerable and share my food. I am going to live with faith and I am going smile, win or lose, every day. I am going to find work and do work -- not for myself or for the Olympics, but for my team. Because if there is one thing I am certain of, it is that we are in this thing together. And we have to work and fight for each other.
Rachel Dawson will be blogging for espnW in the lead-up to this summer's London Olympics. Check back in a few weeks for more from Dawson, and read her previous posts here.