February, 21, 2014
Feb 21
7:59
AM ET
AP Photo/Marcy NighswanderGold medalist Kristi Yamaguchi hugs bronze medalist Nancy Kerrigan during figure skating's medal ceremony in 1992.

On this day in 1992, Kristi Yamaguchi won the women's figure skating gold medal in Albertville, France. She became the first American woman to do so since Dorothy Hamill in 1976. Yamaguchi went on to win her second straight world championship shortly after the Games and then turned professional. She was a staple on the Stars on Ice tour for many years and participated in the pro circuit. Today, she is still a well-known figure thanks to winning "Dancing with the Stars" and her work as a figure skating analyst. Since her victory at Albertville, two other American women have stood atop the Olympic podium -- Tara Lipinski in 1998 and Sarah Hughes in 2002. With none of the American women competing in Sochi claiming the top spot -- 18-year-old Gracie Gold finished fourth, 22-year-old Ashley Wagner seventh and 15-year-old Polina Edmunds ninth -- the American gold-medal drought continues until at least the 2018 Olympic Games.
February, 18, 2014
Feb 18
7:56
AM ET
AP Photo/Steven SennePolina Edmunds begins her quest for an Olympic medal Wednesday in the figure skating short program.
Fifteen-year old American figure skater Polina Edmunds may not be as well known as her teammates Ashley Wagner and Gracie Gold, but you would never know it by some of her high-profile fans. The high school sophomore -- who was given three weeks' worth of homework to take to Sochi -- is a student at Archbishop Mitty High School in San Jose, Calif. The same high school that three-time beach volleyball gold medalist Kerri Walsh Jennings and two-time women's soccer gold medalist Brandi Chastain attended. The gold-medal-winning alumni spoke at a pep rally for Edmunds before she headed to Europe, encouraging her to continue their medal-winning ways. Danielle Robinson of the San Antonio Silver Stars can also be counted as an Archbishop Mitty alum. The school has been consistently named one of the top athletic programs in the country by Sports Illustrated and MaxPreps. Edmunds will begin her medal quest on Wednesday as the short program gets underway.
February, 12, 2014
Feb 12
7:48
AM ET
Paul Gilham/Getty ImagesRussian pair Tatiana Volosozhar and Maxim Trankov received a standing ovation from the crowd after their record-setting performance.
Reigning world champions Tatiana Volosozhar and Maxim Trankov of Russia jumped into first place of the Olympic figure skating pairs competition on Tuesday after scoring 84.17 points in their short program.The astounding score marks a world record in the short program, eclipsing the 83.98 mark the pair had set at the European Championships in Budapest last month. The duo enters Wednesday's free skate with a big lead over the rest of the field. Volosozhar and Trankov also currently own the world records for combined total (237.71) and free skate (154.66) scores.


January, 10, 2014
Jan 10
8:44
AM ET
Eric Feferberg/AFP/Getty ImagesMichelle Kwan, left, was the U.S. champion in 1998, but Tara Lipinksi, center, went on to win Olympic gold in Nagano.
With three Olympic bids on the line, all eyes will be the women's free skate at the U.S. Figure Skating Championships in Boston on Saturday night. Gracie Gold will take the lead into the final skate after her dazzling performance in Thursday's short program. Polina Edmunds is in second, followed by Mirai Nagasu in third and defending U.S. champion Ashley Wagner in fourth. But recent history indicates that it might be better to not finish in first. The last American to win the U.S. title and go on to win the Olympic gold medal the same year was Kristi Yamaguchi in 1992. The last American to strike Olympic gold, Sarah Hughes in 2002, finished third at the U.S. Championships that year. At the previous Olympics, Tara Lipinski took home gold after finishing second at the U.S. Championships. Michelle Kwan, the U.S. champion in both 1998 and 2002, finished with the silver and bronze medals respectively.
December, 12, 2013
12/12/13
1:12
PM ET
Toru Yamanka/AFP/Getty ImagesAshley Wagner performed during the ISU Grand Prix of Figure Skating in Japan earlier this month.
We asked two-time U.S. figure skating champion Ashley Wagner five questions about her life away from the ice.
What do you need to consider your day complete?
My day would not be complete without a trip down to the beach to watch the sunset.
What's one thing you will never do?
One thing I know I'll never do is skydive because I appreciate my life too much.
What song best describes your life?
"My Way" by Frank Sinatra.
What is the one thing you really want to do off the ice?
The Color Run and the Run for Your Life 5k obstacle race.
What is your biggest weakness?
Any type of fried food or dairy products.
December, 3, 2013
12/03/13
8:14
AM ET
Daniel Janin/AFP/Getty ImagesKatarina Witt defended her Olympic gold medal in 1988 in Calgary, and no woman figure skater has gone back-to-back since.
Happy birthday, Katarina Witt! The iconic figure skater turns 48 today. The two-time Olympic gold medalist (1984, 1988), four-time world champion (1984, 1985, 1987, 1988) and six-time European champion (1983-1988) is one of the most decorated skaters of all time. Representing the former East Germany, she was named the country's female athlete of the year on multiple occasions. The Nine for IX documentary, "The Diplomat," examines how she was both a beneficiary and a victim of the socialist regime. Witt initially retired in 1988 and pursued acting and performed in skating tours but returned to competition in 1994 and finished seventh at the Lillehammer Olympics. Since hanging up her skates, Witt has had several small film and television roles and was a judge on the UK's "Dancing on Ice." She was inducted into the World Figure Skating Hall of Fame in 1995. She was also the head of Munich's unsuccessful bid to host the 2018 Olympics.
September, 9, 2013
9/09/13
12:41
PM ET
Jacques DeMarthon/AFP/Getty ImagesKnown for her artistry on ice, Michelle Kwan would like to see if she has the same magic gliding across the water on skis.
Michelle Kwan, a nine-time U.S. figure skating champion, five-time world champion and two-time Olympic medalist, currently works for the U.S. State Department and serves on the board of Special Olympics International. The 33-year-old legend recently shared some of her secrets in "W Wants to Know."
What's the one thing you need to consider your day complete? A kiss from my husband, Clay Pell. ... In terms of food, though, a lot of people will laugh at me, but I usually have a salad a day, with chicken and cheese and all the fun vegetables.
What's one thing you know you'll never do? Illegal drugs. I don't want to break the law. I don't want to put things in my body that don't belong in there. There's a long list of reasons why I'd never do them.
What song best describes your life? "God Bless America." The reason is that for 20 years in skating I represented the United States, and I currently work at the State Department. I feel very fortunate to have been the recipient of all the sacrifices from others -- from my coaches to my parents to the choreographers -- during my skating career. In some ways I feel sort of selfish -- everything was focused on me. I had every help, everything that you could imagine for me. Now it's time for me, still representing the United States, to give back.
What is one thing you still really want to do away from the ice? There are so many things I wasn't able to do while I was skating. ... Things that I deemed as dangerous when I was skating. Going for a run -- I never ran because I was afraid I'd twist an ankle. Snowboarding. ... I would love to water ski. I think it's just being active throughout my life and being able to not be afraid and to experiment with a lot of other sports.
What is your biggest weakness? Being too hard on myself. It was the way I was built as a competitor. My coach wasn't the one who kept on pushing me because he knew I was so hard on myself that I would keep on doing it and keep on doing it. He did the opposite of what most coaches did. It was funny -- I was so hard on myself that I needed that person to pull me back. ... Still today, I think the things I do -- like sending out a memo -- could have been done better. I catch myself and stop myself and say, "It's good now, but it could be better."
September, 5, 2013
9/05/13
7:26
AM ET
GEOFF ROBINS/AFP/Getty ImagesKim Yu-na is hoping to join Katarina Witt and Sonja Henie as the only women to win back-to-back Olympic gold medals.
Happy Birthday, Kim Yu-na! The South Korean figure skater, known as Queen Yu-na, celebrates her 23rd birthday today. As the heavy favorite at the 2010 Olympics in Vancouver, the 19-year-old won the gold medal with a performance that likely will be remembered as one of the best of all time. Her score of 228.56 points broke the world record by more than 18 points. Her margin of victory over silver medalist Mao Asada of Japan was more than 23 points. With the gold, Kim became the first skater from South Korea to medal in any discipline of figure skating at the Olympic Games. Back in March, Kim returned to the world figure skating championships for the first time in two years and won by more than 20 points. She is planning to defend her Olympic title next year in Sochi.
June, 25, 2013
6/25/13
8:14
AM ET
Alexander Nemenov/Getty ImagesDespite a rash of setbacks and injuries, Alissa Czisny still has her heart set on making her first Olympic team.
Happy 26th birthday to two-time national figure skating champion Alissa Czisny. And happy birthday to her twin sister, Amber Czisny, as well. The girls, who were born in Sylvania, Ohio on June 25, 1987, started figure skating when they were 1½. Alissa went on to win her first U.S. national title in 2009. She failed to make the U.S. team for the 2010 Vancouver Olympics after finishing 10th at nationals. She then rebounded to win nationals again in 2011, outskating defending champion Rachael Flatt. Disappointment arrived again, though, when she finished 22nd at the world championships in 2012 and then had surgery on her left hip to repair a labral tear. Earlier this year, she was forced to withdraw from nationals after dislocating her left hip during a warm-up event. Will she be able to rebound again and make it to Sochi? Only time will tell.
January, 25, 2013
1/25/13
9:31
AM ET
By
Lizzie Haldane
| ESPN.com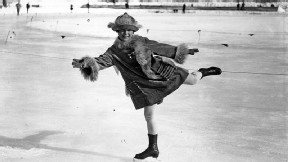 Central Press/Getty ImagesSonja Henie was just 11 at the inaugural Winter Olympics.
France's Chamonix played host to the first ever Winter Olympics 89 years ago today. The United States, one of 16 nations represented, won four medals, including the first of the Games, when Charley Jewtraw won the 500-meter speedskating. Beatrix Loughran, one of two American women at the Games, contributed a silver in figure skating. Norway's Sonja Henie, just 11 at the time, finished last. She would go on to win gold at the next three Olympics.