April, 7, 2014
4/07/14
12:59
AM ET
By
Cody Milardo
| ESPN.com
Cody MilardoCody Milardo, left, joins in on the Storrs celebration Sunday night as the women's basketball team kept its perfect season alive.
Cody Milardo is a senior at UConn and has been on the men's and women's track beat for the past two years for the student newspaper, The Daily Campus.
STORRS, Conn -- Experiencing a national championship as a student is a rare occurrence, no matter what university you attend. As a senior at the University of Connecticut, my classmates and I have been privileged to already go through a successful national championship run of the women's basketball team a year ago, and campus is abuzz about the prospects of an undefeated season capped by a second consecutive championship.
"I have been a UConn fan my entire life," senior bio-chemistry major Ashley Tran said. "Both of my parents went to UConn and my older brother went to UConn, too. So I guess I have UConn in my blood. We are used to success with the women's team and Geno [Auriemma] is amazing, but the joy of winning a championship never gets old. It's such a thrill every year."
[+] Enlarge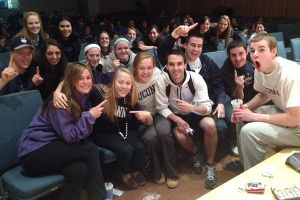 Cody MilardoIt didn't matter to the fans at the Connecticut Student Union theater that they weren't actually in Nashville.
Hundreds of students joined Tran in the Student Union theater on campus Sunday night to watch the Huskies top Stanford 75-56 in the national semifinal, and they were not disappointed.
Familiar chants of "Let's go Huskies!" and "U-C-O-N-N, UConn, UConn, UConn!" filled the small confines of the theater. As if they were actually in Nashville attending the game, students raised their hands during free throws and stood while clapping until the first basket of each half, which have always been Husky traditions.
When UConn trailed for a large portion of the first half, the crowd was getting a bit anxious, but when the Huskies went on their run at the end of the half, as they so often do, the energy as well as the decibel level picked up.
"Even though we were down, I never had any doubts about the outcome of the game," junior Christine Butler said following the win. "Some people were starting to get nervous, but I have been to almost every home game for the women this year and I know how great they are. We are undefeated for a reason."
Now the Huskies head to the ultimate game of the season against the Irish of Notre Dame. The excitement about a tilt against our old rival for the national championship has been talked about at Storrs since the bracket was released 20 days ago, and now it is finally a reality. The past few seasons have all included Notre Dame-UConn dogfights, and Tuesday night figures to be no exception with physical, hard-nosed play. That game will be shown on big-screen projectors in Gampel Pavilion, UConn's on-campus arena, which is a much larger venue than the Student Union theater. Thousands of students are expected to attend, just as they will Monday night for the men's championship game.
After leading the loudest UConn chant of the night, freshman Kerry Matteson expressed his emotions following the game.
"It just had to be Notre Dame; there couldn't be a more fitting team to face with the championship on the line," Matteson said. "We have a history with each other that's just as bitter as the rivalry we used to have with Tennessee. Being a freshman, it's just such an incredible experience to have both the men's and women's team in the championship game in the same year."
I'd say Matteson summed up most students' feelings pretty well. It's UConn vs. Notre Dame for the national championship in a game where one team will get its first and only loss of the season, while the other will be crowned champions to top off an undefeated season. It sure will be fun.
April, 6, 2014
4/06/14
8:59
AM ET
By
Anna Wilson
| ESPN.com
Eric Lars Bakke/ESPN ImagesAnna Wilson knows her basketball future is in good hands with Stanford coach Tara VanDerveer.
Anna Wilson, a sophomore at Collegiate (Richmond, Va.), is one of the best high school basketball players in the nation. The 5-foot-7 point guard, who has given a verbal commitment to Stanford, is also the sister of NFL star Russell Wilson. She blogs for espnW.
In the past couple of days I have been asked what is it like being a recruit for Stanford when the team is about to play on one of the biggest stages – the 2014 women's basketball Final Four in Nashville.
Well, on behalf of myself and other prospects for Stanford, Connecticut, Notre Dame and Maryland, it is a blessing.
About this time last year [freshman year in high school], I was unsure of where I wanted to spend my four years of college. So while watching March Madness I would look to see which program would be the best fit for me. Little did I know that five months later I would be making my decision not based on basketball, but based on the biggest stage -- the classroom.
I chose Stanford because of the challenge I knew it was going to give me. I wanted to do something other people might not choose to do, to take the road less traveled. I knew what the process would be like and if I wanted to play at a school like Stanford; school needed to come first. Before committing I told my teachers I was interested in going to Stanford and I needed to be prepared academically.
Choosing Stanford as the place to play college basketball was the easier decision. Coach VanDerveer is one of the best. When I watch her coach, I see someone who is a motivator, teacher and leader for her players. She has done so many special things at Stanford, and I just want to be a part of that.
When it comes down to it, I am incredibly thankful and humbled to be a Stanford recruit.
Go Stanford!
April, 3, 2014
4/03/14
8:14
AM ET
Frederick Breedon/Getty ImagesCapacity crowds are expected for both sessions of the women's Final Four starting this weekend at the Bridgestone Arena in Nashville.
One of the teams is the same, but the numbers are vastly different from 33 years ago. With Maryland, Stanford, Connecticut and Notre Dame set to open the women's Final Four on Sunday, we flash back to the women's first Final Four in 1982 to see how times have changed. With a 32-team bracket in 1982, Maryland (back in 2014 for its fourth Final Four), Louisiana Tech, Tennessee and Cheyney State -- a small, historically black college outside of Philadelphia coached by C. Vivian Stringer -- advanced to the Final Four in Nofolk, Va. A crowd of 6,000 attended the semifinals, and 9,531 were in attendance to watch Louisiana Tech, which featured All-American point guard Kim Mulkey, defeat Cheney 76-62 in the title game. Tickets for the weekend ranged from $5-$7 and 37 media credentials were granted. With tickets already sold out for both sessions of the 2014 Final Four, the semifinals and championship are expected to draw capacity crowds of nearly 20,000 at the Bridgestone Arena in Nashville. The price of tickets for both Sunday and Tuesday range from $170-$915, and remain higher on the secondary market. An exact tally of media credentials has yet to be released, but the record for most ever was set in Philadelphia in 2000, with a whooping 692 members of the media covering the event.
April, 8, 2013
4/08/13
8:43
AM ET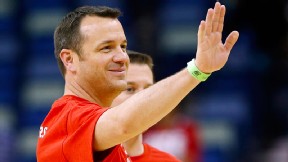 AP Photo/Dave MartinOne of the brightest stars Jeff Walz has ever coached is his sister, Jaime, who was the national high school player of the year in 1995-96.
Jeff Walz has led his Louisville women's basketball team to the national championship game on Tuesday against Connecticut, but he's not the only member of his family to grab headlines in the Bluegrass State and beyond. Walz's younger sister, Jaime Richey, was the Gatorade girls' basketball national player of the year in 1995-96 after scoring 4,948 career points for Highlands (Fort Thomas, Ky.). She then went on to star at Western Kentucky and helped lead the Hilltoppers to three NCAA tournament appearances. One of Walz's first coaching jobs was for Jaime's AAU team. Richey is currently the girls' basketball coach at Highlands and is in New Orleans cheering her brother on.
Read more WFYIs.
April, 6, 2013
4/06/13
10:16
AM ET
By
Lizzie Haldane
| ESPN.com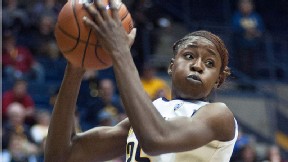 Ed Szczepanski/USA TODAY SportsIn addition to making their first Final Four appearance, Gennifer Brandon and Cal won a school-record 32 games this season.
Connecticut is making a record sixth straight Final Four appearance, but it has a ways to go to catch Tennessee for the most all-time. The Lady Vols have made 18 Final Four appearances, followed by UConn with 14, Stanford with 11 and Louisiana Tech with 10. California, on the other hand, is playing in the first Final Four in program history.
Read more WFYIs.
April, 5, 2013
4/05/13
8:54
AM ET
By
Lizzie Haldane
| ESPN.com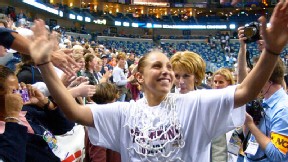 AP Photo/Mark HumphreyDiana Taurasi led UConn to the title over Tennessee the last time the Final Four was in New Orleans.
In the 32 years of the women's NCAA tournament, New Orleans becomes the first city to host the Final Four three times. Connecticut has been there all three times, winning the title in 2004 and falling in the semifinals in 1991, when Tennessee won the championship. A total of 22 cities across the country have hosted the Final Four. Next year, Nashville will host the semifinals and final for the first time.
Read more WFYIs.