April, 30, 2014
Apr 30
7:43
AM ET
AP Photo/Cheryl GerberEli Manning, one of many sports stars to call Louisiana home, has worked with Katrina Krewe to clean up the streets of New Orleans.

On this day in 1812, Louisiana became the 18th state. After acquiring the region from France in 1803 through the Louisiana Purchase, the territory became a state exactly nine years later. While Louisiana is known today for its Mardi Gras celebrations, jazz music and Cajun food and culture, it also has produced some of America's most notable athletes. The impressive list of native Louisianians includes two-time NBA MVP Karl Malone, two-time Naismith Trophy winner and WNBA Finals MVP Seimone Augustus (who is celebrating her 30th birthday today as her home state celebrates its 202nd), five-time NFL MVP and one-time Super Bowl MVP Peyton Manning, two-time Super Bowl MVP Eli Manning, three time NCAA basketball champion Kim Mulkey (twice as a coach and once as a player), and four-time Super Bowl champion Terry Bradshaw.
April, 3, 2014
Apr 3
8:14
AM ET
Frederick Breedon/Getty ImagesCapacity crowds are expected for both sessions of the women's Final Four starting this weekend at the Bridgestone Arena in Nashville.
One of the teams is the same, but the numbers are vastly different from 33 years ago. With Maryland, Stanford, Connecticut and Notre Dame set to open the women's Final Four on Sunday, we flash back to the women's first Final Four in 1982 to see how times have changed. With a 32-team bracket in 1982, Maryland (back in 2014 for its fourth Final Four), Louisiana Tech, Tennessee and Cheyney State -- a small, historically black college outside of Philadelphia coached by C. Vivian Stringer -- advanced to the Final Four in Nofolk, Va. A crowd of 6,000 attended the semifinals, and 9,531 were in attendance to watch Louisiana Tech, which featured All-American point guard Kim Mulkey, defeat Cheney 76-62 in the title game. Tickets for the weekend ranged from $5-$7 and 37 media credentials were granted. With tickets already sold out for both sessions of the 2014 Final Four, the semifinals and championship are expected to draw capacity crowds of nearly 20,000 at the Bridgestone Arena in Nashville. The price of tickets for both Sunday and Tuesday range from $170-$915, and remain higher on the secondary market. An exact tally of media credentials has yet to be released, but the record for most ever was set in Philadelphia in 2000, with a whooping 692 members of the media covering the event.
March, 24, 2014
Mar 24
8:04
AM ET
AP Photo/Michael ConroyBaylor coach Kim Mulkey has won a total of four national titles as a head coach, assistant and player.

She's late to the dance, and history could be waiting. Baylor coach Kim Mulkey, who served an NCAA suspension in the Lady Bears' 87-74 first-round victory over Western Kentucky on Saturday, will be making her 2014 NCAA tournament debut tonight when second-seeded Baylor takes on Cal in the second round (8 p.m. ET on ESPN2/Watch ESPN) with a trip to the Sweet 16 on the line. Mulkey is the only person in the history of the NCAA women's basketball tournament who has won a national championship as both a player and a head coach. Mulkey was a member of the 1982 Louisiana Tech squad, winner of the inaugural NCAA title, and has coached Baylor to championships in 2005 and 2012. Three people have achieved this feat on the men's side -- Bobby Knight (Ohio State, Indiana), Dean Smith (Kansas, North Carolina) and Joe B. Hall (Kentucky). Among the elite group, Mulkey is the only one who has also won a national title as an assistant (Louisiana Tech, 1988). Mulkey, who served the one-game suspension for criticizing officials after the then-defending national champion Lady Bears lost to Louisville in a Sweet 16 game last March, is trying to make more history as just the third women's head coach to win three or more NCAA championships.
March, 18, 2013
3/18/13
8:15
AM ET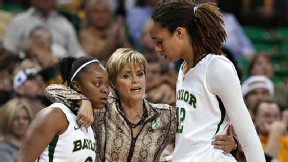 AP Photo/LM OteroKim Mulkey will try to show Brittney Griner and Odyssey Sims the way to a repeat national championship.
Reigning NCAA women's basketball champion Baylor finds out the path it will have to successfully navigate in its quest to win a second straight national title Monday night when the brackets are unveiled. The Lady Bears are looking to become the sixth team to repeat as national champions, following Connecticut (2009-2010), Tennessee (2007-08) and USC (1983-84) as well as threepeat winners Connecticut (2002-04) and Tennessee (1996-98). Bears coach Kim Mulkey is no stranger to defending national titles. As a freshman at Louisiana Tech, she won the AIAW title in 1981 and then went on to win the first NCAA title as a sophomore in 1982.
Read more WFYIs.