September, 19, 2014
Sep 19
9:37
AM ET
Tennis players from across the globe sent well wishes to Li Na, who announced her retirement on Friday.
Li, who takes two Grand Slam trophies into the next chapter in her life, was respected for her hard work and skill but beloved for her humor and honesty.
She announced her retirement in a letter that was posted on social media sites.
Here's what some of her contemporaries/admirers had to say.
Landing in China to the news of miss Li Na retiring :( what a great player,hilarious girl and an… http://t.co/POjvAIlHqv

— victoria azarenka (@vika7) September 19, 2014
Li Na, one of the funniest and nicest players on tour! A great competitor and a role model both on and… http://t.co/fqAbGZnWMg

— Caroline Wozniacki (@CaroWozniacki) September 19, 2014
So sad to hear of the retirement of my good friend Li Na. I will miss practising with her, playing great battles.. pic.twitter.com/cc5PewruJl

— Petra Kvitova (@Petra_Kvitova) September 19, 2014
against her and most of all I will miss seeing her smiling face and hearing her laugh. She was an inspiration and gave so much to the game

— Petra Kvitova (@Petra_Kvitova) September 19, 2014
And that wasn't all.
What An honour/ pleasure it was competing against this great champion/person #linaretired pic.twitter.com/PyocvOX1on

— Kim Clijsters (@Clijsterskim) September 19, 2014
What a champion and an amazing person ! She'll be really missed on Tour. All the best in your new life !!! pic.twitter.com/lF9p1F69KL

— Angelique Kerber (@AngeliqueKerber) September 19, 2014
Really going to miss Li Na on the tour. An amazing person and champion.

— Madison Keys (@Madison_Keys) September 19, 2014
Sad news that Li Na retired,but you have had an amazing career,you were great player,fighter,and most… http://t.co/taEALYhZTD

— A. Pavlyuchenkova (@NastiaPav) September 19, 2014
There was more still.
I had the privilege to know her and to compete by her side. What a great person and champion! Li Na,… http://t.co/AS8Tc2p9Nv

— Kristina Mladenovic (@KikiMladenovic) September 19, 2014
congratulations to Li Na- a tremendous career , built on hard work dedication and perseverance - enjoy your next chapter #lifesjourney

— Paul Annacone (@paul_annacone) September 19, 2014
What an amazing person and champion!!! You will be missed on tour but amazing new chapter ahead of… http://t.co/DILC7LntOU

— Ana Ivanovic (@AnaIvanovic) September 19, 2014
court side in melbourne for @espntennis when Li Na won her 2nd and last major. What a great career. pic.twitter.com/z6R6c24Rrj

— Pam Shriver (@PHShriver) September 19, 2014
And even more than that ...


Thank u #LiNa for everything you had done for tennis in China and worldwide! Enjoy your new life outside of competitive tennis!

— Vera Zvonareva (@verazvonareva) September 19, 2014
So sad hearing about Li Na' retirement.Great champion and athlete,nice and funny girl.We are gonna miss u.All the best#newchapter

— Elena Vesnina (@EVesnina001) September 19, 2014
What a life and what a career for Li Na! Thanks for being so honest,special and down to earth. I will miss you...

— Barbara Schett-Eagle (@Babsschett) September 19, 2014
So sad hearing of Li Na's retirement.What a great athlete and person.Gonna miss you girl... #newchapter #allthebest

— Jule Goerges (@juliagoerges) September 19, 2014
An outpouring of love like that doesn't come often. Tennis is clearly going to miss her.
September, 18, 2014
Sep 18
12:13
PM ET
By
D'Arcy Maine
| ESPN.com
Two-time Grand Slam champion and beloved tennis star Li Na reportedly is set to announce her retirement on Friday. I will now give you a minute to try and collect yourself.
Ranked No. 6 in the world, Li has been hobbled by a knee injury and has not played since losing in the third round at Wimbledon in June. Rumors about her retirement have been swirling for months.
#LiNa, China's two-time Grand Slam winner, expected to announce #retirement due to injuries, according to her agent pic.twitter.com/3fTFL9hYvO

— CCTVNEWS (@cctvnews) September 18, 2014
Li has been featured on the cover of Time Magazine as one of the 100 most influential people in the world and was listed by Forbes as the second-highest paid female athlete in the world (behind Maria Sharapova) in 2014. Her success and popularity is widely credited for the tennis boom in her home country of China and all of Asia.
But even before there was any official word from the international superstar, fans on both Twitter and Chinese microblogging site Weibo were distraught over the news.
Tennis reacts to the Li Na rumors. pic.twitter.com/yi4e6vynOH

— Courtney Nguyen (@FortyDeuceTwits) September 18, 2014
I can only hope that these rumours about Li Na's retirement are false. Love her personality and the way she plays .

— Orsolya Bányai (@orsibanyai) September 18, 2014
If Li Na does retire, it will be a sad day for tennis. She has almost single-handedly created the market for tennis in Asia.

— rachel (@xorchl) September 18, 2014
I can only imagine what the reaction will be, from both her fans and peers alike, if she actually announces her retirement on Friday. Brace yourselves for a day of sorrow on your social media feeds.
See something entertaining on social media that you think deserves to be shared? Let me know on Twitter, @darcymaine_espn.
August, 12, 2014
Aug 12
3:25
PM ET
When it comes to victories, Maria Sharapova can't touch Serena Williams' trophy case. However, that doesn't stop Sharapova from beating out Williams for the title of the world's highest-paid female athlete in 2014.
Sharapova's endorsement deals put her atop the list with earnings of $24.4 million between June 2013 and June 2014, according to Forbes.com. She's followed by Li Na, Williams, Kim Yuna and Danica Patrick. Read more about each, and find out who's in the rest of the top 10,
over at Forbes.com
.
February, 26, 2014
Feb 26
7:24
AM ET
AP Photo/Aaron FavilaLi Na got an early birthday present with a Grand Slam victory in Melbourne last month.
Happy birthday, Li Na! The reigning Australian Open champion turns 32 today. Ranked No. 2 in the world, Li joined the professional ranks in 1999 and became the first Chinese player to win a WTA title in 2004. She has won a total of nine WTA titles, including two Grand Slams (2011 French Open and 2014 Australian Open) and has become one of the most popular public figures in China. Li was one of just four athletes to be named to Time magazine's "100 Most Influential People in the World" in 2013. Due in large part to her affable nature and hilarious post-match interviews, Li is considered among the tour's most well-liked players by fans and peers alike. She is scheduled to compete at Indian Wells, Calif., at the BNP Paribas Open next week.
September, 6, 2013
9/06/13
9:10
AM ET
Timothy A. Clary/Getty ImagesSerena Williams is hoping to join Steffi Graf and Margaret Court as five-time winners at the US Open.
Serena Williams enters the semifinals as the United States' lone chance at a singles champion at the 2013 US Open. American women have won 89 of the 126 singles titles awarded at the US Open. Those 89 titles have been won by 35 different women. The other women's semifinalists – Li Na of China, Victoria Azarenka of Belarus and Flavia Pennetta of Italy – are hoping to claim the first US Open women's singles title in the history of their countries. Other than the United States, only three countries have won more women's singles titles than Serena -- Australia with six and Belgium and Germany with five. The men's semifinalists represent Serbia (Novak Djokovic), Spain (Rafael Nadal), France (Richard Gasquet) and Switzerland (Stanislas Wawrinka).
April, 26, 2013
4/26/13
8:21
AM ET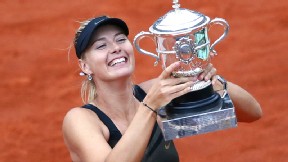 Kenzo Tribouillard/AFP/Getty ImagesMaria Sharapova became the 10th woman to win a career Grand Slam when she defeated Sara Errani at the 2012 French Open.
One month from today, on May 26, the French Open opens at Roland Garros. The tournament dates back to 1891, and the first women's singles champion was crowned in 1897 when Adine Masson won the trophy. In the Open Era, Chris Evert has won the most titles on the red clay, with seven. This year's draw is expected to feature six former champions: Maria Sharapova (2012), Li Na (2011), Francesca Schiavone (2010), Svetlana Kuznetsova (2009), Ana Ivanovic (2008) and Serena Williams (2002).
Read more WFYIs.