July, 17, 2013
7/17/13
8:48
AM ET
John Buckle/Pool/Getty ImagesSerena Williams and Monica Seles (1993) are the only tennis players who have won best female athlete at the ESPYS.
Tonight at the ESPYS (ESPN, 9 ET), Serena Williams looks to become the first three-time winner of the
best female athlete award
. Williams, who has won 16 Grand Slam singles titles in her career, already has won seven career ESPYS, including five for best female tennis player. Gymnast Gabby Douglas, swimmer Missy Franklin and basketball player Brittney Griner are the other nominees for best female athlete. Williams, who is one of three nominees for best female tennis player – along with Maria Sharapova and Victoria Azarenka -- can also become the most decorated woman in ESPNYS history. Former golfer Annika Sorenstam, who was named best female golfer six times and best female athlete twice, is the current record-holder with eight. Besides Sorenstam (2005-06) and Williams (2002-03), skier Lindsey Vonn (2010-11) and soccer player Mia Hamm (1998 and 2000) also have won the best female athlete award twice.
February, 5, 2013
2/05/13
3:19
PM ET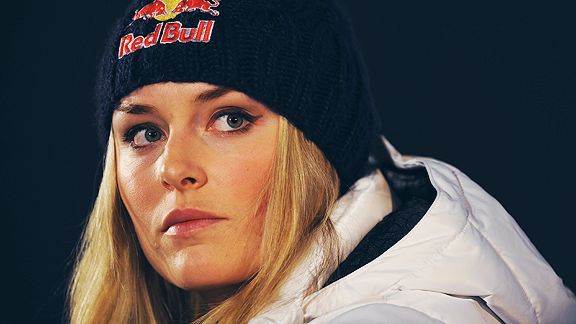 Clive Mason/Getty ImagesThe U.S. Ski Team said Vonn is expected to return for the 2013-14 World Cup season.
Just when things were starting to look up for Lindsey Vonn, the American skier crashed out of Tuesday's super-G at the world championships and suffered an injury that could make her path back to the Winter Olympics a lot more difficult.
Vonn had completed the fastest first interval on the course, but later suffered a torn ACL and MCL in her right knee, as well as a lateral tibial plateau fracture. She will miss the rest of this World Cup season. The opening ceremonies for the Sochi Olympics are set for Feb. 7, 2014.
"This is a very complex injury," said Dr. Daniel Kharrazi, an orthopedic surgeon at Kerlan-Jobe Orthopaedic Clinic in Los Angeles. He has not treated Vonn, but is familiar with the type of injury she suffered. While the U.S. Ski and Snowboard Association put out a news release Tuesday saying Vonn is expected to return for the 2013-14 World Cup season and 2014 Sochi Games, Kharrazi estimated it could take as long as a year before Vonn can start training again, depending on the severity of the fracture. A simpler ACL/MCL combination tear would only require six to nine months of recovery.
It has been a difficult stretch for the 28-year-old Olympic champion. Vonn missed almost a month of World Cup action to recover from an intestinal illness, but she had won two races since returning to competition last month. Vonn was feeling some optimism, judging from one of her most recent tweets after a giant slalom World Cup win in Slovenia.
"Wow ... this was unexpected! First win in GS this season... I don't know what to say. Thanks for the support."
Her divorce from her former coach, Thomas Vonn, was finalized last month. She also said earlier this week that her sponsor, Red Bull, had hired security for the popular skier during worlds. In recent weeks, her publicist, Lewis Kay, issued a statement in response to reports that Vonn was dating golfer Tiger Woods.
"Lindsey is currently in the midst of the World Cup season in Europe," the statement read. "Her focus is solely on competing and on defending her titles and thus she will not participate in any speculation surrounding her personal life at this time."
Before the start of worlds, Vonn was asked about the alleged relationship and whether Woods was coming to watch her compete in Austria.
"Oh, my god! I don't know," Vonn was quoted as telling reporters. "You should ask him."
Vonn did open up about her divorce to People magazine in December. She said it was hard to admit that the union had become unbearable. She and Thomas Vonn met when she was just 16 while both were competing, but she said things weren't perfect and she had battled intense depression for years.
"Divorce doesn't fit my cookie-cutter image," Vonn told People. "But I got to the point where I said, 'I don't care if I ever win another race; I just can't live like this.'"
After the article came out, Vonn announced she was taking a break to fight her stomach bug, and she made it clear the hiatus had nothing to do with the story.
"I had completed that interview weeks before I was in the hospital with the intestinal infection," Vonn told fans on her Facebook page.
Now the skier will be on another enforced break, one that could be a setback on the road to Sochi.