August, 8, 2013
8/08/13
8:24
AM ET
AP Photo/Elaine ThompsonTina Thompson is averaging 12.8 points and 5.3 rebounds per game this season for Seattle.
On this day in 2010, Tina Thompson hit a 16-foot jumper for the Los Angeles Sparks to pass Lisa Leslie's record of 6,263 points and become the WNBA's all-time leading scorer. "It's only points," Thompson said at the time. Three years later, Thompson, who is now with the Seattle Storm, is at 7,265 points and counting. Katie Smith of the Liberty is in second place on the list at 6,347 points. Leslie remains in third.
May, 23, 2013
5/23/13
8:14
AM ET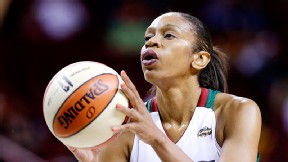 AP Photo/Elaine ThompsonTina Thompson became the first draft pick in WNBA history when she was selected by Houston in 1997.
On the eve of the 2013 WNBA opener, it's time to tip our caps to some of the record-holders in the league's first 16 seasons. Let's start with Seattle's Tina Thompson, who is the WNBA's all-time leading scorer with 7,009 points. Thompson, the only player to play in all 16 WNBA seasons, also is the all-time leader in minutes played with 15,113 and counting. Ticha Penicheiro, who retired at the end of last year, is the league's all-time assists leader with 2,599. Legend Lisa Leslie is the league's all-time leading rebounder with 3, 307.
Read more WFYIs.
April, 11, 2013
4/11/13
1:15
PM ET
By
espnW staff
| ESPN.com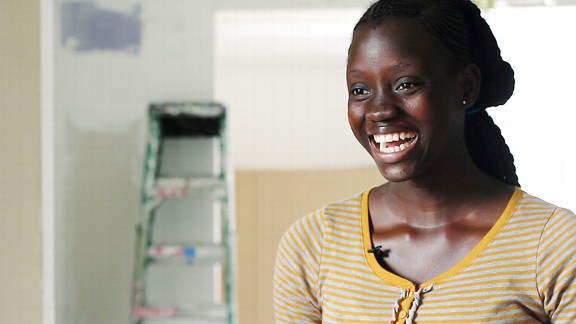 U.S. Department of StateDagces Goodridge was one of the participants in this past weekend's State Department event at the Final Four.
Long after the bright lights of March Madness dimmed, 24 female athletes from Liberia, Lithuania, Pakistan, the Philippines, Saudi Arabia and Venezuela are taking home memories and lessons of their time in the United States to pay it forward to women and girls in their countries.
As part of the State Department's global efforts to empower women and girls, these young athletes were fortunate to meet the likes of Baylor's Brittney Griner and Indiana Fever star Tamika Catchings and see the top women's basketball teams in the country compete for a national championship.
While they may swoon over the stars they met, it will be the lessons of Title IX -- of opportunity and equality -- that they will propel them forward on the field, in the classroom and in society once they return home.
One of these emerging athletes is Dagces Goodridge of Liberia. The 15-year-old is in the 11th grade and has played basketball for three years. Here, she shares her thoughts on her first trip to the United States, the status of sports for women and girls in Liberia and how she has learned to love the game of basketball:
On coming to the United States
"This is my first trip [to the United States] and WOW! It's so nice! I don't even have words to describe it. [I was coming to the U.S.] for training and playing basketball with other teams. It's so fun! We went shopping, we played games other than basketball. We met people in different programs apart from basketball. I'm having fun. Here, I made new friends and I understood what it's like to be friends with other people ... it's teamwork."
Status of sports for women and girls in Liberia
"Sports for girls in Liberia, it's not so good. A lot of girls like basketball, but because of the financial status ... we don't have enough stuff in our country, so it's hard. As for football, it's hard. People start talking to you like, 'You're going to be ugly like a man if you play that sport.' So, for girls in my country, sport is not good. People pay more attention to boys than girls when it comes to sports. My dad is tall and he has two basketball teams, so he encourages me every day."
For love of the game
"I love basketball because I'm tall; I have the height for basketball. I got a lot of encouragement from my friend's family. I was this tall and they said, 'Are you playing basketball? You have good height, you could play basketball and make money.' And I said, 'Well, I don't like it.' But, I started playing and now I like basketball -- it makes me happy. Even though I hate losing, when I'm on the court, I'm happy playing with other people. Even though they may beat me, I have to shake their hands; I have to do it. When I am in college -- like 20 or 21 -- through sports, I'm going to empower other people. We are strong women for a better world, and I'm going to empower other people to make a better world!"
Here are photos from the girls' trip to the Final Four in New Orleans: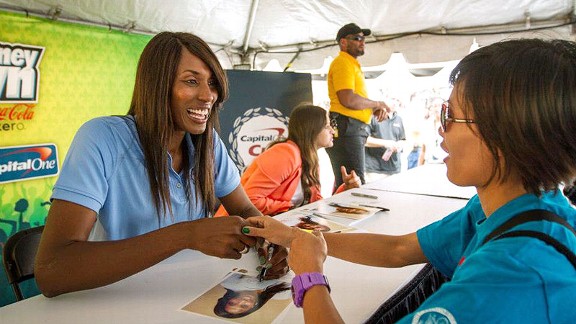 University Of Tennessee's Center for Sport, Peace and Society Sammielyn Semino, right, a basketball coach from the Philippines, meets with WNBA great Lisa Leslie.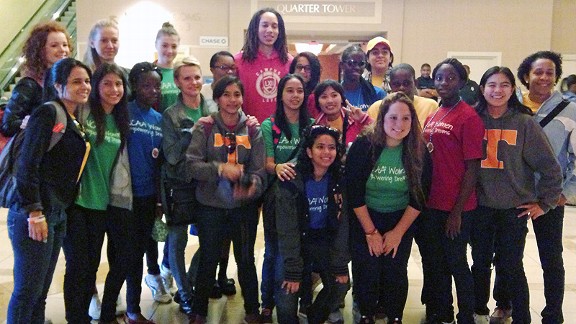 University Of Tennessee's Center for Sport, Peace and Society All-American Brittney Griner meets with emerging athletes and coaches from Liberia, Lithuania, Pakistan, Philippines, Saudi Arabia and Venezuela.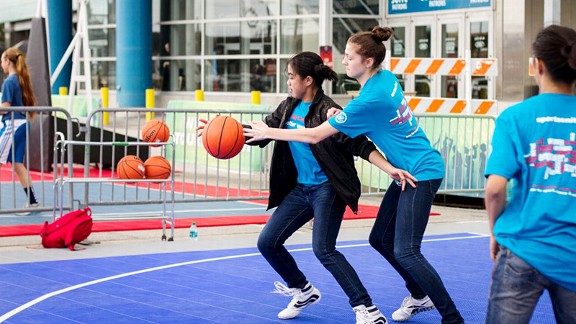 University Of Tennessee's Center for Sport, Peace and SocietyPlaying a little pick up! Martyna Petrnait of Lithuania, right, and Marian Domingo hit the hard court at Tourney Town in New Orlenans.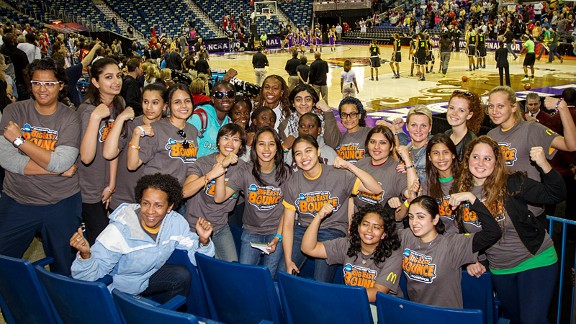 University Of Tennessee's Center for Sport, Peace and SocietyWNBA champion Tamika Catchings meets with emerging female athletes. Catchings recently returned from Thailand, where she and fellow WNBAer Ebony Hoffman led clinics and conversation to empower women and girls in Bangkok.
The Empowering Women and Girls Through Sports Initiative was launched in 2012 by former Secretary of State Hillary Rodham Clinton. So far, it has engaged over 4,000 women and girls in more than 70 countries worldwide. Built on the core belief that empowering women and girls is not only the right thing to do, but also the smart thing to do, this initiative aims to increase women and girls' participation in sports. The cornerstone of this effort is the State Department and espnW Global Sports Mentoring Program, which works to engage, inspire and empower a new generation of women and girls through sports.
February, 16, 2013
2/16/13
7:25
AM ET
By
Lizzie Haldane
| ESPN.com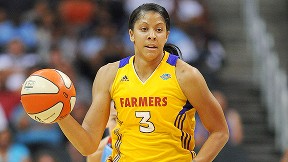 Kirby Lee/Image of Sport/US PresswireCandace Parker actually won a dunk contest against the guys in high school.
Today's NBA Slam Dunk Contest has been hosted since 1984, coincidentally the same year Georgeann Wells became the first woman to dunk in college ball. More recently, Baylor standout Brittney Griner brought the dunk into the spotlight, extending her NCAA record number of dunks to 13. The hopeful top draft pick is set to join other dunkers in the WNBA this spring. The Los Angeles Sparks' Lisa Leslie was the first in 2002, and the Sparks' Candace Parker, who won the McDonald's dunk contest as a senior in high school in 2004, was the first to dunk twice in one game.
Read more WFYIs.