espnW:

Major League Baseball
May, 9, 2013
5/09/13
7:08
AM ET
By
Lizzie Haldane
| ESPN.com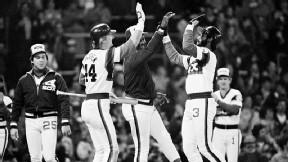 AP Photo/Fred JewellHarold Baines hit a solo home run in the 25th inning to give the White Sox the 7-6 win.
Today marks the 29th anniversary of the longest game in Major League Baseball history, when the Chicago White Sox and the Milwaukee Brewers concluded 25 innings in 8 hours and 6 minutes. The game started at 7:30 p.m. on May 8, 1984, and at 1 a.m. on May 9, the umps paused play and picked up in the 18th inning the next day. It ended with a 7-6 victory for Chicago. Even though it's the longest game in time, it was not the longest in innings -- that accolade goes to the Brooklyn Dodgers and the Boston Red Sox back in 1920. After 26 innings, the score remained 1-1 and it was called a tie.
Read more WFYIs.
May, 1, 2013
5/01/13
9:04
AM ET
By
Lizzie Haldane
| ESPN.com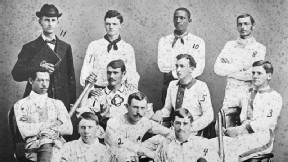 AP PhotoMoses Fleetwood Walker, middle row far left, and his brother Weldy, back row, were part of the varsity baseball team at Oberlin College before playing in the majors.
Before there was Jackie Robinson, there was Fleet Walker. On this date in 1884, Moses Fleetwood Walker became the first African-American to play Major League Baseball when he made his American Association (modern-day American League) with the Toledo Blue Stockings. His debut came 63 years before Robinson is credited for breaking the color barrier in 1947 with the Brooklyn Dodgers. Wondering why you haven't heard of Walker? Well, the catcher sustained a season-ending injury in July of 1884 and then spent the rest of his career in the minors. Walker may not be remembered, but today he's not forgotten.
Read more WFYIs.
February, 22, 2013
2/22/13
8:35
AM ET
By
Lizzie Haldane
| ESPN.com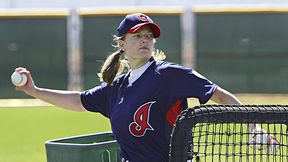 AP Photo/Mark DuncanJustine Siegal says many girls and women tell her she's living their dream.
Only one woman has participated in MLB spring training as a player -- and that was 36-year-old Justine Siegal, who pitched to the Cleveland Indians during batting practice in 2011. She later went on to pitch batting practice for the Oakland Athletics, Tampa Bay Rays, St. Louis Cardinals, Houston Astros and New York Mets. Siegal also became the first woman to coach first base in a men's professional baseball, for Brockton (Mass.) in 2009. While an assistant at Springfield College, she was the only female coach in the collegiate baseball ranks. The 33-year veteran of the sport founded Baseball for All, a nonprofit organization that aims to break down barriers in baseball.
Read more WFYIs.