September, 9, 2014
Sep 9
2:03
PM ET
By
D'Arcy Maine
| ESPN.com
Football is a great thing. Clothes are also a great thing. The national anthem is a great thing. Combined, however?
Please check out Maryland's uber-patriotic uniforms for Saturday's matchup against West Virginia featuring a red, white and blue color scheme and the "Star-Spangled Banner" lyrics written on the sleeves.
.@umterps showing off their patriotism this week. --> PHOTOS: http://t.co/ijWVgmpmYL pic.twitter.com/JPcTRZDWrq

— CollegeFootball 24/7 (@NFL_CFB) September 9, 2014
The uniforms commemorate the 200th anniversaries of the national anthem and the Battle of Baltimore at Fort McHenry. Here's a video from Under Armour to explain:
It's a noble premise, but sigh. Joan Rivers would have had a field day with this one.
See something entertaining on social media that you think deserves to be shared? Let me know on Twitter, @darcymaine_espn.
April, 4, 2014
Apr 4
8:59
AM ET
Jonathan Ferrey/Getty ImagesCam Newton and Auburn beat Oregon in the most recent meeting of two unbeaten teams in a national title game.
With just the semifinals standing in the way of a clash of unbeatens between UConn (38-0) and Notre Dame (36-0) in the NCAA women's basketball tournament, we look back at the 12 previous NCAA championship games between perfect teams.
Auburn vs. Oregon football, 2010: Led by quarterback Cam Newton, the Tigers edged the Ducks 22-19 in the BCS National Championship.
Alabama vs. Texas football, 2009: After the Longhorns lost star quarterback Colt McCoy to injury early, the Crimson Tide capitalized and took home the BCS title with a 37-21 victory.
USC vs. Oklahoma football, 2004: Despite entering the game with matching 12-0 records, the Trojans routed the Sooners 55-19 in the BCS Championship. The title was later stripped from the Bruins for NCAA violations and no champion is recognized from that season.
Miami vs. Ohio State football, 2002: Bringing a 34-game winning streak into the BCS Championship, the Hurricanes fell to the Buckeyes in a double-overtime classic, 31-24.
Florida State vs. Virginia Tech football, 1999: The Seminoles held off a second-half rally by the Hokies for a 46-29 victory and claimed their second national championship.
Long Beach State vs. Penn State women's volleyball, 1998: The 49ers became the first volleyball program in Division I history to finish the season undefeated by topping the Nittany Lions. Long Beach State was led by now-icon and three-time Olympic gold medalist Misty May.
Marshall vs. Montana football, 1996: The Thundering Herd, featuring Randy Moss and Chad Pennington, captured their second NCAA Division I-AA title with a 49-29 victory over the Grizzlies.
Old Dominion vs. Iowa women's field hockey, 1992: The Monarchs took home their third consecutive national title, and seventh overall, with a 4-0 win over Iowa.
Johns Hopkins vs. Syracuse men's lacrosse, 1984: The Blue Jays snapped the Orange's 22-game win streak -- that stretched over two seasons -- with a 13-10 victory in the national championship.
North Carolina vs. Johns Hopkins men's lacrosse, 1981: North Carolina won its first lacrosse title by edging Johns Hopkins 14-13.
Cornell vs. Maryland men's lacrosse, 1976: The Big Red needed overtime to beat the Terps 16-13 to win their second national championship.
Howard vs. Saint Louis men's soccer, 1971: The first known meeting of unbeatens in the NCAA finals, Howard topped Saint Louis 3-2. The NCAA later stripped Howard of the title for allegedly using ineligible players.

April, 1, 2014
Apr 1
7:44
AM ET
Brian Garfinkel/Getty ImagesIn 2008, the Phillies told pitcher Kyle Kendrick he had been traded to a team in Japan. And the rest lives on in pranking lore.
Happy April Fools' Day! In honor of the hoax-inducing holiday, here are five of our favorite recent sports pranks:
1. During spring training in 2008, Philadelphia Phillies pitcher Kyle Kendrick was informed by manager Charlie Manuel, among others, that he had been traded to a team in Japan. Kendrick was in a state of shock as his teammates and members of the media asked him about the deal. After what feels like a lifetime of awkward moments and blank stares from Kendrick as he obviously choked back tears, he is told the whole thing is just an elaborate ruse. It remains the gold standard of baseball pranks.
2. The scene was the Phoenix Mercury's Media Day ahead of the 2012 season, and star Diana Taurasi told her teammates that she would not be playing on the team due to a new Olympic rule that barred her from competing at the Games and in the WNBA. They were decidedly not pleased by the news. After showing off some impressive acting chops, Taurasi soon told them they were being punked and she wasn't going anywhere.
3. While celebrating the Florida Gators' 2006 national championship at Midnight Madness the next fall, coach Billy Donovan held up the crystal trophy for all the crowd to admire and then … dropped it. And it shattered everywhere. But SIKE! Turns out, it was all just a Friday the 13th joke and the real trophy was safely locked in a nearby case. The looks of complete devastation on the players' faces prove they were not in on this one.
4. During a Maryland basketball game in 2009, the gang over at College Humor pulled a prank on one of their own. Even the Terp got involved. The guy was chosen to shoot a blindfolded, halfcourt shot at halftime with a $500,000 prize at stake, and the crowd cheers wildly as if the ball has gone through the net after he shoots. Of course, it wouldn't be on this list if that were the case. The crowd was instructed to cheer as if it went in and let him run around the crowd and celebrate his incredible financial gain... and then feel the total shame and humiliation after being told the truth.
5. Just last month, Minnesota Twins pitcher and Wichita State alum Mike Pelfrey gave the Shockers' basketball team a pep talk before the NCAA tournament. At least, he thought he did. Twins manager Ron Gardenhire convinced Pelfrey that he was talking over the phone to the players, but he was actually just on speaker in the clubhouse down the hallway -- a fact he hilariously discovers just moments later.
March, 25, 2013
3/25/13
2:40
PM ET
By
Lexie Brown
| ESPN.com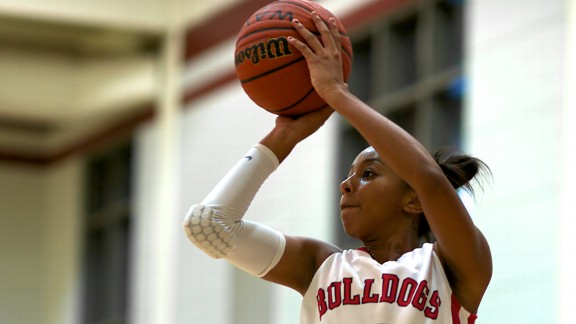 Chris Hansen/ESPN HoopGurlzLexie Brown is the headliner in Maryland's recruiting class, which is ranked seventh in the nation.
It's tournament time! I always love this time of the year because it is March Madness.

Even with severe bites from the injury bug this season, Maryland still received a No. 4 seed in the tournament. That makes me extremely proud because many other teams would not have grinded it out like they did. Coach [Brenda] Frese did an amazing job of adjusting this season. I think she deserves a tremendous amount of respect for the job she did, as does the entire Maryland basketball team.

Maryland, which beat Quinnipiac 72-52 in the first round, got home games for the first two rounds of the tournament, and I think that's a huge advantage. You have all your fans and you are in an environment you are comfortable in. If they can get past Michigan State today, it should give them huge momentum going into the rest of the tournament.

However, they do have a tough road ahead of them. If they make it to the Sweet 16, they are going to face UConn. They played UConn earlier this season, and considering the circumstances I think that Maryland definitely held its own.

But this postseason UConn is playing with a chip on its shoulder and is going to be a huge barrier between Maryland and the Elite Eight. No matter what, I still have faith in my girls!
January, 31, 2013
1/31/13
9:50
AM ET
By
Lexie Brown
| ESPN.com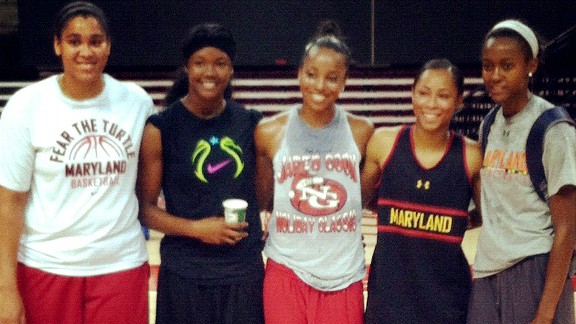 Courtesy Lexie BrownLexie Brown, center, poses with fellow recruits (from left) Brionna Jones, A'lexus Harrison and Shatori Walker-Kimbrough, far right, along with future Maryland teammate Brene Moseley, second from right.
Lexie Brown, a 5-foot-9 senior point guard at North Gwinnett (Ga.), is the No. 15 prospect in the 2013 class and a 2012 U18 gold medalist with USA Basketball. Brown is the daughter of Tammy and Dee Brown, the former NBA star. She is headed to Maryland for college ball.
There has always been a large debate over when the perfect time to start your recruiting process is. But there has been an even larger debate concerning when the perfect time to commit to a college is. Honestly, I really don't think that there is a perfect time to do either. You really can't control when your recruiting process actually begins, but you can control the decisions you make.
Everyone is different, and not everyone will wait until her senior year to make a decision. I, for example, gave my verbal commitment to the University of Maryland the summer before my sophomore year in high school. I am constantly asked: Why did you decide so early? How did you know what you wanted at age 15? Don't you wish you got to enjoy the recruiting process? All three questions can be answered in one brief statement: Maryland is my dream school.
[+] Enlarge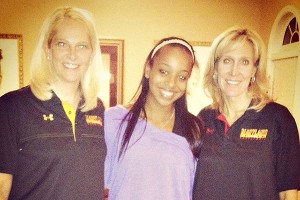 Courtesy Lexie BrownLexie Brown knew right away her future would be with Maryland coach Brenda Frese, left, and assistant Tina Langley.
My recruiting process "officially" began the summer before my freshman year. I had an amazing summer with my AAU team, and the letters began pouring in. I was extremely excited and slightly overwhelmed. I knew immediately that the recruiting process was not for me. Being the organized perfectionist I am, I immediately developed a list of top-15 schools that I was interested in, with Maryland sitting on top.
My freshman year flew by, and before I knew it, AAU season was back. Coach [Brenda] Frese and some of the assistant coaches had been at a few of my games during the high school season, and I had been receiving a lot of letters from the University of Maryland. I had assumed that Maryland was interested in me, but by the summertime I KNEW that they were interested in me.
I signed up for Maryland's elite camp over the summer, and that ended up being the highlight of my summer. I drove up to Maryland with my dad and it was the weekend that I can honestly say changed my life. It only took me two days to fall in love with the University of Maryland, and a feeling like that could not be ignored. I told my dad in the middle of camp that I didn't care if it took until the end of my senior year -- I wanted to be a part of the Maryland family. Lucky for me, it only took a couple days after elite camp to make my dream come true.
My decision to verbally commit to Maryland so early has been both criticized and applauded. But if you know where you want to be, why you should have to wait? You should not, however, make a decision based solely on emotion; you still need to do your research. You are about to spend the next FOUR YEARS of your life in a new place, so you better feel comfortable or it won't be enjoyable. Deciding where you want to play basketball and attend college can be one of the hardest, most stressful processes you go through as a young athlete. But the feeling you get after you finally decide, when you finally are a part of a new family, is a feeling that you can get at any age.