November, 5, 2014
11/05/14
12:38
PM ET
By
D'Arcy Maine
| ESPN.com

During his storied basketball career, Michael Jordan rarely faced an opponent he couldn't beat. But it seems His Airness has finally found an opponent who might just be too powerful for him to contain. I'm of course referring to the PRESIDENT OF THE UNITED STATES OF AMERICA.
Jordan made headlines recently for calling President Barack Obama a bad golfer. Or some variation of the word "bad," that is. Earlier this week, Obama took time out of his midterm election campaigning to address Jordan's claim. Yup. It's THAT serious, guys.
Skip ahead to the 7:10 mark to hear Obama talk about Jordan, or listen to the whole thing to hear why you should have voted yesterday.
Oh snap! As if calling Jordan "not informed" wasn't enough, Obama then totally dropped the mic with this dagger: "There is no doubt that Michael is a better golfer than I am. Of course if I was playing twice a day for the last 15 years, then that might not be the case. He might want to spend more time thinking about the Bobcats, or the Hornets."
You win this round, Pres. You win.
See something entertaining on social media that you think deserves to be shared? Let me know on Twitter, @darcymaine_espn.
October, 30, 2014
10/30/14
10:09
AM ET
By
D'Arcy Maine
| ESPN.com
Kemba Walker did Kemba Walker things on Wednesday night, hitting a 3-pointer at the end of regulation to force overtime and then hitting the game-winning jumper to give the Charlotte Hornets a 108-106 victory over the Milwaukee Bucks. So if anyone asks you why Charlotte signed Walker to a four-year, $24 million contract extension earlier this week, please just show them Exhibits A and B below.
And while you would be hard-pressed to find someone not impressed with Walker's heroics, it was the reaction of one fan that got everyone talking. Michael Jordan, a guy with a pretty OK NBA career of his own and owner of the Hornets, jumped up from his seat with an emphatic fist-pump when Walker nailed the game-clinching shot.
I'm pretty sure if you can impress Michael Jordan, you are all right at this basketball thing.
See something entertaining on social media that you think deserves to be shared? Let me know on Twitter, @darcymaine_espn.
October, 28, 2014
10/28/14
10:35
AM ET
SOUND THE ALARMS! MICHAEL JEFFREY JORDAN IS BACK, EVERYONE!
On Twitter, that is. Apologies for the fleeting second of joy -- or horror -- you had after reading the sentence above. With the NBA season starting today, Jordan is doing an all-day takeover of the Charlotte Hornets' Twitter feed. His first post opened with a totally fake comeback announcement ... and an immediate "LOL." What a trickster.
I'M BACK! …just kidding LOL. Trying out social media for the first time and sharing my day with you. Ready? #MJTakeover

— Charlotte Hornets (@hornets) October 28, 2014
Other Twitter revelations from the oh-so-hilarious Hornets owner? He enjoys coffee and received a special commemorative T-shirt and ticket for opening night. FASCINATING.
Starting the day with coffee in my favorite mug #BuzzCity #MJTakeover pic.twitter.com/JAV7xazfQO

— Charlotte Hornets (@hornets) October 28, 2014
Special perks of being owner, already got my commemorative ticket and shirt for opening night. Niiiiiice #MJTakeover pic.twitter.com/R8VnZPUZd3

— Charlotte Hornets (@hornets) October 28, 2014
See something entertaining on social media that you think deserves to be shared? Let me know on Twitter, @darcymaine_espn.
September, 26, 2014
9/26/14
4:14
PM ET
By
D'Arcy Maine
| ESPN.com
The Ryder Cup got underway on Friday at Gleneagles in Scotland, with the U.S. team looking for its first win on European soil since 1993.
However, the tournament got off to a rocky start for the American team as they struggled throughout their matches and fell to a 5-3 deficit by Friday's end. It seemed like nothing could go right for the Red, White and Blues. And when I say nothing, I mean NOTHING. The day began with Webb Simpson being introduced to the crowd by the announcer as … Bubba Watson. So that's awkward. And incorrect.
Simpson and Watson went on to lose their match against Justin Rose and Henrik Stenson, 5 and 4. But can you really blame them after that start? I THINK NOT.
The U.S. squad did however bring a cheerleader from home -- some guy named Michael something. Jordan, maybe? Yes, that sounds rights. MICHAEL JORDAN WAS THERE. Joined by his trusty cigar, the basketball legend and longtime Ryder Cup fan provided encouraging words and cheers to the American players. You know, just like he did in "Space Jam."
#Murica RT @EyeOnGolf: Michael Jordan is at the Ryder Cup hanging out, puffing a cigar - http://t.co/GFIGY2Pduh pic.twitter.com/PXP3bzGJL6

— CBS Sports (@CBSSports) September 26, 2014
Sadly, MJ could do nothing for the U.S. team's play on the course or their uniforms. The team rocked some, ahem, interesting sweaters based on the 1993 uniforms. Well, now we know what Grandma's been knitting these last few months.
Tom Watson: Jordan Spieth and Patrick Reed 'very upset' about being sat this afternoon: http://t.co/DnqCjoJa4I pic.twitter.com/dg3f7JSCfF

— Golf Central (@GolfCentral) September 26, 2014
See something entertaining on social media that you think deserves to be shared? Let me know on Twitter, @darcymaine_espn.
April, 10, 2014
4/10/14
7:54
AM ET
C Flanigan/Getty ImagesOn this day 44 years ago, Paul McCartney walked away from the Beatles.
On this day in 1970, Paul McCartney stunned the world when he announced he would be leaving the Beatles. In honor of his monumental announcement, we look back at five shocking departures in the sports world.
1. Michael Jordan: The three-time reigning NBA champ and Finals MVP shocked fans everywhere when he announced his retirement from basketball on Oct. 6, 1993. He further surprised everyone when he signed a a minor-league baseball contract with the Chicago White Sox just a few months later. In March of 1995, Jordan announced his return to basketball and helped lead the Chicago Bulls to three additional NBA titles.
2. Lorena Ochoa: The No. 1 golfer in the world announced her retirement in April of 2010 at just 28 years old. Ochoa had held the No. 1 ranking on the LPGA Tour for 157 consecutive weeks, so fans and her peers were shocked by the news. She cited her desire to start a family as the reason for her departure, and she and her husband have since had two children.
3. Wayne Gretzky: On Aug. 9, 1988, the hockey world was turned upside down when the Edmonton Oilers announced they had traded their superstar and beloved native son to the Los Angeles Kings. Known today simply as "The Trade," even the Canadian government tried to get involved to block the deal from being finalized. Much to the dismay of Oilers fans and Canadians, Gretzky moved to Los Angeles and helped lead the Kings to their first Stanley Cup finals appearance in franchise history in 1993.
4. Marion Bartoli: After more than a decade on the WTA Tour, the 28-year old finally won her first Grand Slam at Wimbledon in 2013. The next month, she shocked the tennis world by announcing her immediate retirement after a loss at the Western & Southern Open. Citing chronic injuries and a lack of energy, Bartoli walked away from competitive tennis ranked No. 7 in the world.
5. LeBron James: After seven seasons with the Cleveland Cavaliers, the reigning MVP became an unrestricted free agent after the 2009-10 season. In a national TV special called "The Decision" on July 8, 2010, James announced he would be joining the Miami Heat. Cleveland fans were furious over the move and team owner Daniel Gilbert posted an open letter to the superstar on the team website in which he called James "heartless" and "callous" and the decision a "cowardly betrayal." James has since won two NBA titles with his new team.
February, 17, 2013
2/17/13
8:48
AM ET
By
Lizzie Haldane
| ESPN.com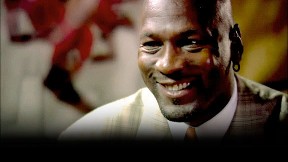 ESPNMichael Jordan finished his career with 32,292 points, third-most all-time.
The world's most famous No. 23 turns 50 today. Michael Jordan, commonly regarded as basketball's greatest of all time, has a long list of accolades from his time on the court. He earned Finals MVP honors for each of his six NBA championships, was named to 14 All-Star teams and had 39 50-point games, second-most in NBA history behind Wilt Chamberlain.
Read more WFYIs.