espnW:

National Spelling Bee
May, 28, 2014
5/28/14
7:33
AM ET
Alex Wong/Getty ImagesNearly 300 of the best spellers from around the world compete this week in Washington, D.C., with the ultimate title on the line.
The preliminary rounds of the Scripps National Spelling Bee start Wednesday (ESPN3) in Washington, D.C., with the semifinals and finals scheduled for Thursday (10 a.m. ET on ESPN2, 8 p.m. ET on ESPN). Here are 10 fast facts about the annual event.
1. Nine spellers competed in the first National Spelling Bee, which was held in 1925. The bee took a break during the World War II years, and this marks the 87th competition. There have been 89 champions crowned, with co-champions declared in 1950, 1957 and 1962. Girls have claimed 47 titles, and boys have won 42 times.
2. This year's bee features 281 spellers. All 50 states are represented, as well as the District of Columbia, American Samoa, Guam, Puerto Rico, the U.S. Virgin Islands, Department of Defense Schools in Europe, the Bahamas, Canada, China, Ghana, Jamaica, Japan and South Korea.
3. Of the 281 participants, 190 (or 67.6 percent) attend a public school. Only 11 of the spellers are homeschooled.
4. There are 142 girls and 139 boys in the 2014 field, making it the third straight bee in which girls outnumber boys.
5. The past 11 champions and 14 out of the past 15 have been return contestants. The last champion to win in a debut appearance was Pratyush Buddiga in 2002.
6. There are 78 spellers making a return visit to the bee and 13 competitors making their third trip. Sriram J. Hathwar, the most experienced contestant, is making his fifth appearance.
7. The spellers range in age from 8 to 15 and from second grade to eighth grade.
8. Two competitors in the 2014 field, Vanya Shivashankar and Ashwin Veeramani, are siblings of past bee winners.
9. The shortest winning word in the bee's history was "luge" in 1984. A word with 13 letters has been the championship-clinching word seven times.
10. The champion takes home cash and prizes totaling more than $40,000.
May, 28, 2013
5/28/13
8:37
AM ET
By
Lizzie Haldane
| ESPN.com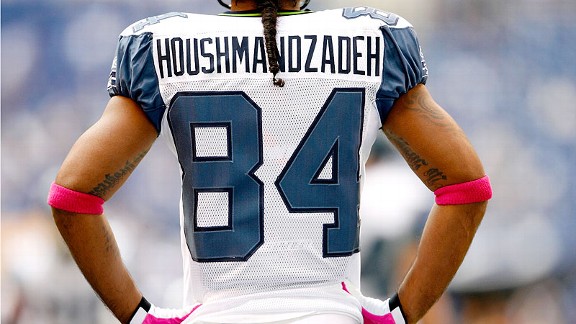 Andy Lyons/Getty ImagesHow would you like to be the person in charge of stitching "Houshmandzadeh" on the back of a jersey?
In honor of the 2013 Scripps National Spelling Bee beginning today, we bring to you some of the most challenging names to spell in sports. Duke men's basketball coach Mike Krzyzewski has to be at the top of the list. Following closely being are T.J. Houshmandzadeh, Novak Djokovic, Jarrod Saltalamacchia and Nikolai Khabibulin. And here are five that are spelled correctly, but will leave you doubting yourself anyway: Dwyane Wade, Brett Favre, Jhonny Peralta, Chone Figgins and Andruw Jones. As for tough-to-spell women's names, care to take a crack at the Los Angeles Sparks' Nnemkadi Ogwumike or tennis star Agnieszka RadwaDska?
Read more WFYIs.