November, 7, 2013
Nov 7
7:49
AM ET
Jon Soohoo/NBAE via Getty ImagesMagic Johnson was one of the league's most beloved players when he announced his retirement at age 32.
On this day in 1991, Lakers superstar Magic Johnson announced to the world in a press conference that he had tested positive for HIV and was immediately retiring from basketball. The three-time NBA MVP and five-time NBA champion almost instantaneously became the face of AIDS/HIV in America, and he founded the Magic Johnson Foundation shortly after to help raise money to combat the disease. Despite his retirement, Johnson, now 54, was voted by fans into the 1992 All-Star Game (in which he was ultimately crowned MVP) and played for the legendary Dream Team in the 1992 Olympics. Since his playing days ended, Johnson has continued his activism work and been involved in broadcasting and other business ventures. In 2012, he became part of the ownership group that bought the Los Angeles Dodgers. Back in 1991, he closed his news conference with these words: "I'm going to go on. I'm going to beat this, and I'm going to have fun."

November, 1, 2013
Nov 1
7:59
AM ET
James Devaney/WireImage/Getty ImagesIn real life, Whoopi Goldberg often takes a seat in the Knicks' stands, not on their bench.
On this day in 1946, the New York Knicks played the first game in franchise history, against the Toronto Huskies at Maple Leaf Gardens. The game also marked the debut of the Basketball Association of America (BAA), which became the NBA when it merged with the National Basketball League (NBL) in 1949. The Knicks beat the Huskies 68-66 in front of a crowd of 7,090. While the Knicks have two championships, eight conference titles and a slew of other accomplishments in their franchise history, we would like to take this moment to remember their turn in cinematic lore. Of course we're talking about the 1996 classic "Eddie," in which Whoopi Goldberg stars as a limo driver (with a heart of gold!) who, through an in-game contest, becomes the team's head coach and leads the squad to unprecedented victory. It is shockingly not based on a true story, but most Knicks fans probably wish it was.
January, 17, 2013
Jan 17
2:36
PM ET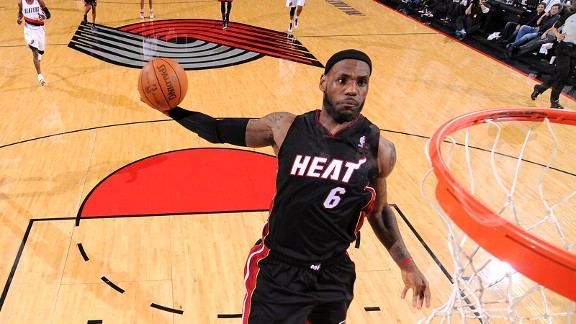 Sam Forencich/NBAE/Getty ImagesLeBron James reached the 20,000-point mark just days after his 28th birthday.
Wednesday night in Oakland, Miami Heat guard LeBron James scored his 20,000th point, becoming the youngest player ever to hit that milestone. James put up 25 points against the Warriors to get to the 20K mark just a few weeks after his 28th birthday.
In honor of King James' feat, here are some other "notable" 20,000s…
• Serbian man Slavisa Pajkic, aka "Battery Man" set his first Guinness World record in 1983, allowing a current of 20,000 volts to pass through his body. Pajkic claims he can act as a heater, insulator and conductor without so much as feeling the electric currents passing through his body.
• In his 1991 book A View From Above, Wilt Chamberlain claimed he had slept with 20,000 women in his life.
• A government survey released this week by the Substance Abuse and Mental Health Services Administration suggests that 20,000 or more people ended up in the emergency room from 2007 to 2011 due to complications from the consumption of energy drinks.
• According to TMZ Halle Berry pays ex-boyfriend Gabriel Aubry $20,000 every month in child support.
• According the NHS Information Centre, in the year between March 2010 and February 2011, over 20,000 Brits required hospital treatment after falling out of bed.
• This week New York governor Andrew M. Cuomo declared a public health emergency for the state after nearly 20,000 reported cases of influenza this flu season.
• A crowd of over 20,000 people gathered in front of the Milan Cathedral in Milan, Italy this past October to observe or be a part of a "Gagnam Style" flash mob. That's a lot of folks riding invisible horses.
January, 10, 2013
Jan 10
6:11
PM ET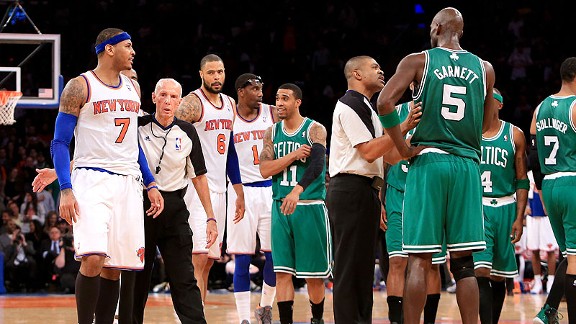 Debby Wong/USA TODAY SportsCarmelo Anthony did not take kindly to Kevin Garnett's trash talk. Anthony was banned for one game.
Celtics star Kevin Garnett has long been known to dish out some of nastiest trash talk in the league, his yapper getting more of a workout than his legs on game nights. This past week the big-mouthed big man was at it again, reportedly telling Knicks guard Carmelo Anthony that his wife LaLa Vazquez "tastes like Honey Nut Cheerios."
The pair's in-game jawing got 'em both a technical and the remark made Anthony so mad he sought out Garnett after the game, confronting him in the tunnel, outside the locker rooms and in the arena parking garage. Anthony's attempts to physically engage Garnett resulted in a one-game suspension for the Knicks star; he'll miss Thursday night's contest against the Pacers.
If the rumor mill is to be believed, Anthony and Vasquez are currently estranged, which may be why he got so incensed. Garnett's insinuation was certainly crass, but most ballplayers have heard enough trash talk to let a comment like that slide. In this case, perhaps it hit a little too close to home.
Boston coach Doc Rivers spoke out about the most publicized cereal-based insult since the Lucky Charms leprechaun ripped Notre Dame's effort in the BCS Title game (alright that didn't happen), denying reports that Garnett brought up Anthony's wife.


"(Garnett) does (know where the line is)," Rivers told a Boston radio station. "He does. I will say that. I've never heard him cross the line. And usually when he talks about guys, it's usually about their game or their team or what he thinks if the guy's a winner or loser."
There's no known audio of the incident, so it is possible that Garnett never compared LaLa to the center of a balanced breakfast, but history tells us the Boston big man might not know where the line is, after all. Back in 2010 he allegedly called Pistons forward Charlie Villanueva "a cancer patient." Villanueva suffers from alopecia, a virus that prevents hair growth.
The incident reflected poorly on Garnett and further built up his reputation as a win-at-all-costs, hit-em-where-it-hurts kind of guy. Needling Anthony over an alleged rocky patch in his marriage sure isn't nice, but if the goal was to take his focus off the game, it worked.
I don't endorse Garnett's tendency to hit below the belt, but I do think Anthony's gotta get a thicker skin. Every game is as much physical as mental and in Monday night's Celtics' win, Garnett won both those battles.