May, 9, 2014
May 9
8:19
AM ET
AP Photo/Stephan SavoiaThe late Maggie Dixon, who coached Army to its first NCAA tournament appearance in 2006, is remembered every year at a basketball event named in her honor.

Today, on what would have been her 37th birthday, we remember Maggie Dixon, the beloved former women's basketball coach at Army.
After playing four years of varsity ball at San Diego, Dixon turned to coaching at the suggestion of her older brother, Jamie, the head men's basketball coach at Pittsburgh. Upon moving to Chicago in the spring of 2000, Dixon sought out DePaul women's coach Doug Bruno and begged for a job on his coaching staff. There were no positions available, so Bruno tapped Dixon to help run his summer camp. Within a year, she had secured an assistant coaching position with the team.
Dixon remained part of Bruno's staff until 2005, when she was offered the head coaching job at Army days before the start of the 2005-06 season. Compiling a 20-11 record, Dixon led the Black Knights to their first NCAA tournament. Weeks after losing to Tennessee in the first round, Dixon died of a heart arrhythmia. She was just 28 years old.
Dixon's death was mourned throughout the college basketball world. She was buried at West Point Cemetery, an honor usually reserved for high-ranking military officials.
As a way to continue her legacy, the Maggie Dixon Classic was created ahead of the 2006-07 season and has been played annually since. Jamie Dixon's Pittsburgh men's team played in the inaugural event at West Point. The event has since moved to Madison Square Garden, where it remains today, and often features the elite programs in women's basketball. It also houses a heart and health expo aimed at increasing awareness.
April, 18, 2014
Apr 18
9:11
AM ET
AP Photo/Kyle OkitaLSU's Lloimincia Hall looks to become the first gymnast since 2005 to score a perfect 10 on beam at the NCAA championships.

She became a viral sensation earlier this month with her dynamic floor routine, and now LSU junior Lloimincia Hall is one of the most recognizable faces entering the NCAA gymnastics championships this weekend in Birmingham, Ala. Here are five fast facts about the tumbling star:
1. The 21-year old junior is the three-time reigning SEC floor exercise champion. Her routine at the NCAA regionals earned her third perfect 10 of the season and helped lift the Tigers into the NCAA championships. Hall holds the LSU record for most career perfect scores on the floor with five.
2. A Dallas native, Hall previously trained with Texas Dreams, which is run by former world champion Kim Zmeskal Burdette and her husband. The club has trained many past and present members of the U.S. national team, including Kennedy Baker, who has signed to compete with Florida next season, and Peyton Ernst.
3. Due in part to Hall's 10 on the floor at regionals, LSU tied Florida for the highest point total (198.375) of the season. The Tigers are ranked No. 3 (behind Florida and Oklahoma) in the nation entering the final weekend of competition.
4. Hall has 29 career titles at LSU, including 24 on the floor, which is third-best in school history. She also has two all-around titles, two on the vault and one on beam.
5. The 4-foot-11 sensation is majoring in sport administration and has twice made the SEC academic honor roll. She was recognized in 2013 as a National Association of Collegiate Gymnastics Coaches/Women Scholastic All-American, an honor that requires a year-long or cumulative GPA of 3.5 or higher.
Bonus: If you're still clamoring for unique routines or moves to look out for this weekend, check out UCLA's Danusia Francis and her side-aerial dismount from the balance beam. The sophomore is the only known gymnast, at any level, performing the trick in competition.
March, 14, 2014
Mar 14
8:36
AM ET
Bob Donnan-USA TODAY SportsTime to start preparing your eyes for the countless hours you'll spend viewing college basketball over the next three weeks.
With just one weekend left to prepare for Selection Sunday and Monday, basketball fans everywhere are gearing up for the annual binge-watching tradition affectionately known as March Madness. Here are five fun facts about the yearly event featuring the best men's and women's college teams in the country.
1. Seven men's teams (San Francisco in 1956, North Carolina in 1957, UCLA in 1964, 1967, 1972 and 1973 and Indiana in 1976) and seven women's teams (Texas in 1986, Connecticut in 1995, 2002, 2009 and 2010, Tennessee in 1998 and Baylor in 2012) have won the NCAA tournament with perfect records. Wichita State on the men's side and Connecticut and Notre Dame on the women's side look to join the list next month.
2. A No. 11 seed is the lowest seed to ever make the men's Final Four, and that has happened on three different occasions -- LSU in 1986, George Mason in 2006 and VCU in 2011. No. 9 Arkansas in 1998 was the lowest seed to make the Final Four on the women's side.
3. The Harvard women's squad in 1998 is the only 16 seed team in men's or women's basketball defeat a No. 1 seed. The Crimson beat Stanford 71-67 in the historic upset.
4. All four No. 1 seeds have made the Final Four just once (2008) in men's tournament history and twice (1989 and 2012) in the women's tournament.
5. In 2004, the Connecticut men's and women's teams both won the national title, marking the first and only time both basketball programs from the same Division I school won the title in the same year.
January, 27, 2014
Jan 27
8:12
AM ET
G Fiume/Maryland Terrapins/Getty ImagesAfter losing to unranked Virginia last week, the Terps will be playing with something to prove tonight.
No. 2 Notre Dame (18-0) looks to keep its undefeated season alive as it takes on No. 6 Maryland (16-2) in College Park (7 p.m. ET, ESPN2 and WatchESPN). Here are five fast facts about the rivalry.
1. Maryland leads the series 4-2. The Terps won the first meeting 84-62 in January of 1983.
2. The teams last met in the Elite Eight of the 2012 NCAA tournament. Notre Dame won 80-49 and advanced to its second consecutive Final Four. After beating UConn in the semifinal, the Fighting Irish fell to Baylor in the championship game.
3. Maryland beat Note Dame the last time the Irish visited College Park, 75-59 in the Women's Preseason NIT in November of 2007. It was the schools' first meeting in more than 20 years. Maryland tied a school record with 12 3-pointers in that win.
4. This is Notre Dame's second straight week playing on "Big Monday." The Irish beat the Tennessee Lady Vols 86-70 in Knoxville last Monday. Led by Kayla McBride's 22 points, Notre Dame erased its largest deficit of the season (12) to remain undefeated.
5. The game features four players on the recently released Wooden Award's Midseason Top 20 list -- Natalie Achonwa, Jewell Loyd and Kayla McBride of Notre Dame and Alyssa Thomas of Maryland.
---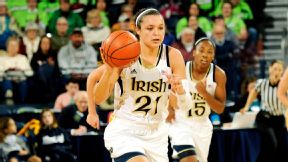 December, 5, 2013
12/05/13
7:02
AM ET
AP Photo/Garry JonesTexas looks to join Penn State, Southern Cal, Stanford, UCLA, Pacific and Hawaii on the list of back-to-back national champions.
The first serves in the 2013 NCAA women's volleyball tournament will be struck today, and the 64-team field features plenty of aces as well as a few floaters. In the 32-year history of the tournament, 10 different champions have been crowned. Seven are in the 2013 field, including reigning champion and top-seeded Texas, which also claimed the crown in 1988. The other former champions are Stanford (six titles), Penn State (five), Hawaii (three), Nebraska (three), Southern California (three) and Washington (one). Only two teams -- Penn State and Stanford -- have earned bids to all 32 tournaments. Aside from the seasoned programs, there are four teams making their tournament debuts in 2013: Alabama State, Duquesne, Hampton and IUPUI. The semifinals and championship will be held in Seattle Dec. 19 and Dec. 21 and aired on ESPN2.
November, 26, 2013
11/26/13
8:27
AM ET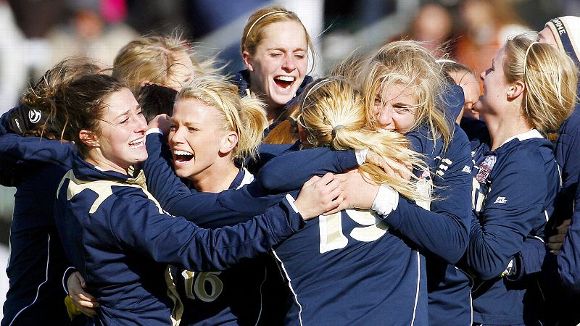 John Rottet/Raleigh News & Observer/MCT/Getty ImagesThe Notre Dame women's soccer program won its most recent NCAA championship in 2010.
On this day in 1842, the University of Notre Dame was founded in South Bend, Ind. Established by Father Edward Sorin as an all-male Catholic school, buildings were first constructed in 1843 and degrees were first awarded in 1849. Today with more than 11,000 students -- male and female -- the school is known for both its academics and athletics. The Fighting Irish have 23 Division I athletic programs and have won 27 national championships in NCAA history, including three titles by the women's soccer team (1995, 2004, 2010) and one by the women's basketball team (2001). Notable alumni include Skylar Diggins, Shannon Boxx, George Gipp, Joe Montana, Paul Hornung, Mike Golic, Manti Te'o, Steve Bartman and, of course, "Rudy" Ruettiger.
April, 10, 2013
4/10/13
8:06
AM ET
By
Lizzie Haldane
| ESPN.com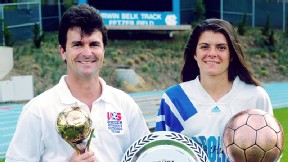 UNC Athletic Communications ArchivesMia Hamm led North Carolina to four of its NCAA womens' soccer championships.
Connecticut won its eighth women's NCAA basketball title on Tuesday night to tie Tennessee for the most by a school. But the two dominant women's basketball programs aren't even close to matching the dynasty in women's soccer. If you combine the trophies won by Tennessee and UConn (16), they still have a long way to go to match the 21 titles won by the North Carolina women's soccer program. The Tar Heels, who are the reigning NCAA champions, once won nine straight from 1986 to 1994. The NCAA has been awarding championships in both sports since 1982.
Read more WFYIs.
September, 16, 2012
9/16/12
10:02
PM ET
By
Sonia Thompson
| ESPN.com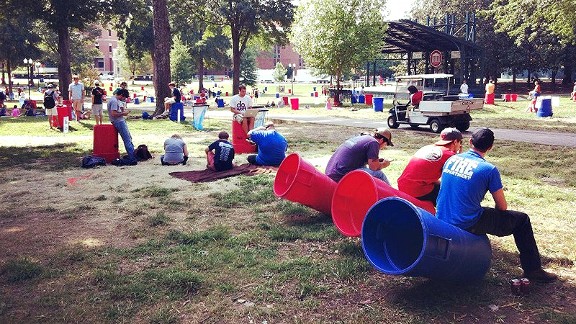 Amy ScruggsFans began saving tailgate spots in the Ole Miss Grove on Friday morning, nearly 36 hours before kickoff against Texas.
The hype around Texas-Ole Miss had been mounting for months. If there's one thing Oxford is good at, it's gossip. Had I heard all the hotels were booked and houses were renting for $20,000? That ESPN's "College GameDay" was coming? Was I aware Bevo would be in the Grove? Or all the past Texas governors would be here? And Matthew McConaughey rented out the City Grocery restaurant and bar for the whole weekend?
Yes. Yes. Yes. Yes. I'd heard it all. Eye roll.
It got so out of hand the rumors sparked their own #TexasGameRumors Twitter trend.
"2pac has been living in Oxford the whole time, and is making his re-appearance in oxford with a duet with george straight," wrote @BobbyMeinhold.
"Lance Armstrong is biking from Austin to Oxford and has rented out highway 6 while he's here," said @wesleywalls.
I tried to hunker down, run my errands early in the week and avoid the Kroger rush. It proved impossible. On Wednesday, I ducked into a department store and was bombarded. "Do you know the weather forecast for Saturday," a frantic woman standing by a rack of red dresses asked.
The university doesn't allow tailgate setup on campus until 10 o'clock Friday night, but as early as 10 that morning, the Grove was full of fans who would wait there a full 12 hours to save their spot. One of my best friends, a bartender, called me after her Friday lunch shift. She had sold 10 gallons of Bloody Marys and was on her way to drop off Red Bull for the bartenders working that night.
People on the Square popped into restaurants yelling "Are you ready," prompting diners to erupt in the "Hotty Toddy" cheer. Frat boys bought rounds of Patron shots at 3 p.m.
The lines of traffic around the Square and down University Avenue looked like ants. The town had a Mardi Gras vibe.
Truthfully, though, I was partied out. It was the third home game in a row and I was tired, a little crabby and (as I wrote about last week) sick of fried chicken. I started wishing I had gone to Nashville with my friends to escape the insanity.
Kickoff wasn't until 8:15 p.m. and I wasn't sure I cared anymore. After the Friday boozing and all-day tailgating, the game seemed to be kind of an afterthought anyway. Ole Miss hasn't had a great football team in years and no one expected a victory. The saying "We may not win every game, but we've never lost a party," is cliché but true.
Walking into the stadium, though, I felt something I'd never felt before. Twenty minutes before game time, the crowd was electric. Players were dancing to the PA during warm-ups. Fans were on their feet, cheering for "The Star-Spangled Banner," cheering for the marching band, cheering for promos on the JumboTron. Red pompoms were shaking fast.
When Van Halen's "Right Now" started blasting, I got goose bumps.
Before heading back into the tunnel, the players stopped in front of the student section, soaking it in. They jumped up, reaching for fingers through the railings and chest-bumping each other. The fans lost it. It felt like Vaught-Hemingway might actually lift off.
It made me think about all those times I'd said how foolish dudes who painted their chests and go shirtless look; about the times I'd belittled the "nuts" who drive RVs across the country to games and brides who won't pick a wedding date until their team's schedule has been set. For once, my inner cynic was quiet.
The game started. Ole Miss got creamed. Final score: 66-31 Longhorns. But it didn't matter.
In that moment before kickoff, I didn't roll my eyes once.