espnW:

New York City Marathon
November, 4, 2013
11/04/13
7:49
AM ET
Timothy A. Clary/AFP/Getty ImagesPaula Radcliffe is now the mother of two: daughter Isla was born in 2007and son Raphael arrived in 2010.
On this day in 2007, English runner Paula Radcliffe won her second New York City Marathon. Just months after giving birth to her first child, Radcliffe finished the race in an astonishing 2 hours, 23 minutes and 9 seconds, the second-fastest time by a woman on the course in history. Already the owner of the fastest marathon time ever (2:15:25 at the London Marathon in 2003) and a slew of other marathon titles, Radcliffe went on to win the New York City Marathon again in 2008 and was inducted into the England Athletics Hall of Fame in 2010. Radcliffe, who is now 39 years old, qualified for the 2012 London Olympics but had to withdraw due to a foot injury.
October, 24, 2013
10/24/13
1:42
PM ET
By
Ashley Freiberg
| ESPN.com
Courtesy of BRANDed ManagementAshley Freiberg says she was bullied in high school for being different and looking different.
Race car driver Ashley Freiberg is providing a series of blog entries exclusive to espnW on her first experience competing in the ING New York City Marathon as part of Lady Gaga's Born This Way Foundation team.


In a little over a week, I will be one of 10 runners representing Lady Gaga's Born This Way Foundation in the ING NYC Marathon. To say I am thrilled to raise money for the foundation and compete in my first marathon would be an understatement!
I won't be running Nov. 3 just for the challenge of getting my first marathon under my belt. It is about an initiative that is more personal to me.
The Born This Way Foundation empowers youth, bravery and individuality. As soon as I heard of the foundation, I knew I wanted to join it, not only because I wanted to be a part of something that I strongly believe in, but because this is something that I have already been promoting in my own way.
Let's face it: We live in a society that is constantly trying to shape us into something that is not true to us, and we are often confronted by others who try to tell us how to "be." Learning to be proud of who you are and embracing your uniqueness is one of the toughest things to do, especially as a young person these days, and I know this because of things that I have gone through in my life.
Throughout my time in school, both kids and authority figures bullied me. I was never one of the "cool kids" or one of the "pretty girls." One of my biggest problems was my acne and, well, you could only imagine the things my peers would say to me about it. It wasn't anything I could magically erase, and I remember going home in tears, washing my face multiple times desperately trying to make it go away. The problem wasn't my hygiene. It was genetic and something I could not change. It wasn't until I was older that I was able to accept this part of me, and even though I still have my issues, I know that I am beautiful in my own, unique way.
[+] Enlarge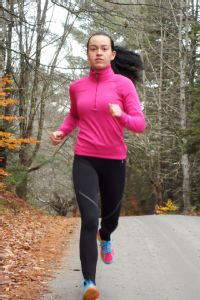 Courtesy of BRANDed ManagementAshley Freiberg has been training for her first marathon for just over a month.
In high school, I began to take my racing career more seriously, and as I started missing more days of school to race, it became quickly known at my school that I was pursuing a professional career in auto racing. There were students and, more shockingly, teachers who singled me out because I chose to do something different. I can distinctly remember three teachers finding ways to ridicule me and telling me that I would never be successful. One teacher in particular called me a hillbilly -- telling me that driving race cars is easy. That teacher went on to say that nobody likes racing, that it was "stupid," not a real sport, and that people care only about the crashes.
It was one thing to be made fun of by kids my own age, but to be put down like this by adults who were supposed to be setting an example for me was a pretty big blow to my self-esteem. Even though these teachers were doing nothing but trying to tear me down, for some reason it made me even more determined to be successful and prove them all wrong. To this day, I am thankful that I made the decision to translate the criticism into determination rather than giving up and quitting.
Unfortunately, it didn't stop there; even the principal of my high school was not supportive of my career choice. Even though I worked hard enough to be in all of the advanced-level classes and would finish my homework before I would leave to go race and was still managing to achieve good grades, he went so far as to suspend me from any social events, like school dances or football games, because I missed too many days of school.
I was truly amazed at how unaccepting my school was of a student who was chasing after her dream and making things happen for herself. I was lucky to be so strong-willed; it would have been so easy for me to give up.
Even as an adult, I face moments when I am not accepted for who I am. Racing is a male-dominated sport, and although being accepted as a woman is a bit easier these days with the help of successful female drivers like Janet Guthrie and Danica Patrick, I definitely still face discrimination no matter how well I am doing on the track.
In 2011, I joined my current sponsor, TRUECar, and their Women Empowered Initiative, and it could not have been a more fitting partnership for me because I believe so strongly in women doing things in a "man's world," no matter the profession.
I am the type of person who always wants to better myself by learning from my own mistakes or others' mistakes, but when the fact that I am a woman becomes a problem, it is frustrating because that is something I cannot fix or change.
I have to be honest with you, I have had moments when I wonder if life would be easier if I chopped off all my hair and looked like a boy, but every time I think that way I laugh at how ridiculous that notion is.
I am proud of who I am. Yes, I am a girl, a young woman who refuses to let others stand in the way of my passion. I have a passion for things society thinks are "boy things," like racing cars, rock climbing and going to the gym. I can also be a "girly" girl -- I like to wear pink, I like fashion, it feels good to get fixed up and wear a dress and heels! I still have acne sometimes, but nobody is perfect. I am me, and I don't really care what others tell me I am supposed to be because this is the way I was born to be, and I certainly don't plan on changing for anyone but me.
I know that each and every one of you have times of not being accepted for being who you are, and I am asking that we come together to make this nonsense stop. Nothing breaks my heart more than reading about a young child or teenager taking his or her own life because they were not allowed to be themselves. We need to celebrate individuality because that it what life is all about.
I'll take the green flag for my first marathon on Nov. 3, and since I recently signed up, I've been training for only a little over a month. Luckily I am in good shape because of my training for racing, but never in my life did I expect I would go out for a 20-mile training run! To be representing the Born this Way Foundation is just a bonus!
I want to show through my experience that no matter what the circumstances are, if you believe in yourself, you can be something great. I want to be strong for all the boys and girls who have been bullied, and help to prevent bullying in the future.
I hope you'll join me and help me raise awareness by donating to my Born This Way team. I'm hopeful that together, we can empower others to stay the course, too. From the bottom of my heart, to Lady Gaga, Cynthia and everyone with the foundation… thank you for inspiring me to continue to stand up and feel empowered.
"To a kinder, braver world." -- The Born This Way Foundation
October, 30, 2012
10/30/12
5:47
PM ET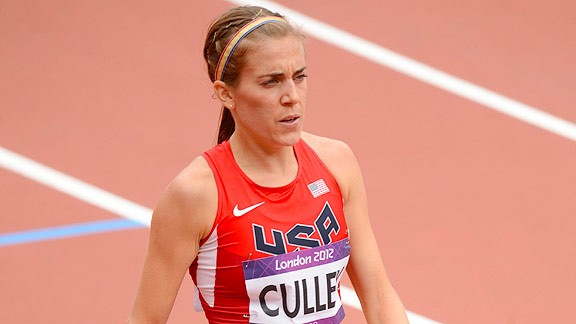 John David Mercer/USA TODAY Sports
This week was shaping up as a time of relaxed focus for 2012 track Olympian and New Jersey native Julie Culley, who is slated to make her marathon debut Sunday in New York City. She's been training in northern Virginia and had planned to arrive late this past Sunday.
Hurricane Sandy and its disastrous impact on the East Coast changed all that. With train service halted, planes grounded and bridges and highways closed, Culley stayed put and watched the images on television and the Internet with mounting horror.
One of the coastal locations most affected is very dear to her -- Long Beach Island, N.J., where her family has had a summer and weekend house since she was a little girl. Her parents were there Sunday. They evacuated to their home in Clinton, N.J., where they are safe, but without electricity in a county with widespread power outages.
Culley said the family is fairly certain the house on LBI is intact, but almost certainly has extensive water damage. State officials have said severe flooding makes it unlikely residents will be able to assess their losses for themselves for another week and a half.
"But there's so much more going on," Culley said Tuesday by telephone, her voice calm but emotional. "Some people didn't make it through the storm."
Culley said she's been unable to tear herself away from the coverage of Sandy's aftermath, and feels distracted by thoughts of the hardships ahead for friends all over the area.
"I feel guilty for not making more of my day," she said. "I went on a run today, and my heart felt so heavy, it was almost like I spaced out and woke up a couple of miles later."
She is allowing herself to dwell on the events today, but if Sunday's race goes on (as New York Road Runners organizers have said it will), Culley said she'll regroup and get back on task. "Then I have a period where I'm off running, and I'll find a way to volunteer and help," she said. "That's where my heart is."
Culley, 31, competed for North Hunterdon (N.J.) High School and Rutgers University, then coached at Loyola (Md.) University before returning to racing in 2007. She won the 5,000-meter event at the U.S. Olympic trials this past summer and set a personal best of 15 minutes, 5.38 seconds in the semifinal heat of the race in London, ultimately finishing 14th in the final.