April, 22, 2014
Apr 22
8:06
AM ET
Gabriel Bouys/AFP/Getty ImagesEver the passionate fan, Jack Nicholson has been threatened with ejection from his courtside seat on more than one occasion.
In honor of actor and Los Angeles Lakers superfan Jack Nicholson's 77th birthday today, we salute five of our other favorite celebrity sports fans.
1. Spike Lee: The legendary director might love the New York Knicks more than he does making movies. A fixture at Madison Square Garden, Lee even wrote a book about his fandom called "Best Seat in the House" in 1997.
2. Ashley Judd: The actress and Kentucky native grew up watching Wildcats basketball with her father and uncle and claims her passion for the team has been passed down through generations. The Kentucky graduate regularly attends games and often appears on sports talk shows to discuss her love for the Wildcats.
3. Billy Crystal: The comedian and actor's lifelong devotion to the New York Yankees was rewarded with a one-day contract during spring training in 2008. He struck out in his one at-bat against the Pittsburgh Pirates but called the experience "the greatest thing ever." Frequently spotted at Yankee Stadium, Crystal even directed the TV movie "61*" about Roger Maris and Mickey Mantle racing to break Babe Ruth's single-season home run record in 1961.
4. Ben Affleck: The Boston native often returns to his hometown to cheer on the Red Sox at Fenway. Affleck's wife, actress Jennifer Garner, has even said Affleck would not have married her had the team not won the World Series in 2004 because he would have considered her a jinx after the two attended a World Series game together.
5. Jerry Seinfeld: The comedian is such a dedicated New York Mets fan, he worked his loyalty into his classic television show. With multiple references and an epic Keith Hernandez storyline, Seinfeld put his fandom on full display. Today, he regularly attends games and even occasionally calls into a local sports-talk radio station as "Jerry from Queens" to talk about the team. In 2010 and again in 2013, he helped call games with Hernandez on SportsNet New York.
December, 24, 2013
12/24/13
6:53
AM ET
David Banks/Getty ImagesIs there anything more festive than a dunking mascot dressed up as Santa Claus?
Today is Christmas Eve, a holiday beloved by children of all ages. As a present for people of all ages and religions, the NBA has neatly gift-wrapped five marquee games for your enjoyment on Wednesday. The league has hosted games on Christmas Day annually since 1947. Here are some fun facts about the holiday tradition so you can impress your family members in between opening presents:
* The Knicks have played the most Christmas games (48) and are 22-26 on the day. They play the Thunder this year.
* Bernard King owns the Christmas Day scoring record with an astounding 60 points from the Knicks' 1984 meeting with the Nets.
* Wilt Chamberlain has the day's rebound record with 36, achieved in 1961 as his then-Philadelphia Warriors took on the Knicks.
* If not for injury, Kobe Bryant would be playing in his 16th Christmas game. He owns the all-time record with 15 appearances.
In addition to Knicks-Thunder, the other four games on the NBA Christmas Day schedule are Chicago-Brooklyn, Miami-Lakers, Houston-San Antonio and Clippers-Golden State.
November, 1, 2013
11/01/13
7:59
AM ET
James Devaney/WireImage/Getty ImagesIn real life, Whoopi Goldberg often takes a seat in the Knicks' stands, not on their bench.
On this day in 1946, the New York Knicks played the first game in franchise history, against the Toronto Huskies at Maple Leaf Gardens. The game also marked the debut of the Basketball Association of America (BAA), which became the NBA when it merged with the National Basketball League (NBL) in 1949. The Knicks beat the Huskies 68-66 in front of a crowd of 7,090. While the Knicks have two championships, eight conference titles and a slew of other accomplishments in their franchise history, we would like to take this moment to remember their turn in cinematic lore. Of course we're talking about the 1996 classic "Eddie," in which Whoopi Goldberg stars as a limo driver (with a heart of gold!) who, through an in-game contest, becomes the team's head coach and leads the squad to unprecedented victory. It is shockingly not based on a true story, but most Knicks fans probably wish it was.
January, 10, 2013
1/10/13
6:11
PM ET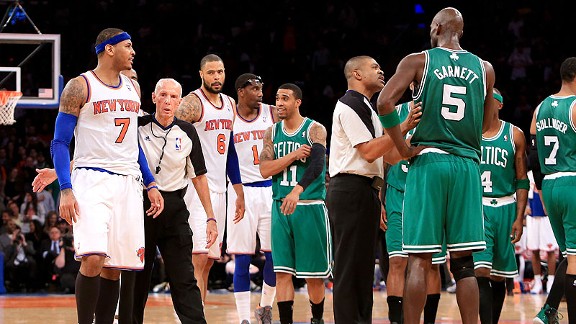 Debby Wong/USA TODAY SportsCarmelo Anthony did not take kindly to Kevin Garnett's trash talk. Anthony was banned for one game.
Celtics star Kevin Garnett has long been known to dish out some of nastiest trash talk in the league, his yapper getting more of a workout than his legs on game nights. This past week the big-mouthed big man was at it again, reportedly telling Knicks guard Carmelo Anthony that his wife LaLa Vazquez "tastes like Honey Nut Cheerios."
The pair's in-game jawing got 'em both a technical and the remark made Anthony so mad he sought out Garnett after the game, confronting him in the tunnel, outside the locker rooms and in the arena parking garage. Anthony's attempts to physically engage Garnett resulted in a one-game suspension for the Knicks star; he'll miss Thursday night's contest against the Pacers.
If the rumor mill is to be believed, Anthony and Vasquez are currently estranged, which may be why he got so incensed. Garnett's insinuation was certainly crass, but most ballplayers have heard enough trash talk to let a comment like that slide. In this case, perhaps it hit a little too close to home.
Boston coach Doc Rivers spoke out about the most publicized cereal-based insult since the Lucky Charms leprechaun ripped Notre Dame's effort in the BCS Title game (alright that didn't happen), denying reports that Garnett brought up Anthony's wife.


"(Garnett) does (know where the line is)," Rivers told a Boston radio station. "He does. I will say that. I've never heard him cross the line. And usually when he talks about guys, it's usually about their game or their team or what he thinks if the guy's a winner or loser."
There's no known audio of the incident, so it is possible that Garnett never compared LaLa to the center of a balanced breakfast, but history tells us the Boston big man might not know where the line is, after all. Back in 2010 he allegedly called Pistons forward Charlie Villanueva "a cancer patient." Villanueva suffers from alopecia, a virus that prevents hair growth.
The incident reflected poorly on Garnett and further built up his reputation as a win-at-all-costs, hit-em-where-it-hurts kind of guy. Needling Anthony over an alleged rocky patch in his marriage sure isn't nice, but if the goal was to take his focus off the game, it worked.
I don't endorse Garnett's tendency to hit below the belt, but I do think Anthony's gotta get a thicker skin. Every game is as much physical as mental and in Monday night's Celtics' win, Garnett won both those battles.