January, 15, 2014
Jan 15
8:12
AM ET
James Flores/Getty ImagesTwo-time Super Bowl champion Bart Starr was selected in the 17th round of the 1956 NFL draft with the 200th pick overall.
On this day in 1967, the first Super Bowl was held at the Los Angeles Memorial Coliseum. Then known as the AFL-NFL World Championship, it featured the champion team from each of the soon-to-be-merged leagues. The NFL's Green Bay Packers defeated the AFL's Kansas City Chiefs 35-10. Packers quarterback Bart Starr threw two touchdowns and was named the game's MVP. It was the first of two straight Super Bowl wins for the Vince Lombardi-coached team. With a crowd of 61,946 at the 94,000-seat stadium, Super Bowl I marks the only Super Bowl in history that wasn't a sellout. At the time, the less-than-capacity crowd was blamed on the pricey $12 tickets. The halftime show was college marching bands, a far cry from Bruno Mars and the Red Hot Chili Peppers, who are set to take the stage in February.
December, 18, 2013
12/18/13
7:58
AM ET
Pro Football Hall of Fame/AP ImagesHopefully the viewing quality at the first NFL championship game was better in person than it appears to be in this photograph.
On this day in 1932, the NFL held its first championship game. The Chicago Bears, featuring legends Red Grange and Bronko Nagurski, beat the Portsmouth Spartans 9-0. Prior to the meeting, the league had determined its annual champion based on the regular-season standings. In 1932, Chicago and Portsmouth tied and the NFL was forced to have a playoff game. Wrigley Field was picked as host, but, due to severe weather conditions, the game was moved indoors to nearby Chicago Stadium. With some rule modifications in place to adapt to the narrow indoor 80-yard dirt field, the Bears won the title after scoring the game's lone touchdown on a controversial pass from Nagurski to Grange. The playoff game, which was witnessed by 11,198 fans, was so popular that the league reorganized into two divisions in 1933 and the winners have squared off for a league championship ever since. This year's game, Super Bowl XLVIII, is scheduled for Feb. 2 at New Jersey's outdoor MetLife Stadium, which features a 100-yard field and a seating capacity of 82,500.
November, 27, 2013
11/27/13
6:54
AM ET
Jim McIsaac/Getty Images"His presence is all around us," Redskins owner Daniel Snyder said of the late Sean Taylor. "In our organization and among our fans."
On this day in 2007, Redskins safety Sean Taylor died after being shot by an intruder in his Miami home. Just 24, Taylor was recovering from an injury at home with his girlfriend and 18-month-old daughter. The news shocked and devastated the sports world. More than 3,000 people, including his Redskins teammates and many of his former University of Miami teammates, attended the funeral. He was posthumously voted to the 2007 Pro Bowl and was inducted into the Redskins Ring of Fame in November of 2008.
Eric Rivera Jr., the alleged gunman, was convicted of second-degree murder and armed burglary earlier this month and is currently awaiting sentencing. Four other men were also charged in the case and three will be tried later.
September, 24, 2013
9/24/13
9:08
AM ET
AP Photo/NFL PhotosMean Joe Greene's popularity soared after his commercial for Coke ran while he played for Pittsburgh in the 1980 Super Bowl.
Happy 67th birthday to Pittsburgh Steelers legend Mean Joe Greene. The four-time Super Bowl champion and 10-time Pro Bowler was known for his fierce play at defensive tackle on Pittsburgh's vaunted "Steel Curtain" defense. He retired from the NFL after the 1981 season and was inducted into the Pro Football Hall of Fame in 1987. In addition to saluting him for all his sacks and tackles on his birthday, we thank him for his role in this heartwarming 1979 commercial.
June, 14, 2013
6/14/13
10:18
AM ET
AP Photo/Nam Y. HuhAs part of the NFL's new security policy, binoculars, cameras and smartphones will be permitted.
The NFL has a new "no bag" policy, one that doesn't have the usual allowance for women's purses. The policy provides specifics on bag size, and the league stated the rules were changed to an effort to tighten stadium security and provide "a safer environment."
The only purses now allowed have to be the size of a clutch bag. You know, the kind that usually come lined in satin and barely fit a cell phone. Otherwise, both men and woman are limited to a clear plastic bag the size of the one-gallon freezer variety, plus the clutch.
(Mark this as the moment 37 percent of men first heard the word "clutch" and 9 percent searched "man-clutch" on the Internet.)
This policy may cause outrage, but it's only fair. Ever since the high-security era arrived, women had an advantage when it came to hauling their stuff to most games, because purses were allowed in when backpacks weren't. I'm no It Bag expert, but it seems the average handbag size has expanded over the years. They are huge. Some of those leather saddlebags with fringe could pack an entire cooler of beer, with room for chips and sandwiches.
Men have been shut out from their usual bag of choice for years (backpacks) -- what security-based reason denied them while women previously got to keep theirs? The new NFL policy may be annoying on a cold day and may require more trips to the concession stand for food and -- bonus! -- NFL apparel, but it is ultimately gender-neutral. Everybody will be equally annoyed.
April, 29, 2013
4/29/13
7:54
AM ET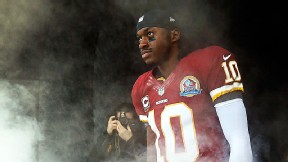 Rob Carr/Getty ImagesRobert Griffin III and his surgically reconstructed right knee will be in the spotlight heading into the "Monday Night Football" opener.
Are you ready for some football? Relax. After tonight, we only have to make it through 18 more Monday nights until regular-season "Monday Night Football" returns to ESPN. Washington hosts Philadelphia in the first game of the doubleheader on Sept. 9. Houston travels to San Diego in the nightcap. And the news is even better if you're a true junkie. ESPN also televises a preseason Monday night game on Aug. 19 -- only 15 Mondays away -- when Pittsburgh visits Washington. Still not good enough? OK. It's not on Monday, but ESPN's preseason coverage actually starts Thursday, Aug. 8, and features Cincinnati at Atlanta.
Read more WFYIs.
March, 4, 2013
3/04/13
2:55
PM ET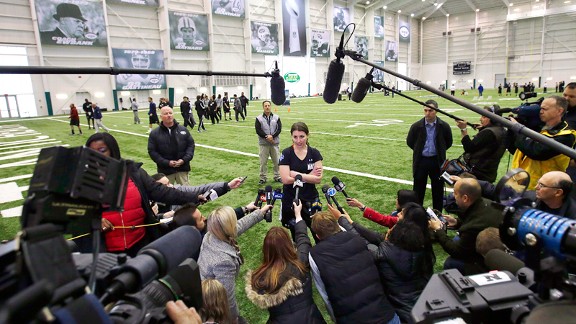 AP Photo/Mel EvansLauren Silberman attracted quite a crowd at an NFL tryout, but showed she wasn't worthy of the attention.
Whether it was injury or a lack of skill, Lauren Silberman wasn't ready to take advantage of the platform the NFL sold her for $275 and a dream.
Ultimately, NFL officials and Silberman decided she shouldn't continue after two dismal attempts at a kickoff due to an aggravated quad injury at a regional tryout in Florham Park, N.J. But honestly, there were few in the building who thought Silberman would be capable of markedly better results if she returned to another field at a later date.
She was the first woman to register for a regional combine, but there will be another first -- the first female kicker to complete the tryout.
And there are plenty who are up to it. There's Katie Hnida, who was the first woman to score points in a Division I college football game. There are women who've played soccer on the international stage who may be able to convert their skills. There is Mo Isom, who tried out for LSU's football team last year. Or Virginia Tech's Lauren Luttrell, who was invited to spring practice in 2011. And there's Ashley Martin, who kicked the first points by a woman in a Division I-AA game for Jacksonville State in 2001.
Silberman isn't up there. The fact that she used the historic nature of her tryout as a platform is disappointing. It could set the process back, as some who saw the tape will say women should be excluded from tryouts.
Which is ridiculous. All men weren't maligned when Bills kicker Scott Norwood became a poster child for missing field goals. And women have proved themselves athletically on enough different stages that one -- an unprepared Silberman -- should not undo all that work.
We have just watched Danica Patrick earn the pole at Daytona. Ronda Rousey is a UFC fighter worthy of headlining. No one doubts the athleticism of Serena Williams, Brittney Griner, Abby Wambach or any of 100 other female athletes who prove themselves every time they step onto the court or field.
Some have speculated that Silberman did it as a publicity stunt for her business. Applicants need only register and pay; there is no vetting process by the NFL for the regional combines, a reality-style tryout that can result in an NFL job. The league put out a press release on the historic nature of her tryout. There were nearly as many cameras as kickers.
Silberman had trouble even placing the ball on the tee. I was holding my breath as she made a run at the ball and let out a squeak when it traveled only 19 yards.
Kicking is an easy thing to judge. The hash marks on the field don't care about your color, size or gender. When Silberman said later that she hoped the scouts looked at her technique, not just the length of her kick, the jig was up. It's always about length. Either the field goal is good or not, even though Silberman didn't get deep enough into her tryout to try a field goal.
Silberman won't be the last, but the next woman to try out can bet the NFL will have done more than cashed her check before letting her take the field.
Equal opportunity means an equal chance of blowing it.
February, 22, 2013
2/22/13
8:22
PM ET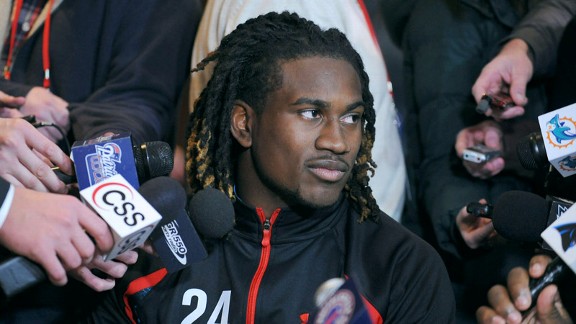 AP Photo/Johnny VyWide receiver Cordarrelle Patterson drew a media crowd at the NFL combine.
INDIANAPOLIS -- Football's appeal may lie partly in its violence, the velocity of collisions and aerodynamic spectacles in the end zone.
Which is why the NFL combine leading up to the April draft is a little deceptive. Yes, there are 40-yard dashes and 15-minute meetings with team officials. But, at its heart, the appeal of the combine is a modern version of a pretty familiar story.
Take Cordarrelle Patterson. After two seasons at a junior college, the wide receiver played a single season for Tennessee. This is a happy ending in and of itself, but it's really just the beginning. Patterson did so well in his one SEC season that he is mentioned by some experts as -- possibly -- the best wide receiver in the draft.
[+] Enlarge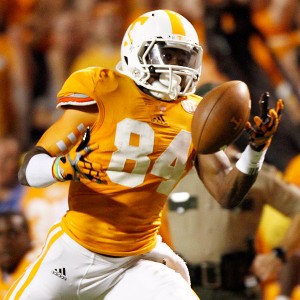 AP Photo/Wade PayneCordarrelle Patterson hopes an opportunity to impress at the NFL combine doesn't slip from his grasp.
"It feels good, but then again I can't listen to that," Patterson said. "I don't want to get the big head and then go in this weekend and don't do nothing good and then everything just fails."
If he is picked in the first round, Patterson will sign and be financially compensated in a way that was hard to imagine when he was in junior college. Asked what that moment will be like, Patterson laughed.
"It's pretty hard," he said. "I try to take it a day at a time, and when that day comes I know I'll be ready for it."
In the meantime, Patterson has been up at 4 a.m. for a drug test, and joked that he's been evaluated by what seems like at least 12 doctors. Then comes the speed dating question with team officials: Can he improve his route running? Was he just a one-year wonder? Is he worth a first-round pick?
"I say I'm a top-15 pick, but I can't control what coaches think," Patterson said.
Patterson is one of a few dozen college players at the combine at Lucas Oil Stadium. Here, he and the others will spend the weekend being evaluated more closely than a ripe cantaloupe in the produce section. It may be intrusive, but for a guy who wasn't even playing Division I football until last fall, it's part of the process that could lead to a happy ending worthy of any fairytale.
"I didn't expect it," Patterson said, "but now that it's here I'm glad it's here."
October, 28, 2012
10/28/12
5:07
PM ET
By
Adena Andrews
| ESPN.com
Bart Scott -- Mr. Can't Wait -- had to practice patience Sunday when he was sidelined due to a toe injury, marking the end of his 119 consecutive games played streak. The last time the Jets' linebacker missed a game was Jan. 2, 2005, when he was with the Baltimore Ravens.
[+] Enlarge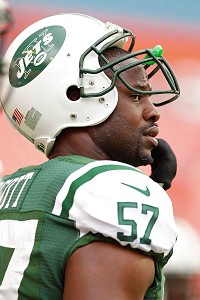 AP PhotoTom DiPaceJets linebacker Bart Scott had his consecutive games played streak come to an end at 119. He missed his first game since 2005, when he was with the Ravens.
That's not the only difference between then and now. To frame the streak's significance, here are some of the changes that have taken place, and what was happening on the field and in the world since Scott last sat out.
Five different iPads and six generations of iPhones have been released.
The New York Jets have had four different starting quarterbacks and three head coaches.
The average price of gas in New York state rose from $1.96 to $4.04 a gallon.
Mark Sanchez was in his senior year at Mission Viejo High School.
The New Orleans Hornets' home court was in Oklahoma City.
YouTube didn't exist.
There have been five different NFL Super Bowl champions.
Mario's "Let Me Love You" peaked at No. 1 on the Billboard Hot 100 chart.
Facebook was only for college students.
Twitter did not exist.
"Star Wars: Episode III: Revenge of the Sith" was North America's highest grossing movie of the year at $380M.
Michael Jordan and Juanita Jordan were still married.
October, 16, 2012
10/16/12
5:25
PM ET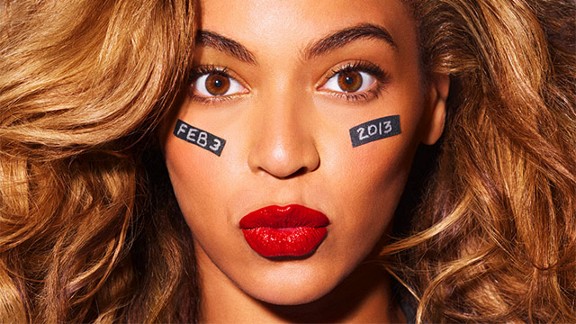 IAM.BEYONCE.COMBeyonce will be the Super Bowl halftime entertainment in February.
Beyonce will play the Super Bowl in February.
First I'd like to say, you're welcome NFL.
Maybe my impassioned plea to have Beyonce and her husband Jay-Z perform at the wasn't the only reason they chose one of the best live performers around. But my suggestion that the NFL move out of the Jurassic Period when it comes to musical acts must have swayed a few in the front office.
I do not sing "Single Ladies" in the shower, but I can appreciate the fact Beyonce is at the height of her career, musically relevant and not as a reunion tour. Maybe you don't like her empowerment-lite brand of R&B, but you won't have to worry that she will break a hip onstage.
The odds Jay-Z will come onstage for a reprise of "New York" are pretty good. And, with any luck, Alicia Keys will join them for the chorus.
The trio would immediately drop the average age of Super Bowl halftime performers in the last decade by a good 20 years. The recent list of halftime performers have included Paul McCartney, The Rolling Stones, Prince, Tom Petty & the Heartbreakers, Bruce Springsteen, The Who and Madonna. It's one thing if that's the audience you're trying to reach, but why would you try to pirate baseball's fan base like that?
So congratulations NFL, and if you need any advice in the future, you know where to find me.
May, 10, 2012
5/10/12
5:54
PM ET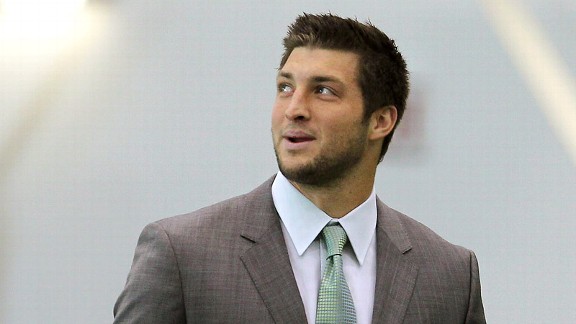 Ed Mulholland/US Presswire
Tim Tebow is changing his dog's name.
It seems the Jets' new backup quarterback got a puppy last season while he was in Denver and named the little guy Bronco.
For the same reason you never want to tattoo a boyfriend's name on your neck, Tebow plans to change the dog's name; he has moved on. At the Jets' practice facility Wednesday, Tebow said he plans to rename the dog Bronx. There are two reasons why that works -- it's in the geographical neighborhood of where Tebow now plays, and the two words sound similar enough that the dog shouldn't get too confused.
When I initially tweeted this (I asked because I, too, have a Rhodesian Ridgeback like Bronco, um, Bronx), a lot of people asked why this is news. Agreed, no one at the Jets popped off about a teammate, which constitutes a relatively slow news day.
But you can tell a lot about the way a man treats his dog. Mitt Romney will never live down the way his Irish Setter traveled on one family vacation to Canada. At least Tebow didn't strap his puppy to the top of the car and haul him from Denver to New Jersey.